About the Journal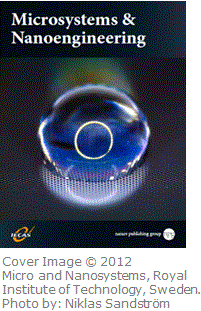 Microsystems & Nanoengineering is an online-only, open access international journal devoted to publishing original research results and reviews on all aspects of Micro and Nano Electro Mechanical Systems from fundamental to applied research. The journal is published by Springer Nature in partnership with the Aerospace Information Research Institute, Chinese Academy of Sciences, supported by the State Key Laboratory of Transducer Technology.
From May 2015, Microsystems & Nanoengineering publishes new content weekly, as papers are accepted. An open access journal, Microsystems & Nanoengineering will offer authors a choice of Creative Commons licenses, including Creative Commons Attribution (CCBY). Published research articles will be freely accessible online to a global audience immediately on publication. Springer Nature's excellence in publishing will ensure that all research published will receive high exposure through online hosting on nature.com, extensive press coverage and rapid publication. Each original Article and Review will receive an Editorial Summary of the work, provided by Springer Nature and published under a Creative Commons license.
Find out further information on the journal aims and scope here.
Microsystems & Nanoengineering is published in partnership with Springer Nature and the Aerospace Information Research Institute, Chinese Academy of Sciences (AIRCAS) – find out more.
Microsystems & Nanoengineering is led by Editor-in-Chief Prof. Yirong Wu from AIRCAS, and supported by two Executive Editors-in-Chief Professor Tianhong Cui from the University of Minnesota and Professor Ian White from University of Bath – visit the 'About the Editors' page for further information.
Visit the editorial board page for the full list of Microsystems & Nanoengineering editorial board members.
Abstracted & Indexed in
Microsystems & Nanoengineering now is abstracted & indexed by Science Citation Index Expanded (SCIE), Ei Compendex, PubMed Central, Scopus and Directory of Open Access Journals (DOAJ).
Article and Journal Metrics
Article metrics such as number of downloads, citations and online attention are available from each article page, and provide an overview of the attention received by a paper.
The 2019 journal metrics for Microsystems & Nanoengineering are as follows:
Citations
2 Year Impact Factor: 5.048*
5 Year Impact Factor: 5.563*
JCR Rank: 6/64 (Q1) INSTRUMENTS & INSTRUMENTATION, 35/103 (Q2) NANOSCIENCE & NANOTECHNOLOGY*
Immediacy Index: 0.859*
Eigenfactor Score: 0.00303*
Article Influence Score: 1.500*
SJR: 1.969
SNIP: 1.759
Access
Total webpage views, 2019: 275,826
Total successful full-text article requests, 2019: 290,777
Turnaround times
Number of days from Submission to acceptance: 134 days
Number of days from acceptances at publisher to published online: 28 days
*2019 Journal Citation Reports (Clarivate Analytics, 2020)
Disclaimer
The editorial policies of this publication are determined jointly by its Editorial Board and Springer Nature in accordance with the legal and regulatory requirements of China.