Collection |
Stem cells from development to the clinic
Recent advances in our understanding of stem cell differentiation and fate determination have enabled us to use stem cells in vitro and in vivo in a variety of applications, such as disease modelling, drug screening and for transplantations. This Collection of primary research articles, reviews and protocols from across the Nature journals involves both basic and translational research.
Research articles presented here highlight important work on stem cell differentiation, pluripotency states, lineage specification, development, genetic & epigenetic changes and metabolic regulation. They further explore how this knowledge can be applied to develop stem cell technologies that allow more detailed study of the onset of neural, intestinal, liver, lung, cardiac, muscle and blood diseases, as well as cancer. We showcase papers on the use of stem cells in the clinic to treat a genetic skin disorder and macular degeneration. In addition, the collection includes a number of peer-reviewed protocols from Nature Protocols that focus on iPSC reprogramming and the generation of organoids. Opinion and Review articles discuss the advances in this field, ethical implications of the work, as well as challenges faced by the scientific community as researchers attempt to apply the knowledge gained from basic studies in the clinic.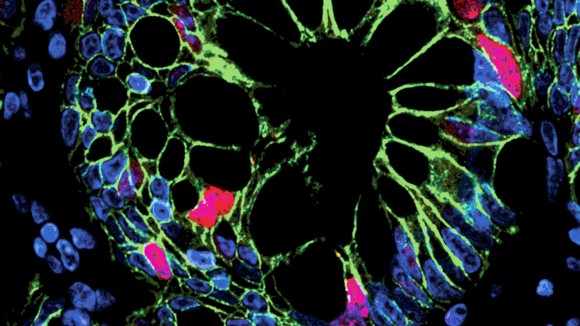 For queries and comments about the collection please contact Christine Weber (Nature Cell Biology) or Ann Le Good (Nature Communications).
The following Journals and editors have contributed to this Collection:

Nathalie Le Bot <N.Lebot@nature.com>
Nathalie is the stem cell and development editor at Nature. She joined the Nature editorial team in August 2014, after 8 years as an editor at Nature Cell Biology where she also had responsibility for papers in the field of developmental biology. She studied molecular and cell biology at the ENS-Ulm, Paris, and joined the EMBL graduate programme in Heidelberg in 1995 where she worked under the supervision of Eric Karsenti and Isabelle Vernos. Her graduate work focused on characterising the role of motor proteins in trafficking and cell division. She carried out post-doctoral work at the Gurdon institute in Cambridge in the laboratory of Julie Ahringer, where she participated in one of the first genome-wide RNA mediated interference screen and studied early events of c.elegans embryo development.
Kathryn Aschheim <k.aschheim@us.nature.com>

Christine Weber <ncb@nature.com>
Christine is the stem cell and development editor at Nature Cell Biology. She obtained her PhD in 2014 from the University of Cambridge, UK, where she worked in Fiona Watt's lab on skin stem cells and tumorigenesis. Before joining Nature Cell Biology in 2016, she worked as a locum associate editor at Nature Reviews Gastroenterology & Hepatology.

Ann Le Good <Ann.LeGood@nature.com>
Ann is a cell/developmental biologist with a PhD on atypical PKCs and postdoctoral research studying the role of Nodal in early mouse development at the Swiss Institute for Experimental Cancer Research. At Nature Communications, Ann handles papers on development, regeneration, bioengineering and embryonic stem cells.

Robert Stephenson <Robert.Stephenson@nature.com>
Robert studied the role of morphogenesis in the development of the first three cell lineages in preimplantation mouse embryos for his PhD. For his postdoctoral work he worked in Hitoshi Niwa's lab, studying the transcription factor interaction network stabilizing pluripotency in mouse embryonic stem cells. At Nature Communications, Robert handles manuscripts exploring the basic biology, as well as clinical and practical applications of stem cells.

Tiago Faial <Tiago.Faial@us.nature.com>
Tiago obtained his Ph.D. from the Stem Cell and Developmental Biology program at the University of Cambridge under the supervision of Jim Smith and Roger Pedersen, where he studied gene regulatory networks and signaling cascades that underpin mesoderm differentiation. For his postdoctoral work, Tiago joined Joanna Wysocka's laboratory at Stanford University where he studied the dynamics of epigenetic landscapes in pluripotency. He joined the Nature Genetics team in 2015.

Amos Matsiko <materials@nature.com>
Amos carried out his PhD and post-doctoral research at the Royal College of Surgeons in Ireland on biomaterials, tissue engineering and regenerative medicine for a range of musculoskeletal applications. He also carried out an industrial collaborative project with Integra LifeSciences Inc, developing nerve guidance conduits for peripheral nerve repair. Amos began his editorial career at Nature Communications in 2016 and joined Nature Materials in 2017. He handles manuscripts in the broad area of bioengineering including biomaterials development, cell therapy, drug delivery and mechanobiology.
Brett Benedetti <Brett.Benedetti@us.nature.com>

Natalie De Souza <methods@us.nature.com>
Natalie de Souza obtained her Ph.D. at the Rockefeller University in 2002, employing biochemical, imaging and cell culture-based approaches to study the biogenesis and traffic of oligomeric membrane proteins, in the laboratory of Sandy Simon. She then moved to developmental genetics in the laboratory of Iva Greenwald at Columbia University, where she did post-doctoral work on the regulation of LIN-12/Notch signaling in C. elegans epithelial cells, and its role in cell fate specification. She joined the journal in December 2006.

Tal Nawy <methods@us.nature.com>
Tal Nawy began working on plant development as an undergraduate at McGill University. His Ph.D. research focused on the stem cell niche of plant roots in the lab of Philip Benfey, first at New York University and then at Duke University. He studied domain specification in the early plant embryo at Cold Spring Harbor Laboratory as a postdoc with Wolfgang Lukowitz, and subsequently worked on root tip regeneration with Kenneth Birnbaum at the New York University Center for Genomics and Systems Biology. He joined Nature Methods in May of 2011.
Rebecca Wright <Rebecca.Wright@nature.com>

Katharine Barnes <K.Barnes@nature.com>
Katharine completed a PhD at the Institute of Cancer Research, UK and then moved to the Department of Pharmacology at the University of Pittsburgh, USA. Katharine was Editor of Trends in Pharmacological Sciences prior to moving to work on Nature Protocols. She handles protocols that cover stem cell culture, characterisation and differentiation.

Sarah Seton-Rogers <S.Seton-Rogers@nature.com>
Sarah received her PhD in Cell Biology from Harvard Medical School, where she researched signalling pathways implicated in migration and invasion of breast cancer cells with Joan Brugge. She then worked for two years as a medical writer at a medical communications agency, where she focused predominantly on clinical research in hypertension and atherosclerosis. She joined Nature Reviews Cancer as an Associate Editor in April 2006, became a Senior Editor on the journal in November 2009 and then Chief Editor in May 2014.

Alexandra Le Bras <nrcardio@nature.com>
Alexandra is a Locum Associate Editor for Nature Reviews Cardiology. She did her PhD in Lille, France, on the transcriptional and epigenetic mechanisms regulating endothelial gene expression. She conducted postdoctoral research focusing on endothelial cell differentiation during vascular development (Harvard Medical School, USA) and gene and cell therapy approaches for cardiovascular diseases (King's College London, UK).

Katrina Ray <nrgasthep@nature.com>
Katrina studied for a BSc in Microbiology at the University of Manchester. Next, as part of the EIMID programme, she worked at the Institut Pasteur (Philippe Sansonetti group), Max Planck Institute for Infection Biology (Arturo Zychlinsky group) and Karolinska Institutet (Birgitta Henriques–Normark group) before carrying out her PhD studying Shigella flexneri at Imperial College London under the supervision of Prof. Christoph Tang. She joined the clinical Nature Reviews in 2010 as a Cross-journal Associate Editor, before moving to Nature Reviews Rheumatology and Nature Reviews Gastroenterology & Hepatology as Associate Editor in 2011, becoming Senior Editor in 2012. She was Acting Chief Editor for Nature Reviews Gastroenterology & Hepatology September 2012–August 2013 and became Chief Editor in August 2014.

Linda Koch <L.Koch@nature.com>
Linda obtained her PhD in Genetics from the University of Cologne, Germany, in the lab of Jens Brüning, where she used conditional gene targeting in mice to research the mechanisms of central and peripheral insulin resistance. She continued her research at the Institute for Genetics as a postdoctoral fellow to investigate a knockout mouse model of the obesity gene FTO. She joined Nature Reviews Endocrinology in August 2009, first as Associate Editor, then as Senior Editor and as Locum Chief Editor. Linda became Chief Editor of Nature Reviews Genetics in January 2014.

Kim Baumann <k.baumann@nature.com>
Kim Baumann is the Chief Editor of Nature Reviews Molecular Cell Biology. She carried out her Ph.D. and postdoctoral research at the John Innes Centre in Norwich, UK, where she studied several aspects of plant development, working in the laboratories of Cathie Martin, Keith Roberts and Desmond Bradley. Before moving into science publishing, she contributed to the setting up of the Sainsbury Laboratory in Cambridge, UK. Kim joined the NRMCB team in 2009 and has been Chief Editor since 2016. She is responsible for the areas of stem cells and developmental biology, cell growth and division, ubiquitin signalling, protein structure and metabolism, as well as plant cell biology. She is interested in ideas for reviews on any aspect of stem cell biology.

Ashleigh Johnston <ashleigh.johnston@nature.com>
Ashleigh completed her PhD at the Francis Crick Institute (formally the National Institute for Medical Research) in London UK. Her project focussed on characterising a family of large human GTPases in response to infection with the apicomplexan parasite Toxoplasma gondii. Ashleigh began her publishing career with Springer Nature in 2016 and has been an Associate Editor with Scientific Reports since October 2017.

Marie-Elizabeth Barabas <marie-elizabeth.barabas@us.nature.com>
Marie-Elizabeth received her PhD in neuroscience from the Medical College of Wisconsin, where she researched peripheral pain signaling mechanisms with Cheryl Stucky. She then worked for two years as a postdoc at St. Jude Children's Research Hospital with Michael Dyer, where she optimized a protocol to reprogram adult murine retinal cells and then subsequently differentiate them into retinal tissue in a 3D culture system. She joined Nature Partner Journals as a Managing Editor in May 2016.