Nature Outlook |
Bladder cancer
Nature Outlook: Bladder cancer
For three decades, the treatment of bladder cancer stood still. There were no new drugs and no improvements in diagnosis or survival rates. But all of that has changed, and now people with the disease and researchers have more options and hope. This Outlook discusses topics such as: how checkpoint-inhibitor drugs are helping those affected to survive for longer; why a healthy bladder is not sterile; and how the genetics of bladder cancer is revealing some surprising connections.
This Nature Outlook is editorially independent. It is produced with third party financial support. About this content.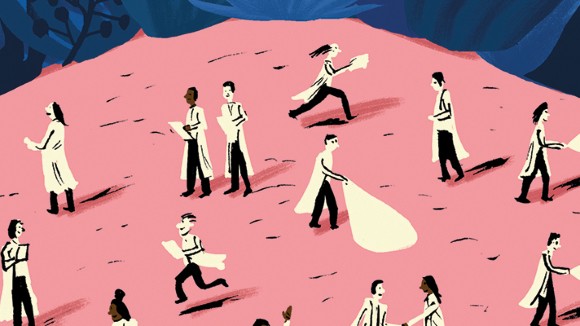 Nature is pleased to acknowledge the financial support of AstraZeneca in producing this Outlook. Additional funding was provided by a grant from Merck & Co., Inc. in Kenilworth, New Jersey. The sponsor retains sole responsibility for the following messages.
AstraZeneca has a deep-rooted heritage in Oncology and offers a quickly-growing portfolio of new medicines that has the potential to transform patients' lives and the Company's future. With at least six new medicines to be launched between 2014 and 2020, and a broad pipeline of small molecules and biologics in development, we are committed to advance New Oncology as one of AstraZeneca's five Growth Platforms focused on lung, ovarian, breast and blood cancers. In addition to our core capabilities, we actively pursue innovative partnerships and investments that accelerate the delivery of our strategy as illustrated by our investment in Acerta Pharma in hematology.
By harnessing the power of four scientific platforms – Immuno-Oncology, Tumor Drivers and Resistance, DNA Damage Response and Antibody-Drug Conjugates – and by championing the development of personalized combinations, AstraZeneca has the vision to redefine cancer treatment and one day eliminate cancer as a cause of death. For more information, visit https://www.azimmuno-oncology.com
Produced with support of a grant from Merck & Co., Inc. in Kenilworth, New Jersey.