Nature Outlook |
Physical oceanography
The oceans are an integral part of our planet's climate system. Understanding the physical processes at work in the sea is crucial therefore to making accurate predictions about the effects of climate change.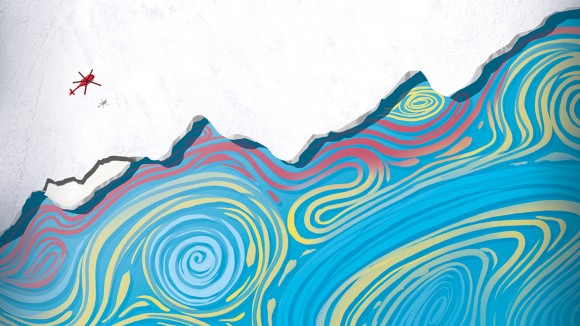 Nature is pleased to acknowledge financial support from Mars, Incorporated and non-financial support from the Lindau Nobel Laureate Meetings in producing this Outlook. The sponsors retain sole responsibility for the following messages.
Mars is a family-owned business with more than a century of history making diverse products and offering services for people and the pets people love.
With more than $35 billion in sales, the company is a global business that produces some of the world's best-loved brands: M&M's®, SNICKERS®, TWIX®, MILKY WAY®, DOVE®, PEDIGREE®, ROYAL CANIN®, WHISKAS®, EXTRA®, ORBIT®, 5™, SKITTLES®, UNCLE BEN'S®, and COCOAVIA®. Mars Associates proudly take care of half of the world's pets through our nutrition, health and services businesses such as Banfield Pet Hospitals™, BluePearl®, Linnaeus, AniCura, VCA™ and Pet Partners™.
Headquartered in McLean, VA, Mars operates in more than 80 countries. The Mars Five Principles – Quality, Responsibility, Mutuality, Efficiency and Freedom – inspire our more than 125,000 Associates to take action every day to help create a world tomorrow in which the planet, its people and pets can thrive.
Mars and the Lindau Nobel Laureate Meetings have worked together since 2007 to facilitate scientific discussion around some of the most critical issues of our time. As an intellectual partner of choice, Mars hosts several well-attended events and supporting young researchers to participate each year. In collaborating with Nature and Scientific American, Mars hopes to make the dialogue at Lindau accessible and connect scientific minds to help build a sustainable and restorative future.
For more information about Mars, please visit www.mars.com. Join us on Facebook, Twitter, LinkedIn and Instagram.
Read the Mars Incorporated sponsor feature
The Lindau Nobel Laureate Meetings foster the exchange among scientists of different generations, cultures and disciplines. Once every year, about 30–40 Nobel Laureates convene in Lindau, Germany, to meet the next generation of leading scientists: 600 undergraduates, PhD students, and post-doc researchers from all over the globe.
Since 1951, the Lindau Nobel Laureate Meetings aim to educate, inspire and connect. By bringing together Nobel Laureates and young scientists, we aspire to foster new scientific discoveries and to multiply knowledge worldwide.
The meetings focus alternately on physiology and medicine, on physics, and on chemistry – the three natural science Nobel Prize disciplines. An interdisciplinary meeting revolving around all three natural sciences is held every five years, the next edition coming up in 2020: The interdisciplinary 70th Lindau Nobel Laureate Meeting will take place 28 June–3 July 2020. In addition, the Lindau Meeting on Economic Sciences is held every three years and will also be happening in 2020: The 7th Lindau Meeting on Economic Sciences, 25–29 August 2020.
Learn more about the Lindau Nobel Laureate Meetings on our website and discover lectures by Nobel Laureates and more in our mediatheque.