Award |
Nature Research Awards for Inspiring Science and Innovating Science
Nature Research is proud and excited to announce the 2019 Inspiring Science Award and Innovating Science Award, in partnership with The Estée Lauder Companies.
Please note, the application window for 2019 has now closed.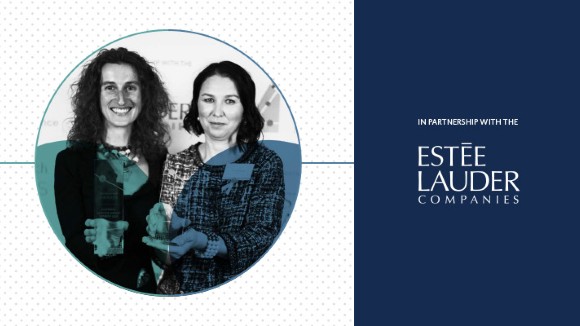 We are very proud to announce our 2019 winners
Inspiring Science Award
Jean Fan, Harvard University and CuSTEMized
Jean Fan is a Post-Doctoral Fellow at Harvard. She received her PhD in Bioinformatics and Integrative Genomics at Harvard and her research interests center around developing computational methods for identifying and characterizing heterogeneity at the single cell level, particularly in the context of cancer, using multi-omic approaches. She is the founder of a non-profit organization CuSTEMized which encourages young girls to see themselves in STEM.
"When I failed my first computer science class, my teacher discouraged me from continuing in CS. So I ignored her and took more CS classes. When I published my first paper, my colleagues insinuated that my male advisor did all the work. So I ignored them and published many more papers. When I received my first grant, my classmate downplayed my achievement, noting that my grant was rather small. So I ignored him and won more grants. Persevere. Bury doubters with your success.
You are not the rule. You are the exception. Just because a woman hasn't done it before, doesn't mean you can't do it. Just because this is the way things have always been done, doesn't mean it's the way things always have to be. You can defy the tyranny of precedent. At every stage of your scientific career, I hope you will use your power to bring about change, rather than letting that power change you. May you strive to be who you needed when you were younger."
Innovating Science Award
The STEM Belle
STEM Belle founder Doreen Anene is a Schlumberger Foundation Fellow, a PhD student at the University of Nottingham, and currently a visiting scholar at the Poultry Research Foundation, Sydney - Australia. The STEM Belle is focused on levelling the female representation in STEM fields. With activity in three countries, The STEM Belle has impacted over 1000 girls from 6 different schools. Doreen is also a YALI RLC alumni and a UN Women Global Champion for Change
"Implementing initiatives in economically disadvantaged areas is expensive. Access to educational resources, equipment, e.g. projectors, computers, LEGO pieces and other STEM equipment is limited. Speak up and ask for in-kind support. Some organisations lend out their equipment, resources and staff for free.
Some people feel that getting women to join STEM and higher education is a waste of time and resource. I pay no attention to them and we remain focused on our goals. I believe in launching out. There is no need for waiting until everything is perfect. There are so many school girls who just need guidance, inspiration and mentorship to join STEM fields. So, establish a good relationship with the school management. Get them involved with the plans and actions of the initiative. This is the pathway to sustainability. Cash support is important but do not hesitate to request for in-kind support from companies and service providers. And always keep your passion alive."