Award |
Nature Research Awards for Inspiring Science and Innovating Science
Nature Research is proud and excited to announce the 2019 Inspiring Science Award and Innovating Science Award, in partnership with The Estée Lauder Companies.
Please note, the application window for 2019 has now closed.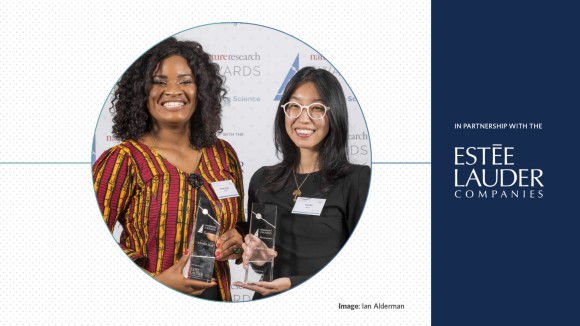 Meet the shortlist
Inspiring Science Award | Natália Bezerra Mota | Eleonora Dondossola | María Escudero-Escribano| Jean Fan | Atma Ivancevic | Mary Kang | Kirsty Nash | Jess Wade | Jessica Walsh | Joy Wolfram | Xin Zhao
Innovating Science Award | Cazadoras de Estrellas | Chicas en Tecnologia | Marisa Madison| Seeds of Change Foundation | The STEM Belle | Technical University Berlin, Technical University Dresden, Science Shop Bonn, Game Studio The Good Evil - The Serena Project
Inspiring Science Award
Natália Bezerra Mota, Instituto do Cérebro - Universidade Federal do Rio Grande do Norte and Departamento de Física - Universidade Federal de Pernambuco
A psychiatrist whose main goal is to understand how we measure thought organization through language, Natalia Bezerra Mota developed a computational approach to characterize thought organization in free speech, allowing Schizophrenia diagnosis (90% accuracy). She studied the typical development of these markers, their cognitive and academic correlates. She now follows up these findings on larger patient cohorts, comparing with historical data, and investigate how these markers change in dreaming.
"Being a woman scientist in a misogynist country such as Brazil made me face major challenges: record low science budgets, which made me search for low-cost solutions to impactful medical problems; the sheer patronizing environment: very often I need to prove that I am able to do the hard data analysis; and finally, to be a mother in science with scarce time and unfair comparisons with male peers. I overcome this by being vocal and creating a network of supportive female peers.
My advice is: you are not alone, and the world needs your voice, your ideas. The challenges are huge, in some places even worse, but a woman that overcomes this environment can identify specific problems and create impactful solutions, leading the society for more equity. To overcome your own challenges you can and you need to talk to other female scientists, even from the internet, talk about your problems. We all face them, you can find guidance because you are not alone."
Eleonora Dondossola, The University of Texas MD Anderson Cancer Center
Eleonora Dondossola is a tumor biologist who trained in Italy. As scientist committed to fight against cancer, she moved to MD Anderson Cancer Center for postdoctoral experience, where she was promoted to Instructor. Her research focuses on the role of the microenvironment in tumor progression and treatment. Recently, she has further expanded her studies towards tissue-engineered technologies for inflammation and cancer, with emphasis on prostate cancer bone metastasis and its therapeutic targeting.
"When I was in high school I was discouraged by many people, including classmates and friends, from a career in science because it was perceived as a trajectory with very limited rewards and opportunities. I did not abandon my dream: my commitment was very strong, my family totally supported me and I successfully pursued my studies in Cell/Molecular Biology and Biotechnology. I am very satisfied with my decisions and the way my career developed, and would do it all again.
STEM subjects in all their forms have become a major component of our daily life. Girls, you need to play an active role in their development and make THE difference: you could revolutionize the way an artificial intelligence is programmed or a communication platform is developed.
Do not believe that a scientific or technological career is better suited to men, it is not true at all! Pursue your ambitions with passion in any field you are interested in."
María Escudero-Escribano, University of Copenhagen
María Escudero Escribano is Assistant Professor of Chemistry at the University of Copenhagen, where she leads the nanoelectrochemistry and sustainable catalysis group. Her group investigates tailored electrochemical interfaces for sustainable energy conversion and synthesis of renewable fuels and high-value chemicals. She has been Chair of the Danish Electrochemical Society since 2018 and is the Early Career Advisory Board Member of ACS Catalysis (2018-2019).
"During the course of my undergraduate studies and scientific career, I have faced different professional and personal challenges. Arriving alone to a new country is particularly challenging while leaving family and friends in Spain, and having to begin from zero every time in a different city, where language is also an additional challenge.
I would say the best piece of advice I can give is to girls is: follow your dreams, and to women starting out on their science career: keep working hard, because you can do it. The best advice given to me has been (from my parents): study what you are really passionate about, and I studied chemical engineering.
Jean Fan, Harvard University and CuSTEMized
Jean Fan is a Post-Doctoral Fellow at Harvard. She received her PhD in Bioinformatics and Integrative Genomics at Harvard and her research interests center around developing computational methods for identifying and characterizing heterogeneity at the single cell level, particularly in the context of cancer, using multi-omic approaches. She is the founder of a non-profit organization CuSTEMized which encourages young girls to see themselves in STEM.
"When I failed my first computer science class, my teacher discouraged me from continuing in CS. So I ignored her and took more CS classes. When I published my first paper, my colleagues insinuated that my male advisor did all the work. So I ignored them and published many more papers. When I received my first grant, my classmate downplayed my achievement, noting that my grant was rather small. So I ignored him and won more grants. Persevere. Bury doubters with your success.
You are not the rule. You are the exception. Just because a woman hasn't done it before, doesn't mean you can't do it. Just because this is the way things have always been done, doesn't mean it's the way things always have to be. You can defy the tyranny of precedent. At every stage of your scientific career, I hope you will use your power to bring about change, rather than letting that power change you. May you strive to be who you needed when you were younger."
Atma Ivancevic, University of Colorado Boulder
Atma Ivancevic is a postdoctoral researcher in the field of computational biology at the University of Colorado Boulder, USA. Originally from Australia, she moved to the USA to pursue her fascination with viruses and other genetic parasites. She is investigating the role of ancient retroviruses in causing disease, focusing on their potential to change the expression of nearby genes in cancer cells.
"My undergraduate degree was in mathematics and my PhD was in bioinformatics: two very male-dominated fields. To this day, I have never had a female supervisor or mentor. As a Serbian immigrant raised in Australia, I am also acutely aware of the challenges involved in pursuing education from a low socioeconomic background. These experiences have made me passionate about open access education and female mentorship, encouraging other young women in science to succeed.
I would tell young women in science to ask questions, make mistakes and learn loudly. Science is an art; it is not about writing the perfect thesis or publishing high impact papers, but rather about curiosity-driven questions that help us understand the natural world."
The best advice I ever received was a quote from pioneering scientist Marie Curie: "Nothing in life is to be feared, it is only to be understood. Now is the time to understand more, so that we may fear less."
Mary Kang, McGill University
Mary Kang is an assistant professor in the department of Civil Engineering and Applied Mechanics at McGill University. Previously, she was a postdoctoral fellow at Stanford University. She received a Ph.D. in Civil and Environmental Engineering from Princeton University and a M.A.Sc. and a B.A.Sc. in Civil Engineering from the University of Waterloo. Her research areas are groundwater hydrology and environmental impacts of subsurface-based energy development.
"I faced many challenges including adapting to new environments, institutions, and countries and balancing family life and academic career. I overcame these challenges by building a supportive network of family and friends, who can help with childcare, logistics (finding doctors to mechanics), and housing.
My advice to other girls or women is to reach out to other girls and women in STEM. Understanding that you are not alone and that many women are or were in the same position as you is reassuring and helps build confidence. This brings me to the best advice given to me, 'be confident because you know more than you think you know'."
Kirsty Nash, Centre for Marine Socioecology and University of Tasmania
A Research Fellow at the Centre for Marine Socioecology in Tasmania, Australia, Kirsty Nash is an ecologist by training but the research questions on which she focuses covers both the environment and human well-being. As a result, she works with researchers from a range of disciplines, including public health, law and economics. Her research explores the trade-offs that governments must consider when designing policies that aim to support both human needs and ocean health.
"In 2016 I was offered a job in Tasmania, away from friends and family. My daughter was born a year later, and I was diagnosed with post-natal depression. The plans I had to return to work full-time were shelved, and I had to cancel a number of work trips. I managed to get back on track, returning to work part-time because of the amazing help I received from health professionals and work colleagues, in particular some very supportive female scientists.
Find a scientific mentor in your chosen field. Good mentors can be invaluable in providing advice and support - they have been through the training and early career, and know how to navigate the culture and demands of science.
I was told that every career looks different and many very successful scientists take round-about routes to their current role. So, don't despair if you haven't taken the traditional route, find out what skills you need and work towards them."
Jess Wade, Imperial College London
Postdoctoral researcher Jess Wade is based in the Department of Physics at Imperial College London and works on new semiconducting materials for light emitting diodes (LEDs). These LEDs can be used in next-generation displays, which can be ultra-thin, lightweight and flexible. By day she creates and characterises and optimizes these semiconductor materials, and by night she tries to make the internet less sexist.
"I have always been the only woman in my research group - PhD or postdoc - and was one of a handful of girls who studied physics at high school and completed the MSc in physics at Imperial. This has been my motivation to make physics more accessible for everyone - helping school girls and teachers, mentoring early career researchers, establishing the women in physics group at Imperial and engaging with meaningful international activities.
I have always been encouraged to do what makes me happy. My advice is to keep focussed, find a mentor and have a team of people who will advocate for you and amplify you. Don't give up on maths and physics because your teachers aren't very good, reach out and find someone who can help. Sometimes you might feel short of confidence, and like you don't deserve to be where you are - but all the very best scientists do sometimes."
Jessica Walsh, Stanford University
A postdoctoral fellow at Stanford University in the laboratory of Dr. Robert Malenka, Jessica Walsh works in the field of neuroscience, investigating how social behavior is regulated by neuromodulator activity. Her current focus is understanding the role of serotonin signaling in social behavior with an emphasis on adaptations of this system in disease states such as autism.
"One of the greatest challenges I have faced on my journey as a woman in science is not being treated as an equal to my male counterparts. Whether it was in a study group in graduate school, a group meeting as a post-doctoral fellow or presenting my research, it felt like my opinions were not heard. As a result, I worked harder, spoke louder and tried to let my work speak for itself. I also reached out to other women in science and found them to be my inspiration.
I would tell a young woman who is just starting out in science to hang on! Science can be like a rollercoaster, with many highs and lows, but provides you the opportunity to discover things that could change the world. The best advice I have been given is to not be afraid to take risks and think outside the box, even if others do not support your ideas. If you never ask people for help or to collaborate, the answer will always be no."
Joy Wolfram, Mayo Clinic and Chinese Academy of Sciences
Assistant Professor Joy Wolfram is based at the Mayo Clinic in Florida, where she leads the Nanomedicine and Extracellular Vesicles Laboratory. She has designed many preclinical nanoparticles for the treatment of various diseases, including cancer and her goal is to develop innovative nanomedicines that bring the next generation of treatments directly to the clinic. She also has a mission to inspire and support underrepresented minorities in science, and is actively involved in community outreach.
"My biggest struggle has been witnessing patients die and being unable to help. A year ago, my friend Rebecca died of cancer at the age of 31. She had an eight-year struggle with breast cancer, and it came back three times. I failed her, the medical community failed her, and the scientific community failed her. This challenge keeps me going when the going gets tough, and helps me focus on innovation and the bigger picture.
The one piece of advice that I would give is to not let anyone tell you that you cannot become a scientific leader. We need you! Anytime you want to change a system, you will meet resistance, but do not give up. I have faith that the next generation will transform science and medicine into diverse communities. The best advice given to me was to find a purpose that benefits the greater good and be part of something bigger than yourself."
Xin Zhao, Department of Biomedical Engineering, The Hong Kong Polytechnic University
Xin Zhao is an Assistant Professor at the Department of Biomedical Engineering, the Hong Kong Polytechnic University. She is engaged in translational regenerative medicine, integrating multi-disciplinary approaches to modulate cell microenvironment, control cell behaviors and generate tissue-engineered organs to address clinical issues. She teaches biomaterials, bionanotechnology and skin-care technologies to undergraduate and postgraduate students.
"I will say that the major challenge I have encountered is the social pressure that people think I should be obedient, cute, quiet, dependent, and reserved. I should prioritize marriage and children over my research career and should not spend so much time on my work. How do I overcome them? I just focus on myself and ignore those voices. I also make friends with similar minds so that I can be understood. Gradually, I become more confident and those voices fade.
Getting more women and girls interested in STEM fields is the unfinished business of the 20th century. There are women who are rocking careers in STEM and proving that STEM isn't just a man's world. Moreover, the STEM fields do benefit from the new voices, perspectives and ideas that women bring to the workplace. The best advice given to me and to give for the women who are interested in STEM is 'Do not let your fears keep you from pursuing STEM professions'."
Innovating Science Award
Cazadoras de Estrellas
Victoria Pérez is an astronomy Masters student at Universidad de Chile, and her research focuses on high redshift galaxies. She is also co-founder of the project "Cazadoras de Estrellas" along with other female graduate students of the department, and the scientific journalist Natalie Huerta. Cazadores de Estrellas offers astronomy workshops around Chile for high school girls, with the main goal of promoting the work of female astronomers through lectures, hands-on experiences and discussion panels
"One of the main struggles we have faced as an organization is the lack of funding. Since our project is self-organized by students we don't have a constant source of funding, and the opportunities to get it are scarce in our country. So, to be able to give continuity to our initiative we have been applying to different grants. From this we learnt that for a project to succeed it must be on the lookout for any kind of opportunities, either for funding or collaborations.
An advice we would like to give is to always keep in mind the big picture and the main goal of your project. We think that for an outreach project to really make an impact on society, it should have a specific target group and a clear message to deliver, in order to avoid doing outreach without a purpose. We really believe that it is better to reach deeply in a small, underrepresented groups in STEM, than organize a big event where you don't individualize the assistants."
Chicas en Tecnologia
A social entrepreneur in education and technology, Melina Masanatta was born in Chubut, Patagonia Argentina. Interested in promoting education to solve local problems with technology and teach digital arts as a way to express and create innovative solutions or culture, in 2015 she co-founded and is now CEO of Chicas en Tecnología, an NGO that through technology and science puts young women at the center, as creators of solutions and active change-makers in their communities.
"For more than 11 years I have been working in STEAM inclusion programs around the country, and one of the main problems I faced was that 70% of the educators were women and they presented resistance to the implementation of devices and methodologies linked to this area. I began to investigate and found social and cultural barriers, gender stereotypes and biases that underlay their lives when using technology. Therefore, CET seeks to transform the education system.
Do not ever let the gender stereotypes influence your decision as regards your future pathway. Our mission now is to change the STEM environment bringing innovation and diversity, and generating sustained social impact as never before."
Marisa Madison
Professor Marisa Madison is director of HIV research at MDC and has been an advocate for STEM for 2 decades. She believes that the earlier a child is exposed to STEM, the more likely that child will grow to effect positive global change. She offers biomedical research experiences to girls as young as 10 in the fields of microbiology, bacteriology and retrovirology. She aims to empower women and girls to join and make a sustainable, positive impact in STEM fields.
"Many young women either never develop the self-confidence, interest and passion to engage in STEM fields or they were once passionate about STEM in middle school but then lost their interest over the years because of small failures that were not interpreted as stepping stones, stereotypes that boys are better at STEM, lack of support and lack of role models. Dr Madison aims to overcome these struggles with fun, challenging and intriguing, gender-specific STEM programs and long term mentorship.
It is critical for young people to see others working in STEM who look like them. Offer and organize gender specific after-school workshops, research experiences, field trips and other intriguing opportunities for them to engage in STEM fields like robotics, coding, 3D printing, math and science on weekends and during the summer. Establish collaborations between STEM professionals who will contribute to one anothers' programmes by allowing young people to shadow them at work."
Seeds of Change Foundation
The Seeds of Change Foundation is a youth led organization that is committed to encouraging girls pursue careers in Science, Technology, Engineering, and Mathematics. Founded by Mambepa Nakazwe, it mentors and empower girls to believe in their abilities and believe that they are capable of succeeding in STEM fields despite the intimidation from cultural barriers and norms.
"One of our great struggles has been the lack of support from some community members and parents who believe a girls place is in the kitchen. Girls tend to shun our mentorship class when their parents are not supportive. At first, communities expected to benefit financially when they participated in our meetings because some organisations give money to participants. As a result, we had only a few people attending the STEM campaigns. We learned the lesson that creating trust and partnership from the beginning is very vital for our work to thrive
STEM outreach requires the support of every one starting from teachers, mentors, parents and community leaders. It's important to be truthful about STEM and explain how science is applied to our day to day life. Motivate them by showing them women role models to share their stories on how they defied all odds."
The STEM Belle
STEM Belle founder Doreen Anene is a Schlumberger Foundation Fellow, a PhD student at the University of Nottingham, and currently a visiting scholar at the Poultry Research Foundation, Sydney - Australia. The STEM Belle is focused on levelling the female representation in STEM fields. With activity in three countries, The STEM Belle has impacted over 1000 girls from 6 different schools. Doreen is also a YALI RLC alumni and a UN Women Global Champion for Change
"Implementing initiatives in economically disadvantaged areas is expensive. Access to educational resources, equipment, e.g. projectors, computers, LEGO pieces and other STEM equipment is limited. Speak up and ask for in-kind support. Some organisations lend out their equipment, resources and staff for free.
Some people feel that getting women to join STEM and higher education is a waste of time and resource. I pay no attention to them and we remain focused on our goals. I believe in launching out. There is no need for waiting until everything is perfect. There are so many school girls who just need guidance, inspiration and mentorship to join STEM fields. So, establish a good relationship with the school management. Get them involved with the plans and actions of the initiative. This is the pathway to sustainability. Cash support is important but do not hesitate to request for in-kind support from companies and service providers. And always keep your passion alive."
Technical University Berlin, Technical University Dresden, Science Shop Bonn, Game Studio The Good Evil - The Serena Project
The Serena project is a follow-up to PhD research carried out by Dr Pia Spangenberger (Technical University Berlin). She founded a research team with Iken Draeger (pedagogical expert, Science Shop Bonn); Professor Susanne Narciss and Dr Felix Kapp (Psychology of Learning and Instruction, Technical University Dresden); Professors Martin Hartmann and Nadine Matthes (Vocational Didactics, Technical University of Dresden); and Linda Kruse (Game Design, Good Evil GmbH). The group developed Serena which "gamifies" practical STEM subjects in ways that strengthen their appeal and accessibility to girls.
"A strong collaboration with your target group is a necessary precursor to successful STEM outreach. Create something enjoyable and adequate with content that strengthens a young girl ́s self-efficacy. Provide a space, where girls experience mastery, and, become self-confident and they will consider STEM as something female. Create something they identify with, and, at the same time, have a great experience that they like to remember. We believe in reaching out and collaborating with other initiatives as much as possible.
To experience mastery in the field of technology, it can be crucial for girls to overcome low self-esteem concerning mastering technical tasks. However, female role models are still rare, and companies have not yet adjusted fair working conditions to accommodate all genders. As long as this remains unchanged, and, discrimination exists, all attempts to motivate girls to conquer the STEM world are in vain. Providing women with fair employment conditions and a welcoming environment is one major challenge to address in the future."