Supplements
Outlook: Neglected diseases
Vol. 449, No. 7159 pp157-182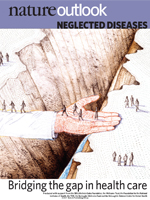 In this supplement
Tropical diseases affect more than one billion people, yet there are few effective treatments. And despite much research activity, scientific innovations with therapeutic potential are not making it out of the laboratory. The articles in this Outlook examine what can be done to stimulate the development of effective medicines and deliver them to the people who need them most.
Top

of page
Editorial
Neglected Diseases
David O'Connell
doi:10.1038/449157a
---
Top

of page
Features
Lost in translation
Declan Butler
doi:10.1038/449158a
---
A tough transition
Peter A. Singer, Kathryn Berndtson, C. Shawn Tracy, Emma R. M. Cohen, Hassan Masum, James V. Lavery & Abdallah S. Daar
doi:10.1038/449160a
---
The path to new medicines
Bénédicte Callan & Iain Gillespie
doi:10.1038/449164a
---
Mission possible
Andrew L. Hopkins, Michael J. Witty & Solomon Nwaka
doi:10.1038/449166a
---
A prescription for drug delivery
Rebecca Affolder, Ivone Rizzo, Craig Burgess, Abdallah Bchir & Julian Lob-Levyt
doi:10.1038/449170a
---
Patent sense
Paul Herrling
doi:10.1038/449174a
---
At what price?
Patricia Danzon
doi:10.1038/449176a
---
The road to recovery
Carlos M. Morel, José R. Carvalheiro, Carmen N. P. Romero, Eduardo A. Costa & Paulo M. Buss
doi:10.1038/449180a