Collection
Special Issue - Beyond transcription: The role of post-transcriptional gene regulation in adaptation and evolution
Submission status

Open

Submission deadline
Guest Editors: Arne Jacobs & Jukka-Pekka Verta
Gene expression regulation plays a central role in adaptive divergence and evolution, yet our understanding of adaptive post-transcriptional divergence is in its infancy. Recent studies have demonstrated the potentially important role of variation in alternative transcript splicing and other post-transcriptional processes in adaptation and evolution. Compared to transcription levels, many questions remain regarding the role of variation in transcript splicing under different eco-evolutionary contexts, the rate of splicing versus expression evolution, or the mechanisms through which splicing alters phenotypes.
The aim of this Special Issue is to synthesise our current level of understanding on the role of post-transcriptional variation in different eco-evolutionary contexts and diverse taxa, highlight the diversity of regulatory mechanism controlling post-transcriptional processes, and the role of novel analytical and technological approaches in driving our understanding of post-transcriptional processing across the tree of life.
For more information or questions, please contact: Arne.Jacobs@glasgow.ac.uk or jukka-pekka.verta@helsinki.fi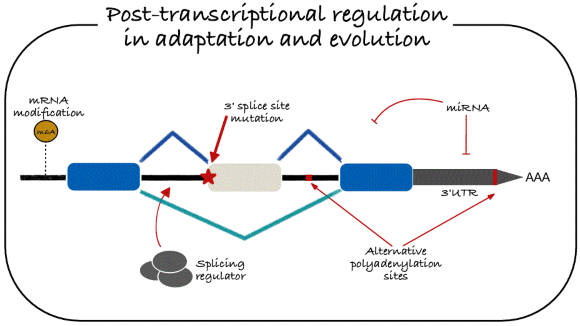 Editors
Dr. Arne Jacobs

School of Biodiverstiy, One Health & Veterinary Medicine, University of Glasgow,UK https://orcid.org/0000-0001-7635-5447

Dr. Jukka-Pekka Verta

Evolution, Conservation, and Genomics, University of Helsinki, Finland https://orcid.org/0000-0003-1701-6124
Articles will be displayed here once they are published.