Collection |
GenePod: GIM's Podcast
GenePod is the podcast from the journal Genetics in Medicine. Join us as host Cynthia Graber delves into the latest research in medical genetics and genomics, featuring content from this leading journal.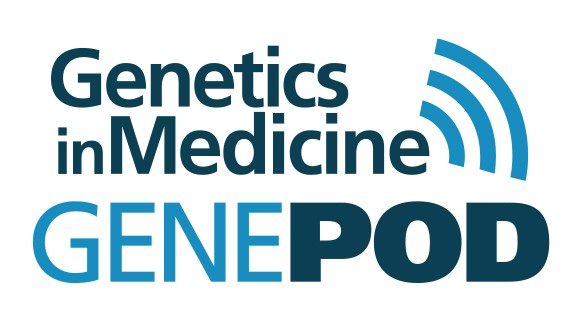 December: Elamipretide: A treatment for Barth syndrome
Barth syndrome, an exceedingly rare genetic condition that affects only males, causes heart disease and immune deficiencies–and there's no known treatment that addresses the cause of the disease. On this month's GenePod, Hilary Vernon, MD, PhD, associate professor of genetic medicine at Johns Hopkins University School of Medicine, describes a study of elamipretide, a compound already under clinical investigation that, based on its effectiveness in targeting mitochondria, she and her colleagues thought might help their Barth syndrome patients. Based on the results of the study, Dr. Vernon says elamipretide could become the primary treatment for Barth syndrome. Tune in! (Related Article) Download (.mp3)
November: Exploring a genotype-first approach for genetic variants that influence cardiac diseases
Could genome sequencing be used to prospectively identify people at high risk for having a genetic disorder? And, could this enable early multidisciplinary care and avoid life-threatening events? On this month's GenePod, Bruce D. Gelb, MD, director of the Mindich Child Health and Development Institute at Mount Sinai's Icahn School of Medicine, describes the genotype-first approach his team took. Dr. Gelb and his team used biobanks to identify individuals with variants likely causing heart conditions associated with RASopathies or Marfan syndrome. The team then went to the electronic health records of those individuals to determine if they had been diagnosed; many had not! Furthermore, identifying individuals by genotype first yielded new insights into their phenotypes. Tune in! (Related Article) Download (.mp3)
October: Online Access to Down syndrome Health-Care Tool
Specialty clinics are an exceptional resource, but research has shown that 95% of those with Down syndrome lack direct access to a Down syndrome specialty clinic. Yet, those with Down syndrome are more likely to be up-to-date with health-care guidelines if their caregivers have access to an online health-care tool. On this month's GenePod, Brian Skotko, MD, MPP, director of the Down Syndrome Program at MassGeneral Hospital for Children discusses a web-based tool that dramatically improved patients' likelihood of being up-to-date on Down syndrome health-care guidelines. Tune in! (Related Article) Download (.mp3)
September: How to overcome barriers and meaningfully engage Alaska Native tribes and tribal health organizations in genomic research
A history of distrust and skepticism surrounds genetics research for Alaska Native tribes. Not having tribal health organizations engaged with genetics research in a meaningful way means Alaska Native people are missing out on benefits from discoveries that come out of research. On this month's GenePod, Denise Dillard, PhD, director of research for Southcentral Foundation, a tribal healthcare organization, discusses the goals behind facilitating a workshop between Alaska tribal leadership, biomedical researchers, and representatives from the National Institutes of Health (NIH) and Centers for Disease Control and Prevention (CDC). The key takeaways from the workshop build upon ways to overcome barriers and address the need to form more effective partnerships. Tune in! (Related Article) Download (.mp3)
August: A discussion of ACMG's recent guidance on the integration of genomic information into the EHR.
Genetic and genomic information is a powerful tool in personalized medical care. It is essential for both diagnostic purposes and medical management. But when it comes to genetic test results, electronic health records (EHRs) are generally not searchable or standardized. Tune in to this month's GenePod, Genetics in Medicine's monthly podcast, to hear co-authors Dr. Theresa Grebe, a clinical geneticist at Phoenix Children's Hospital, and Dr. Marc Williams, director emeritus of the Genomic Medicine Institute at Geisinger, discuss ACMG's recent points to consider statement from the ACMG on the interface of genomic information with the EHR and how to optimize EHRs for genomic medicine. (Related Article) Download (.mp3)
July: COVID-19 presents challenges for care of patients in genetics and metabolic disease clinics.
The COVID-19 pandemic is unprecedented and clinicians have faced correspondingly unprecedented challenges in caring for patients in genetics and metabolic disease clinics who require routine check-ups and ongoing treatments. Yet, in overcoming these challenges, doctors have identified a few boons to patient care that may continue to benefit patients in the long run. Listen in to this month's GenePod to hear how Dr. Nicola Brunetti-Pierri, a clinician at the Federico II University Hospital in Naples, Italy, and Dr. Elaine Pereira, a clinical geneticist at Columbia University in New York City, two of the areas hardest hit by the pandemic, adapted patient care amid government lock-downs and what silver linings they found. Please see the related articles here and here. Download (.mp3).
June: International collaborations aim to provide genetic clues to COVID-19's variable disease path and outcomes.
In this month's podcast, Genetics in Medicine reached out to members of the genetics research community involved in the global initiatives to identify the genes that cause differences in susceptibility and outcomes to COVID-19: Mark Daly, PhD, director for the Institute of Molecular Medicine Finland and a member of the Broad Institute in Massachusetts, Kári Stefánsson, MD, founder and CEO of deCODE, and our own Deputy Editor, David T. Miller, MD, PhD, a medical geneticist at Boston Children's Hospital. Together, these three discuss key methods involved in conducting genome-wide studies on a global level to understand differences in SARS-CoV-2 infection rate and severity. The hope is, these efforts will be vital for providing clues to pathways of viral infection and ultimately development of therapeutics and vaccines. Download (.mp3)
May: Lost in transcription: Incorporating blood RNA analysis in genomic medicine services can help clinicians classify variants of uncertain significance.
RNA analysis can be an important addition to genetic sequencing in order to improve clinical care and to best understand variants. As clinicians use genomic testing more, the number of identified variants has also ballooned. But, for many variants, it is unknown whether they are pathogenic. The large number of variants of uncertain significance (VUS) can hinder or slow down a diagnosis. On this month's GenePod, Dr. Diana Baralle, a professor of genomic medicine at the University of Southampton, and a clinician and clinical geneticist at the University Hospital Southampton NHS Foundation Trust, discusses a recent article published in Genetics in Medicine, the official journal of the American College of Medical Genetics and Genomics (ACMG) that shows, on a larger scale, how VUS were evaluated using RNA functional studies increasing clinical diagnostic rate and resolving VUS. (Related Article) Download (.mp3)
April: A therapeutic benefit to additional sugar intake? Pilot study shows galactose supplement holds promise for patients with rare congenital glycosylation disorder.
A group of more than 130 disorders share a common problem: a glycosylation issue in development where the necessary sugar chains are fully or partly missing from their needed location on protein surfaces. Patients with one of the congenital disorders of glycosylation (CDG) called SLC35A2-CDG are missing galactose, the sugar in milk, on their proteins. Without this sugar chain building block, SLC35A-CDG patients often suffer from severe epilepsy, liver dysfunction and decreased coagulation among other symptoms. Tune in to this month's GenePod to hear Dr. Eva Morava, a professor of medical genetics at the Mayo Clinic, discuss how moonlighting enzymes and metabolic adaptation from a galactose supplement benefited patients in a small pilot study published in Genetics in Medicine. (Related Article) Download (.mp3)
March: Should all breast cancer patients get germline genetic testing?
Is more better? As the cost of genetic testing plummets, allowing more people to get testing of more genes, researchers and clinicians are asking: who should get tested, and for what? One recent study suggested that all breast cancer patients should get genetic testing. But does the evidence support this approach? In a recent ACMG statement published in Genetics in Medicine (GIM), the statement's authors weighed the evidence for BRCA1/2 and other germline genetic testing in patients with breast cancer and recommended points for clinicians to consider. On this month's episode of GenePod, GIM's monthly podcast, host Cynthia Graber talks with Dr. Tuya Pal, associate director for cancer health disparities at the Vanderbilt University Ingram Cancer Center and first author of ACMG's recent statement, and Dr. Susan Domchek, director of the Basser Center for BRCA at the University of Pennsylvania and author of a commentary on the ACMG statement, about the evidence, gaps in current knowledge, and how to improve testing rates among high-risk patients. (Related Article: One, Two) Download (.mp3)
February: RNA sequencing provides new diagnoses for patients with neurodevelopmental disorders.
"Despite all the tools available for the clinical diagnosis of neurodevelopmental disorders, about half remain undiagnosed", states Dr. Stefan Rentas, first author of a recently published article in GIM. For many patients with neurodevelopmental disorders, a genetic diagnosis doesn't come easy. Genetic testing often comes back negative, even when a Mendelian disorder is very likely, leaving more than half of patients undiagnosed. One explanation is that researchers simply haven't found all the variants that can cause a disorder, but the disorder could also be caused by non-coding regions of the genome that aren't examined with current techniques. That's why Dr. Rentas and his colleagues at the Children's Hospital of Philadelphia turned to RNA sequencing. By looking at gene expression through RNA sequencing, instead of just the genes themselves, abnormalities in the functional output of those genes can be discovered. In this month's GenePod, host Cynthia Graber chats with Dr. Rentas about how his team successfully diagnosed several of these patients through RNA sequencing, and what a genetic diagnosis really means. (Related Article) Download (.mp3)
January: Classifying variants of unknown significance in BRCA1/BRCA2 based on family and personal history.
When a variant of unknown significance (VUS) shows up in a genetic test, it's frustrating. Without clinical data backing the pathogenicity of a variant, it is difficult to advise patients. As genetic screening increases, more VUS crop up, and become even harder to classify due to an expanding pool of clinical characteristics of patients. For BRCA1/BRCA2 testing, VUS occur in 2-4% of cases, and the number of VUS that have been identified is roughly equal to the number of pathogenic variants. In a recent publication in GIM, Dr. David Goldgar and his team expanded on their work studying VUS in BRCA1/BRCA2 using clinical genetic tests in 138,000 individuals undergoing genetic testing for hereditary cancer. On this month's GenePod, Dr. Goldgar discusses their new model for predicting pathogenicity of BRCA1/BRCA2 VUS using family history, and the value of grouping similar VUS, rather than studying them individually. (Related Article) Download (.mp3)