Journal Information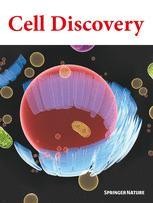 Cell Discovery is an open access international journal that publishes results of high significance and broad interest in all areas of molecular and cell biology. Cell Discovery is established in 2015 as a sister journal of the high profile international journal Cell Research.
Cell Discovery, published by Springer Nature in partnership with the Center for Excellence in Molecular Cell Science, Chinese Academy of Sciences (CAS), aims to provide an open access platform for scientists to publish their high quality works.
Find out further information on the journal aims and scope here.
Cell Discovery is co-sponsored by Center for Excellence in Molecular Cell Science, CAS, and the Chinese Society for Cell Biology. – find out more.
The editorial team of Cell Discovery is led by Dr Dangsheng Li – visit the 'about the editors' page for further information.
Abstracted & Indexed in
Cell Discovery is now abstracted and indexed in Science Citation Index Expanded (also known as SciSearch®), PubMed Central, Journal Citation Reports/Science Edition, Biological Abstracts, BIOSIS Previews and Directory of Open Access Journals (DOAJ).
Article and Journal Metrics
Article metrics such as number of downloads, citations and online attention are available from each article page, and provide an overview of the attention received by a paper.
The 2020 journal metrics for Cell Discovery are as follows:
Citations
2 Year Impact Factor: 10.849*
5 Year Impact Factor: 8.175*
JCR Rank*: 26/195(Q1) CELL BIOLOGY
Immediacy Index: 27.000*
Eigenfactor Score: 0.00677*
Article Influence Score: 2.871*
Journal Citation Indicator: 1.12*
SJR: 3.412
SNIP: 1.464
Access
Total webpage views, 2020: 2,399,762
Total successful full-text article requests, 2020: 2,595,379
Turnaround times
Number of days from Submission to acceptance: 99 days
Number of days from acceptances at publisher to published online: 41 days
*2020 Journal Citation Reports (Clarivate Analytics, 2021)
Disclaimer
The editorial policies of this publication are determined jointly by its Editorial Board and Springer Nature in accordance with the legal and regulatory requirements of China.