Abstract
6-Mercaptopurine (6-MP) is a main component of childhood acute lymphoblastic leukemia (ALL) treatment. Some candidate gene variants are associated with its toxicities, but the major variants and effects of combined variants remain unclear. We used Cox regression analysis to evaluate the time-dependent association between candidate variants and the cumulative incidence of 6-MP intolerability in 95 Japanese patients. The major risk factors for severe leukopenia were ABCC4 rs3765534, NUDT15 rs116855232 and rs186364861 in multi-covariate analysis (P<0.05). NUDT15 intermediate activity variant, that is, heterozygous rs116855232 or rs186364861 variant, and the ABCC4 rs3765534 variant showed leukopenia more frequently than either variant alone. All patients with both the intermediate activity NUDT15 variant and the ABCC4 rs3765534 variant suffered from leukopenia, and 57.1% patients required 50% protocol dose by day 168. These data indicate that NUDT15 and ABCC4 are major factors for 6-MP intolerability and that the interaction between these variants enhances intolerability to 6-MP.
Access options
Subscribe to Journal
Get full journal access for 1 year
$119.00
only $19.83 per issue
All prices are NET prices.
VAT will be added later in the checkout.
Tax calculation will be finalised during checkout.
Rent or Buy article
Get time limited or full article access on ReadCube.
from$8.99
All prices are NET prices.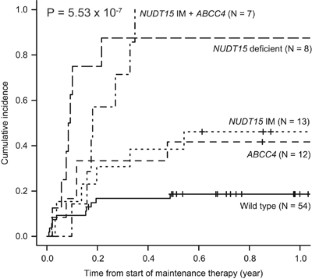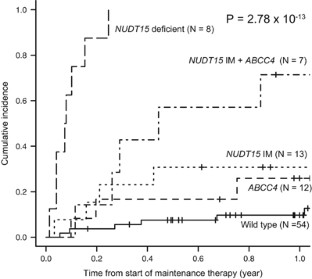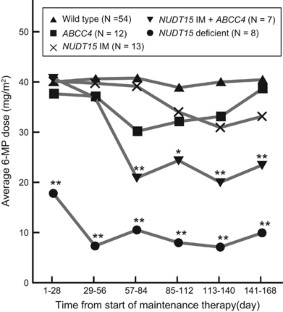 References
1

Relling MV, Hancock ML, Rivera GK, Sandlund JT, Ribeiro RC, Krynetski EY et al. Mercaptopurine therapy intolerance and heterozygosity at the thiopurine S-methyltransferase gene locus. J Natl Cancer Inst 1999; 91: 2001–2008.

2

Relling MV, Hancock ML, Boyett JM, Pui CH, Evans WE . Prognostic importance of 6-mercaptopurine dose intensity in acute lymphoblastic leukemia. Blood 1999; 93: 2817–2823.

3

Lennard L, Welch JC, Lilleyman JS . Thiopurine drugs in the treatment of childhood leukaemia: the influence of inherited thiopurine methyltransferase activity on drug metabolism and cytotoxicity. Br J Clin Pharmacol 1997; 44: 455–461.

4

Kubota T, Chiba K . Frequencies of thiopurine S-methyltransferase mutant alleles (TPMT*2, *3A, *3B and *3C) in 151 healthy Japanese subjects and the inheritance of TPMT*3C in the family of a propositus. Br J Clin Pharmacol 2001; 51: 475–477.

5

Kumagai K, Hiyama K, Ishioka S, Sato H, Yamanishi Y, McLeod HL et al. Allelotype frequency of the thiopurine methyltransferase (TPMT) gene in Japanese. Pharmacogenetics 2001; 11: 275–278.

6

Yang SK, Hong M, Baek J, Choi H, Zhao W, Jung Y et al. A common missense variant in NUDT15 confers susceptibility to thiopurine-induced leukopenia. Nat Genet 2014; 46: 1017–1020.

7

Yang JJ, Landier W, Yang W, Liu C, Hageman L, Cheng C et al. Inherited NUDT15 variant is a genetic determinant of mercaptopurine intolerance in children with acute lymphoblastic leukemia. J Clin Oncol 2015; 33: 1235–1242.

8

Tanaka Y, Kato M, Hasegawa D, Urayama KY, Nakadate H, Kondoh K et al. Susceptibility to 6-MP toxicity conferred by a NUDT15 variant in Japanese children with acute lymphoblastic leukaemia. Br J Haematol 2015; 171: 109–115.

9

Chiengthong K, Ittiwut C, Muensri S, Sophonphan J, Sosothikul D, Seksan P et al. NUDT15 c.415C>T increases risk of 6-mercaptopurine induced myelosuppression during maintenance therapy in children with acute lymphoblastic leukemia. Haematologica 2016; 101: e24–e26.

10

Liang DC, Yang CP, Liu HC, Jaing TH, Chen SH, Hung IJ et al. NUDT15 gene polymorphism related to mercaptopurine intolerance in Taiwan Chinese children with acute lymphoblastic leukemia. Pharmacogenomics J 2015; 16: 536–539.

11

Ando M, Ando Y, Hasegawa Y, Sekido Y, Shimokata K, Horibe K . Genetic polymorphisms of thiopurine S-methyltransferase and 6-mercaptopurine toxicity in Japanese children with acute lymphoblastic leukaemia. Pharmacogenetics 2001; 11: 269–273.

12

Tanaka Y, Manabe A, Nakadate H, Kondoh K, Nakamura K, Koh K et al. The activity of the inosine triphosphate pyrophosphatase affects toxicity of 6-mercaptopurine during maintenance therapy for acute lymphoblastic leukemia in Japanese children. Leuk Res 2012; 36: 560–564.

13

Tanaka Y, Manabe A, Fukushima H, Suzuki R, Nakadate H, Kondoh K et al. Multidrug resistance protein 4 (MRP4) polymorphisms impact the 6-mercaptopurine dose tolerance during maintenance therapy in Japanese childhood acute lymphoblastic leukemia. Pharmacogenomics J 2015; 15: 380–384.

14

Suzuki R, Fukushima H, Noguchi E, Tsuchida M, Kiyokawa N, Koike K et al. Influence of SLCO1B1 polymorphism on maintenance therapy for childhood leukemia. Pediatr Int 2015; 57: 572–577.

15

Moriyama T, Nishii R, Perez-Andreu V, Yang W, Klussmann FA, Zhao X et al. NUDT15 polymorphisms alter thiopurine metabolism and hematopoietic toxicity. Nat Genet 2016; 48: 367–373.

16

Igarashi S, Manabe A, Ohara A, Kumagai M, Saito T, Okimoto Y et al. No advantage of dexamethasone over prednisolone for the outcome of standard- and intermediate-risk childhood acute lymphoblastic leukemia in the Tokyo Children's Cancer Study Group L95-14 protocol. J Clin Oncol 2005; 23: 6489–6498.

17

Manabe A, Ohara A, Hasegawa D, Koh K, Saito T, Kiyokawa N et al. Significance of the complete clearance of peripheral blasts after 7 days of prednisolone treatment in children with acute lymphoblastic leukemia: the Tokyo Children's Cancer Study Group Study L99-15. Haematologica 2008; 93: 1155–1160.

18

Smith M, Arthur D, Camitta B, Carroll AJ, Crist W, Gaynon P et al. Uniform approach to risk classification and treatment assignment for children with acute lymphoblastic leukemia. J Clin Oncol 1996; 14: 18–24.

19

Common Terminology Criteria for Adverse Events Version 4.0. National Cancer Institute, National Institutes of Health. 2009.

20

Krishnamurthy P, Schwab M, Takenaka K, Nachagari D, Morgan J, Leslie M et al. Transporter-mediated protection against thiopurine-induced hematopoietic toxicity. Cancer Res 2008; 68: 4983–4989.

21

Hareedy MS, El Desoky ES, Woillard JB, Thabet RH, Ali AM, Marquet P et al. Genetic variants in 6-mercaptopurine pathway as potential factors of hematological toxicity in acute lymphoblastic leukemia patients. Pharmacogenomics 2015; 16: 1119–1134.

22

Ban H, Andoh A, Imaeda H, Kobori A, Bamba S, Tsujikawa T et al. The multidrug-resistance protein 4 polymorphism is a new factor accounting for thiopurine sensitivity in Japanese patients with inflammatory bowel disease. J Gastroenterol 2010; 45: 1014–1021.

23

Ebbesen MS, Nersting J, Jacobsen JH, Frandsen TL, Vettenranta K, Abramsson J et al. Incorporation of 6-thioguanine nucleotides into DNA during maintenance therapy of childhood acute lymphoblastic leukemia-the influence of thiopurine methyltransferase genotypes. J Clin Pharmacol 2013; 53: 670–674.
Acknowledgements
This work was supported by JSPS KAKENHI (Grant No. 15K18932). We thank Enago for the English language review.
Author contributions
YT and AM designed the experiments. YT analyzed and wrote the paper. HN, K Kondoh, KN and K Koh collected the data.
Ethics declarations
Competing interests
The authors declare no conflict of interest.
Supplementary information
About this article
Cite this article
Tanaka, Y., Nakadate, H., Kondoh, K. et al. Interaction between NUDT15 and ABCC4 variants enhances intolerability of 6-mercaptopurine in Japanese patients with childhood acute lymphoblastic leukemia. Pharmacogenomics J 18, 275–280 (2018). https://doi.org/10.1038/tpj.2017.12
Received:

Revised:

Accepted:

Published:

Issue Date: