Abstract
The aim of the study was to determine the effect of carboxylesterase 1 (CES1) genetic variation on the activation of angiotensin-converting enzyme inhibitor (ACEI) prodrugs. In vitro incubation study of human liver, intestine and kidney s9 fractions demonstrated that the ACEI prodrugs enalapril, ramipril, perindopril, moexipril and fosinopril are selectively activated by CES1 in the liver. The impact of CES1/CES1VAR and CES1P1/CES1P1VAR genotypes and diplotypes on CES1 expression and activity on enalapril activation was investigated in 102 normal human liver samples. Neither the genotypes nor the diplotypes affected hepatic CES1 expression and activity. Moreover, among several CES1 nonsynonymous variants studied in transfected cell lines, the G143E (rs71647871) was a loss-of-function variant for the activation of all ACEIs tested. The CES1 activity on enalapril activation in human livers with the 143G/E genotype was approximately one-third of that carrying the 143G/G. Thus, some functional CES1 genetic variants (for example, G143E) may impair ACEI activation, and consequently affect therapeutic outcomes of ACEI prodrugs.
Relevant articles
Open Access articles citing this article.
Fei-Yan Xiao

,

Jian-Quan Luo

…

Wei Zhang

Scientific Reports Open Access 03 August 2017
Access options
Subscribe to Journal
Get full journal access for 1 year
$119.00
only $19.83 per issue
All prices are NET prices.
VAT will be added later in the checkout.
Tax calculation will be finalised during checkout.
Buy article
Get time limited or full article access on ReadCube.
$32.00
All prices are NET prices.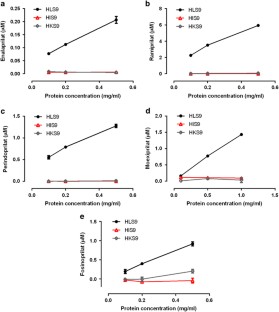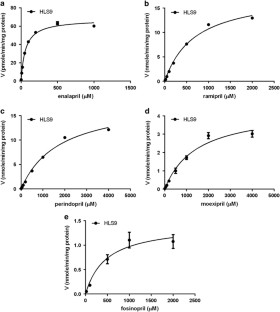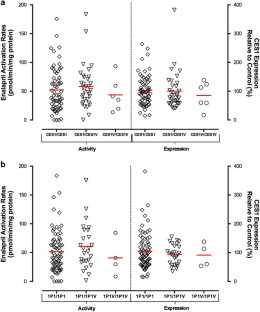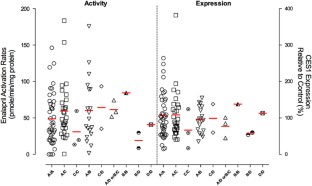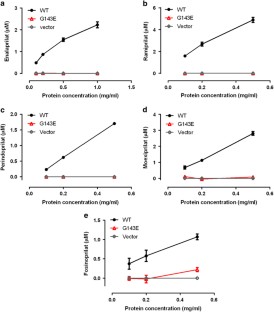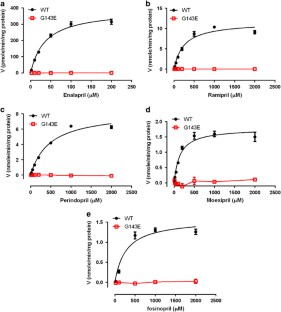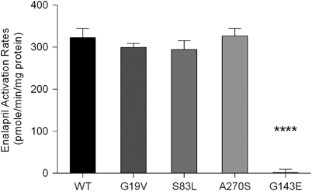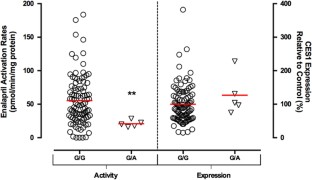 References
Webb AJ, Fischer U, Mehta Z, Rothwell PM . Effects of antihypertensive-drug class on interindividual variation in blood pressure and risk of stroke: a systematic review and meta-analysis. Lancet 2010; 375: 906–915.

Tsoukas G, Anand S, Yang K . Dose-dependent antihypertensive efficacy and tolerability of perindopril in a large, observational, 12-week, general practice-based study. Am J Cardiovasc Drugs 2011; 11: 45–55.

Malacco E, Omboni S, Volpe M, Auteri A, Zanchetti A . Antihypertensive efficacy and safety of olmesartan medoxomil and ramipril in elderly patients with mild to moderate essential hypertension: the ESPORT study. J Hypertens 2010; 28: 2342–2350.

Ionescu DD . Antihypertensive efficacy of perindopril 5-10 mg/day in primary health care: an open-label, prospective, observational study. Clin Drug Investig 2009; 29: 767–776.

Mugellini A, Dobovisek J, Planinc D, Cremonesi G, Fogari R . Efficacy and safety of delapril plus manidipine compared with enalapril plus hydrochlorothiazide in mild to moderate essential hypertension: results of a randomized trial. Clin Ther 2004; 26: 1419–1426.

Kostis JB, Packer M, Black HR, Schmieder R, Henry D, Levy E . Omapatrilat and enalapril in patients with hypertension: the Omapatrilat Cardiovascular Treatment vs. Enalapril (OCTAVE) trial. Am J Hypertens 2004; 17: 103–111.

Poirier L, Bourgeois J, Lefebvre J, Archambault F, Lacourciere Y . ACE inhibitors as first-line treatment agents: a comparative study of trandolapril and enalapril on casual and ambulatory blood pressures. Am J Ther 1995; 2: 159–164.

Mahmoudpour SH, Leusink M, van der Putten L, Terreehorst I, Asselbergs FW, de Boer A et al. Pharmacogenetics of ACE inhibitor-induced angioedema and cough: a systematic review and meta-analysis. Pharmacogenomics 2013; 14: 249–260.

Imai T . Human carboxylesterase isozymes: catalytic properties and rational drug design. Drug Metab Pharmacokinet 2006; 21: 173–185.

Satoh T, Hosokawa M . Structure, function and regulation of carboxylesterases. Chem Biol Interact 2006; 162: 195–211.

Imai T, Taketani M, Shii M, Hosokawa M, Chiba K . Substrate specificity of carboxylesterase isozymes and their contribution to hydrolase activity in human liver and small intestine. Drug Metab Dispos 2006; 34: 1734–1741.

Sun Z, Murry DJ, Sanghani SP, Davis WI, Kedishvili NY, Zou Q et al. Methylphenidate is stereoselectively hydrolyzed by human carboxylesterase CES1 A1. J Pharmacol Exp Ther 2004; 310: 469–476.

Zhu HJ, Wang X, Gawronski BE, Brinda BJ, Angiolillo DJ, Markowitz JS . Carboxylesterase 1 as a determinant of clopidogrel metabolism and activation. J Pharmacol Exp Ther 2013; 344: 665–672.

Takai S, Matsuda A, Usami Y, Adachi T, Sugiyama T, Katagiri Y et al. Hydrolytic profile for ester- or amide-linkage by carboxylesterases pI 5.3 and 4.5 from human liver. Biol Pharm Bull 1997; 20: 869–873.

Zhu HJ, Appel DI, Johnson JA, Chavin KD, Markowitz JS . Role of carboxylesterase 1 and impact of natural genetic variants on the hydrolysis of trandolapril. Biochem Pharmacol 2009; 77: 1266–1272.

Yang D, Pearce RE, Wang X, Gaedigk R, Wan YJ, Yan B . Human carboxylesterases HCE1 and HCE2: ontogenic expression, inter-individual variability and differential hydrolysis of oseltamivir, aspirin, deltamethrin and permethrin. Biochem Pharmacol 2009; 77: 238–247.

Thomsen R, Rasmussen HB, Linnet K . In vitro drug metabolism by human carboxylesterase 1: focus on angiotensin-converting enzyme inhibitors. Drug Metab Dispos 2013; 42: 126–133.

Vistoli G, Pedretti A, Mazzolari A, Testa B . Homology modeling and metabolism prediction of human carboxylesterase-2 using docking analyses by GriDock: a parallelized tool based on AutoDock 4.0. J Comput Aided Mol Des 24: 771–787.

Tanimoto K, Kaneyasu M, Shimokuni T, Hiyama K, Nishiyama M . Human carboxylesterase 1A2 expressed from carboxylesterase 1A1 and 1A2 genes is a potent predictor of CPT-11 cytotoxicity in vitro. Pharmacogenet Genomics 2007; 17: 1–10.

Suzaki Y, Uemura N, Takada M, Ohyama T, Itohda A, Morimoto T et al. The effect of carboxylesterase 1 (CES1) polymorphisms on the pharmacokinetics of oseltamivir in humans. Eur J Clin Pharmacol 2013; 69: 21–30.

Sai K, Saito Y, Tatewaki N, Hosokawa M, Kaniwa N, Nishimaki-Mogami T et al. Association of carboxylesterase 1A genotypes with irinotecan pharmacokinetics in Japanese cancer patients. Br J Clin Pharmacol 2010; 70: 222–233.

Zhu HJ, Markowitz JS . Activation of the antiviral prodrug oseltamivir is impaired by two newly identified carboxylesterase 1 variants. Drug Metab Dispos 2009; 37: 264–267.

Zhu HJ, Patrick KS, Yuan HJ, Wang JS, Donovan JL, DeVane CL et al. Two CES1 gene mutations lead to dysfunctional carboxylesterase 1 activity in man: clinical significance and molecular basis. Am J Hum Genet 2008; 82: 1241–1248.

Lewis JP, Horenstein RB, Ryan K, O'Connell JR, Gibson Q, Mitchell BD et al. The functional G143E variant of carboxylesterase 1 is associated with increased clopidogrel active metabolite levels and greater clopidogrel response. Pharmacogenet Genomics 2013; 23: 1–8.

Nemoda Z, Angyal N, Tarnok Z, Gadoros J, Sasvari-Szekely M . Carboxylesterase 1 gene polymorphism and methylphenidate response in ADHD. Neuropharmacology 2009; 57: 731–733.

Tarkiainen EK, Backman JT, Neuvonen M, Neuvonen PJ, Schwab M, Niemi M . Carboxylesterase 1 polymorphism impairs oseltamivir bioactivation in humans. Clin Pharmacol Ther 2012; 92: 68–71.

al-Dirbashi O, Kuroda N, Menichini F, Noda S, Minemoto M, Nakashima K . Enantioselective high-performance liquid chromatography with fluorescence detection of methamphetamine and its metabolites in human urine. Analyst 1998; 123: 2333–2337.

Fukami T, Nakajima M, Maruichi T, Takahashi S, Takamiya M, Aoki Y et al. Structure and characterization of human carboxylesterase 1A1, 1A2, and 1A3 genes. Pharmacogenet Genomics 2008; 18: 911–920.

Gu Q, Chen X, Zhong D, Wang Y . Simultaneous determination of enalapril and enalaprilat in human plasma by liquid chromatography-tandem mass spectrometry. J Chromatogr B Analyt Technol Biomed Life Sci 2004; 813: 337–342.

Yuan B, Wang X, Zhang F, Jia J, Tang F . Simultaneous determination of ramipril and its active metabolite ramiprilat in human plasma by LC–MS–MS. Chromatographia 2008; 68: 533–539.

Jain DS, Subbaiah G, Sanyal M, Pande UC, Shrivastav P . First LC-MS/MS electrospray ionization validated method for the quantification of perindopril and its metabolite perindoprilat in human plasma and its application to bioequivalence study. J Chromatogr B Analyt Technol Biomed Life Sci 2006; 837: 92–100.

Karra VK, Mullangi R, Pilli NR, Inamadugu JK, Ravi VB, Seshagiri Rao JV . A rapid and sensitive liquid chromatography-tandem mass spectrometric assay for moexipril, an angiotensin-converting enzyme inhibitor in human plasma. Biomed Chromatogr 2012; 26: 1552–1558.

Cui S, Feng F, Ma M, Liu H, Chen Y . Development and validation of liquid chromatography-tandem mass spectrometric method for simultaneous determination of fosinopril and its active metabolite fosinoprilat in human plasma. J Chromatogr B Analyt Technol Biomed Life Sci 2007; 854: 143–151.

Hatfield MJ, Tsurkan L, Garrett M, Shaver TM, Hyatt JL, Edwards CC et al. Organ-specific carboxylesterase profiling identifies the small intestine and kidney as major contributors of activation of the anticancer prodrug CPT-11. Biochemical pharmacology 2011; 81: 24–31.

Taketani M, Shii M, Ohura K, Ninomiya S, Imai T . Carboxylesterase in the liver and small intestine of experimental animals and human. Life Sci 2007; 81: 924–932.

Hosokawa M . Structure and catalytic properties of carboxylesterase isozymes involved in metabolic activation of prodrugs. Molecules 2008; 13: 412–431.

Hosokawa M, Endo T, Fujisawa M, Hara S, Iwata N, Sato Y et al. Interindividual variation in carboxylesterase levels in human liver microsomes. Drug Metab Dispos 1995; 23: 1022–1027.

Humerickhouse R, Lohrbach K, Li L, Bosron WF, Dolan ME . Characterization of CPT-11 hydrolysis by human liver carboxylesterase isoforms hCE-1 and hCE-2. Cancer Res 2000; 60: 1189–1192.

Geshi E, Kimura T, Yoshimura M, Suzuki H, Koba S, Sakai T et al. A single nucleotide polymorphism in the carboxylesterase gene is associated with the responsiveness to imidapril medication and the promoter activity. Hypertens Res 2005; 28: 719–725.

Xie C, Ding X, Gao J, Wang H, Hang Y, Zhang H et al. The effects of CES1A2 A(-816)C and CYP2C19 loss-of-function polymorphisms on clopidogrel response variability among Chinese patients with coronary heart disease. Pharmacogenet Genomics 2014; 24: 204–210.

Zou J-J, Chen S-L, Fan H-W, Tan J, He B-S, Xie H-G . The CES1A -816C as a genetic marker to predict greater platelet clopidogrel response in patients with percutaneous coronary intervention. J Cardiovasc Pharmacol 2014; 63: 178–183.

Bruxel EM, Salatino-Oliveira A, Genro JP, Zeni CP, Polanczyk GV, Chazan R et al. Association of a carboxylesterase 1 polymorphism with appetite reduction in children and adolescents with attention-deficit/hyperactivity disorder treated with methylphenidate. Pharmacogenomics J 2012; 13: 476–480.

Yamada S, Richardson K, Tang M, Halaschek-Wiener J, Cook VJ, Fitzgerald JM et al. Genetic variation in carboxylesterase genes and susceptibility to isoniazid-induced hepatotoxicity. Pharmacogenomics J 2010; 10: 524–536.
Acknowledgements
Research reported in this publication was supported in part by the National Center for Advancing Translational Sciences of the National Institutes of Health under Award Number 2UL1TR000433 (Hao-Jie Zhu) and the American Association of Colleges of Pharmacy (AACP) 2015 New Investigator Award (Hao-Jie Zhu). The content is solely the responsibility of the authors and does not necessarily represent the official views of the National Institutes of Health.
Ethics declarations
Competing interests
The authors declare no conflict of interest.
Supplementary information
About this article
Cite this article
Wang, X., Wang, G., Shi, J. et al. CES1 genetic variation affects the activation of angiotensin-converting enzyme inhibitors. Pharmacogenomics J 16, 220–230 (2016). https://doi.org/10.1038/tpj.2015.42
Received:

Revised:

Accepted:

Published:

Issue Date:

DOI: https://doi.org/10.1038/tpj.2015.42