Abstract
Possessing an apolipoprotein E (APOE) ɛ4 allele, advanced age and smoking are risk factors for Alzheimer's disease and cognitive decline. Deficits in cognitive function also increase risk for smoking relapse. Data from 917 adult smokers of European ancestry were pooled across three randomized trials of smoking cessation. We examined whether smokers who carry at least one ɛ4 allele (n=252) have more difficulty quitting smoking compared with noncarriers (n=665), and whether age moderated this association. The genotype by age interaction was significant for 7-day point-prevalence abstinence rates (P=0.04) and time to 7-day failure (P=0.03). Among smokers over age 60, ɛ4 carriers were less likely to quit (odds ratio=0.27, P=0.018) and relapsed more quickly (hazard ratio=3.38, P=0.001) compared with noncarriers. The genotype association with relapse was nonsignificant among younger smokers. An increased understanding of the underlying pathophysiological mechanisms of this association could facilitate the development of targeted therapies for smokers with increased risk for cognitive decline.
Access options
Subscribe to Journal
Get full journal access for 1 year
$119.00
only $19.83 per issue
All prices are NET prices.
VAT will be added later in the checkout.
Tax calculation will be finalised during checkout.
Buy article
Get time limited or full article access on ReadCube.
$32.00
All prices are NET prices.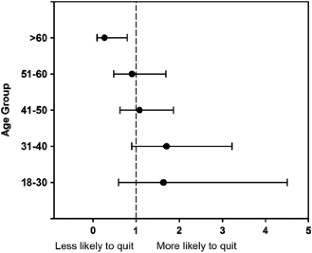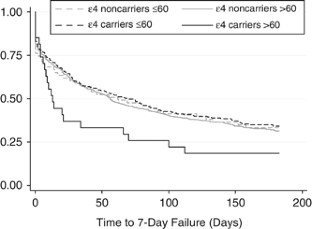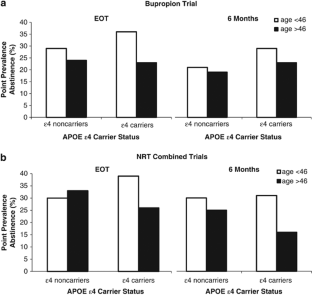 References
Lester RA . Cognitive mechanisms underlying relapse to nicotine. Rev Neurosci 2011; 22: 467–470.

Lerman C, LeSage MG, Perkins KA, O'Malley SS, Siegel SJ, Benowitz NL et al. Translational research in medication development for nicotine dependence. Nat Rev Drug Discov 2007; 6: 746–762.

Heishman SJ, Kleykamp BA, Singleton EG . Meta-analysis of the acute effects of nicotine and smoking on human performance. Psychopharmacology (Berl) 2010; 210: 453–469.

Myers C, Taylor R, Moolchan E, Heishman S . Dose-related enhancement of mood and cognition in smokers administered nicotine nasal spray. Neuropsychopharmacology 2008; 33: 588–598.

Myers CS, Richard CT, Etter JR, Moolchan ET, Heishman SJ . Nicotine nasal spray dose-dependently enhanced sustained attention as assessed by the continous performance task, Presented to the Society for Research on Nicotine and Tobacco, Prague 2005.

Shoaib M, Bizarro L . Deficits in a sustained attention task following nicotine withdrawal in rats. Psychopharmacology (Berl) 2005; 178: 211–222.

Davis JA, Gould TJ . Associative learning, the hippocampus, and nicotine addiction. Curr Drug Abuse Rev 2008; 1: 9–19.

Portugal GS, Kenney JW, Gould TJ . Beta2 subunit containing acetylcholine receptors mediate nicotine withdrawal deficits in the acquisition of contextual fear conditioning. Neurobiol Learn Mem 2007; 89: 106–113.

Jacobsen LK, Krystal JH, Mencl WE, Westerveld M, Frost SJ, Pugh KR . Effects of smoking and smoking abstinence on cognition in adolescent tobacco smokers. Biol Psychiatry 2005; 57: 56–66.

Levin ED, Lee C, Rose JE, Reyes A, Ellison G, Jarvik M et al. Chronic nicotine and withdrawal effects on radial-arm maze performance in rats. Behav Neural Biol 1990; 53: 269–276.

Loughead J, Ray R, Wileyto EP, Ruparel K, Sanborn P, Siegel S et al. Effects of the alpha4beta2 partial agonist varenicline on brain activity and working memory in abstinent smokers. Biol Psychiatry 2010; 67: 715–721.

Mendrek A, Monterosso J, Simon SL, Jarvik M, Brody A, Olmstead R et al. Working memory in cigarette smokers: comparison to non-smokers and effects of abstinence. Addict Behav 2005; 31: 833–844.

Ashare RL, Hawk LW . Effects of smoking abstinence on impulsive behavior among smokers high and low in ADHD-like symptoms. Psychopharmacology (Berl) 2012; 219: 537–547.

Harrison EL, Coppola S, McKee SA . Nicotine deprivation and trait impulsivity affect smokers' performance on cognitive tasks of inhibition and attention. Exp Clin Psychopharmacol 2009; 17: 91–98.

Patterson F, Jepson C, Loughead J, Perkins K, Strasser A, Siegel S et al. Working memory deficits predict short-term smoking resumption following brief abstinence. Drug Alcohol Depend 2010; 106: 61–64.

Krishnan-Sarin S, Reynolds B, Duhig AM, Smith A, Liss T, McFetridge A et al. Behavioral impulsivity predicts treatment outcome in a smoking cessation program for adolescent smokers. Drug Alcohol Depend 2007; 88: 79–82.

Culhane MA, Schoenfeld DA, Barr RS, Cather C, Deckersbach T, Freudenreich O et al. Predictors of early abstinence in smokers with schizophrenia. J Clin Psychiatry 2008; 69: 1743–1750.

Kassel JD, Yates M, Brown RA . Baseline reaction time predicts 12-month smoking cessation outcome in formerly depressed smokers. Psychol Addictive Behav 2007; 21: 415–419.

Loughead J, Wileyto EP, Valdez JN, Sanborn P, Tang K, Strasser AA et al. Effect of abstinence challenge on brain function and cognition in smokers differs by COMT genotype. Mol Psychiatry 2009; 14: 820–826.

Mahley RW, Huang Y . Apolipoprotein (apo) E4 and Alzheimer's disease: unique conformational and biophysical properties of apoE4 can modulate neuropathology. Acta Neurol Scand Suppl 2006; 185: 8–14.

Wishart H, Saykin A, Rabin L, Santulli R, Flashman L, Guerin S et al. Increased brain activation during working memory in cognitively intact adults with the APOE e4 allele. AJ Psychiatry 2006; 163: 1603–1610.

Izaks GJ, Gansevoort RT, van der Knaap AM, Navis G, Dullaart RPF, Slaets JPJ . The association of APOE genotype with cognitive function in persons aged 35 years or older. PLoS ONE 2011; 6: e27415.

Greenwood PM, Lambert C, Sunderland T, Parasuraman R . Effects of apolipoprotein E genotype on spatial attention, working memory, and their interaction in healthy, middle-aged adults: results from the National Institute of Mental Health's BIOCARD study. Neuropsychology 2005; 19: 199–211.

Alexopoulos P, Richter-Schmidinger T, Horn M, Maus S, Reichel M, Sidiropoulos C et al. Hippocampal volume differences between healthy young apolipoprotein E epsilon2 and epsilon4 carriers. J Alzheimers Dis 2011; 26: 207–210.

Brown JA, Terashima KH, Burggren AC, Ercoli LM, Miller KJ, Small GW et al. Brain network local interconnectivity loss in aging APOE-4 allele carriers. Proc Natl Acad Sci USA 2011; 108: 20760–20765.

Fennema-Notestine C, Panizzon MS, Thompson WR, Chen CH, Eyler LT, Fischl B et al. Presence of ApoE epsilon4 allele associated with thinner frontal cortex in middle age. J Alzheimer's Disease 2011; 26 (Suppl 3): 49–60.

Bondi MW, Houston WS, Eyler LT, Brown GG . fMRI evidence of compensatory mechanisms in older adults at genetic risk for Alzheimer disease. Neurology 2005; 64: 501–508.

Bookheimer SY, Strojwas MH, Cohen MS, Saunders AM, Pericak-Vance MA, Mazziotta JC et al. Patterns of brain activation in people at risk for Alzheimer's disease. N Engl J Med 2000; 343: 450–456.

Wishart HA, Saykin AJ, Rabin LA, Santulli RB, Flashman LA, Guerin SJ et al. Increased brain activation during working memory in cognitively intact adults with the APOE epsilon4 allele. Am J Psychiatry 2006; 163: 1603–1610.

Evans DE, Drobes DJ . Nicotine self-medication of cognitive-attentional processing. Addiction Biol 2009; 14: 32–42.

Schnoll RA, Patterson F, Wileyto EP, Heitjan DF, Shields AE, Asch DA et al. Effectiveness of extended-duration transdermal nicotine therapy: a randomized trial. Ann Intern Med 2010; 152: 144–151.

Lerman C, Jepson C, Wileyto EP, Epstein LH, Rukstalis M, Patterson F et al. Role of functional genetic variation in the dopamine D2 receptor (DRD2) in response to bupropion and nicotine replacement therapy for tobacco dependence: results of two randomized clinical trials. Neuropsychopharmacology 2006; 31: 231–242.

Liu F, Pardo LM, Schuur M, Sanchez-Juan P, Isaacs A, Sleegers K et al. The apolipoprotein E gene and its age-specific effects on cognitive function. Neurobiol Aging 2010; 31: 1831–1833.

Ray R, Mitra N, Baldwin D, Guo M, Patterson F, Heitjan DF et al. Convergent evidence that choline acetyltransferase gene variation is associated with prospective smoking cessation and nicotine dependence. Neuropsychopharmacology 2010; 35: 1374–1382.

Conti DV, Lee W, Li D, Liu J, Van Den Berg D, Thomas PD et al. Nicotinic acetylcholine receptor beta2 subunit gene implicated in a systems-based candidate gene study of smoking cessation. Hum Mol Genet 2008; 17: 2834–2848.

Heatherton TF, Kozlowski LT, Frecker RC, Fagerstrom KO . The Fagerstrom test for nicotine dependence: a revision of the Fagerstrom tolerance questionnaire. Br J Addict 1991; 86: 1119–1127.

Brown RA, Burgess ES, Sales SD, Whiteley JA, Evans DM, Miller IW . Reliability and validity of a smoking timeline follow-back interview. Psychol Addictive Behav 1998; 12: 101–112.

Weisgraber KH, Rall S, Mahley R . Human E apoprotein heterogeneity. Cysteine-arginine interchanges in the amino acid sequence of the apo-E isoforms. J Biol Chem 1981; 256: 9077–9083.

Radloff LS . The CES-D scale: a self-report depression scale for research in the general population. Appl Psychol Measurement 1977; 1: 385–401.

Hughes J, Keely J, Niaura R, Ossip-Klein D, Richmond R, Swan G . Measures of abstinence in clinical trials: issues and recommendations. Nicotine Tob Res 2003; 5: 13–25.

Murphy K, Barkley R . Attention deficit hyperactivity disorder adults: comorbidities and adaptive impairments. Compr Psychiatry 1996; 37: 393–401.

Lerman C, Audrain J, Tercyak K, Hawk LW, Bush A, Crystal-Mansour S et al. Attention-deficit hyperactivity disorder (ADHD) symptoms and smoking patterns among participants in a smoking-cessation program. Nicotine Tob Res 2001; 3: 353–359.

Kenney J, Gould T . Modulation of hippocampus-dependent learning and synaptic plasticity by nicotine. Mol Neurobiol 2008; 38: 101–121.

Flory JD, Manuck SB, Ferrell RE, Ryan CM, Muldoon MF . Memory performance and the apolipoprotein E polymorphism in a community sample of middle-aged adults. Am J Med Genet 2000; 96: 707–711.

Wisdom NM, Callahan JL, Hawkins KA . The effects of apolipoprotein E on non-impaired cognitive functioning: a meta-analysis. Neurobiol Aging 2011; 32: 63–74.

Newhouse P, Kellar K, Aisen P, White H, Wesnes K, Coderre E et al. Nicotine treatment of mild cognitive impairment: a 6-month double-blind pilot clinical trial. Neurology 2012; 78: 91–101.

Kukolja J, Thiel CM, Eggermann T, Zerres K, Fink GR . Medial temporal lobe dysfunction during encoding and retrieval of episodic memory in non-demented APOE ɛ4 carriers. Neuroscience 2010; 168: 487–497.

Loughead J, Wileyto EP, Valdez JN, Sanborn P, Tang K, Strasser AA et al. Effect of abstinence challenge on brain function and cognition in smokers differs by COMT genotype. Molecular Psychiatry 2009; 14: 820–826.

McClernon FJ, Kozink RV, Lutz AM, Rose JE . 24-H smoking abstinence potentiates fMRI-BOLD activation to smoking cues in cerebral cortex and dorsal striatum. Psychopharmacology (Berl) 2009; 204: 25–35.

Froeliger B, Modlin L, Wang L, Kozink RV, McClernon FJ . Nicotine withdrawal modulates frontal brain function during an affective Stroop task. Psychopharmacology (Berl) 2012; 220: 707–718.

Sutherland MT, McHugh MJ, Pariyadath V, Stein EA . Resting state functional connectivity in addiction: lessons learned and a road ahead. Neuroimage 62: 2281–2295.

Diehl A, Nakovics H, Croissant B, Smolka MN, Batra A, Mann K . Galantamine reduces smoking in alcohol-dependent patients: a randomized, placebo-controlled trial. Int J Clin Pharmacol Ther 2006; 44: 614–622.

Sofuoglu M . Cognitive enhancement as a pharmacotherapy target for stimulant addiction. Addiction 2010; 105: 38–48.

Bickel WK, Yi R, Landes RD, Hill PF, Baxter C . Remember the future: working memory training decreases delay discounting among stimulant addicts. Biol Psychiatry 2011; 69: 260–265.
Acknowledgements
The funding for this study was supported by P50 CA143187, U01 DA020830 and R01 DA030819 (Lerman). Dr Karlawish is supported by NIA P30AG01024. The NIH had no further role in study design; in the collection, analysis and interpretation of data; in the writing of the report; or in the decision to submit the paper for publication.
Ethics declarations
Competing interests
Dr Lerman has served as a consultant and/or has received research funding from GlaxoSmithKline, AstraZeneca, Novartis and Pfizer. The current study was not supported by industry funds. Dr Wileyto has served as a consultant for Pfizer. The remaining authors declare no conflict of interest.
Supplementary information
About this article
Cite this article
Ashare, R., Karlawish, J., Wileyto, E. et al. APOE ɛ4, an Alzheimer's disease susceptibility allele, and smoking cessation. Pharmacogenomics J 13, 538–543 (2013). https://doi.org/10.1038/tpj.2012.49
Received:

Revised:

Accepted:

Published:

Issue Date:

DOI: https://doi.org/10.1038/tpj.2012.49
Keywords
smoking

smoking cessation

relapse

nicotine

cognition

APOE
Further reading
Ryan Coppens
Norka E. Rabinovich
David G. Gilbert

Psychopharmacology (2021)