Abstract
The objective of this study was to determine the association of 5-HT2C (serotonin 2C receptor) and MDR1 (multidrug resistant protein) genetic polymorphisms and antipsychotic-induced metabolic abnormalities among female patients with DSM IV schizophrenia spectrum disorders. We have previously reported the associations of −759CT 5-HT2C and G2677T and C3435T MDR1 genetic polymorphisms and olanzapine/risperidone-induced weight gain in a similar sample of patients. Here, we included a total of 101 previously non-medicated female patients treated with olanzapine/risperidone over a 3-month period. The variables analyzed included fasting glucose, total cholesterol, low-density lipoprotein, high-density lipoprotein and triglyceride levels in blood, blood pressure and waist circumferences. We observed significant association of −759T 5-HT2C genetic variant and greater increase in waist circumference (P=0.03), fasting glucose level (P=0.046) and triglyceride level (P=0.045) in blood after a 3-month period. The 2677T and 3435T MDR1 genetic variants were significantly associated with the greater increase in fasting glucose level in blood when patients were using olanzapine (P<0.001 and P=0.028, respectively). Our data indicate a possible influence of −759CT 5-HT2C and MDR1 G2677T and C3435T MDR1 genetic polymorphisms on the development of metabolic abnormalities among female patients treated with olanzapine/risperidone.
Relevant articles
Open Access articles citing this article.
Saki Hattori

,

Akira Suda

…

Yoshio Hirayasu

BMC Psychiatry Open Access 17 July 2018

J Vendelbo

,

R H Olesen

…

A Larsen

The Pharmacogenomics Journal Open Access 29 November 2016
Access options
Subscribe to this journal
Receive 6 print issues and online access
$259.00 per year
only $43.17 per issue
Rent or buy this article
Get just this article for as long as you need it
$39.95
Prices may be subject to local taxes which are calculated during checkout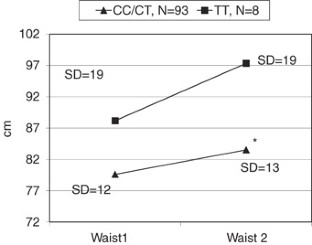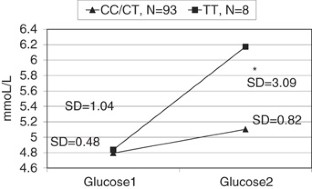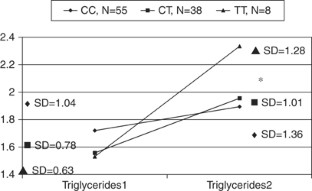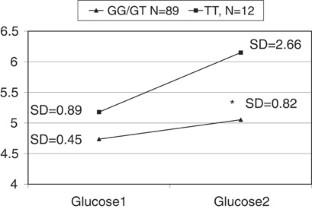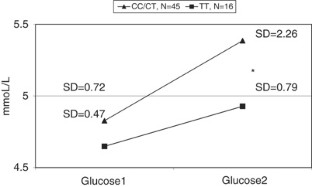 References
Stahl SM . Essential Psychopharmacology, Neuroscientific Basis and Practical Applications, 2nd edn. Cambridge University press: Cambridge, 2000.

Lieberman JA, Stroup TS, McEvoy JP, Swartz MS, Rosenheck RA, Perkins DO et al. Clinical Antipsychotic Trials of Intervention Effectiveness (CATIE) Investigators. Effectiveness of antipsychotic drugs in patients with chronic schizophrenia. N Engl J Med 2005; 353: 1209–1223.

Smith RC, Lindenmayer JP, Bark N, Warner-Cohen J, Vaidhyanathaswamy S, Khandat A . Clozapine, risperidone, olanzapine, and conventional antipsychotic drug effects on glucose, lipids, and leptin in schizophrenia patients. Int J Neuropsychopharmacol 2005; 8: 183–194.

Wu RR, Zhao JP, Liu ZN, Zhai JG, Guo XF, Guo WB et al. Effects of typical and atypical antipsychotics on glucose–insulin homeostasis and lipid metabolism in first-episode schizophrenia. Psychopharmacology 2006; 186: 572–578.

McEvoy JP, Meyer JM, Goff DC, Nasrallah HA, Davis SM, Sullivan L et al. Prevalence of the metabolic syndrome in patients with schizophrenia: baseline results from the Clinical Antipsychotic Trials of Intervention Effectiveness (CATIE) schizophrenia trial and comparison with national estimates from III NHANES. Schizophr Res 2005; 80: 19–32.

Muller DJ, Kennedy JL . Genetics of antipsychotic treatment emergent weight gain in schizophrenia. Pharmacogenomics 2006; 7: 863–887.

Rojnic Kuzman M, Medved V, Bozina N, Hotujac L, Sain I, Bilusic H . The influence of 5-HT2C and MDR1 genetic polymorphisms on antipsychotic-induced weight gain in female schizophrenic patients. Psychiatry Res 2008; 160: 308–315.

Atmaca M, Kuloglu M, Tezcan E, Ustundag B . Serum leptin and triglyceride levels in patients on treatment with atypical antipsychotics. J Clin Psychiatry 2003; 64: 598–604.

Thonnard-Neumann E . Phenothiazines and diabetes in hospitalized women. Am J Psychiatry 1946; 102: 108–110.

Di Matteo V, Cacchio M, Di Giulio C, Di Giovanni G, Esposito E . Biochemical evidence that the atypical antipsychotic drugs clozapine and risperidone block 5-HT2C receptors in vivo. Pharmacol Biochem Behav 2002; 71: 607–613.

Tecott LH, Sun LM, Akana SF, Strack AM, Lowenstein DH, Dallman MF et al. Eating disorder and epilepsy in mice lacking 5HT2C serotonine receptors. Nature 1995; 374: 542–546.

Sugimoto Y, Inoue K, Yamada J . Involvement of 5-HT(2) receptor in imipramine-induced hyperglycemia in mice. Horm Metab Res 2003; 35: 511–516.

Basile VS, Masellis M, De Luca V, Meltzer HY, Kennedy JL . 759C/T genetic variation of the 5HT2C receptor and clozapine-induced weight. Lancet 2002; 360: 1790–1791.

Tsai SJ, Hong CJ, Yu YW, Lin CH . 759C/T genetic variation of the 5HT2C receptor and clozapine-induced weight. Lancet 2002; 360: 1790.

Theisen FM, Hinney A, Bromel T, Heinzel-Gutenbrunner M, Martin M, Krieg JC et al. Lack of association between the −759C/T polymorphism of the 5HT2C receptor gene and clozapine-induced weight gain among German schizophrenic individuals. Psychiatr Genet 2004; 14: 139–142.

Ellingrod VL, Perry PJ, Ringold JC, Lund BC, Bever-Stille K, Fleming F et al. Weight gain associated with the −759 C/T polymorphism of the 5HT2C receptor and olanzapine. Am J Med Genet B Neuropsychiatr Genet 2005; 134B: 76–78.

Miller DD, Ellingrod VL, Holman TL, Buckley PF, Arndt S . Clozapine-induced weight gain associated with the 5HT2C receptor −759C/T polymorphism. Am J Med Genet B Neuropsychiatr Genet 2005; 133B: 97–100.

Templeman LA, Reynolds GP, Arranz B, San L . Polymorphisms of the 5HT2C receptor and leptin genes are associated with antipsychotic drug-induced weight gain in Caucasian subjects with a first-episode psychosis. Pharmacogenet Genomics 2005; 15: 195–200.

Godlewska B, Olajossy-Hilkesberger L, Ciwoniuk M, Landowski J . 5-HT2C gene variant influences olanzapine-induced weight gain in men but not in women. Am J Med Genet B Neuropsychiatr Genet 2005; 141: 787: Abstract.

De Luca V, Mueller DJ, de Bartolomeis A, Kennedy JL . Association of the HTR2C gene and antipsychotic induced weight gain: a meta-analysis. Int J Neuropsychopharmacol 2007; 10: 697–704.

Yevtushenko O, Cooper S, O'Neill R, Doherty J, Reynolds G . 5-HT2C receptor and leptin polymorphism, obesity and metabolic syndrome in schizophrenia. Am J Med Genet B Neuropsychiatr Genet 2006; 141B: 789: Abstract.

Mulder H, Franke B, Aart van der–Beek van der A, Arends J, Wilmink FW, Scheffer H et al. The association between HTR2C gene polymorphisms and the metabolic syndrome in patients with schizophrenia. J Clin Psychopharmacol 2007; 27: 338–343.

Kinon BJ, Basson BR, Gilmore JA, Tollefson GD . Long-term olanzapine treatment: weight change and weight-related health factors in schizophrenia. J Clin Psychiatry 2001; 62: 92–100.

Lin JH, Yamazaki M . Role of p-glycoprotein in pharmacokinetics: clinical implications. Clin Pharmacokinet 2003; 42: 59–98.

Cordon-Cardo C, O'Brien JP, Casals D, Rittman-Grauer L, Biedler JL, Melamed MR et al. Multidrug-resistance gene (P-glycoprotein) is expressed by endothelial cells at blood–brain barrier sites. Proc Natl Acad Sci USA 1989; 86: 695–698.

Boulton DW, DeVane CL, Liston HL, Markowitz JS . Human recombinant P-glycoprotein specificity for atypical antipsychotics. Life Sci 2002; 71: 163–169.

Mahar Doan KM, Humphreys JE, Webster LO, Wring SA, Shampine LJ, Serabjit-Singh CJ et al. Passive permeability and P-glycoprotein-mediated efflux differentiate central nervous system (CNS) and non-CNS marketed drugs. J Pharmacol Exp Ther 2002; 303: 1029–1037.

Uhr M, Grauer MT, Yassouridis A, Ebinger M . Blood–brain barrier penetration and pharmacokinetics of amitriptyline and its metabolites in p-glycoprotein (abcb1ab) knock-out mice and controls. J Psychiatr Res 2007; 41: 179–188.

Hoffmeyer S, Burk O, von Richter O, Arnold HP, Brockmoller J, Johne A et al. Functional polymorphism of the human multidrug-resistance gene: multiple sequence variations and correlations of one allele with P-glycoprotein expression and activity in vivo. Proc Natl Acad Sci USA 2000; 97: 3473–3478.

Lin YC, Ellingrod VL, Bishop JR, Miller del D . The relationship between P-glycoprotein (PGP) polymorphisms and response to olanzapine treatment in schizophrenia. Ther Drug Monit 2006; 28: 668–672.

Medved V, Rojnic Kuzman M, Jovanovic N, Grubisin J, Kuzman T . Metabolic syndrome in female patients with schizophrenia treated with second generation antipsychotics: a 3-month follow-up. J Psychopharmacol 2008; 23: 915–922.

Miller SA, Dykes DD, Polesky HF . A simple salting out procedure for extracting DNA from human nucleated cell. Nucl Acid Res 1988; 16: 1215.

Guo SW, Thompson EA . Performing the exact test of Hardy–Weinberg proportions for multiple alleles. Biometrics 1992; 48: 361–372.

Slatkin M, Excoffier L . Testing for linkage disequilibrium in genotypic data using the EM algorithm. Heredity 1996; 76: 377–383.

Excoffier L, Laval G, Schneider S . Arlequin ver. 3.01: An Integrated Software Package for Population Genetic Data Analysis. University of Bern: Switzerland, 2006.

Dudbridge F . Pedigree disequilibrium tests for multilocus haplotypes. Genet Epidemiol 2003; 25: 115–121.

Holm S . A simple sequentially rejective multiple test procedure. Scand J Stat 1979; 6: 65–70.

Rice WR . Analyzing tables of statistical tests. Evolution 1989; 43: 223–225.

Lin PI, Vance JM, Pericak-Vance MA, Martin ER . No gene is an Island: The flip-flop phenomenon. Am J Hum Genet 2007; 80: 531–538.

McCarthy S, Mottagui-Tabarn S, Mizuno Y, Sennblad B, Hoffstedt J, Arner P et al. Complex HRT2C linkage disequilibrium and promoter associations with body mass index and serum leptin. Hum Genet 2005; 117: 545–557.

Yuan X, Yamada K, Ishiyama-Shigemoto S, Koyama W, Nonaka K . Identification of polymorphic loci in the promoter region of the serotonin 5HT2C receptor gene and their association with obesity and type II diabetes. Diabetologia 2000; 43: 37s.

Buckland PR, Hoogendoorn B, Guy CA, Smith SK, Coleman SL, O'Donovan MC . Low gene expression conferred by association of an allele of the 5-HT2C receptor gene with antipsychotic-induced weight gain. Am J Psychiatry 2005; 162: 613–615.

Gundlah C, Pecins-Thompson M, Schutzer WE, Bethea CL . Ovarian steroid effects on serotonin 1A, 2A and 2C receptor mRNA in macaque hypothalamus. Brain Res Mol Brain Res 1999; 63: 325–339.

Buckland PR, D'Souza U, Maher NA, McGuffin P . The effects of antipsychotic drugs on the mRNA levels of serotonin 5-HT and 5-HT receptors. Brain Res Mol Brain Res 1997; 48: 45–52.

Burnet PWJ, Chen CPL-H, McGowan S, Franklin M, Harrison PJ . The effects of clozapine and haloperidol on serotonin-1A, -2A and -2C receptor gene expression and serotonin metabolism in the rat forebrain. Neuroscience 1996; 73: 531–540.

Canton H, Emeson RB, Barker EL, Backstrom JR, Lu JT, Chang MS et al. Identification, molecular cloning, and distribution of a short variant of the 5-hydroxytryptamine 2C receptor produced by alternative splicing. Mol Pharmacol 1996; 59: 799–807.

Henderson DC, Cagliero E, Copeland PM, Borba CP, Evins E, Hayden D et al. Glucose metabolism in patients with schizophrenia treated with atypical antipsychotic agents: a frequently sampled intravenous glucose tolerance test and minimal model analysis. Arch Gen Psychiatry 2005; 62: 19–28.

Moffat AC, Osselton MD, Widdop B . Clark's analysis of drugs and poisons, vol. 2. Pharmaceutical Press: London, 2004.

Ader M . Looking beyond the weight gain: preclinical evidence of antipsychotic—induced adiposity and pancreatic dysfunction. World J Biol Psychiatry 2007; 8 (Suppl 1): 47.

Koller EA, Cross JT, Doraiswamy PM, Malozowski SN . Pancreatitis associated with atypical antipsychotics: from the Food and Drug Administration's MedWatch surveillance system and published reports. Pharmacotherapy 2003; 23: 1123–1130.

Rossor AM, Leech N, Neely RDG . Olanzapine-induced chylomicronemia presenting as acute pancreatitis. J Clin Psychopharmacol 2007; 27: 395–396.

Aichhorn W, Gasser M, Weiss EM, Adlassnig C, Marksteiner J . Gender differences in pharmacokinetics and side effects of second generation antipsychotic drugs. Curr Neuropharmacol 2005; 3: 73–85.
Acknowledgements
We thank our colleagues D Vukelja and M Mahnik for their help in data collection and Ministry of Science, Education and Sport for sponsoring this study.
Ethics declarations
Competing interests
The authors declare no conflict of interest.
About this article
Cite this article
Kuzman, M., Medved, V., Bozina, N. et al. Association study of MDR1 and 5-HT2C genetic polymorphisms and antipsychotic-induced metabolic disturbances in female patients with schizophrenia. Pharmacogenomics J 11, 35–44 (2011). https://doi.org/10.1038/tpj.2010.7
Received:

Revised:

Accepted:

Published:

Issue Date:

DOI: https://doi.org/10.1038/tpj.2010.7
Keywords
schizophrenia

metabolic syndrome

glucose

5HT2C

MDR1

antipsychotics