Abstract
Neurotoxicity is one of the most relevant dose-limiting toxicities of the anticancer drug paclitaxel. It exhibits substantial interindividual variability of unknown molecular basis, and represents one of the major challenges for the improvement of paclitaxel therapy. The extensive variability in paclitaxel clearance and metabolism lead us to investigate the association between polymorphisms in paclitaxel elimination pathway and neurotoxicity. We selected 13 relevant polymorphisms in genes encoding paclitaxel metabolizing enzymes (CYP2C8, CYP3A4 and CYP3A5) and transporters (organic anion transporting polypeptide (OATP) 1B1, OATP1B3 and P-glycoprotein) and genotyped them in 118 Spanish cancer patients treated with paclitaxel. After adjusting for age and treatment schedule, CYP2C8 Haplotype C and CYP3A5*3 were associated with protection (hazard ratio (HR) (per allele)=0.55; 95% confidence interval (CI)=0.34–0.89; P=0.014 and HR (per allele)=0.51; 95%CI=0.30–0.86; and P=0.012, respectively) and CYP2C8*3 with increased risk (HR (per allele)=1.72; 95%CI=1.05–2.82; and P=0.032). In each case, the allele causing increased paclitaxel metabolism was associated with increased neurotoxicity, suggesting an important role for metabolism and hydroxylated paclitaxel metabolites. We estimated the HR per paclitaxel-metabolism increasing allele carried across the three polymorphisms to be HR=1.64 (95% CI=1.26–2.14; P=0.0003). The results for P-glycoprotein were inconclusive, and no associations were observed for the other genes studied. The incorporation of this genetic data in treatment selection could help to reduce neurotoxicity events, thereby individualizing paclitaxel pharmacotherapy. These results warrant validation in independent series.
Your institute does not have access to this article
Relevant articles
Open Access articles citing this article.
Yuko Tanabe

,

Seiji Shiraishi

…

Chikako Shimizu

BMC Cancer Open Access 16 April 2020

Siu W Lam

,

Charlotte N Frederiks

…

Epie Boven

British Journal of Cancer Open Access 13 October 2016
Access options
Subscribe to Journal
Get full journal access for 1 year
$119.00
only $19.83 per issue
All prices are NET prices.
VAT will be added later in the checkout.
Tax calculation will be finalised during checkout.
Buy article
Get time limited or full article access on ReadCube.
$32.00
All prices are NET prices.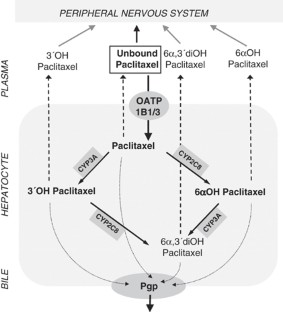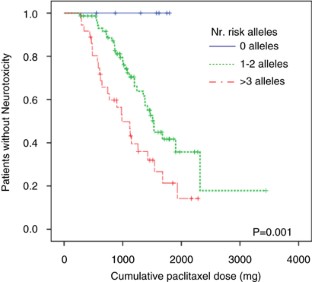 References
Rowinsky EK . The development and clinical utility of the taxane class of antimicrotubule chemotherapy agents. Annu Rev Med 1997; 48: 353–374.

Schiff PB, Fant J, Horwitz SB . Promotion of microtubule assembly in vitro by taxol. Nature 1979; 277: 665–667.

Yvon AM, Wadsworth P, Jordan MA . Taxol suppresses dynamics of individual microtubules in living human tumor cells. Mol Biol Cell 1999; 10: 947–959.

Rowinsky EK, Chaudhry V, Forastiere AA, Sartorius SE, Ettinger DS, Grochow LB et al. Phase I and pharmacologic study of paclitaxel and cisplatin with granulocyte colony-stimulating factor: neuromuscular toxicity is dose-limiting. J Clin Oncol 1993; 11: 2010–2020.

Eisenhauer EA, ten Bokkel Huinink WW, Swenerton KD, Gianni L, Myles J, van der Burg ME et al. European-Canadian randomized trial of paclitaxel in relapsed ovarian cancer: high-dose versus low-dose and long versus short infusion. J Clin Oncol 1994; 12: 2654–2666.

Chaudhry V, Rowinsky EK, Sartorius SE, Donehower RC, Cornblath DR . Peripheral neuropathy from taxol and cisplatin combination chemotherapy: clinical and electrophysiological studies. Ann Neurol 1994; 35: 304–311.

Lipton RB, Apfel SC, Dutcher JP, Rosenberg R, Kaplan J, Berger A et al. Taxol produces a predominantly sensory neuropathy. Neurology 1989; 39: 368–373.

Argyriou AA, Koltzenburg M, Polychronopoulos P, Papapetropoulos S, Kalofonos HP . Peripheral nerve damage associated with administration of taxanes in patients with cancer. Crit Rev Oncol Hematol 2008; 66: 218–228.

Seidman AD, Berry D, Cirrincione C, Harris L, Muss H, Marcom PK et al. Randomized phase III trial of weekly compared with every-3-weeks paclitaxel for metastatic breast cancer, with trastuzumab for all HER-2 overexpressors and random assignment to trastuzumab or not in HER-2 nonoverexpressors: final results of Cancer and Leukemia Group B protocol 9840. J Clin Oncol 2008; 26: 1642–1649.

Rowinsky EK, Eisenhauer EA, Chaudhry V, Arbuck SG, Donehower RC . Clinical toxicities encountered with paclitaxel (Taxol). Semin Oncol 1993; 20 (4 Suppl 3): 1–15.

Mielke S, Sparreboom A, Steinberg SM, Gelderblom H, Unger C, Behringer D et al. Association of paclitaxel pharmacokinetics with the development of peripheral neuropathy in patients with advanced cancer. Clin Cancer Res 2005; 11: 4843–4850.

Akerley W, Herndon JE, Egorin MJ, Lyss AP, Kindler HL, Savarese DM et al. Weekly, high-dose paclitaxel in advanced lung carcinoma: a phase II study with pharmacokinetics by the Cancer and Leukemia Group B. Cancer 2003; 97: 2480–2486.

Mielke S, Mross K, Gerds TA, Schmidt A, Wasch R, Berger DP et al. Comparative neurotoxicity of weekly non-break paclitaxel infusions over 1 versus 3 h. Anticancer Drugs 2003; 14: 785–792.

Cavaletti G, Bogliun G, Marzorati L, Zincone A, Piatti M, Colombo N et al. Early predictors of peripheral neurotoxicity in cisplatin and paclitaxel combination chemotherapy. Ann Oncol 2004; 15: 1439–1442.

Green H, Soderkvist P, Rosenberg P, Mirghani RA, Rymark P, Lundqvist EA et al. Pharmacogenetic studies of paclitaxel in the treatment of ovarian cancer. Basic Clin Pharmacol Toxicol 2009; 104: 130–137.

Henningsson A, Marsh S, Loos WJ, Karlsson MO, Garsa A, Mross K et al. Association of CYP2C8, CYP3A4, CYP3A5, and ABCB1 polymorphisms with the pharmacokinetics of paclitaxel. Clin Cancer Res 2005; 11: 8097–8104.

Smith NF, Marsh S, Scott-Horton TJ, Hamada A, Mielke S, Mross K et al. Variants in the SLCO1B3 gene: interethnic distribution and association with paclitaxel pharmacokinetics. Clin Pharmacol Ther 2007; 81: 76–82.

Somlo G, Doroshow JH, Synold T, Longmate J, Reardon D, Chow W et al. High-dose paclitaxel in combination with doxorubicin, cyclophosphamide and peripheral blood progenitor cell rescue in patients with high-risk primary and responding metastatic breast carcinoma: toxicity profile, relationship to paclitaxel pharmacokinetics and short-term outcome. Br J Cancer 2001; 84: 1591–1598.

Rahman A, Korzekwa KR, Grogan J, Gonzalez FJ, Harris JW . Selective biotransformation of taxol to 6 alpha-hydroxytaxol by human cytochrome P450 2C8. Cancer Res 1994; 54: 5543–5546.

Vaclavikova R, Soucek P, Svobodova L, Anzenbacher P, Simek P, Guengerich FP et al. Different in vitro metabolism of paclitaxel and docetaxel in humans, rats, pigs, and minipigs. Drug Metab Dispos 2004; 32: 666–674.

Smith NF, Acharya MR, Desai N, Figg WD, Sparreboom A . Identification of OATP1B3 as a high-affinity hepatocellular transporter of paclitaxel. Cancer Biol Ther 2005; 4: 815–818.

Gui C, Miao Y, Thompson L, Wahlgren B, Mock M, Stieger B et al. Effect of pregnane X receptor ligands on transport mediated by human OATP1B1 and OATP1B3. Eur J Pharmacol 2008; 584: 57–65.

Sparreboom A, van Asperen J, Mayer U, Schinkel AH, Smit JW, Meijer DK et al. Limited oral bioavailability and active epithelial excretion of paclitaxel (taxol) caused by P-glycoprotein in the intestine. Proc Natl Acad Sci USA 1997; 94: 2031–2035.

Walle UK, Walle T . Taxol transport by human intestinal epithelial Caco-2 cells. Drug Metab Dispos 1998; 26: 343–346.

Rodriguez-Antona C, Niemi M, Backman JT, Kajosaari LI, Neuvonen PJ, Robledo M et al. Characterization of novel CYP2C8 haplotypes and their contribution to paclitaxel and repaglinide metabolism. Pharmacogenomics J 2008; 8: 268–277.

Rodriguez-Antona C, Sayi JG, Gustafsson LL, Bertilsson L, Ingelman-Sundberg M . Phenotype-genotype variability in the human CYP3A locus as assessed by the probe drug quinine and analyses of variant CYP3A4 alleles. Biochem Biophys Res Commun 2005; 338: 299–305.

Leschziner GD, Andrew T, Pirmohamed M, Johnson MR . ABCB1 genotype and PGP expression, function and therapeutic drug response: a critical review and recommendations for future research. Pharmacogenomics J 2007; 7: 154–179.

Sissung TM, Mross K, Steinberg SM, Behringer D, Figg WD, Sparreboom A et al. Association of ABCB1 genotypes with paclitaxel-mediated peripheral neuropathy and neutropenia. Eur J Cancer 2006; 42: 2893–2896.

Marsh S, Paul J, King CR, Gifford G, McLeod HL, Brown R . Pharmacogenetic assessment of toxicity and outcome after platinum plus taxane chemotherapy in ovarian cancer: the Scottish Randomised Trial in Ovarian Cancer. J Clin Oncol 2007; 25: 4528–4535.

Trotti A, Byhardt R, Stetz J, Gwede C, Corn B, Fu K et al. Common toxicity criteria: version 2.0. An improved reference for grading the acute effects of cancer treatment: impact on radiotherapy. Int J Radiat Oncol Biol Phys 2000; 47: 13–47.

Dai D, Zeldin DC, Blaisdell JA, Chanas B, Coulter SJ, Ghanayem BI et al. Polymorphisms in human CYP2C8 decrease metabolism of the anticancer drug paclitaxel and arachidonic acid. Pharmacogenetics 2001; 11: 597–607.

Soyama A, Saito Y, Hanioka N, Murayama N, Nakajima O, Katori N et al. Non-synonymous single nucleotide alterations found in the CYP2C8 gene result in reduced in vitro paclitaxel metabolism. Biol Pharm Bull 2001; 24: 1427–1430.

Niemi M, Backman JT, Kajosaari LI, Leathart JB, Neuvonen M, Daly AK et al. Polymorphic organic anion transporting polypeptide 1B1 is a major determinant of repaglinide pharmacokinetics. Clin Pharmacol Ther 2005; 77: 468–478.

Niemi M, Leathart JB, Neuvonen M, Backman JT, Daly AK, Neuvonen PJ . Polymorphism in CYP2C8 is associated with reduced plasma concentrations of repaglinide. Clin Pharmacol Ther 2003; 74: 380–387.

Kirchheiner J, Meineke I, Fuhr U, Rodriguez-Antona C, Lebedeva E, Brockmoller J . Impact of genetic polymorphisms in CYP2C8 and rosiglitazone intake on the urinary excretion of dihydroxyeicosatrienoic acids. Pharmacogenomics 2008; 9: 277–288.

Aquilante CL, Bushman LR, Knutsen SD, Burt LE, Rome LC, Kosmiski LA . Influence of SLCO1B1 and CYP2C8 gene polymorphisms on rosiglitazone pharmacokinetics in healthy volunteers. Hum Genomics 2008; 3: 7–16.

Kuehl P, Zhang J, Lin Y, Lamba J, Assem M, Schuetz J et al. Sequence diversity in CYP3A promoters and characterization of the genetic basis of polymorphic CYP3A5 expression. Nat Genet 2001; 27: 383–391.

Kimchi-Sarfaty C, Marple AH, Shinar S, Kimchi AM, Scavo D, Roma MI et al. Ethnicity-related polymorphisms and haplotypes in the human ABCB1 gene. Pharmacogenomics 2007; 8: 29–39.

Kaplan EL, Meier P . Nonparametric estimation from incomplete observations. J Am Stat Assoc 1958; 53: 457–481.

Argyriou AA, Polychronopoulos P, Koutras A, Iconomou G, Gourzis P, Assimakopoulos K et al. Is advanced age associated with increased incidence and severity of chemotherapy-induced peripheral neuropathy? Support Care Cancer 2006; 14: 223–229.

Smith HE, Jones III JP, Kalhorn TF, Farin FM, Stapleton PL, Davis CL et al. Role of cytochrome P450 2C8 and 2J2 genotypes in calcineurin inhibitor-induced chronic kidney disease. Pharmacogenet Genomics 2008; 18: 943–953.

Gandara DR, Kawaguchi T, Crowley J, Moon J, Furuse K, Kawahara M et al. Japanese-US common-arm analysis of paclitaxel plus carboplatin in advanced non-small-cell lung cancer: a model for assessing population-related pharmacogenomics. J Clin Oncol 2009; 27: 3540–3546.

Sparreboom A, Huizing MT, Boesen JJ, Nooijen WJ, van Tellingen O, Beijnen JH . Isolation, purification, and biological activity of mono- and dihydroxylated paclitaxel metabolites from human feces. Cancer Chemother Pharmacol 1995; 36: 299–304.

Kumar G, Ray S, Walle T, Huang Y, Willingham M, Self S et al. Comparative in vitro cytotoxic effects of taxol and its major human metabolite 6 alpha-hydroxytaxol. Cancer Chemother Pharmacol 1995; 36: 129–135.

Kang MH, Figg WD, Ando Y, Blagosklonny MV, Liewehr D, Fojo T et al. The P-glycoprotein antagonist PSC 833 increases the plasma concentrations of 6alpha-hydroxypaclitaxel, a major metabolite of paclitaxel. Clin Cancer Res 2001; 7: 1610–1617.

Nakata T, Yorifuji H . Morphological evidence of the inhibitory effect of taxol on the fast axonal transport. Neurosci Res 1999; 35: 113–122.

Theiss C, Meller K . Taxol impairs anterograde axonal transport of microinjected horseradish peroxidase in dorsal root ganglia neurons in vitro. Cell Tissue Res 2000; 299: 213–224.

Yang IH, Siddique R, Hosmane S, Thakor N, Hoke A . Compartmentalized microfluidic culture platform to study mechanism of paclitaxel-induced axonal degeneration. Exp Neurol 2009; 218: 124–128.

Monsarrat B, Chatelut E, Royer I, Alvinerie P, Dubois J, Dezeuse A et al. Modification of paclitaxel metabolism in a cancer patient by induction of cytochrome P450 3A4. Drug Metab Dispos 1998; 26: 229–233.

Walle T, Walle UK, Kumar GN, Bhalla KN . Taxol metabolism and disposition in cancer patients. Drug Metab Dispos 1995; 23: 506–512.
Acknowledgements
We acknowledge the invaluable help of the Clinical Trials Coordinators Rut Villafañe and Teresa García-Donas at the Hospital Alcorcón. This work was supported by projects from the Fundación Ramón Areces, the Spanish Ministry of Science and Technology (SAF 2006-01139) and the 'Ramon y Cajal' programme. Susanna Leskelä has a fellowship from the Spanish Ministry of Education and Science (AP2005-4514).
Ethics declarations
Competing interests
The authors declare no conflict of interest.
Supplementary information
About this article
Cite this article
Leskelä, S., Jara, C., Leandro-García, L. et al. Polymorphisms in cytochromes P450 2C8 and 3A5 are associated with paclitaxel neurotoxicity. Pharmacogenomics J 11, 121–129 (2011). https://doi.org/10.1038/tpj.2010.13
Received:

Revised:

Accepted:

Published:

Issue Date:

DOI: https://doi.org/10.1038/tpj.2010.13
Keywords
paclitaxel

neurotoxicity

polymorphisms

cytochromes P450

metabolites