Derek Richards has announced his retirement as Editor of Evidence-Based Dentistry (EBD), after 20 years at the helm of the journal.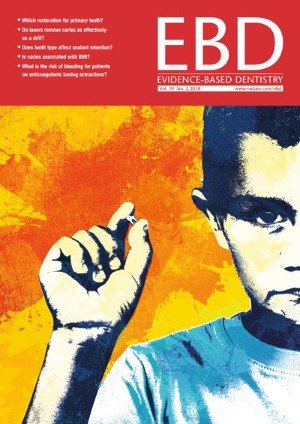 After qualifying from Cardiff Dental School in 1977 Derek worked in hospital, general and community dental practice. While undertaking dental public health training in the Anglia and Oxford Region he developed an interest in evidence-based healthcare and, in 1995, helped to establish the Centre for Evidence-based Dentistry. He has been involved with teaching evidence-based dentistry and a wide range of evidence-based initiatives both nationally and internationally since then. In 1998 he was instrumental in founding EBD, which he has edited since then, overseeing the production of 19 volumes and over 70 issues of the journal.
Derek currently holds the posts of Honorary Senior Lecturer at Dundee and Glasgow Dental Schools, Consultant in Dental Public Health with Forth Valley Health Board and Director of the Centre for Evidence-based Dentistry at the Dental Health Services Research Unit, University of Dundee. He is a specialist advisor to the Scottish Dental Clinical Effectiveness Programme and led the development of the Scottishdental.org website and has recently completed the development of on online training programme for the National Dental Epidemiology programme (www.ndip.scottishdental.org).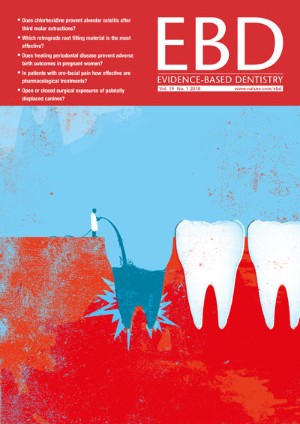 Derek was involved in the York Review of water fluoridation and the NICE dental recall guideline and chaired a selective update of the SIGN guideline on the prevention of caries in children which was published in March 2014. He is also a co-author of the book Evidence-based dentistry: Managing information for better practice (Quintessentials of dental practice).
The British Dental Association and Springer Nature wish to express their thanks to Derek for his tireless work as Editor of EBD over many years and for his significant contributions to the field of evidence-based dentistry.
Stephen Hancocks, Editor-in-Chief of the BDJ Portfolio, said 'In many ways it seems as if Derek not only started Evidence-Based Dentistry, but actually embodies it! As Editor-in-Chief I am enormously grateful to Derek for all his work on the title, as is the BDA, but further, I would like to take this opportunity to acknowledge his stature in this field and the huge contribution he has made to the accessibility and application of research. I wish him all the very best with his retirement without the requirement to provide any evidence whatsoever that it is well-deserved, long, happy and healthy.'