Please send product news information and images to Adrian O'Dowd at adrian.odowd@nature.com, Product news is provided as a service to readers using text and images from the manufacturer, supplier or distributor and does not imply endorsement by the BDJ. Normal and prudent research should be exercised before purchase or use of any product mentioned.
Playbrush is an interactive smart toothbrush that connects via Bluetooth to games on a smartphone or tablet, so children can play games with their own brushing movements. Brushing is now entertaining and effective as children collect rewards and detailed feedback with every brush.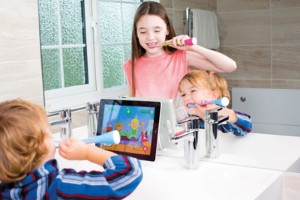 Playbrush was initially developed as a manual toothbrush attachment called Playbrush Smart, that transforms any manual toothbrush into a smart interactive toothbrush.
After perfecting the Playbrush Smart product, as of summer 2018, Playbrush has decided to offer their loyal customers an alternative – the Playbrush Smart Sonic.
The smart sonic is an interactive electric toothbrush with extra soft bristles and 17,000 strokes per minute. Both the Playbrush Smart and Smart Sonics are designed and built in the EU.
A cleverly designed algorithm measures brushing and ensures that the mouth is cleaned for long enough and thoroughly, and real-time feedback in the form of statistics and a reward system give children extra motivation.
The Playbrush app holds six mini games, the toothbrushing coach and the detailed brushing statistics, and there are also five stand-alone game apps in the Utoothia series.
This innovative and award-winning gadget was dreamt up in 2015 by two Austrian and one Nigerian postgraduates. Three years after being founded, the team is 20 employees strong, has sold 175,000 Playbrushes across 25 countries and raised a combined total investment of €3.5 million from venture capital firm Speedinvest and Austrian business angel investor Hansi Hansmann, with investor Harold Primat joining for the 2017 round.
Dr Paul Ashley, Head of Paediatric Dentistry at the Eastman Dental Hospital in London, said of Playbrush: 'It is important that children learn the right brushing technique early. Playbrush is a great way to encourage teeth to be cleaned regularly, at the right speed and area of the mouth. The idea is very clever.'
Playbrush has two offices – the Vienna headquarters and the London office – where the software is designed.
About this article
Cite this article
Smart toothbrush to make brushing fun for kids. Br Dent J 225, 454 (2018). https://doi.org/10.1038/sj.bdj.2018.790
Published:

Issue Date:

DOI: https://doi.org/10.1038/sj.bdj.2018.790