Key Points
Provides an overview of the indications, strengths and limitations of the copy denture technique and outlines the key clinical and laboratory stages involved.

Highlights a range of different management strategies for patients with gag reflexes, for example, behaviour modification, distraction and systematic desensitisation.

Provides clinical advice on the management of anatomical challenges such as prominent tori and microstomia.
Abstract
The ability to provide high quality complete dentures remains an important skill for general dental practitioners. The prevalence of edentulism is increasingly concentrated within an older patient cohort and general dental practitioners may face challenges associated with providing care for these patients. This two-part series explores various aspects of complete denture provision and is designed to act as a refresher on the management of edentulous patients. This second part focuses on the copy denture technique as well as discussing strategies for assessing and managing gag reflexes, prominent palatal and lingual tori and microstomia.
Access options
Subscribe to Journal
Get full journal access for 1 year
$499.00
only $20.79 per issue
All prices are NET prices.
VAT will be added later in the checkout.
Rent or Buy article
Get time limited or full article access on ReadCube.
from$8.99
All prices are NET prices.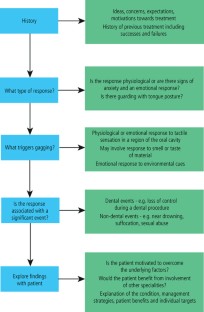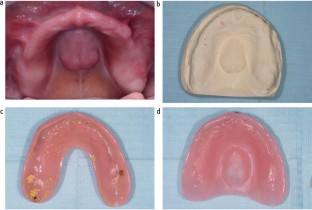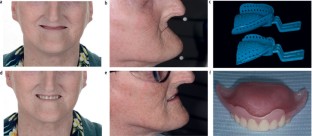 References
1

Information Centre for Health and Social Care, Office for National Statistics. Social Survey Division. (2012). Adult Dental Health Survey, 2009. [data collection]. Second Edition. UK Data Service. SN: 6884.

2

Bradnock G, White D A, Nuttall N M, Morris A J, Treasure E T, Pine C M . Dental attitudes and behaviours in 1998 and implications for the future. Br Dent J 2001; 190: 228–232.

3

Clark R K, Radford D R, Juszczyk A S . Current trends in complete denture teaching in British dental schools. Br Dent J 2010; 208: E10; discussion 214–215.

4

Wieder M, Faigenblum M, Eder A, Louca C . An investigation of complete denture teaching in the UK: part 1. A survey of undergraduate teaching. Br Dent J 2013; 215: 177–181.

5

Wieder M, Faigenblum M, Eder A, Louca C . An investigation of complete denture teaching in the UK: part 2. The DF1 experience. Br Dent J 2013; 215: 229–236.

6

Beddis H P, Morrow L A . Technique tips-greenstick modification of dentures Prior to the replica technique: 'how we do it'. Dent Update 2013; 40: 688.

7

Brill N, Tryde G, Schübeler S . The role of learning in denture retention. J Prosthet Dent 1960; 10: 468–475.

8

McCord J F, Hannah V E, Cameron D, Watson D, Donaldson A C . An update on the replica denture technique. Dent Update 2010; 37: 230–232, 235.

9

Clark R K, Radford D R, Fenlon M R . The future of teaching of complete denture construction to undergraduates in the UK: is a replacement denture technique the answer? Br Dent J 2004; 196: 571–575.

10

Fenlon M R, Sherriff M . An investigation of factors influencing patients' satisfaction with new complete dentures using structural equation modelling. J Dent 2008; 36: 427–434.

11

Bassi G S, Humphris G M, Longman L P . The aetiology and management of gagging: a review of the literature. J Prosthet Dent 2004; 91: 459–467.

12

Dickinson C M, Fiske J . A review of gagging problems in dentistry: I. Aetiology and classification. Dent Update 2005; 32: 26–28, 31–32.

13

Dickinson C M, Fiske J . A review of gagging problems in dentistry: 2. Clinical assessment and management. Dent Update 2005; 32: 74–76, 78–80.

14

Scarborough D, Bailey-Van Kuren M, Hughes M . Altering the gag reflex via a palm pressure point. J Am Dent Assoc 2008; 139: 1365–1372.

15

Sakamoto T, Fukuda K, Saita N et al. Autonomic nervous activity of patients with gagging problems during dental mirror insertion. Spec Care Dent 2016; 36: 80–84.

16

Saita N, Fukuda K, Koukita Y, Ichinohe T, Yamashita S . Relationship between gagging severity and its management in dentistry. J Oral Rehabil 2013; 40: 106–111.

17

Fiske J, Dickinson C . The role of acupuncture in controlling the gagging reflex using a review of ten cases. Br Dent J 2001; 190: 611–613.

18

Akarslan Z Z, Bicer A Z . Utility of the gagging problem assessment questionnaire in assessing patient sensitivity to dental treatments. J Oral Rehabil 2012; 39: 948–955.

19

Van Linden van den Heuvell G F, Ter Pelkwijk B J, Stegenga B . Development of the Gagging Problem Assessment: a pilot study. J Oral Rehabil 2008; 35: 196–202.

20

Ramsay D S, Weinstein P, Milgrom P, Getz T . Problematic gagging: principles of treatment. J Am Dent Assoc 1987; 114: 178–183.

21

Altamura L S, Chitwood P R . Covert reinforcement and self-control procedures in systematic desensitization of gagging behaviour. Psychol Rep 1974; 35: 563–566.

22

Barsby M J . The use of hypnosis in the management of 'gagging' and intolerance to dentures. Br Dent J 1994; 176: 97–102.

23

Robb N D, Crothers A J . Sedation in dentistry. Part 2: Management of the gagging patient. Dent Update 1996; 23: 182–186.

24

Noble S . The management of blood phobia and a hypersensitive gag reflex by hypnotherapy: a case report. Dent Update 2002; 29: 70–74.

25

Ali R, Altaie A, Morrow L . Prosthetic rehabilitation of the gagging patient using acrylic training plates. Dent Update 2015; 42: 52–54, 56–58.

26

Conny D J, Tedesco L A . The gagging problem in prosthodontic treatment. Part II: Patient management. J Prosthet Dent 1983; 49: 757–761.

27

Singer I L . The marble technique: a method for treating the "hopeless gagger" for complete dentures. J Prosthet Dent 1973; 29: 146–150.

28

Akeel R, Assery M, al-Dalgan S . The effectiveness of palate-less versus complete palatal coverage dentures (a pilot study). Eur J Prosthodont Restor Dent 2000; 8: 63–66.

29

Zach GA . Gag control. Gen Dent 1989; 37: 508–509.

30

Farmer J B, Connelly M E . Palateless dentures: help for the gagging patient. J Prosthet Dent 1984; 52: 691–694.

31

McCord J F, Grant A A . A Clinical Guide to Complete Denture Prosthodontics. British Dental Association, 2000.

32

McCord J F, Grant A A . Identification of complete denture problems: a summary. Br Dent J 2000; 189: 128–134.

33

Rajeev V, Arunachalam R . Innovative replication and recuperation of complex torus palatinus: A prosthodontic case report. World J Dent 2016; 7: 208–212.

34

The Glossary of Prosthodontic Terms: Ninth Edition. J Prosthet Dent 2017; 117: e1–e105.

35

King E, Owens J . Flexible and Sectional Complete Dentures with Magnetic Retention for a Patient with Microstomia-A Case Report. Dent Update 2016; 43: 212–213.

36

Zweifel C J, Guggenheim M, Jandali A R, Altintas M A, Kunzi W, Giovanoli P . Management of microstomia in adult burn patients revisited. J Plast Reconstr Aesthet Surg 2010; 63: e351–e357.

37

Garnett M J, Nohl F S, Barclay S C . Management of patients with reduced oral aperture and mandibular hypomobility (trismus) and implications for operative dentistry. Br Dent J 2008; 204: 125–131.

38

Veale B J, Jablonski R Y, Frech T M, Pauling J D . Orofacial manifestations of systemic sclerosis. Br Dent J 2016; 221: 305–310.

39

Dougherty M E, Warden G D . A thirty-year review of oral appliances used to manage microstomia, 1972 to 2002. J Burn Care Rehabil 2003; 24: 418–431.

40

Alantar A, Cabane J, Hachulla E et al. Recommendations for the care of oral involvement in patients with systemic sclerosis. Arthritis Care Res (Hoboken) 2011; 63: 1126–1133.

41

Hegde C, Prasad K, Prasad A, Hegde R . Impression tray designs and techniques for complete dentures in cases of microstomia-a review. J Prosthodont Res 2012; 56: 142–146.

42

Colvenkar S S . Sectional impression tray and sectional denture for a microstomia patient. J Prosthodont 2010; 19: 161–165.

43

Watanabe I, Tanaka Y, Ohkubo C, Miller A W . Application of cast magnetic attachments to sectional complete dentures for a patient with microstomia: a clinical report. J Prosthet Dent 2002; 88: 573–577.

44

Egan J G, Swindells S A . A novel prosthodontic alternative for patients who are edentulous and have microstomia: a case report. Spec Care Dentist 2012; 32: 160–164.

45

Polychronakis N C, Polyzois G L, Lagouvardos P E, Papadopoulos T D . Effects of cleansing methods on 3-D surface roughness, gloss and colour of a polyamide denture base material. Acta Odontol Scand 2015; 73: 353–363.

46

Vojdani M, Giti R . Polyamide as a Denture Base Material: A Literature Review. J Dent 2015; 16: 1–9.

47

Feine J S, Carlsson G E, Awad M A et al. The McGill consensus statement on overdentures. Mandibular two-implant overdentures as first choice standard of care for edentulous patients. Gerodontology 2002; 19: 3–4.

48

Thomason J M, Feine J, Exley C et al. Mandibular two implant-supported overdentures as the first choice standard of care for edentulous patients-the York Consensus Statement. Br Dent J 2009; 207: 185–186.
About this article
Cite this article
Jablonski, R., Patel, J. & Morrow, L. Complete dentures: an update on clinical assessment and management: part 2. Br Dent J 225, 933–939 (2018). https://doi.org/10.1038/sj.bdj.2018.1023
Accepted:

Published:

Issue Date:
Further reading
Niko Falatehan

&

Gracia Anfelia

Scientific Dental Journal (2020)