Please send product news information and images to Kate Quinlan at k.quinlan@nature.com, Product news is provided as a service to readers using text and images from the manufacturer, supplier or distributor and does not imply endorsement by the BDJ. Normal and prudent research should be exercised before purchase or use of any product mentioned.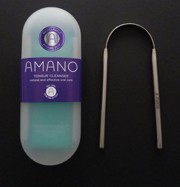 The 2,000-year ritual of tongue scraping has had a rich and diverse set of 'adopters' - from the Romans to George Washington, Victorian aristocracy, Hindus and Buddhists.
From being an unassuming part of sound oral care practice the daily tongue scrape has taken on greater significance in the last few years. The palate cleansing aspect – enabling taste buds to function better – has led to tongue scraping becoming a part of an anti-malnutrition strategy for senior citizens – by The Malnutrition Task Force (part of Age UK)
Now it would seem, according to research (in press) by Dr Nathan Bryan, a specialist in molecular and human genetics from Baylor College of Medicine, Texas, USA, regular tongue scraping will enable 'good oral bacteria' to produce more nitric oxide.
Nitric oxide (NO) plays a crucial role in helping stem cells function efficiently. Stem cells' role is to heal the ageing body, helping to regenerate damaged or old cells.
Regular tongue scraping with the AMANO Tongue Cleanser can help 'good' oral bacteria to flourish in the mouth, while also helping to reduce dental caries and bad breath, enhancing taste, and reducing the risk of cardiovascular disease.
AMANO has been manufacturing and selling quality tongue scrapers since 1992. The Amano Tongue Cleanser is made of 18/10 Austenitic Steel, a high-grade chromium and nickel alloy. It is the best-selling tongue scraper brand in Selfridges, Harrods and Planet Organic and the product is also available online: www.amanotonguecleanser.com (priced from £10 to £92).
About this article
Cite this article
Tongue scraping 'will help fight the ageing process'. Br Dent J 223, 859 (2017). https://doi.org/10.1038/sj.bdj.2017.1070