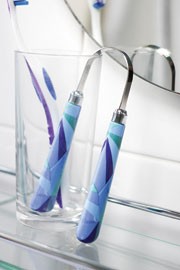 The AMANO Tongue Cleanser has officially launched. Based on a 2,000-year-old Roman design, the Tongue Cleanser has a nickel and chrome alloy head. By gently drawing the cleanser down the tongue's surface from back to front, it elegantly removes debris in two or three strokes without causing the user to gag.
The Italian-crafted AMANO Tongue Cleanser is a re-launch of a product originally sold 20 years ago, according to Mano Manoharan, Managing Director of A Mano Products. Mano refers to the surface of the tongue as being 'rather like a deep-pile carpet, trapping food debris and bacteria. This noxious cocktail has been medically shown to increase bad breath, dental decay and plaque'. The AMANO Tongue Cleanser not only reduces the source of bad breath and caries, but also unclogs the taste buds so that food will taste better.
The Tongue Cleanser originally appeared in the BDJ product news in 2013, when the product appeared on UK crowdfunder site Seedrs, hoping to raise enough capital for the launch.
The Tongue Cleanser comes in a variety of striking, artistic designs, such as the Amazing Grace, Ophelia Rising, and Savile Row. Each cleanser costs £12. To find out more and to order, visit www.amanotonguecleanser.com.
About this article
Cite this article
To cleanse your patients' deep-pile tongues. Br Dent J 216, 648 (2014). https://doi.org/10.1038/sj.bdj.2014.484
Published:

Issue Date:

DOI: https://doi.org/10.1038/sj.bdj.2014.484