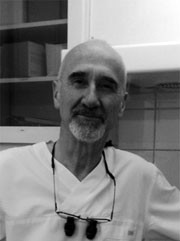 David English, the Norwich dentist whose thirst for knowledge and unique style set him apart from his colleagues, died in a skiing accident on 11 February 2014 in Vercorin, Switzerland.
David was born on 12 January 1949 and raised in Harrogate. David qualified in dentistry from the London Hospital in 1977, having previously achieved a BSc in Human Biology, and an MSc in Biomechanics from the University of Surrey. While working as an associate in Great Yarmouth, in his spare time he singlehandedly converted premises in Norwich into the St Augustine's dental practice, which he ran with his wife Heather, as practice manager, until his tragic death.
A colleague of great enthusiasms, David brought much to his practice of dentistry. His grounding in general science, together with an unfailingly curious mind led him to constantly question the perceived wisdom in dentistry. As a founding member of the Norwich Dentists Study Group in 1986 he could always be relied upon to ask the challenging question.
In 2006 he attended the conference of the Academy of Enhanced Microscope Dentistry in Tucson Arizona. This proved to be his dental Damascene moment. He became fascinated by the possibilities that microscopy opened up for clinical dental practice with the opportunity, as he put it, 'of actually seeing what we are doing'. As a member of the European Society of Microscope Dentistry, he became its British 'ambassador', giving presentations to the Society, and also to the Winter Dental Technology Conference in Vail Colorado, on clinical dental microscopy in general practice.
David was loving husband to Heather, and father to Matthew, Catherine and Oliver. He was a bass guitarist of talent, playing in Norfolk bands, the Exit Blues Band and the Lubes. He built his own house. An enthusiastic skier, he tragically died indulging in the sport that he loved. His courteous manner, sense of humour, and empathy for his fellow man, will be fondly remembered by family, friends, colleagues and patients alike.
About this article
Cite this article
Tucker, S. David English. Br Dent J 216, 485 (2014). https://doi.org/10.1038/sj.bdj.2014.350
Published:

Issue Date:

DOI: https://doi.org/10.1038/sj.bdj.2014.350