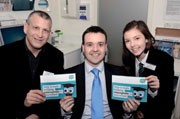 Inline Orthodontics, a specialist orthodontic practice in Stevenage, conducted their own anti-bullying campaign during Anti Bullying Week on 19-23 November 2012.
On 16 November a meeting was held to discuss ways in which professionals in Stevenage can help young people who are being bullied. Stevenage MP Stephen McPartland spearheaded the start of the campaign and this was followed by a moderated discussion with key members of the local community including head teachers, sports club leaders and dentists. Young people were also asked to contribute to the debate by describing their experiences of bullying while their parents will be asked how this affected their children. Sarah Gammon-Carter's front teeth stuck out by 12 mm and she was subjected to name calling until orthodontic treatment changed her appearance and boosted her confidence. It also led her to become an advocate for anti-bullying as part of her school's peer mentoring programme and to winning a Citizenship Award.
Jonathan Alexander-Abt, Principal Orthodontist at Inline Orthodontics, commented: 'Bullying for whatever reason is deplorable and should never be tolerated. I feel that it is important to raise awareness of this and reassure young people that there is something we can do to help them.'
Inline Orthodontics was inspired to join the anti-bullying campaign after reading about research which showed that being bullied is significantly associated with orthodontic treatment need. The practice's experience is that many young people seek orthodontic treatment to help with their confidence or after having been bullied at school about their dental appearance.
About this article
Cite this article
Stevenage orthodontic practice conducts anti-bullying campaign. Br Dent J 213, 591 (2012). https://doi.org/10.1038/sj.bdj.2012.1142