Abstract
Since August 2009, members of the Primary Care Dentistry Research Forum (http://www.dentistryresearch.org) have taken part in an online vote to identify questions in day-to-day practice that they felt most needed to be answered with conclusive research. The question which receives the most votes each month forms the subject of a critical appraisal of the relevant literature. Each month a new round of voting takes place to decide which further questions will be reviewed. Dental practitioners and dental care professionals are encouraged to take part in the voting and submit their own questions to be included in the vote by joining the website.
The paper below details a summary of the findings of the ninth critical appraisal. In conclusion, the critical appraisal showed a wide range of factors that infl uence care-seeking about oral health. These included both barriers and triggers to care-seeking. Only five papers were found that provided relevant data, and their data collection settings varied widely. Further research into care-seeking about oral health would be useful for both policy makers and practitioners in understanding patients' needs.
Key Points
Care-seeking: patients trying to obtain care/advice/treatment from a health professional/service.

Patient acceptance of healthcare: the seeking and acceptance by patients of health services.

Qualitative research: research that derives data from observation, interviews, or verbal interactions and focuses on meanings and interpretations of the participants.

Oral health: the optimal state of the mouth and normal functioning of the organs of the mouth without evidence of disease.
Access options
Access options
Subscribe to Journal
Get full journal access for 1 year
$737.00
only $30.71 per issue
All prices are NET prices.
VAT will be added later in the checkout.
Rent or Buy article
Get time limited or full article access on ReadCube.
from$8.99
All prices are NET prices.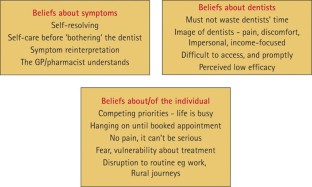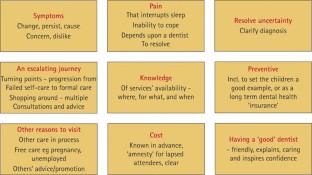 References
1

Galdas P M, Cheater F, Marshall P . Men and help-seeking behaviour: literature review. J Adv Nurs 2005; 49: 616–623.

2

Higginson R . Women's help-seeking behaviour at the onset of myocardial infarction. Br J Nurs 2008; 17: 10–14.

3

Farmer J, Iversen L, Campbell N C et al. Rural/urban differences in accounts of patients' initial decisions to consult primary care. Health Place 2006; 12: 210–221.

4

Roddy E, Antoniak M, Britton J, Molyneux A, Lewis S . Barriers and motivators to gaining access to smoking cessation services amongst deprived smokers – a qualitative study. BMC Health Serv Res 2006; 6: 147.

5

Rudell K, Bhui K, Priebe S . Do 'alternative' help-seeking strategies affect primary care use? A survey of help-seeking for mental distress. BMC Public Health 2008; 8: 207.

6

Van Baar J D, Joosten H, Car J et al. Understanding reasons for asthma (non-)-attendance and exploring the role of telephone and e-consulting in facilitating access to care: exploratory qualitative study. Qual Saf Health Care 2006; 15: 191–195.

7

Office for National Statistics. Adult dental health survey: oral health in the United Kingdom, 1998. London: The Stationery Office, 1998.

8

Macfarlane T V, Blinkhorn A S, Davies R M, Kincey J, Worthington H V . Factors associated with health care seeking behaviour for orofacial pain in the general population. Community Dent Health 2003; 20: 20–26.

9

Fleming P S, Proczek K, DiBiase A T . I want braces: factors motivating patients and their parents to seek orthodontic treatment. Community Dent Health 2008; 25: 166–169.

10

Stoller E P, Gilbert G H, Pyle M A, Duncan R P . Coping with tooth pain: a qualitative study of lay management strategies and professional consultation. Spec Care Dentist 2001; 21: 208–215.

11

McGrath C, Yeung C Y Y J, Bedi R . Are single mothers in Britain failing to monitor their oral health? Postgrad Med J 2002; 78: 229–232.

12

Britten N, Campbell R, Pope C, Donovan J, Morgan M, Pill R . Using meta ethnography to synthesise qualitative research: a worked example. J Health Serv Res Policy 2002; 7: 209–251.

13

Scott S E, Grunfeld E A, Auyeung V, McGurk M . Barriers and triggers to seeking help for potentially malignant oral symptoms: implications for interventions. J Public Health Dent 2009; 69: 34–40.

14

Grant E, Silver K, Bauld L, Day R, Warnakulasuriya S . The experiences of young oral cancer patients in Scotland: symptom recognition and delays in seeking professional help. Br Dent J 2010; 208: 465–471.

15

Pau A K, Croucher R, Marcenes W . Perceived inability to cope and care-seeking in patients with toothache: a qualitative study. Br Dent J 2000; 189: 503–506.

16

Anderson R, Thomas D W . 'Toothache stories': a qualitative investigation of why and how people seek emergency dental care. Community Dent Health 2003; 20: 106–111.

17

Finch H, Keegan J, Ward K, Sanyal Sen B . Barriers to the receipt of dental care. A qualitative research study. London: Social and Community Planning Research, 1988.
Additional information
Arianne Matlin, British Dental Association, 64 Wimpole Street, London, W1G 8YS info@dentistryresearch.org; Tel: +44 (0)20 7563 4583 Sponsored by the Shirley Glasstone Hughes Trust