Jack halestrap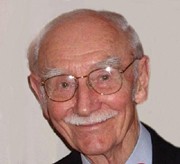 Jack died on 30 March after a fall in the town of Tiverton where he had lived and worked since 1953; he was 92-years-old and had lived a full life.
Jack was born in North London in March 1917. The eldest of three children, he moved to Kingswood in Surrey when he was 6-years-old; he was educated at Whitgift School in Croydon and worked first for the Guardian Insurance Company and then joined the Royal Bank of Scotland in the City. Being in the Territorial Army, Jack was called up on the first day of war and spent six-and-a-half years in the Army.
In 1947, being married to Margery and having two children, Jack decided on a complete career change and started studying dentistry at Guy's Hospital; he qualified in 1952 and worked in a practice in Sutton before relocating to Tiverton in Devon to work in the School's Service.
In 1954, Jack started two practices; the smaller one he sold soon afterwards and he built up the Park Road practice where he continued working until his retirement in 1984.
Jack was actively involved in the local BDA section and was its President for a year. He was a founder member of the Exeter and District Orthodontic Study Circle, as well as serving on the Local Dental Committee and Exeter Family Practitioner Committee until the age of 70.
Jack and Margery had many happy years of retirement, with more time to enjoy their grandchildren and spend time working in their garden which gave them so much pleasure. Central to Jack's life was his Christian faith and he was heavily involved with St. George's Church in Tiverton where he was church warden for many years; he was instrumental in the building of the church extension in the late sixties and was a keen supporter of Christian Mission both at home and overseas. Jack was also keen on working for greater Christian unity locally. In his retirement, he was chairman of the Tiverton Volunteer Centre.
Jack leaves his wife Margery, his three children - David who followed his father into dentistry, Frances and Andrew - six grandchildren and two great grandchildren. A service of Thanksgiving was held on 14 April in St. George's Church and we remembered a kind, generous and wise person - a credit to his family, his profession and his faith in Jesus.
About this article
Cite this article
Lyddon, D. Jack Halestrap. Br Dent J 207, 247 (2009). https://doi.org/10.1038/sj.bdj.2009.802
Published:

Issue Date:

DOI: https://doi.org/10.1038/sj.bdj.2009.802