The NHS should make greater use of dental therapists to provide better children's services, according to Ted Seal, former director of New Cross, the UK's first school for dental therapy, which closed in 1983.
Speaking at a reunion of graduates to mark the 25th anniversary of the closure in London last month (September), Dr Seal, (pictured) who led a campaign to save the school, said community dental services employing dental therapists could be an answer to the access problems many children suffer at the moment.
'More and more GDPs are going private and children's dentistry is suffering. You need to resurrect community dental teams as a safety net and the government should realise that therapists are very cost effective,' he said.
Opened in 1960 when there was 'a desperate shortage of dental officers in the school services and children's teeth were bad and becoming worse', the school offered a two year course to young women wanting to train as 'dental auxiliaries', Dr Seal told the audience of 250 therapists.
In the late 1970s children's dental health had improved, community dental services were contracting and the number of dentists had increased and in 1981 a review group, including many members of the BDA, recommended that no further therapists should be trained and that New Cross school should be closed, Dr Seal told the meeting.
'Dental therapists were still viewed as a substitute for dentists, rather than an economically viable, highly skilled dental operator,' he said.
The campaign led to a debate in parliament in January 1982 and a concession that dental therapists would continue to be trained alongside other dental professionals and employed in dental services.
'The government achieved its financial savings and closed New Cross. However it did not prevent other dental therapist training facilities opening. The then BDA's policy of "abolishing" dental therapists was defeated and ultimately abandoned,' he said.
Dr Seal believed any future attempt to axe therapists would be impossible as so many different institutions were involved in their training.
Debbie Hemington (right), the last student to graduate from New Cross in 1983, who organised the reunion, said 'There is still a lot of ignorance about what therapists can do and they could be much better integrated into teams.' A part-time tutor at the Eastman, she also works in a general dental practice.
She is pictured with New Cross's first graduate, Ruth Beckton.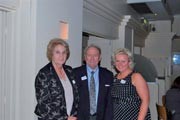 A total of 1,154 dental therapists are registered with the GDC.
About this article
Cite this article
NHS should make more use of dental therapists, urges former director of New Cross. Br Dent J 205, 354 (2008). https://doi.org/10.1038/sj.bdj.2008.882