Abstract
Morphological control with broad tunability is a primary goal for the synthesis of colloidal nanocrystals with unique physicochemical properties. Here we develop a robotic platform as a substitute for trial-and-error synthesis and labour-intensive characterization to achieve this goal. Gold nanocrystals (with strong visible-light absorption) and double-perovskite nanocrystals (with photoluminescence) are selected as typical proof-of-concept nanocrystals for this platform. An initial choice of key synthesis parameters was acquired through data mining of the literature. Automated synthesis and in situ characterization with further ex situ validation was then carried out and controllable synthesis of nanocrystals with the desired morphology was accomplished. To achieve morphology-oriented inverse design, correlations between the morphologies and structure-directing agents are identified by machine-learning models trained on a continuously expanded experimental database. Thus, the developed robotic platform with a data mining–synthesis–inverse design framework is promising in data-driven robotic synthesis of nanocrystals and beyond.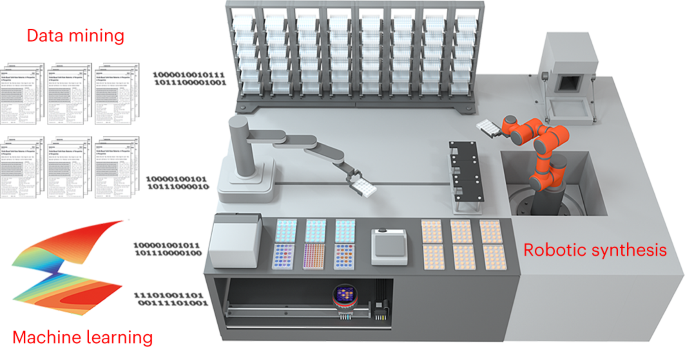 Data availability
The data that support the findings of this study are available in the Supplementary Information (Supplementary Methods, Supplementary Figs. 1–22 and Supplementary Tables 1–22), Supplementary Videos 1 and 2 (synthesis of colloidal gold nanocrystals and double-perovskite nanocrystals on the robotic platform). Source data are provided with this paper.
Code availability
The computer code, algorithm and related data to generate the results that are reported in this paper and are central to its main claims are available in the Zenodo repository with the digital object identifier: https://doi.org/10.5281/zenodo.7353405. The algorithms for chemical name entity recognition35, expressions and grammatical structures41, and SISSO42,43 are adaptable as described in detail in Refs. 35,41,42,43.
References
Li, P. et al. Evaporative self-assembly of gold nanorods into macroscopic 3D plasmonic superlattice arrays. Adv. Mater. 28, 2511–2517 (2016).

Talapin, D. V., Lee, J.-S., Kovalenko, M. V. & Shevchenko, E. V. Prospects of colloidal nanocrystals for electronic and optoelectronic applications. Chem. Rev. 110, 389–458 (2010).

Parak, W. J. et al. Biological applications of colloidal nanocrystals. Nanotechnology 14, R15–R27 (2003).

Burger, B. et al. A mobile robotic chemist. Nature 583, 237–241 (2020).

King, R. D. et al. Functional genomic hypothesis generation and experimentation by a robot scientist. Nature 427, 247–252 (2004).

Angelone, D. et al. Convergence of multiple synthetic paradigms in a universally programmable chemical synthesis machine. Nat. Chem. 13, 63–69 (2021).

Service, R. F. The synthesis machine. Science 347, 1190–1193 (2015).

MacLeod, B. P. et al. A self-driving laboratory advances the Pareto front for material properties. Nat. Commun. 13, 995 (2022).

MacLeod, B. P. et al. Self-driving laboratory for accelerated discovery of thin-film materials. Sci. Adv. 6, eaaz8867 (2020).

Häse, F., Roch, L. M. & Aspuru-Guzik, A. Next-generation experimentation with self-driving laboratories. Trends Chem. 1, 282–291 (2019).

Häse, F., Roch, L. M. & Aspuru-Guzik, A. Chimera: enabling hierarchy based multi-objective optimization for self-driving laboratories. Chem. Sci. 9, 7642–7655 (2018).

Epps, R. W., Volk, A. A., Ibrahim, M. Y. S. & Abolhasani, M. Universal self-driving laboratory for accelerated discovery of materials and molecules. Chem 7, 2541–2545 (2021).

Steiner, S. et al. Organic synthesis in a modular robotic system driven by a chemical programming language. Science 363, eaav2211 (2019).

Greenaway, R. L. et al. High-throughput discovery of organic cages and catenanes using computational screening fused with robotic synthesis. Nat. Commun. 9, 2849 (2018).

Coley, C. W. et al. A robotic platform for flow synthesis of organic compounds informed by AI planning. Science 365, eaax1566 (2019).

Granda, J. M., Donina, L., Dragone, V., Long, D.-L. & Cronin, L. Controlling an organic synthesis robot with machine learning to search for new reactivity. Nature 559, 377–381 (2018).

Li, J. et al. Synthesis of many different types of organic small molecules using one automated process. Science 347, 1221–1226 (2015).

Segler, M. H. S., Preuss, M. & Waller, M. P. Planning chemical syntheses with deep neural networks and symbolic AI. Nature 555, 604–610 (2018).

Mehr, S. H. M., Craven, M., Leonov, A. I., Keenan, G. & Cronin, L. A universal system for digitization and automatic execution of the chemical synthesis literature. Science 370, 101–108 (2020).

Bédard, A.-C. et al. Reconfigurable system for automated optimization of diverse chemical reactions. Science 361, 1220–1225 (2018).

Xue, D. et al. Accelerated search for materials with targeted properties by adaptive design. Nat. Commun. 7, 11241 (2016).

Vaucher, A. C. et al. Automated extraction of chemical synthesis actions from experimental procedures. Nat. Commun. 11, 3601 (2020).

Vaucher, A. C. et al. Inferring experimental procedures from text-based representations of chemical reactions. Nat. Commun. 12, 2573 (2021).

Tabor, D. P. et al. Accelerating the discovery of materials for clean energy in the era of smart automation. Nat. Rev. Mater. 3, 5–20 (2018).

Gu, E. et al. Robot-based high-throughput screening of antisolvents for lead halide perovskites. Joule 4, 1806–1822 (2020).

Higgins, K., Ziatdinov, M., Kalinin, S. V. & Ahmadi, M. High-throughput study of antisolvents on the stability of multicomponent metal halide perovskites through robotics-based synthesis and machine learning approaches. J. Am. Chem. Soc. 143, 19945–19955 (2021).

Zhao, Y. et al. Discovery of temperature-induced stability reversal in perovskites using high-throughput robotic learning. Nat. Commun. 12, 2191 (2021).

Zhao, Y. et al. A bilayer conducting polymer structure for planar perovskite solar cells with over 1,400 hours operational stability at elevated temperatures. Nat. Energy 7, 144–152 (2022).

Skilton, R. A. et al. Remote-controlled experiments with cloud chemistry. Nat. Chem. 7, 1–5 (2015).

Hammer, A. J. S., Leonov, A. I., Bell, N. L. & Cronin, L. Chemputation and the standardization of chemical informatics. JACS Au 1, 1572–1587 (2021).

Li, S.-H., Qi, M.-Y., Tang, Z.-R. & Xu, Y.-J. Nanostructured metal phosphides: from controllable synthesis to sustainable catalysis. Chem. Soc. Rev. 50, 7539–7586 (2021).

Lai, F. et al. Machine learning-aided crystal facet rational design with ionic liquid controllable synthesis. Small 17, 2100024 (2021).

Zunger, A. Inverse design in search of materials with target functionalities. Nat. Rev. Chem. 2, 0121 (2018).

Wang, Z. et al. Data-driven materials innovation and applications. Adv. Mater. 34, 2104113 (2022).

Jessop, D. M., Adams, S. E., Willighagen, E. L., Hawizy, L. & Murray-Rust, P. OSCAR4: a flexible architecture for chemical text-mining. J. Cheminform. 3, 41 (2011).

Jackson, S. R., McBride, J. R., Rosenthal, S. J. & Wright, D. W. Where's the silver? Imaging trace silver coverage on the surface of gold nanorods. J. Am. Chem. Soc. 136, 5261–5263 (2014).

Kim, F., Song, J. H. & Yang, P. Photochemical synthesis of gold nanorods. J. Am. Chem. Soc. 124, 14316–14317 (2002).

Bohren C F, Huffman D. R. Absorption and Scattering of Light by Small Particles (Wiley, 2008).

Saha, S. K. et al. Scalable submicrometer additive manufacturing. Science 366, 105–109 (2019).

Cheetham, A. K., Seshadri, R. & Wudl, F. Chemical synthesis and materials discovery. Nat. Synth. 1, 514–520 (2022).

Hawizy, L., Jessop, D. M., Adams, N. & Murray-Rust, P. ChemicalTagger: a tool for semantic text-mining in chemistry. J. Cheminform. 3, 17 (2011).

Ouyang, R., Curtarolo, S., Ahmetcik, E., Scheffler, M. & Ghiringhelli, L. M. SISSO: a compressed-sensing method for identifying the best low-dimensional descriptor in an immensity of offered candidates. Phys. Rev. Mater. 2, 083802 (2018).

Ouyang, R., Ahmetcik, E., Carbogno, C., Scheffler, M. & Ghiringhelli, L. M. Simultaneous learning of several materials properties from incomplete databases with multi-task SISSO. J. Phys. Mater. 2, 024002 (2019).
Acknowledgements
This work was supported by the National Natural Science Foundation of China (52173234) (H.Z.), the Shenzhen-Hong Kong-Macau Technology Research Program (Type C, SGDX2020110309300301) (H.Z., Y.L.), the Shenzhen Excellent Science and Technology Innovation Talent Training Project—Outstanding Youth Project (RCJC20200714114435061) (X.-F.Y.), the Shenzhen Science and Technology Program (JCYJ20210324102008023 and JSGG20210802153408024) (H.Z.), the Natural Science Foundation of Guangdong Province (2022A1515010554) (H.Z.), the ANU Futures Scheme (Q4601024) (Z.Y.), the CCF-Tencent Open Fund (H.Z.), a City University of Hong Kong Strategic Research Grant (SRG) (7005505) (Y.L.), the Shenzhen Key Laboratory for the Materials Synthetic Biology (H.Z.) and the Guangdong Province "Pearl River Talent Plan" (2021QN02C230) (H.Z.). We thank O. Adetunji Moses, C. Wang, W. Li and Z. Wang (Materials Interfaces Center, Shenzhen Institute of Advanced Technology, Chinese Academy of Sciences, Shenzhen, China), Y. He (Key Laboratory of Ocean Energy Utilization and Energy Conservation of Ministry of Education, Dalian University of Technology, Dalian, China) and M. Gao (Department of Mechanical, Materials and Manufacturing Engineering, University of Nottingham, Ningbo China) for their contributions to this work.
Ethics declarations
Competing interests
The authors declare no competing interests.
Peer review
Peer review information
Nature Synthesis thanks Teodoro Laino, Yuebing Zheng and the other, anonymous, reviewer(s) for their contribution to the peer review of this work. Primary handling editor is Peter Seavill, in collaboration with the Nature Synthesis team.
Additional information
Publisher's note Springer Nature remains neutral with regard to jurisdictional claims in published maps and institutional affiliations.
Supplementary information
Supplementary Methods, Figs. 1–22 and Tables 1–22.
Synthesis of colloidal gold nanocrystals on the robotic platform.
Synthesis of colloidal double-perovskite nanocrystals on the robotic platform.
Source data
Source data to generate Fig. 3.
Source data to generate Fig. 4.
Source data to generate Fig. 5.
Rights and permissions
Open Access This article is licensed under a Creative Commons Attribution 4.0 International License, which permits use, sharing, adaptation, distribution and reproduction in any medium or format, as long as you give appropriate credit to the original author(s) and the source, provide a link to the Creative Commons license, and indicate if changes were made. The images or other third party material in this article are included in the article's Creative Commons license, unless indicated otherwise in a credit line to the material. If material is not included in the article's Creative Commons license and your intended use is not permitted by statutory regulation or exceeds the permitted use, you will need to obtain permission directly from the copyright holder. To view a copy of this license, visit http://creativecommons.org/licenses/by/4.0/.
About this article
Cite this article
Zhao, H., Chen, W., Huang, H. et al. A robotic platform for the synthesis of colloidal nanocrystals. Nat. Synth (2023). https://doi.org/10.1038/s44160-023-00250-5
Received:

Accepted:

Published:

DOI: https://doi.org/10.1038/s44160-023-00250-5