Abstract
The design of nanostructures is often inspired by the geometries of molecular systems. Inspired by mechanically interlocked catenanes, here we report the synthesis of interlocked plasmonic nanochains, starting from triangular gold nanoplates. The gold nanocatenanes (AuNCats) are prepared in a strategy analogous to the metal-templated synthesis of [2]catenane. We present an analysis of the behaviour of the localized surface plasmon resonance of AuNCats comprising two gold nanorings in terms of D2d spatial symmetry. Moreover, the rocking motion of one nanoring relative to the other causes desymmetrization into D2 symmetry, and induces mechano-helical chirality of an AuNCat as a structural analogy of the [2]catenane, which results in the occurrence of chiroptical responses and remarkably high g factors. As a proof of concept, we constructed a nanoactuator using an AuNCat in tandem with a thermoresponsive polymer. The light-induced thermal actuation of the plasmonic nanomachine transforms rectilinear force into rotational mechanical motion, which enables control of the circular dichroism of the plasmonic nanostructure. We anticipate that mechanically interlocked plasmonic platforms will introduce new classes of nanostructures with unprecedented capabilities.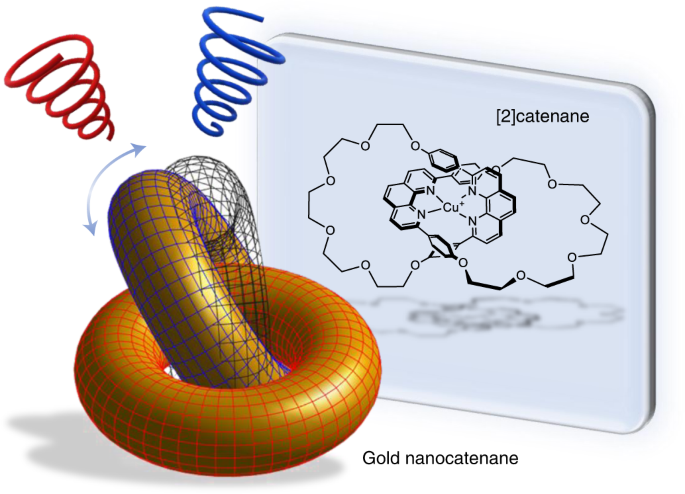 Access options
Subscribe to Nature+
Get immediate online access to Nature and 55 other Nature journal
Subscribe to Journal
Get full journal access for 1 year
$119.00
only $9.92 per issue
All prices are NET prices.
VAT will be added later in the checkout.
Tax calculation will be finalised during checkout.
Buy article
Get time limited or full article access on ReadCube.
$32.00
All prices are NET prices.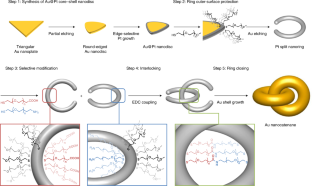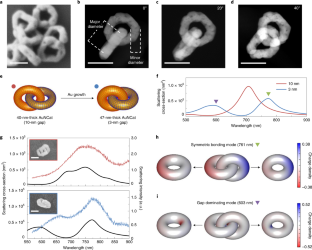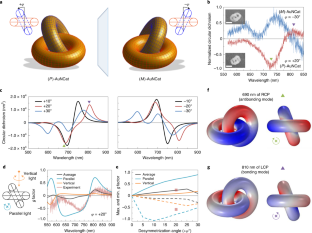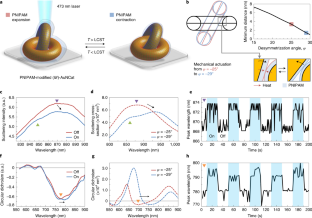 Data availability
The data reported in this paper are available in the main text, Extended Data figures or Supplementary Information. Source data are provided with this paper.
References
Halas, N. J., Lal, S., Chang, W.-S., Link, S. & Nordlander, P. Plasmons in strongly coupled metallic nanostructures. Chem. Rev. 111, 3913–3961 (2011).

Nordlander, P., Oubre, C., Prodan, E., Li, K. & Stockman, M. I. Plasmon hybridization in nanoparticle dimers. Nano Lett. 4, 899–903 (2004).

Fan, J. A. et al. Self-assembled plasmonic nanoparticle clusters. Science 328, 1135–1138 (2010).

Liu, N. et al. Magnetic plasmon formation and propagation in artificial aromatic molecules. Nano Lett. 12, 364–369 (2012).

Hentschel, M. et al. Transition from isolated to collective modes in plasmonic oligomers. Nano Lett. 10, 2721–2726 (2010).

Lu, J. et al. Enhanced optical asymmetry in supramolecular chiroplasmonic assemblies with long-range order. Science 371, 1368–1374 (2021).

Kuzyk, A. et al. DNA-based self-assembly of chiral plasmonic nanostructures with tailored optical response. Nature 483, 311–314 (2012).

Lan, X. et al. Au nanorod helical superstructures with designed chirality. J. Am. Chem. Soc. 137, 457–462 (2015).

Zhang, Q. et al. Unraveling the origin of chirality from plasmonic nanoparticle-protein complexes. Science 365, 1475–1478 (2019).

Yin, X., Schäferling, M., Metzger, B. & Giessen, H. Interpreting chiral nanophotonic spectra: the plasmonic Born–Kuhn Model. Nano Lett. 13, 6238–6243 (2013).

Amabilino, D. B. & Stoddart, J. F. Interlocked and intertwined structures and superstructures. Chem. Rev. 95, 2725–2828 (1995).

Sauvage, J.-P. & Dietrich-Buchecker, C. Molecular Catenanes, Rotaxanes and Knots: A Journey through the World of Molecular Topology (Wiley, 2008).

Dietrich-Buchecker, C. & Sauvage, J.-P. Templated synthesis of interlocked macrocyclic ligands, the catenands. Preparation and characterization of the prototypical bis-30 membered ring system. Tetrahedron 46, 503–512 (1990).

Jang, H.-J. et al. Asymmetric Ag nanocrescents with Pt rims: wet-chemical synthesis and optical characterization. Chem. Mater. 29, 5364–5370 (2017).

Anderson, R., Buscall, R., Eldridge, R., Mulvaney, P. & Scales, P. Concentrated aqueous synthesis of nanoparticles using comb-graft copolymer stabilisers: the effect of stabiliser architecture. RSC Adv. 4, 46876–46886 (2014).

Hohenester, U. & Trügler, A. MNPBEM—a MATLAB toolbox for the simulation of plasmonic nanoparticles. Comput. Phys. Commun. 183, 370–381 (2012).

Aizpurua, J. et al. Optical properties of gold nanorings. Phys. Rev. Lett. 90, 057401 (2003).

Forestiere, C., Dal Negro, L. & Miano, G. Theory of coupled plasmon modes and Fano-like resonances in subwavelength metal structures. Phys. Rev. B 88, 155411 (2013).

Davis, T. J. & Gómez, D. E. Colloquium: An algebraic model of localized surface plasmons and their interactions. Rev. Mod. Phys. 89, 011003 (2017).

Chikkaraddy, R. et al. How ultranarrow gap symmetries control plasmonic nanocavity modes: from cubes to spheres in the nanoparticle-on-mirror. ACS Photon. 4, 469–475 (2017).

Prodan, E., Radloff, C., Halas, N. J. & Nordlander, P. A hybridization model for the plasmon response of complex nanostructures. Science 302, 419–422 (2003).

Schmidt, F. P., Ditlbacher, H., Hofer, F., Krenn, J. R. & Hohenester, U. Morphing a plasmonic nanodisk into a nanotriangle. Nano Lett. 14, 4810–4815 (2014).

Bellido, E. P., Zhang, Y., Manjavacas, A., Nordlander, P. & Botton, G. A. Plasmonic coupling of multipolar edge modes and the formation of gap modes. ACS Photon. 4, 1558–1565 (2017).

Bruns, C. J. & Stoddart, J. F. The Nature of the Mechanical Bond: From Molecules to Machines (Wiley, 2016).

Vignon, S. A., Wong, J., Tseng, H.-R. & Stoddart, J. F. Helical chirality in donor-acceptor catenanes. Org. Lett. 6, 1095–1098 (2004).

Lee, H.-E. et al. Amino-acid- and peptide-directed synthesis of chiral plasmonic gold nanoparticles. Nature 556, 360–365 (2018).

González-Rubio, G. et al. Micelle-directed chiral seeded growth on anisotropic gold nanocrystals. Science 368, 1472–1477 (2020).

Auguié, B., Alonso-Gómez, J. L., Guerrero-Martínez, A. & Liz-Marzán, L. M. Fingers crossed: optical activity of a chiral dimer of plasmonic nanorods. J. Phys. Chem. Lett. 2, 846–851 (2011).

Wang, L.-Y. et al. Circular differential scattering of single chiral self-assembled gold nanorod dimers. ACS Photon. 2, 1602–1610 (2015).

Lu, X. et al. Circular dichroism from single plasmonic nanostructures with extrinsic chirality. Nanoscale 6, 14244–14253 (2014).

Gil-Ramírez, G., Leigh, D. A. & Stephens, A. J. Catenanes: fifty years of molecular links. Angew. Chem. Int. Ed. 54, 6110–6150 (2015).

Ding, T. & Baumberg, J. J. Thermo-responsive plasmonic systems: old materials with new applications. Nanoscale Adv. 2, 1410–1416 (2020).

Ding, T. et al. Light-induced actuating nanotransducers. Proc. Natl Acad. Sci. USA 113, 5503–5507 (2016).

Cormier, S., Ding, T., Turek, V. & Baumberg, J. J. Actuating single nano-oscillators with light. Adv. Opt. Mater. 6, 1701281 (2018).

Smeets, B. et al. Modeling contact interactions between triangulated rounded bodies for the discrete element method. Comput. Methods Appl. Mech. Eng. 277, 219–238 (2014).

Finer, J. T., Simmons, R. M. & Spudich, J. A. Single myosin molecule mechanics: piconewton forces and nanometre steps. Nature 368, 113–119 (1994).

Xin, L., Zhou, C., Duan, X. & Liu, N. A rotary plasmonic nanoclock. Nat. Commun. 10, 5394 (2019).

Qin, F. et al. Thickness control produces gold nanoplates with their plasmon in the visible and near-infrared regions. Adv. Opt. Mater. 4, 76–85 (2016).

Johnson, P. B. & Christy, R. W. Optical constants of the noble metals. Phys. Rev. B 6, 4370–4379 (1972).
Acknowledgements
We thank Y. Jung, J. Son, J.-H. Kim, S. Cha, Y. Lee, S. Kim and D. H. Kim for helpful discussions. This work was supported by National Research Foundation of Korea (NRF) grants funded by the Korea government (MSIT; nos. NRF-2021R1A2C3010083 and NRF-2017R1A5A1015365.)
Ethics declarations
Competing interests
The authors declare no competing interests.
Peer review
Peer review information
Nature Synthesis thanks the anonymous reviewers for their contribution to the peer review of this work. Primary Handling Editor: Alison Stoddart, in collaboration with the Nature Synthesis team.
Additional information
Publisher's note Springer Nature remains neutral with regard to jurisdictional claims in published maps and institutional affiliations.
Integrated supplementary information
Supplementary information
About this article
Cite this article
Kim, Y., Nam, JM. Mechanically interlocked gold nanocatenanes. Nat. Synth 1, 649–657 (2022). https://doi.org/10.1038/s44160-022-00116-2
Received:

Accepted:

Published:

Issue Date:

DOI: https://doi.org/10.1038/s44160-022-00116-2