Abstract
Phytoplankton produce the volatile dimethyl sulfide (DMS), an important infochemical mediating microbial interactions, which is also emitted to the atmosphere and affecting the global climate. Albeit the enzymatic source for DMS in eukaryotes was elucidated, namely a DMSP lyase (DL) called Alma1, we still lack basic knowledge regarding its taxonomic distribution. We defined unique sequence motifs which enable the identification of DL homologs (DLHs) in model systems and environmental populations. We used these motifs to predict DLHs in diverse algae by analyzing hundreds of genomic and transcriptomic sequences from model systems under stress conditions and from environmental samples. Our findings show that the DL enzyme is more taxonomically widespread than previously thought, as it is encoded by known algal taxa as haptophytes and dinoflagellates, but also by chlorophytes, pelagophytes and diatoms, which were conventionally considered to lack the DL enzyme. By exploring the Tara Oceans database, we showed that DLHs are widespread across the oceans and are predominantly expressed by dinoflagellates. Certain dinoflagellate DLHs were differentially expressed between the euphotic and mesopelagic zones, suggesting a functional specialization and an involvement in the metabolic plasticity of mixotrophic dinoflagellates. In specific regions as the Southern Ocean, DLH expression by haptophytes and diatoms was correlated with environmental drivers such as nutrient availability. The expanded repertoire of putative DL enzymes from diverse microbial origins and geographic niches suggests new potential players in the marine sulfur cycle and provides a foundation to study the cellular function of the DL enzyme in marine microbes.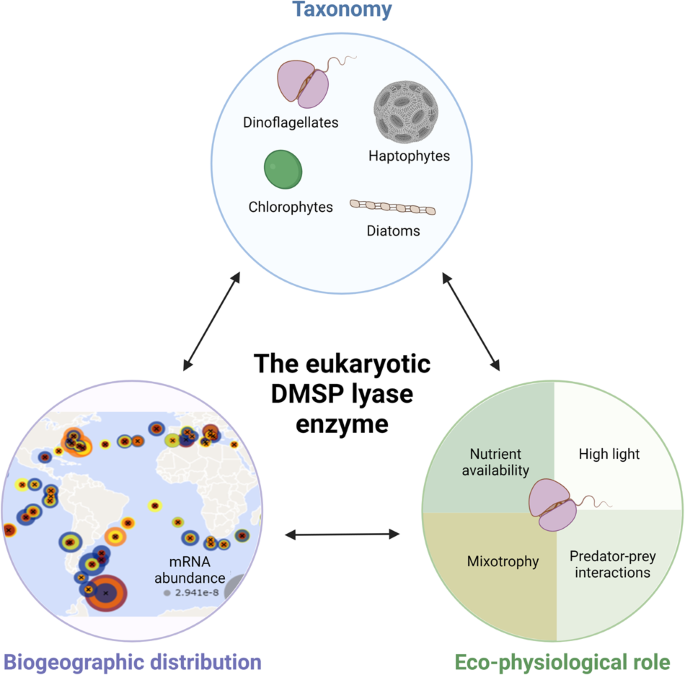 References
Alcolombri U, Ben-Dor S, Feldmesser E, Levin Y, Tawfik DS, Vardi A. Identification of the algal dimethyl sulfide-releasing enzyme: a missing link in the marine sulfur cycle. Science. 2015;348:1466–9.

Hulswar S, Simó R, Galí M, Bell TG, Lana A, Inamdar S, et al. Third revision of the global surface seawater dimethyl sulfide climatology (DMS-Rev3). Earth Syst Sci Data. 2022;14:2963–87.

Simó R. Production of atmospheric sulfur by oceanic plankton: biogeochemical, ecological and evolutionary links. Trends Ecol Evol. 2001;16:287–94.

Charlson RJ, Lovelock JE, Andreae MO, Warren SG. Oceanic phytoplankton, atmospheric sulphur, cloud albedo and climate. Nature. 1987;326:655–61.

Owen K, Saeki K, Warren J, Bocconcelli A, Wiley D, Ohira S-I, et al. Natural dimethyl sulfide gradients would lead marine predators to higher prey biomass. Commun Biol. 2021;4:149.

Shemi A, Alcolombri U, Schatz D, Farstey V, Vincent F, Rotkopf R, et al. Dimethyl sulfide mediates microbial predator–prey interactions between zooplankton and algae in the ocean. Nat Microbiol. 2021;6:1357–66.

Garcés E, Alacid E, Reñé A, Petrou K, Simó R. Host-released dimethylsulphide activates the dinoflagellate parasitoid Parvilucifera sinerae. ISME J. 2013;7:1065–8.

Foretich MA, Paris CB, Grosell M, Stieglitz JD, Benetti DD. Dimethyl sulfide is a chemical attractant for reef fish larvae. Sci Rep. 2017;7:2498.

Yoch DC. Dimethylsulfoniopropionate: its sources, role in the marine food web, and biological degradation to dimethylsulfide. Appl Environ Microbiol. 2002;68:5804–15.

Caruana AMN, Malin G. The variability in DMSP content and DMSP lyase activity in marine dinoflagellates. Prog Oceanogr. 2014;120:410–24.

Bullock HA, Luo H, Whitman WB. Evolution of dimethylsulfoniopropionate metabolism in marine phytoplankton and bacteria. Front Microbiol. 2017;8:637.

Dougan KE, Deng Z-L, Wöhlbrand L, Reuse C, Bunk B, Chen Y, et al. Multi-omics analysis reveals the molecular response to heat stress in a "red tide" dinoflagellate. bioRxiv. 2022:2022.07.25.501386.

Naranjo-Ortíz MA, Brock M, Brunke S, Hube B, Marcet-Houben M, Gabaldón T. Widespread inter- and intra-domain horizontal gene transfer of d-amino acid metabolism enzymes in eukaryotes. Front Microbiol. 2016;7:2001.

Galí M, Devred E, Babin M, Levasseur M. Decadal increase in Arctic dimethylsulfide emission. Proc Natl Acad Sci USA. 2019;116:19311–17.

Park K, Kim I, Choi J-O, Lee Y, Jung J, Ha S-Y, et al. Unexpectedly high dimethyl sulfide concentration in high-latitude Arctic sea ice melt ponds. Environ Sci Process Impacts. 2019;21:1642–9.

Vernette C, Lecubin J, Sánchez P, Coordinators TO, Sunagawa S, Delmont TO, et al. The Ocean Gene Atlas v2.0: online exploration of the biogeography and phylogeny of plankton genes. Nucleic Acids Res. 2022;50:W516–W26.

Marchler-Bauer A, Bryant SH. CD-Search: protein domain annotations on the fly. Nucleic Acids Res. 2004;32:W327–31.

Bailey TL. STREME: accurate and versatile sequence motif discovery. Bioinformatics. 2021;37:2834–40.

Shinzato C, Khalturin K, Inoue J, Zayasu Y, Kanda M, Kawamitsu M, et al. Eighteen coral genomes reveal the evolutionary origin of Acropora strategies to accommodate environmental changes. Mol Biol Evol. 2020;38:16–30.

Chiu Y-L, Shinzato C. Evolutionary history of DMSP lyase-like genes in animals and their possible involvement in evolution of the scleractinian coral genus, Acropora. Front Mar Sci. 2022;9:889866.

Chan CX, Gross J, Yoon HS, Bhattacharya D. Plastid origin and evolution: new models provide insights into old problems. Plant Physiol. 2011;155:1552–60.

De Clerck O, Kao SM, Bogaert KA, Blomme J, Foflonker F, Kwantes M, et al. Insights into the evolution of multicellularity from the sea lettuce genome. Curr Biol. 2018;28:2921–33.e5.

de Souza MP, Chen YP, Yoch DC. Dimethylsulfoniopropionate lyase from the marine macroalga Ulva curvata: purification and characterization of the enzyme. Planta. 1996;199:433–8.

Dickson DMJ, Kirst GO. The role of β-dimethylsulphoniopropionate, glycine betaine and homarine in the osmoacclimation of Platymonas subcordiformis. Planta. 1986;167:536–43.

Gebser B, Thume K, Steinke M, Pohnert G. Phytoplankton-derived zwitterionic gonyol and dimethylsulfonioacetate interfere with microbial dimethylsulfoniopropionate sulfur cycling. MicrobiologyOpen. 2020;9:e1014.

McParland EL, Wright A, Art K, He M, Levine NM. Evidence for contrasting roles of dimethylsulfoniopropionate production in Emiliania huxleyi and Thalassiosira oceanica. New Phytol. 2020;226:396–409.

Johansson ON, Töpel M, Pinder MIM, Kourtchenko O, Blomberg A, Godhe A, et al. Skeletonema marinoi as a new genetic model for marine chain-forming diatoms. Sci Rep. 2019;9:5391.

Spielmeyer A, Pohnert G. Daytime, growth phase and nitrate availability dependent variations of dimethylsulfoniopropionate in batch cultures of the diatom Skeletonema marinoi. J Exp Mar Biol Ecol. 2012;413:121–30.

Osuna-Cruz CM, Bilcke G, Vancaester E, De Decker S, Bones AM, Winge P, et al. The Seminavis robusta genome provides insights into the evolutionary adaptations of benthic diatoms. Nat Commun. 2020;11:3320.

Keeling PJ, Burki F, Wilcox HM, Allam B, Allen EE, Amaral-Zettler LA, et al. The Marine Microbial Eukaryote Transcriptome Sequencing Project (MMETSP): illuminating the functional diversity of eukaryotic life in the oceans through transcriptome sequencing. PLOS Biol. 2014;12:e1001889.

Steinke M, Malin G, Gibb SW, Burkill PH. Vertical and temporal variability of DMSP lyase activity in a coccolithophorid bloom in the northern North Sea. Deep-Sea Res PT II. 2002;49:3001–16.

Steinke M, Malin G, Archer S, Burkill P, Liss P. DMS production in a coccolithophorid bloom: evidence for the importance of dinoflagellate DMSP lyases. Aquat Microb Ecol. 2002;26:259–70.

Carradec Q, Pelletier E, Da Silva C, Alberti A, Seeleuthner Y, Blanc-Mathieu R, et al. A global ocean atlas of eukaryotic genes. Nat Commun. 2018;9:373.

Schoemann V, Becquevort S, Stefels J, Rousseau V, Lancelot C. Phaeocystis blooms in the global ocean and their controlling mechanisms: a review. J Sea Res. 2005;53:43–66.

Kasamatsu N, Hirano T, Kudoh S, Odate T, Fukuchi M. Dimethylsulfoniopropionate production by psychrophilic diatom isolates. J Phycol. 2004;40:874–8.

Gutierrez-Rodriguez A, Pillet L, Biard T, Said-Ahmad W, Amrani A, Simó R, et al. Dimethylated sulfur compounds in symbiotic protists: a potentially significant source for marine DMS(P). Limnol Oceanogr. 2017;62:1139–54.

Jeong HJ, Yoo YD, Kim JS, Seong KA, Kang NS, Kim TH. Growth, feeding and ecological roles of the mixotrophic and heterotrophic dinoflagellates in marine planktonic food webs. Ocean Sci. 2010;45:65–91.

Cohen NR, McIlvin MR, Moran DM, Held NA, Saunders JK, Hawco NJ, et al. Dinoflagellates alter their carbon and nutrient metabolic strategies across environmental gradients in the central Pacific Ocean. Nat Microbiol. 2021;6:173–86.

Haas P. The liberation of methyl sulphide by seaweed. Biochem J. 1935;29:1297–9.

Moustafa A, Beszteri B, Maier UG, Bowler C, Valentin K, Bhattacharya D. Genomic footprints of a cryptic plastid endosymbiosis in diatoms. Science. 2009;324:1724–6.

Kirst GO. Osmotic adjustment in phytoplankton and macroalgae. In: Kiene RP, Visscher PT, Keller MD, Kirst GO, editors. Biological and environmental chemistry of DMSP and related sulfonium compounds. Boston, MA: Springer US; 1996. p. 121–9.

Sunda W, Kieber DJ, Kiene RP, Huntsman S. An antioxidant function for DMSP and DMS in marine algae. Nature. 2002;418:317–20.

Stefels J. Physiological aspects of the production and conversion of DMSP in marine algae and higher plants. J Sea Res. 2000;43:183–97.

Archer SD, Ragni M, Webster R, Airs RL, Geider RJ. Dimethyl sulfoniopropionate and dimethyl sulfide production in response to photoinhibition in Emiliania huxleyi. Limnol Oceanogr. 2010;55:1579–89.

Darroch L, Lavoie M, Levasseur M, Laurion I, Sunda W, Michaud S, et al. Effect of short-term light- and UV-stress on DMSP, DMS, and DMSP lyase activity in Emiliania huxleyi. Aquat Microb Ecol. 2015;74:173–85.

Sunda WG, Hardison R, Kiene RP, Bucciarelli E, Harada H. The effect of nitrogen limitation on cellular DMSP and DMS release in marine phytoplankton: climate feedback implications. Aquat Sci. 2007;69:341–51.

Thume K, Gebser B, Chen L, Meyer N, Kieber DJ, Pohnert G. The metabolite dimethylsulfoxonium propionate extends the marine organosulfur cycle. Nature. 2018;563:412–5.

Moustafa A, Evans AN, Kulis DM, Hackett JD, Erdner DL, Anderson DM, et al. Transcriptome profiling of a toxic dinoflagellate reveals a gene-rich protist and a potential impact on gene expression due to bacterial presence. PLOS One. 2010;5:e9688.

Seymour J, Simó R, Ahmed T, Stocker R. Chemoattraction to dimethylsulfoniopropionate throughout the marine microbial food web. Science. 2010;329:342–5.

Bucciarelli E, Ridame C, Sunda WG, Dimier-Hugueney C, Cheize M, Belviso S. Increased intracellular concentrations of DMSP and DMSO in iron-limited oceanic phytoplankton Thalassiosira oceanica and Trichodesmium erythraeum. Limnol Oceanogr. 2013;58:1667–79.

Procter J, Hopkins FE, Fileman ES, Lindeque PK. Smells good enough to eat: Dimethyl sulfide (DMS) enhances copepod ingestion of microplastics. Mar Pollut Bull. 2019;138:1–6.

Steinke M, Wolfe GV, Kirst GO. Partial characterisation of dimethylsulfoniopropionate (DMSP) lyase isozymes in 6 strains of Emiliania huxleyi. Mar Ecol. 1998;175:215–25.

Stefels J, van Boekel WHM. Production of DMS from dissolved DMSP in axenic cultures of the marine phytoplankton species Phaeocystis sp. Mar Ecol Prog Ser. 1993;97:11–8.

Alcolombri U, Lei L, Meltzer D, Vardi A, Tawfik DS. Assigning the algal source of dimethylsulfide using a selective lyase inhibitor. ACS Chem Biol. 2017;12:41–6.

Faktorová D, Nisbet RER, Fernández Robledo JA, Casacuberta E, Sudek L, Allen AE, et al. Genetic tool development in marine protists: emerging model organisms for experimental cell biology. Nat Methods. 2020;17:481–94.

Oertel W, Wichard T, Weissgerber A. Transformation of Ulva mutabilis (Chlorophyta) by vector plasmids integrating into the genome. J Phycol. 2015;51:963–79.

Altschul SF, Gish W, Miller W, Myers EW, Lipman DJ. Basic local alignment search tool. J Mol Biol. 1990;215:403–10.

Jumper J, Evans R, Pritzel A, Green T, Figurnov M, Ronneberger O, et al. Highly accurate protein structure prediction with AlphaFold. Nature. 2021;596:583–9.

Varadi M, Anyango S, Deshpande M, Nair S, Natassia C, Yordanova G, et al. AlphaFold protein structure database: massively expanding the structural coverage of protein-sequence space with high-accuracy models. Nucleic Acids Res. 2021;50:D439–D44.

Nelson DR, Hazzouri KM, Lauersen KJ, Jaiswal A, Chaiboonchoe A, Mystikou A, et al. Large-scale genome sequencing reveals the driving forces of viruses in microalgal evolution. Cell Host Microbe. 2021;29:250–66.e8.

Rutgers University, grant NPR. Red algal resources to promote integrative research in algal genomics. http://porphyra.rutgers.edu/.

Przeworski M. Draft genome of the staghorn coral Acropora millepora. https://przeworskilab.com/data/.

Feldmesser E, Rosenwasser S, Vardi A, Ben-Dor S. Improving transcriptome construction in non-model organisms: integrating manual and automated gene definition in Emiliania huxleyi. BMC Genom. 2014;15:148.

Larkin MA, Blackshields G, Brown NP, Chenna R, McGettigan PA, McWilliam H, et al. Clustal W and Clustal X version 2.0. Bioinformatics. 2007;23:2947–8.

Villar E, Vannier T, Vernette C, Lescot M, Cuenca M, Alexandre A, et al. The Ocean Gene Atlas: exploring the biogeography of plankton genes online. Nucleic Acids Res. 2018;46:W289–W95.

Savoca MS. Chemoattraction to dimethyl sulfide links the sulfur, iron, and carbon cycles in high-latitude oceans. Biogeochemistry. 2018;138:1–21.
Acknowledgements
We thank Dr. Gust Bilcke for providing the DLH mRNA expression data for S. robusta (Table S4). We thank Dr. Uria Alcolombri for his contribution to scientific discussions and his constructive feedback on the manuscript. This work was funded by the research grant from the Israeli Science Foundation (ISF No. 1972/20) and by a research grant from the Takiff Family Foundation, both were awarded to A.V.
Ethics declarations
Competing interests
The authors declare no competing interests.
Additional information
Publisher's note Springer Nature remains neutral with regard to jurisdictional claims in published maps and institutional affiliations.
Supplementary information
Rights and permissions
Open Access This article is licensed under a Creative Commons Attribution 4.0 International License, which permits use, sharing, adaptation, distribution and reproduction in any medium or format, as long as you give appropriate credit to the original author(s) and the source, provide a link to the Creative Commons license, and indicate if changes were made. The images or other third party material in this article are included in the article's Creative Commons license, unless indicated otherwise in a credit line to the material. If material is not included in the article's Creative Commons license and your intended use is not permitted by statutory regulation or exceeds the permitted use, you will need to obtain permission directly from the copyright holder. To view a copy of this license, visit http://creativecommons.org/licenses/by/4.0/.
About this article
Cite this article
Shemi, A., Ben-Dor, S., Rotkopf, R. et al. Phylogeny and biogeography of the algal DMS-releasing enzyme in the global ocean. ISME COMMUN. 3, 72 (2023). https://doi.org/10.1038/s43705-023-00280-2
Received:

Revised:

Accepted:

Published:

DOI: https://doi.org/10.1038/s43705-023-00280-2