Dr Sean Gibbons, assistant professor at the Institute for Systems Biology and a Washington Research Foundation Distinguished Investigator, discusses with Nature Computational Science how he uses computational science to gain insights into the gut microbiome and to address the major challenges of this field, as well as his advice to young LGBTQIA+ scientists.
What made you obtain three bachelor's degrees?
I come from a very small corner of the world — Montana — and my parents were working class, armchair intellectuals. They did a lot of reading and they are still to this day curious and engaged people. They always encouraged my curiosity throughout my childhood, but I was never that ambitious in school when it came to grades. I did not take school seriously until I was an undergrad. I got a scholarship from the University of Montana (UM), the state school in my hometown, and it was there that I really fell in love with academia and learning. I had broad interests and I took almost every class possible, always trying to maximize my course load each semester. Since it was cheap enough to attend classes, due to the relatively low in-state tuition and scholarships, I could just go on as long as I wanted. I spent about six years at UM, but honestly, I would have been happy spending my entire life as an undergrad! I was originally going to get three majors, but the university told me that I had so many credits that they could not give me three majors. Instead, they had to give me three separate bachelor's degrees: French language and literature, molecular biology, and microbiology, with a minor in chemistry.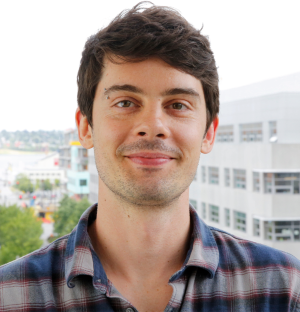 Why did you eventually choose to pursue a career in science and microbiology?
At the end of my undergrad studies, I had an opportunity to go to graduate school for French literature. But at that time, I was also working with my undergraduate research advisor, Prof. James Gannon, and he offered me a job as his lab manager for the following year. I took him up on that offer, and the rest is history. Ultimately, I think the reason I liked science better and why I chose it over French literature was because science is this constant puzzle where you use all of the creativity and skills you have to solve concrete, real-world problems. Science is always changing, growing, and you are driven forward by your curiosity. Working in science is like being a perpetual kid, pondering 'what if' questions all the time. That feeling of eventually figuring something out — by struggling, being creative, and pushing boundaries — is a powerful drug, and I think that is what ultimately pulled me into scientific research.
Could you describe your work in the field of gut microbiome, health, and ecological therapeutics?
Each of us have our own genotypes, which can be sequenced. We know a lot about how the genotype can push us towards disease or health in a given context, and how different environmental exposures or drugs can interact with our genotypes. But there is a huge amount of phenotypic variation that is not explained by the genome. In my field, we use high-throughput DNA sequencing to peer into the non-human components of our bodies. We are not solely composed of human cells: we have about the same number of human cells as bacterial cells in and on our bodies. These microbes are not just passengers, but also active components of the system, meaning that we are not a single-species system. Our bodies are a complex ecosystem of thousands of interacting species. As we evolved, some of the functionality of our bodies was outsourced to these microbes. Indeed, if we lack certain microbes, we can get sick. Similarly, if we attract the wrong kinds of microbes, we can get sick. Nevertheless, it is not as simple as observing which microbes inhabit a person to tell whether or not that person is healthy or sick, since it is all context-dependent. There are many ways to construct a healthy microbiome from the universe of human-associated bacteria out there in the world, and there are myriad ways in which this ecosystem can break. Our capability to map ecological composition of the microbiome into functional space is still in its infancy. Similar to our genome, each person has a totally unique microbiome fingerprint. As such, future microbiome-mediated clinical interventions will likely need to be somewhat personalized. Labs like ours are developing the next generation of tools that will enable us to go from microbial ecology to precision therapeutics. We strive to understand the ecology of our microbiota, and how it influences our health, well enough to be able to engineer it at will.
How can computational science advance this field?
At a basic level, we have entered a period of history in which all scientists need to leverage computational resources to carry out their work. The field of biology now inherently produces what is often termed 'big data'. A lot of the lower-hanging fruit in biology was picked in the 20th century by clever experimentalists to build the platform upon which we now stand. Today, however, if you want to make truly novel forays into understanding biology, you have to take a more system-scale, holistic approach and take multiple measurements of the same phenomenon from different angles. Biologists spent a couple of centuries deconstructing biological systems to study each molecule, protein, or gene in isolation, but it so happens that when you put everything back together, they often behave differently together than they did when they were apart. So, there is a greater-than-the-sum-of-the-parts challenge in biology. To measure all of these different components of the system and to come up with an emergent picture of how things work, we need computational infrastructure and training.
The development of computational tools in the field of biology falls into two spheres: statistical modeling, which includes everything from basic linear regression to machine learning, and mechanistic modeling. If you have some data but you do not yet know the basics of how a system works and you want to make predictions, you can train a statistical model for that purpose. Statistical models are incredibly useful for generating novel insights, but they can be somewhat opaque when it comes to understanding how they make their predictions. On the other hand, if you have a broad understanding of how your system works, you can try to build a mechanistic model. For example, metabolic network models, such as flux balance analysis, are mechanistic models of cellular metabolism; similarly, transcription factor network models are mechanistic models of cellular gene expression. Hybrid models that integrate statistical methods and mechanistic constraints can be used to integrate 'big data' into fairly sophisticated artificial intelligence frameworks that leverage both existing knowledge and new observations.
As part of your research, you have been developing a customizable metabolic model of the human gut microbiome. What are the main challenges when building such a model?
This work is driven by a brilliant scientist in my group, Dr Christian Diener, and he is an expert when it comes to constructing these complicated, multi-species flux balance analysis models. One challenge is that, while you can build one of these models for a single organism — for example, Escherichia coli — constraining a steady state model for multi-species communities is substantially more complicated. In this case, it is not easy to find a unique solution where the entire community can grow. Usually, for bacteria, we maximize biomass production at steady state. But if you do that maximization at the community scale, you often see that one species completely dominates. If a given organism has a marginally higher growth rate, when its dynamics are exponential, it can take over and eventually become the only species capable of growth in the system. However, we know from observing real-world ecosystems that many species are able to grow and coexist in the human gut. Thus, to address this issue, you could include growth optimal for each species in the model, but that would have been too computationally expensive for hundreds of species. As a solution to make community-scale metabolic modeling computationally feasible, Christian added a single cooperative tradeoff parameter, which sacrifices some amount of total community biomass to support the growth of individual species within the ecosystem. This kind of community biomass penalty has been validated in in vitro communities, and the imposition of this tradeoff yields model-inferred growth rates that correlate with in situ growth rate inferences. These methods are all implemented within our MICOM model, which Christian developed during his time in Prof. Osbaldo Resendis-Antonio's and my labs.
Are there any gender biases to be considered when it comes to building these metabolic models?
There has certainly been a bias. Now, there are steps being taken to counter this. For example, the National Institute of Health takes gender equity into consideration when they review grants. They ensure that non-human animal studies include both sexes and that human cohorts are balanced for sex. Dr Ines Thiele recently published a paper on whole human metabolic models for both males and females, which she named 'Harvey' and 'Harvetta'. Our MICOM model currently only focuses on the microbes, but we do plan to build human tissue-specific metabolic models, and for that, we will consider sex-specific implementations of the model. When it comes to the gut microbiome, we do not see large differences between men and women, although there do appear to be very subtle differences if you look across very large populations.
In your research, you also handle large microbiome datasets. Are there any specific challenges that need to be addressed when using these datasets?
There are in fact many challenges, and I will mention three here. First, we often do not know what the absolute abundances are for microbial genes or taxa — we only have relative abundances (meaning, coordinates that lie on a simplex). Classical statistical methods assume that the data are Euclidean, meaning that they assume that we have the absolute abundances. Research groups around the world are building computational tools for extracting useful information from these relative abundances and/or experimental approaches for better-quantifying absolute abundances. Second, we see issues with sparsity (meaning, the number of zeros) across a data set, and how to model this sparsity when building statistical models. We still do not have a concrete understanding of the kinds of parametric distributions that are most appropriate for rare microbiome features as we sample more and more deeply into these ecosystems. Third, there is the data integration challenge. We are able to sequence nucleic acids in bulk or at the single-cell level, measure metabolites and proteins using targeted or untargeted mass spectrometry, and collect image data of biofilms and tissues. We are only beginning to understand how to best integrate these data into a coherent picture of a microbial ecosystem that leverages existing knowledge bases and artificial intelligence tool sets.
Your research relies on a combination of computational and experimental work. Can you comment on the importance of the interplay between theory and experimentation?
Our lab conducts wet lab and dry lab work, all under one roof. There are labs that specialize in one or the other. But having both in house, at the same place, provides us with a lot of flexibility and power to quickly iterate between results and analysis. In addition, it is fun to eat what you kill, so to speak.
As a researcher who is a part of the LGBTQIA+ community, what would be your advice to young researchers on how to navigate through academia and research?
I have been with my partner Jeff for about 15 years, and because I have been in a long-term relationship from an early age, I might have had a different experience than other people. Furthermore, I speak from a very privileged position: I am a white male who has worked in major urban centers in the 21st century. My family has always supported me, and I have not experienced many of the potential negative consequences of being openly gay. I also found that, in academia, we are living in a bubble, meaning that we tend to mingle with fairly liberal-minded intellectuals. I had a few unpleasant experiences when I was growing up in Montana, but academia in general has been quite welcoming. My advice for young researchers would be to find a community. Find other people who can understand and support you. Maybe your community is a long-term partner or a close-knit group of friends, or maybe your community is a club or an interest group, but no matter what this community is, having support is essential.
Speaking of communities, you are a member of the 500 Queer Scientists group. How do you think being part of that community could help people?
I noticed this group on Twitter and my interpretation of what they were doing was to create a broad representation of scientists at different career stages and in different kinds of jobs. It presents a diverse group of role models and allows students, who could be feeling alienated, to see themselves reflected in a career that they might want to go after. So, what they are really doing with this group is providing those visions of possibility so that the younger generation can see themselves represented in science.
About this article
Cite this article
Rastogi, A. Digging deeper into the gut microbiome. Nat Comput Sci 2, 348–349 (2022). https://doi.org/10.1038/s43588-022-00262-9
Published:

Issue Date:

DOI: https://doi.org/10.1038/s43588-022-00262-9