A framework called EPICS predicts microbial community structures by estimating effective pairwise interactions in an efficient and scalable way.
This is a preview of subscription content
Access options
Subscribe to Journal
Get full journal access for 1 year
$99.00
only $8.25 per issue
All prices are NET prices.
VAT will be added later in the checkout.
Tax calculation will be finalised during checkout.
Rent or Buy article
Get time limited or full article access on ReadCube.
from$8.99
All prices are NET prices.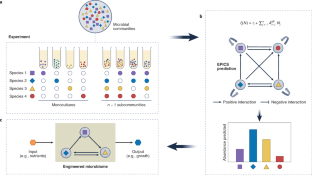 References
1.

Gilbert, A. J. et al. Nature 535, 94–103 (2016).

2.

Widder, S. et al. ISME J. 10, 2557–2568 (2016).

3.

Ansari, A. F., Reddy, Y. B. S., Raut, J. & Dixit, N. M. Nat. Comput. Sci. https://doi.org/10.1038/s43588-021-00131-x (2021).

4.

Qin, Y., Ln, F. & Venturelli, S. O. Curr. Opin. Microbiol. 62, 84–92 (2021).

5.

Lopatkin, J. A. & Collins, J. J. Nat. Rev. Microbiol. 18, 507–520 (2020).

6.

Kumar, M., Ji, B., Zengler, K. & Nilsen, J. Nat. Microbiol. 4, 1253–1267 (2019).

7.

Johns, I. N. et al. Curr. Opin. Microbiol. 31, 146–153 (2016).

8.

Sanchez-Gorostiaga, A. et al. PLoS Biol 17, e3000550 (2019).

9.

Gould, L. A. et al. Proc. Natl Acad. Sci. USA 115, E11951–E11960 (2018).

10.

Jalili-Firoozinezhad, S. et al. Nat. Biomed. Eng. 3, 520–531 (2019).
Ethics declarations
Competing interests
The authors declare no competing interests.
About this article
Cite this article
Ji, B., Herrgård, M.J. & Nielsen, J. Microbial community dynamics revisited. Nat Comput Sci 1, 640–641 (2021). https://doi.org/10.1038/s43588-021-00144-6