Modeling of the multiscale dynamics of new bone formation in tissue scaffolds is still challenging due to the computational complexity in solving the mechanics–material–biology interactions. Recent work proposes a machine learning approach to address this challenge.
Access options
Subscribe to Journal
Get full journal access for 1 year
$99.00
only $8.25 per issue
All prices are NET prices.
VAT will be added later in the checkout.
Tax calculation will be finalised during checkout.
Rent or Buy article
Get time limited or full article access on ReadCube.
from$8.99
All prices are NET prices.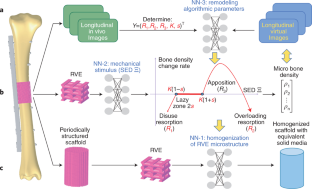 References
1.

Petite, H. et al. Nat. Biotechnol. 18, 959–963 (2000).

2.

Sharma, U. et al. Nat. Mater. 17, 96–103 (2018).

3.

Pobloth, A.-M. et al. Sci. Transl. Med. 10, eaam8828 (2018).

4.

Wu, C. et al. Nat. Comput. Sci. https://doi.org/10.1038/s43588-021-00115-x (2021).

5.

Hollister, S. J. Nat. Mater. 4, 518–524 (2005).

6.

Adachi, T., Osako, Y., Tanaka, M., Hojo, M. & Hollister, S. J. Biomaterials 27, 3964–3972 (2006).

7.

Sanz-Herrera, J. A., García-Aznar, J. M. & Doblaré, M. Acta Biomater. 5, 219–229 (2009).

8.

Wu, C. et al. J. Biomech. 117, 110233 (2021).

9.

Ringe, J. & Sittinger, M. Nat. Rev. Rheumatol. 10, 388–389 (2014).
Ethics declarations
Competing interests
The author declares no competing interests.
About this article
Cite this article
Li, Z. Predicting bone regeneration from machine learning. Nat Comput Sci 1, 509–510 (2021). https://doi.org/10.1038/s43588-021-00116-w