A graph-neural-network-based framework is proposed for the refinement of protein structure models, substantially improving the efficacy and efficiency of refining protein models when compared with the state-of-the-art approaches.
Access options
Subscribe to Journal
Get full journal access for 1 year
$99.00
only $8.25 per issue
All prices are NET prices.
VAT will be added later in the checkout.
Tax calculation will be finalised during checkout.
Rent or Buy article
Get time limited or full article access on ReadCube.
from$8.99
All prices are NET prices.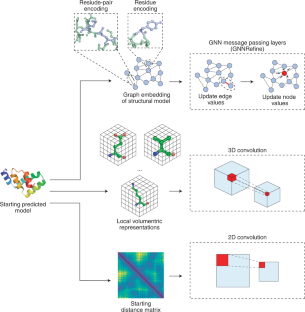 References
1.

Dill, K. A. & MacCallum, J. L. Science 338, 1042–1046 (2012).

2.

Jumper J. et al. Critical Assessment of Techniques for Protein Structure Prediction (CASP, 2020).

3.

Jing, X. & Xu, J. Nat. Comput. Sci. https://doi.org/10.1038/s43588-021-00098-9 (2021).

4.

Heo, L., Arbour, C. F. & Feig, M. Proteins 87, 1263–1275 (2019).

5.

Park, H. et al. Proteins 87, 1276–1282 (2019).

6.

Conway, P., Tyka, M. D., DiMaio, F., Konerding, D. E. & Baker, D. Protein Sci. 23, 47–55 (2014).

7.

Zamora-Resendiz, R. & Crivelli, S. Preprint at bioRxiv https://doi.org/10.1101/610444 (2019).

8.

AlQuraishi, M. Cell Syst. 8, 292–301 (2019).

9.

Ingraham, J. & Riesselman, A. J. In Int. Conf. Learning Representations (ICLR, 2019).

10.

Hiranuma, N. et al. Nat. Commun. 12, 1340 (2021).
Ethics declarations
Competing interests
P.M.K. is a co-founder and has been consultant to several biotechnology ventures, including Resolute Bio, and serves on the scientific advisory board of ProteinQure. He also holds several patents in the area of protein and peptide engineering. O.A. declares no competing interests.
About this article
Cite this article
Abdin, O., Kim, P.M. Rapid protein model refinement by deep learning. Nat Comput Sci 1, 456–457 (2021). https://doi.org/10.1038/s43588-021-00104-0