A new format for read depth annotations in genomic data makes access to metadata more scalable and efficient.
Access options
Subscribe to Journal
Get full journal access for 1 year
$99.00
only $8.25 per issue
All prices are NET prices.
VAT will be added later in the checkout.
Tax calculation will be finalised during checkout.
Rent or Buy article
Get time limited or full article access on ReadCube.
from$8.99
All prices are NET prices.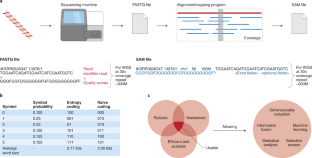 References
1.

Stephens, Z. D. et al. PLoS Biol. 13, e1002195 (2015).

2.

Hernaez, M., Pavlichin, D., Weissman, T. & Ochoa, I. Annu. Rev. Biomed. Data Sci. 2, 19–37 (2019).

3.

Hou, H., Pedersen, B. & Quinlan, A. Nat. Comput. Sci. https://doi.org/10.1038/s43588-021-00085-0 (2021).

4.

Cock, P. J., Fields, C. J., Goto, N., Heuer, M. L. & Rice, P. M. Nucl. Acids Res. 38, 1767–1771 (2010).

5.

Danecek, P. et al. GigaScience 10, giab008 (2021).

6.

Numanagić, I. et al. Nat. Methods 13, 1005–1008 (2016).

7.

Meng, Q., Ochoa, I. & Hernaez, M. Bioinformatics 36, 4810–4812 (2020).

8.

Cover, T. M. & Thomas, J. A. Elements of Information Theory (John Wiley & Sons, 1999).

9.

Kosseim, P. et al. Genome Biol. 15, 430 (2014).

10.

Voges, J., Hernaez, M., Mattavelli, M. & Ostermann, J. Proc. IEEE (in the press).
Ethics declarations
Competing interests
The author declares no competing interests.
About this article
Cite this article
Hernaez, M. Towards scalable genomic data access. Nat Comput Sci 1, 391–392 (2021). https://doi.org/10.1038/s43588-021-00089-w