In this issue, a large and multiscale whole-body model of organ-specific regulation and metabolism for type 1 diabetes is developed, providing important details on glucose and insulin dynamics.
Access options
Subscribe to Journal
Get full journal access for 1 year
$99.00
only $8.25 per issue
All prices are NET prices.
VAT will be added later in the checkout.
Tax calculation will be finalised during checkout.
Rent or Buy article
Get time limited or full article access on ReadCube.
from$8.99
All prices are NET prices.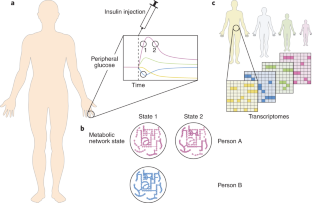 References
1.

Williams, R. et al. IDF Diabetes Atlas 9th edn (IDF, 2019).

2.

Guebila, M. B. & Thiele, I. Nat. Comput. Sci. https://doi.org/10.1038/s43588-021-00074-3 (2021).

3.

Thiele, I. et al. Nat. Biotechnol. 31, 419–425 (2013).

4.

Brunk, E. et al. Nat. Biotechnol. 36, 272–281 (2018).

5.

Schaller, S. et al. CPT Pharmacom. Syst. Pharmacol. 2, e65 (2013).

6.

Subramanian, A. et al. Cell 171, 1437–1452 (2017).

7.

Beck, R. W., Connor, C. G., Mullen, D. M., Wesley, D. M. & Bergenstal, R. M. Diabetes Care 40, 994–999 (2017).

8.

Thiele, I. et al. Mol. Syst. Biol. 16, e8982 (2020).

9.

Meyer, M. R., Clegg, D. J., Prossnitz, E. R. & Barton, M. Acta Physiol. 203, 259–269 (2011).
Ethics declarations
Competing interests
The authors declare no competing interests.
About this article
Cite this article
Zhao, J., Xu, H. & Yang, L. A dynamic metabolic map for diabetes. Nat Comput Sci 1, 309–310 (2021). https://doi.org/10.1038/s43588-021-00075-2