Sharing of genomic data poses a problem due to privacy concerns and lack of individual's choice in the matter. In this issue, researchers propose a framework for sharing data where the control lies with the individual.
This is a preview of subscription content
Access options
Subscribe to Journal
Get full journal access for 1 year
$99.00
only $8.25 per issue
All prices are NET prices.
VAT will be added later in the checkout.
Tax calculation will be finalised during checkout.
Rent or Buy article
Get time limited or full article access on ReadCube.
from$8.99
All prices are NET prices.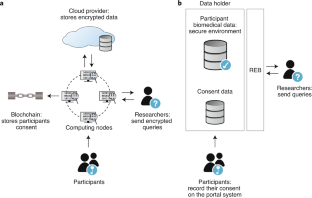 References
1.

Terry, S. F. Genet. Test. Mol. Biomark. 17, 443–445 (2013).

2.

Whitley, E. A., Kanellopoulou, N. & Kaye, J. Pub. Health Genom. 15, 232–242 (2012).

3.

Grishin, D. et al. Nat. Comput. Sci. https://doi.org/10.1038/s43588-021-00044-9 (2021).

4.

Ducharme, J. Time https://time.com/5257474/golden-state-killer-genetic-privacy-concerns/ (2018).

5.

Huang, Z., Ayday, E., Fellay, J., Hubaux, J. & Juels, A. in 2015 IEEE Symp. Security and Privacy 447–462 (IEEE, 2015).

6.

Dankar, F. K., Madathil, N., Dankar, S. K. & Boughorbel, S. JMIR Med. Inform. 7, e12702 (2019).

7.

Wagner, J., Paulson, J. N., Wang, X., Bhattacharjee, B. & Bravo, H. C. Bioinformatics 32, 1873–1879 (2016).

8.

Dankar, F. K. et al. Comput. Struct. Biotechnol. J. 18, 913–921 (2020).

9.

Damgård, I. & Jurik, M. in Proc. 4th Int. Workshop on Practice and Theory in Public Key Cryptography: Public Key Cryptography 119–136 (Springer, 2001).

10.

Benchoufi, M. & Ravaud, P. Trials 18, 335 (2017).
Ethics declarations
Competing interests
The author declares no competing interests.
About this article
Cite this article
Dankar, F.K. Data privacy through participant empowerment. Nat Comput Sci 1, 175–176 (2021). https://doi.org/10.1038/s43588-021-00047-6