Abstract
Heterochronic parabiosis (HPB) is known for its functional rejuvenation effects across several mouse tissues. However, its impact on biological age and long-term health is unknown. Here we performed extended (3-month) HPB, followed by a 2-month detachment period of anastomosed pairs. Old detached mice exhibited improved physiological parameters and lived longer than control isochronic mice. HPB drastically reduced the epigenetic age of blood and liver based on several clock models using two independent platforms. Remarkably, this rejuvenation effect persisted even after 2 months of detachment. Transcriptomic and epigenomic profiles of anastomosed mice showed an intermediate phenotype between old and young, suggesting a global multi-omic rejuvenation effect. In addition, old HPB mice showed gene expression changes opposite to aging but akin to several lifespan-extending interventions. Altogether, we reveal that long-term HPB results in lasting epigenetic and transcriptome remodeling, culminating in the extension of lifespan and healthspan.
Relevant articles
Open Access articles citing this article.
Steve Horvath

,

Kavita Singh

…

Harold L. Katcher

GeroScience Open Access 24 October 2023

Tomer Landsberger

,

Ido Amit

&

Uri Alon

GeroScience Open Access 12 September 2023
Access options
Access Nature and 54 other Nature Portfolio journals
Get Nature+, our best-value online-access subscription
$29.99 / 30 days
cancel any time
Subscribe to this journal
Receive 12 digital issues and online access to articles
$119.00 per year
only $9.92 per issue
Rent or buy this article
Prices vary by article type
from$1.95
to$39.95
Prices may be subject to local taxes which are calculated during checkout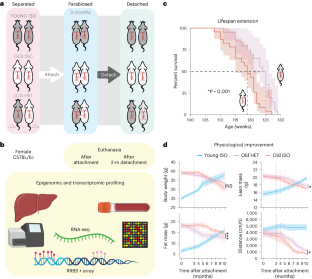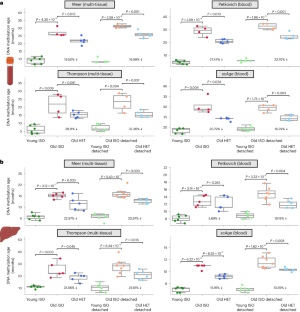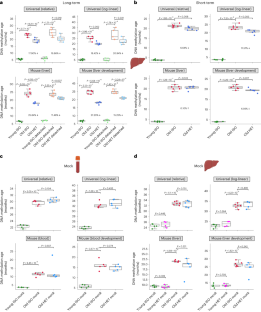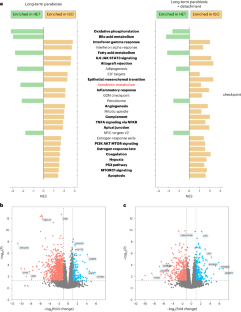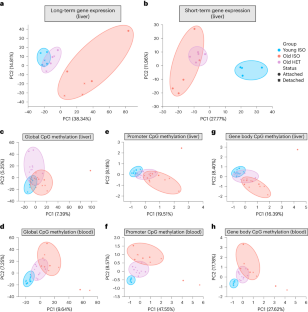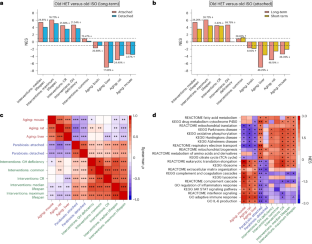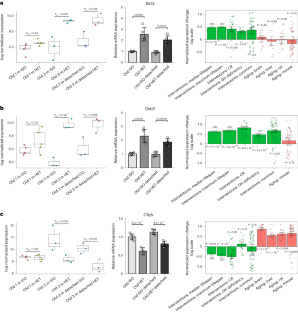 References
Brett, J. O. & Rando, T. A. Alive and well? Exploring disease by studying lifespan. Curr. Opin. Genet. Dev. 26, 33–40 (2014).

López-Otín, C., Blasco, M. A., Partridge, L., Serrano, M. & Kroemer, G. The hallmarks of aging. Cell 153, 1194–1217 (2013).

López-Otín C., Blasco, M. A., Partridge, L., Serrano, M. & Kroemer, G. Hallmarks of aging: an expanding universe. Cell 186, 243–278 (2023).

Horvath, S. DNA methylation age of human tissues and cell types. Genome Biol. 14, R115 (2013).

Meer, M. V., Podolskiy, D. I., Tyshkovskiy, A. & Gladyshev, V. N. A whole lifespan mouse multi-tissue DNA methylation clock. eLife 7, e40675 (2018).

Petkovich, D. A. et al. Using DNA methylation profiling to evaluate biological age and longevity interventions. Cell Metab. 25, 954–960 (2017).

Olova, N., Simpson, D. J., Marioni, R. E. & Chandra, T. Partial reprogramming induces a steady decline in epigenetic age before loss of somatic identity. Aging Cell 18, e12877 (2019).

Fahy, G. M. et al. Reversal of epigenetic aging and immunosenescent trends in humans. Aging Cell 18, e13028 (2019).

Horvath, S. et al. Reversing age: dual species measurement of epigenetic age with a single clock. Preprint at bioRxiv https://doi.org/10.1101/2020.05.07.082917 (2020).

Lu, Y. et al. Reprogramming to recover youthful epigenetic information and restore vision. Nature 588, 124–129 (2020).

Rando, T. A. & Chang, H. Y. Aging, rejuvenation, and epigenetic reprogramming: resetting the aging clock. Cell 148, 46–57 (2012).

Sarkar, T. J. et al. Transient non-integrative expression of nuclear reprogramming factors promotes multifaceted amelioration of aging in human cells. Nat. Commun. 11, 1545 (2020).

Kerepesi, C., Zhang, B., Lee, S.-G., Trapp, A. & Gladyshev, V. N. Epigenetic clocks reveal a rejuvenation event during embryogenesis followed by aging. Sci. Adv. 7, eabg6082 (2021).

Trapp, A., Kerepesi, C. & Gladyshev, V. N. Profiling epigenetic age in single cells. Nat. Aging 1, 1189–1201 (2021).

Lunsford, W. R., McCay, C. C., Lupien, P. J., Pope, F. E. & Sperling, G. Parabiosis as a method for studying factors which affect aging in rats. Gerontologia 7, 1–8 (1963).

McCay, C. M., Pope, F. & Lunsford, W. Experimental prolongation of the life span. Bull. N. Y. Acad. Med. 32, 91–101 (1956).

Pope, F., Lunsford, W. & McCay, C. M. Experimental prolongation of the life span. J. Chronic Dis. 4, 153–158 (1956).

Baht, G. S. et al. Exposure to a youthful circulation rejuvenates bone repair through modulation of β-catenin. Nat. Commun. 6, 7131 (2015).

Conboy, I. M. et al. Rejuvenation of aged progenitor cells by exposure to a young systemic environment. Nature 433, 760–764 (2005).

Loffredo, F. S. et al. Growth differentiation factor 11 is a circulating factor that reverses age-related cardiac hypertrophy. Cell 153, 828–839 (2013).

Ruckh, J. M. et al. Rejuvenation of regeneration in the aging central nervous system. Cell Stem Cell 10, 96–103 (2012).

Villeda, S. A. et al. Young blood reverses age-related impairments in cognitive function and synaptic plasticity in mice. Nat. Med. 20, 659–663 (2014).

Vi, L. et al. Macrophage cells secrete factors including LRP1 that orchestrate the rejuvenation of bone repair in mice. Nat. Commun. 9, 5191 (2018).

Rebo, J. et al. A single heterochronic blood exchange reveals rapid inhibition of multiple tissues by old blood. Nat. Commun. 7, 13363 (2016).

Middeldorp, J. et al. Preclinical assessment of young blood plasma for Alzheimer disease. JAMA Neurol. 73, 1325–1333 (2016).

Conboy, M. J., Conboy, I. M. & Rando, T. A. Heterochronic parabiosis: historical perspective and methodological considerations for studies of aging and longevity. Aging Cell 12, 525–530 (2013).

Wright, D. E., Wagers, A. J., Gulati, A. P., Johnson, F. L. & Weissman, I. L. Physiological migration of hematopoietic stem and progenitor cells. Science 294, 1933–1936 (2001).

Donskoy, E. & Goldschneider, I. Thymocytopoiesis is maintained by blood-borne precursors throughout postnatal life. A study in parabiotic mice. J. Immunol. 148, 1604–1612 (1992).

Ho, T. T. et al. Aged hematopoietic stem cells are refractory to bloodborne systemic rejuvenation interventions. J. Exp. Med. 218, e20210223 (2021).

Meissner, A. et al. Reduced representation bisulfite sequencing for comparative high-resolution DNA methylation analysis. Nucleic Acids Res. 33, 5868–5877 (2005).

Thompson, M. J. et al. A multi-tissue full lifespan epigenetic clock for mice. Aging 10, 2832–2854 (2018).

Lu, A. T. et al. Universal DNA methylation age across mammalian tissues. Nat. Aging https://doi.org/10.1038/s43587-023-00462-6 (2023).

Arneson, A. et al. A mammalian methylation array for profiling methylation levels at conserved sequences. Nat. Commun. 13, 783 (2022).

Fiorito, G. et al. DNA methylation-based biomarkers of aging were slowed down in a two-year diet and physical activity intervention trial: the DAMA study. Aging Cell 20, e13439 (2021).

Durieux, J., Wolff, S. & Dillin, A. The cell-non-autonomous nature of electron transport chain-mediated longevity. Cell 144, 79–91 (2011).

Loerch, P. M. et al. Evolution of the aging brain transcriptome and synaptic regulation. PLoS ONE 3, e3329 (2008).

Subramanian, A. et al. Gene set enrichment analysis: a knowledge-based approach for interpreting genome-wide expression profiles. Proc. Natl Acad. Sci. USA 102, 15545–15550 (2005).

Liberzon, A. et al. The molecular signatures database (MSigDB) hallmark gene set collection. Cell Syst. 1, 417–425 (2015).

Lesnefsky, E. J. & Hoppel, C. L. Oxidative phosphorylation and aging. Ageing Res. Rev. 5, 402–433 (2006).

Bandres, E. et al. The increase of IFN-gamma production through aging correlates with the expanded CD8+highCD28−CD57+ subpopulation. Clin. Immunol. 96, 230–235 (2000).

Leonardi, G. C., Accardi, G., Monastero, R., Nicoletti, F. & Libra, M. Ageing: from inflammation to cancer. Immun. Ageing 15, 1 (2018).

Lai, K. S. P. et al. Peripheral inflammatory markers in Alzheimer's disease: a systematic review and meta-analysis of 175 studies. J. Neurol. Neurosurg. Psychiatry 88, 876–882 (2017).

Amdur, R. L. et al. Inflammation and progression of CKD: the CRIC study. Clin. J. Am. Soc. Nephrol. 11, 1546–1556 (2016).

Tyshkovskiy, A. et al. Identification and application of gene expression signatures associated with lifespan extension. Cell Metab. 30, 573–593 (2019).

Tyshkovskiy, A. et al. Distinct longevity mechanisms across and within species and their association with aging. Cell https://doi.org/10.1016/j.cell.2023.05.002 (2023).

Gonzalez Herrera, K. N., Finley, L. W. & Haigis, M. C. The role of SIRT3 in regulating cancer cell metabolism. BMC Proc. 6, P18 (2012).

Benigni, A. et al. Sirt3 deficiency shortens life span and impairs cardiac mitochondrial function rescued by Opa1 gene transfer. Antioxid. Redox Signal. 31, 1255–1271 (2019).

Brown, K. et al. SIRT3 reverses aging-associated degeneration. Cell Rep. 3, 319–327 (2013).

Lang, C. A., Wu, W. K., Chen, T. & Mills, B. J. Blood glutathione: a biochemical index of life span enhancement in the diet restricted Lobund-Wistar rat. Prog. Clin. Biol. Res. 287, 241–246 (1989).

Richie, J. P. Jr et al. Methionine restriction increases blood glutathione and longevity in F344 rats. FASEB J. 8, 1302–1307 (1994).

Bernardes de Jesus, B. et al. Telomerase gene therapy in adult and old mice delays aging and increases longevity without increasing cancer. EMBO Mol. Med. 4, 691–704 (2012).

Okano, M., Bell, D. W., Haber, D. A. & Li, E. DNA methyltransferases Dnmt3a and Dnmt3b are essential for de novo methylation and mammalian development. Cell 99, 247–257 (1999).

Childs, B. G., Durik, M., Baker, D. J. & van Deursen, J. M. Cellular senescence in aging and age-related disease: from mechanisms to therapy. Nat. Med. 21, 1424–1435 (2015).

Conboy, I. M. & Rando, T. A. Heterochronic parabiosis for the study of the effects of aging on stem cells and their niches. Cell Cycle 11, 2260–2267 (2012).

Yankova, T., Dubiley, T., Shytikov, D. & Pishel, I. Three month heterochronic parabiosis has a deleterious effect on the lifespan of young animals, without a positive effect for old animals. Rejuvenation Res. 25, 191–199 (2022).

Castellano, J. M. et al. Human umbilical cord plasma proteins revitalize hippocampal function in aged mice. Nature 544, 488–492 (2017).

Salpeter, S. J. et al. Systemic regulation of the age-related decline of pancreatic β-cell replication. Diabetes 62, 2843–2848 (2013).

Villeda, S. A. et al. The ageing systemic milieu negatively regulates neurogenesis and cognitive function. Nature 477, 90–94 (2011).

Rando, T. A. & Wyss-Coray, T. Asynchronous, contagious and digital aging. Nat. Aging 1, 29–35 (2021).

Pálovics, R. et al. Molecular hallmarks of heterochronic parabiosis at single-cell resolution. Nature 603, 309–314 (2022).

Conese, M., Carbone, A., Beccia, E. & Angiolillo, A. The fountain of youth: a tale of parabiosis, stem cells, and rejuvenation. Open Med. 12, 376–383 (2017).

Elabd, C. et al. Oxytocin is an age-specific circulating hormone that is necessary for muscle maintenance and regeneration. Nat. Commun. 5, 4082 (2014).

Stölzel, F. et al. Dynamics of epigenetic age following hematopoietic stem cell transplantation. Haematologica 102, e321–e323 (2017).

Mehdipour, M. et al. Rejuvenation of three germ layers tissues by exchanging old blood plasma with saline-albumin. Aging 12, 8790–8819 (2020).

Baht, G. S. et al. Meteorin-like facilitates skeletal muscle repair through a Stat3/IGF-1 mechanism. Nat. Metab. 2, 278–289 (2020).

Krueger, F. & Andrews, S. R. Bismark: a flexible aligner and methylation caller for Bisulfite-Seq applications. Bioinformatics 27, 1571–1572 (2011).

Dobin, A. et al. STAR: ultrafast universal RNA-seq aligner. Bioinformatics 29, 15–21 (2013).

Liao, Y., Smyth, G. K. & Shi, W. featureCounts: an efficient general purpose program for assigning sequence reads to genomic features. Bioinformatics 30, 923–930 (2014).

Love, M. I., Huber, W. & Anders, S. Moderated estimation of fold change and dispersion for RNA-seq data with DESeq2. Genome Biol. 15, 550 (2014).

Robinson, M. D., McCarthy, D. J. & Smyth, G. K. edgeR: a Bioconductor package for differential expression analysis of digital gene expression data. Bioinformatics 26, 139–140 (2010).

Benjamini, Y. & Hochberg, Y. Controlling the false discovery rate: a practical and powerful approach to multiple testing. J. R. Stat. Soc. B 57, 289–300 (1995).

Anders, S. & Huber, W. Differential expression analysis for sequence count data. Genome Biol. 11, R106 (2010).

Huffman, K. M. et al. Exercise protects against cardiac and skeletal muscle dysfunction in a mouse model of inflammatory arthritis. J. Appl. Physiol. 130, 853–864 (2021).

White, J. P. et al. The AMPK/p27Kip1 axis regulates autophagy/apoptosis decisions in aged skeletal muscle stem cells. Stem Cell Reports 11, 425–439 (2018).
Acknowledgements
J.P.W. was supported by National Institutes of Health (NIH) grant nos. K01AG056664 and R21AG065943. V.N.G. was supported by NIH grant nos. R01AG067782, P01AG047200 and R01AG065403. D.E.L. was supported by NIH training grant no. T32HL007057. S.H. acknowledges support from the Milky Way Research Foundation and the Epigenetic Clock Development Foundation, and A. Tyshkovskiy and S.E.D. acknowledge support from the Interdisciplinary Scientific and Educational School of Moscow University 'Molecular Technologies of the Living Systems and Synthetic Biology'. We thank the Duke Behavioral Core for support on this project. We also thank T. Fox for help with schematic figures. Figure icons were partially created with BioRender.com. The funders had no role in study design, data collection, data analysis, decision to publish, or preparation of the manuscript.
Ethics declarations
Competing interests
The authors declare no competing interests.
Peer review
Peer review information
Nature Aging thanks the anonymous reviewers for their contribution to the peer review of this work.
Additional information
Publisher's note Springer Nature remains neutral with regard to jurisdictional claims in published maps and institutional affiliations.
Rights and permissions
Springer Nature or its licensor (e.g. a society or other partner) holds exclusive rights to this article under a publishing agreement with the author(s) or other rightsholder(s); author self-archiving of the accepted manuscript version of this article is solely governed by the terms of such publishing agreement and applicable law.
About this article
Cite this article
Zhang, B., Lee, D.E., Trapp, A. et al. Multi-omic rejuvenation and lifespan extension on exposure to youthful circulation. Nat Aging 3, 948–964 (2023). https://doi.org/10.1038/s43587-023-00451-9
Received:

Accepted:

Published:

Issue Date:

DOI: https://doi.org/10.1038/s43587-023-00451-9
This article is cited by
Nature Reviews Molecular Cell Biology (2023)

Tomer Landsberger
Ido Amit
Uri Alon

GeroScience (2023)

Steve Horvath
Kavita Singh
Harold L. Katcher

GeroScience (2023)