Abstract
Epigenetic clocks are widely used aging biomarkers calculated from DNA methylation data, but this data can be surprisingly unreliable. Here we show that technical noise produces deviations up to 9 years between replicates for six prominent epigenetic clocks, limiting their utility. We present a computational solution to bolster reliability, calculating principal components (PCs) from CpG-level data as input for biological age prediction. Our retrained PC versions of six clocks show agreement between most replicates within 1.5 years, improved detection of clock associations and intervention effects, and reliable longitudinal trajectories in vivo and in vitro. This method entails only one additional step compared to traditional clocks, requires no replicates or previous knowledge of CpG reliabilities for training, and can be applied to any existing or future epigenetic biomarker. The high reliability of PC-based clocks is critical for applications to personalized medicine, longitudinal tracking, in vitro studies and clinical trials of aging interventions.
Your institute does not have access to this article
Access options
Subscribe to Nature+
Get immediate online access to the entire Nature family of 50+ journals
Subscribe to Journal
Get full journal access for 1 year
$119.00
only $9.92 per issue
All prices are NET prices.
VAT will be added later in the checkout.
Tax calculation will be finalised during checkout.
Buy article
Get time limited or full article access on ReadCube.
$32.00
All prices are NET prices.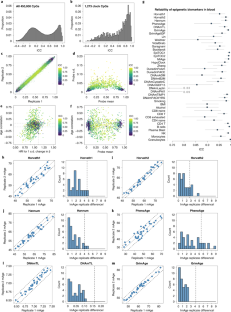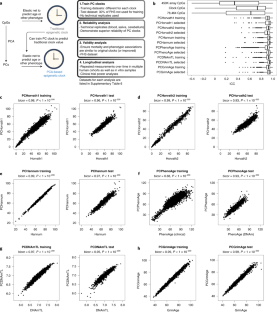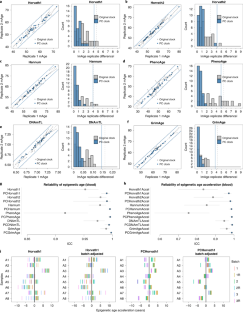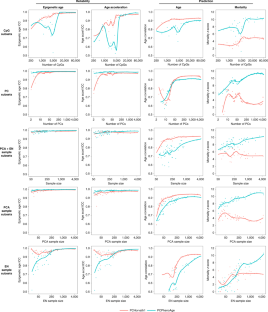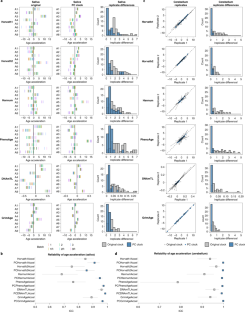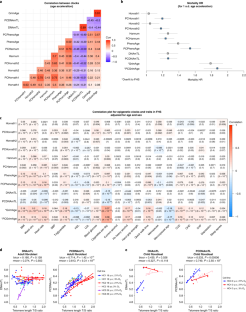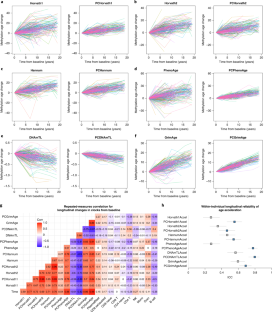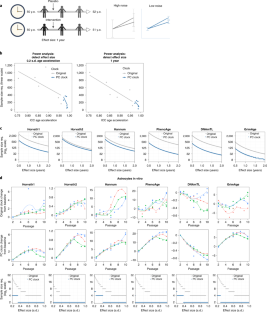 Data availability
Most datasets used in this study are publicly available on NCBI's GEO, ArrayExpress or TCGA and are listed in Supplementary Table 6 along with accession codes. HRS data contain sensitive health information, and are available by application to researchers at https://hrsdata.isr.umich.edu/. FHS data contain sensitive health information, and researchers can apply at https://dbgap.ncbi.nlm.nih.gov/aa/ (dbGaP, accession no. phs000724.v7.p11). InCHIANTI data contain sensitive health information and are available upon review and subsequent approval of proposals submitted through the study website (http://inchiantistudy.net/). The Elysium datasets are proprietary and owned by Elysium Health, and inquiries about the data can be made to research@elysiumhealth.com. Owing to military cohort data sharing restrictions, data from the PRISMO study cannot be publicly posted. However, such data may be made available to researchers following an approved analysis proposal and in a de-identified form through a data use agreement following applicable guidelines on data sharing and privacy protection. For additional information on access to these data, please contact s.g.geuze@umcutrecht.nl. Longitudinal clozapine data contain sensitive health information, and researchers can inquire about access to the data by contacting j.luykx@umcutrecht.nl. SATSA methylation data are available on ArrayExpress (accession code E-MTAB-7309). For information on access to additional subject-level SATSA data, please contact sara.hagg@ki.se.
References
Jylhävä, J., Pedersen, N. L. & Hägg, S. Biological age predictors. EBioMedicine 21, 29–36 (2017).

Bell, C. G. et al. DNA methylation aging clocks: challenges and recommendations. Genome Biol. 20, 249 (2019).

Horvath, S. & Raj, K. DNA methylation-based biomarkers and the epigenetic clock theory of ageing. Nat. Rev. Genet. 19, 371–384 (2018).

Sugden, K. et al. Patterns of reliability: assessing the reproducibility and integrity of DNA methylation measurement. Patterns 1, 100014 (2020).

Logue, M. W. et al. The correlation of methylation levels measured using Illumina 450K and EPIC BeadChips in blood samples. Epigenomics 9, 1363–1371 (2017).

Bose, M. et al. Evaluation of microarray-based DNA methylation measurement using technical replicates: The atherosclerosis risk in communities (ARIC) study. BMC Bioinformatics 15, 312 (2014).

Naeem, H. et al. Reducing the risk of false discovery enabling identification of biologically significant genome-wide methylation status using the HumanMethylation450 array. BMC Genomics 15, 51 (2014).

Pidsley, R. et al. Critical evaluation of the Illumina MethylationEPIC BeadChip microarray for whole-genome DNA methylation profiling. Genome Biol. 17, 1–17 (2016).

Lehne, B. et al. A coherent approach for analysis of the Illumina HumanMethylation450 BeadChip improves data quality and performance in epigenome-wide association studies. Genome Biol. 16, 1–12 (2015).

Morris, T. J. & Beck, S. Analysis pipelines and packages for Infinium HumanMethylation450 BeadChip (450K) data. Methods 72, 3–8 (2015).

McEwen, L. M. et al. Systematic evaluation of DNA methylation age estimation with common preprocessing methods and the Infinium MethylationEPIC BeadChip array. Clin. Epigenetics 10, 123 (2018).

Liu, Z. et al. Underlying features of epigenetic aging clocks in vivo and in vitro. Aging Cell https://doi.org/10.1111/acel.13229 (2020).

Koo, T. K. & Li, M. Y. A guideline of selecting and reporting intraclass correlation coefficients for reliability research. J. Chiropr. Med. 15, 155–163 (2016).

Horvath, S. DNA methylation age of human tissues and cell types. Genome Biol. 14, R115 (2013).

Horvath, S. et al. Epigenetic clock for skin and blood cells applied to Hutchinson Gilford Progeria Syndrome and ex vivo studies. Aging 10, 1758–1775 (2018).

Hannum, G. et al. Genome-wide methylation profiles reveal quantitative views of human aging rates. Mol. Cell 49, 359–367 (2013).

Levine, M. et al. An epigenetic biomarker of aging for lifespan and healthspan. Aging 10, 573–591 (2018).

Lu, A. T. et al. DNA methylation-based estimator of telomere length. Aging 11, 5895–5923 (2019).

Bocklandt, S. et al. Epigenetic predictor of age. PLoS ONE 6, e14821 (2011).

Teschendorff, A. E. A comparison of epigenetic mitotic-like clocks for cancer risk prediction. Genome Med. 12, 56 (2020).

Youn, A. & Wang, S. The MiAge Calculator: a DNA methylation-based mitotic age calculator of human tissue types. Epigenetics 13, 192–206 (2018).

Belsky, D. et al. Quantification of the pace of biological aging in humans through a blood test: a DNA methylation algorithm. Elife https://doi.org/10.1101/2020.02.05.927434 (2020).

McCartney, D. et al. Epigenetic prediction of complex traits and death. Genome Biol. 19, 136 (2018).

Houseman, E. A. et al. DNA methylation arrays as surrogate measures of cell mixture distribution. BMC Bioinformatics 13, 86 (2012).

Zhang, Y. et al. DNA methylation signatures in peripheral blood strongly predict all-cause mortality. Nat. Commun. 8, 14617 (2017).

Lu, A. T. et al. DNA methylation GrimAge strongly predicts lifespan and healthspan. Aging 11, 303–327 (2019).

Lin, Q. & Wagner, W. Epigenetic aging signatures are coherently modified in cancer. PLoS Genet. 11, 1–17 (2015).

Weidner, C. I. et al. Aging of blood can be tracked by DNA methylation changes at just three CpG sites. Genome Biol. 15, R24 (2014).

Vidal-Bralo, L., Lopez-Golan, Y. & Gonzalez, A. Simplified assay for epigenetic age estimation in whole blood of adults. Front. Genet. 7, 126 (2016).

Garagnani, P. et al. Methylation of ELOVL2 gene as a new epigenetic marker of age. Aging Cell 11, 1132–1134 (2012).

Higgins-Chen, A. T., Thrush, K. L. & Levine, M. E. Aging biomarkers and the brain. Semin. Cell Dev. Biol. 116, 180–193 (2021).

Jolliffe, I. T. A note on the use of principal components in regression. J. R. Stat. Soc. Ser. C Appl. Stat. 31, 300–303 (1982).

Yan, Y., Goodman, J. M., Moore, D. D., Solla, S. A. & Bensmaia, S. J. Unexpected complexity of everyday manual behaviors. Nat. Commun. 11, 3564 (2020).

Aschard, H. et al. Maximizing the power of principal-component analysis of correlated phenotypes in genome-wide association studies. Am. J. Hum. Genet. 94, 662–676 (2014).

Tarashansky, A. J., Xue, Y., Li, P., Quake, S. R. & Wang, B. Self-assembling manifolds in single-cell RNA-sequencing data. Elife 8, 1–e48994 (2019).

Pidsley, R. et al. A data-driven approach to preprocessing Illumina 450K methylation array data. BMC Genomics 14, 293 (2013).

Sturm, G. et al. A multi-omics and bioenergetics longitudinal aging dataset in primary human fibroblasts with mitochondrial perturbations. Preprint at bioRxiv https://doi.org/10.1101/2021.11.12.468448 (2021).

Li, X. et al. Longitudinal trajectories, correlations and mortality associations of nine biological ages across 20-years follow-up. Elife 9, e51507 (2020).

Wang, Y. et al. Epigenetic influences on aging: a longitudinal genome-wide methylation study in old Swedish twins. Epigenetics 13, 975–987 (2018).

Bakdash, J. Z. & Marusich, L. R. Repeated-measures correlation. Front. Psychol. 8, 456 (2017).

Liu, G. & Liang, K.-Y. Sample size calculations for studies with correlated observations. Biometrics 53, 937–947 (1997).

Wagner, W. The link between epigenetic clocks for aging and senescence. Front. Genet. 10, 303 (2019).

Itahana, K., Campisi, J. & Dimri, G. P. Mechanisms of cellular senescence in human and mouse cells. Biogerontology 5, 1–10 (2004).

Chen, H., Li, Y. & Tollefsbol, T. O. Cell senescence culturing methods. Methods Mol. Biol. https://doi.org/10.1007/978-1-62703-556-9_1 (2013).

Oblak, L., van der Zaag, J., Higgins-Chen, A. T., Levine, M. E. & Boks, M. P. A systematic review of biological, social and environmental factors associated with epigenetic clock acceleration. Ageing Res. Rev. 69, 101348 (2021).

Chen, L. et al. Effects of Vitamin D3 supplementation on epigenetic aging in overweight and obese african americans with suboptimal vitamin D status: a randomized clinical trial. J. Gerontol. A Biol. Sci. Med. Sci. 74, 91–98 (2019).

Fahy, G. M. et al. Reversal of epigenetic aging and immunosenescent trends in humans. Aging Cell 18, e13028 (2019).

Fitzgerald, K. N. et al. Potential reversal of epigenetic age using a diet and lifestyle intervention: a pilot randomized clinical trial. Aging 13, 9419–9432 (2021).

Field, A. E. et al. DNA methylation clocks in aging: categories, causes and consequences. Mol. Cell 71, 882–895 (2018).

Raj, K. & Horvath, S. Current perspectives on the cellular and molecular features of epigenetic ageing. Exp. Biol. Med. 245, 1532–1542 (2020).

Robinson, O. et al. Determinants of accelerated metabolomic and epigenetic ageing in a UK cohort. Aging Cell https://doi.org/10.1111/acel.13149 (2020).

Aryee, M. J. et al. Minfi: a flexible and comprehensive Bioconductor package for the analysis of Infinium DNA methylation microarrays. Bioinformatics 30, 1363–1369 (2014).

Heiss, J. A. & Just, A. C. Improved filtering of DNA methylation microarray data by detection P values and its impact on downstream analyses. Clin. Epigenetics 11, 15 (2019).

Ferrucci, L. et al. Subsystems contributing to the decline in ability to walk: bridging the gap between epidemiology and geriatric practice in the InCHIANTI study. J. Am. Geriatr. Soc. 48, 1618–1625 (2000).

Moore, A. Z. et al. Change in epigenome-wide DNA methylation over 9 years and subsequent mortality: results From the InCHIANTI Study. J. Gerontol. A Biol. Sci. Med. Sci. 71, 1029–1035 (2016).

Crimmins, E. M., Thyagarajan, B., Levine, M. E., Weir, D. R. & Faul, J. Associations of age, sex, race/ethnicity and education with 13 epigenetic clocks in a nationally representative US sample: The Health and Retirement Study. J. Gerontol. A. Biol. Sci. Med. Sci. 76, 1117–1123 (2021).

Kannel, W. B., Feinleib, M., McNamara, P. M., Garrison, R. J. & Castelli, W. P. An investigation of coronary heart disease in families: The Framingham Offspring Study. Am. J. Epidemiol. 110, 281–290 (1979).

Splansky, G. L. et al. The Third Generation Cohort of the National Heart, Lung, and Blood Institute's Framingham Heart Study: design, recruitment, and initial examination. Am. J. Epidemiol. 165, 1328–1335 (2007).

Finkel, D. & Pedersen, N. L. Processing speed and longitudinal trajectories of change for cognitive abilities: The Swedish Adoption/Twin Study of Aging. Aging Neuropsychol. Cogn. 11, 325–345 (2004).

van der Wal, S. J. et al. Associations between the development of PTSD symptoms and longitudinal changes in the DNA methylome of deployed military servicemen: a comparison with polygenic risk scores. Compr. Psychoneuroendocrinology 4, 100018 (2020).

Van Der Wal, S. J., Gorter, R., Reijnen, A., Geuze, E. & Vermetten, E. Cohort profile: the Prospective Research in Stress-Related Military Operations (PRISMO) study in the Dutch Armed Forces. BMJ Open 9, 1–e026670 (2019).

Higgins-Chen, A. T., Boks, M. P., Vinkers, C. H., Kahn, R. S. & Levine, M. E. Schizophrenia and epigenetic aging biomarkers: increased mortality, reduced cancer risk and unique clozapine effects. Biol. Psychiatry https://doi.org/10.1016/j.biopsych.2020.01.025 (2020).

Levine, M. E., Higgins-Chen, A., Thrush, K., Minteer, C. & Niimi, P. Clock work: deconstructing the epigenetic clock signals in aging, disease and reprogramming. Preprint at bioRxiv https://doi.org/10.1101/2022.02.13.480245 (2022).

Triche, T. J., Weisenberger, D. J., Van Den Berg, D., Laird, P. W. & Siegmund, K. D. Low-level processing of Illumina Infinium DNA methylation BeadArrays. Nucleic Acids Res. 41, e90 (2013).

Daniali, L. et al. Telomeres shorten at equivalent rates in somatic tissues of adults. Nat. Commun. 4, 1597 (2013).

Zhuang, J., Widschwendter, M. & Teschendorff, A. E. A comparison of feature selection and classification methods in DNA methylation studies using the Illumina Infinium platform. BMC Bioinformatics 13, 59 (2012).

Friedman, J., Hastie, T. & Tibshirani, R. Regularization paths for generalized linear models via coordinate descent. J. Stat. Softw. 33, 1–22 (2010).

Bair, E. & Tibshirani, R. Semi-supervised methods to predict patient survival from gene expression data. PLoS Biol. 2, e108 (2004).

Bair, E., Hastie, T., Paul, D. & Tibshirani, R. Prediction by supervised principal components. J. Am. Stat. Assoc. 101, 119–137 (2006).

Kuznetsova, A., Brockhoff, P. B. & Christensen, R. H. B. lmerTest Package: tests in linear mixed effects models. J. Stat. Softw. 82, 1–26 (2017).
Acknowledgements
This work was supported by the National Institutes of Health (NIH, National Institute on Aging (NIA): 1R01AG068285-01, 1R01AG065403-01A1 and 1R01AG057912-01 to M.E.L.) and National Institute of Mental Health (2T32MH019961-21A1 to A.H.C.). It was also supported by the Thomas P. Detre Fellowship Award in Translational Neuroscience Research from Yale University (to A.H.C.) and the Medical Informatics Fellowship Program at the West Haven, CT Veterans Healthcare Administration (to A.H.C.). The InCHIANTI study baseline (1998–2000) was supported as a 'targeted project' (ICS110.1/RF97.71) by the Italian Ministry of Health and in part by the US NIA (contract nos. 263 MD 9164 and 263 MD 821336). The InCHIANTI follow-up 2 and 3 studies (2004–2010) were financed by the US NIA (contract nos. N01-AG-5-0002). InCHIANTI was supported in part by the Intramural Research Program of the NIA, NIH, Baltimore, Maryland, and this work utilized the computational resources of the NIH HPC Biowulf cluster (https://hpc.nih.gov/). The HRS study was supported by NIA grants R01 AG060110 and U01 AG009740. The SATSA study was supported by NIH grants R01 (AG04563, AG10175 and AG028555), the MacArthur Foundation Research Network on Successful Aging, the European Union's Horizon 2020 research and innovation programme (no. 634821), the Swedish Council for Working Life and Social Research (FAS/FORTE) (97:0147:1B, 2009-0795 and 2013-2292) and the Swedish Research Council (825-2007-7460, 825-2009-6141, 521-2013-8689 and 2015-03255). The recruitment and assessments in the PRISMO study were funded by the Dutch Ministry of Defence. The longitudinal clozapine study was funded by a personal Rudolf Magnus Talent Fellowship (H150) grant (to J.J.L.). The Cellular Lifespan Study was supported by NIA grant R01AG066828 (to M.P.). The funders had no role in study design, data collection and analysis, decision to publish or preparation of the manuscript. We also acknowledge S. Horvath, A. Lu, G. Hannum and the many other colleagues who developed the original epigenetic clocks analyzed in this study.
Ethics declarations
Competing interests
M.E.L. and A.T.H.-C. have built epigenetic aging metrics involving the technology described in the present paper, and these metrics are licensed by Elysium Health through Yale University. Elysium provided paired blood and saliva replicate datasets reported in this study, but otherwise did not fund the study and did not play a role in conceptualization, design, decision to publish or preparation of the manuscript. M.E.L. previously acted as a Scientific Advisor for, and received consulting fees from, Elysium Health. T.H.S. was previously an employee of Elysium Health. A.T.H.-C. received consulting fees from FOXO Technologies for work unrelated to the present manuscript. All other authors declare no competing interests.
Peer review
Peer review information
Nature Aging thanks Andrew Teschendorff, Daniel Belsky and Joris Deelen for their contribution to the peer review for this work.
Additional information
Publisher's note Springer Nature remains neutral with regard to jurisdictional claims in published maps and institutional affiliations.
Supplementary information
Supplementary Tables 1–13
About this article
Cite this article
Higgins-Chen, A.T., Thrush, K.L., Wang, Y. et al. A computational solution for bolstering reliability of epigenetic clocks: implications for clinical trials and longitudinal tracking. Nat Aging 2, 644–661 (2022). https://doi.org/10.1038/s43587-022-00248-2
Received:

Accepted:

Published:

Issue Date:

DOI: https://doi.org/10.1038/s43587-022-00248-2