The fact that women's reproductive lifespans are finite affects many personal decisions and is accompanied by postmenopausal side effects. Expansion of the reproductive lifespan could therefore have many benefits. Findings from Zhang and colleagues indicate that manipulation of BIN2 extends the reproductive lifespan of female mice, and hold promise for therapeutic development.
This is a preview of subscription content
Access options
Subscribe to Journal
Get full journal access for 1 year
$119.00
only $9.92 per issue
All prices are NET prices.
VAT will be added later in the checkout.
Tax calculation will be finalised during checkout.
Rent or Buy article
Get time limited or full article access on ReadCube.
from$8.99
All prices are NET prices.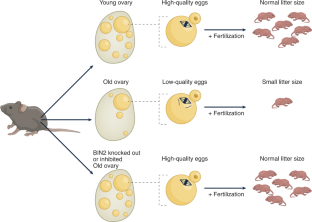 References
1.

Duncan, F. E. et al. Mol. Hum. Reprod. 26, 797–800 (2020).

2.

Zhu, F. Y. et al. Nat. Aging https://doi.org/10.1038/s43587-021-00133-4 (2021).

3.

Chrienova, Z., Nepovimova, E. & Kuca, K. J. Enzyme Inhib. Med. Chem. 36, 1679–1693 (2021).

4.

Blagosklonny, M. V. Aging 11, 8048–8067 (2019).

5.

Reddy, P. et al. Science 319, 611–613 (2008).

6.

Zhao, H. et al. Antioxid. Redox Signal. 30, 542–559 (2019).

7.

Koyama, H., Wada, T., Nishizawa, Y., Iwanaga, T. & Aoki, Y. Cancer 39, 1403–1409 (1977).

8.

Miller, J. J. III, Williams, G. F. & Leissring, J. C. Am. J. Med. 50, 530–535

9.

Ruth, K. S. et al. Nature 596, 393–397 (2021).

10.

Findlay, J. K., Hutt, K. J., Hickey, M. & Anderson, R. A. Biol. Reprod. 93, 111 (2015).

11.

Tharp, M. E., Malki, S. & Bortvin, A. Nat. Commun. 11, 330 (2020).

12.

Hawkes, K., O'Connell, J. F., Jones, N. G., Alvarez, H. & Charnov, E. L. Proc. Natl Acad. Sci. USA 95, 1336–1339 (1998).

13.

Bravo Núñez, M. A., Sabbarini, I. M., Eide, L. E., Unckless, R. L. & Zanders, S. E. eLife 9, e57936 (2020).

14.

Zanders, S. E. & Unckless, R. L. Curr. Biol. 29, R512–R520 (2019).

15.

Gulbranson, C. & Garrison, J. The Unspoken Truth. Reproductive Longevity and Equality Affects Us All (BIA-ECHO Foundation and Global Consortium for Reproductive Health and Longevity, 2020).
Ethics declarations
Competing interests
The author declares no competing interests.
About this article
Cite this article
Schindler, K. Inhibition of BIN2 extends reproductive lifespan. Nat Aging 1, 977–979 (2021). https://doi.org/10.1038/s43587-021-00132-5