Abstract
The evident genetic, pathological and clinical heterogeneity of Alzheimer's disease (AD) poses challenges for traditional drug development. We conducted a computational drug-repurposing screen for drugs to treat apolipoprotein E4 (APOE4)-related AD. We first established APOE genotype-dependent transcriptomic signatures of AD by analyzing publicly available human brain databases. We then queried these signatures against the Connectivity Map database, which contains transcriptomic perturbations of more than 1,300 drugs, to identify those that best reverse APOE genotype-specific AD signatures. Bumetanide was identified as a top drug for APOE4-related AD. Treatment of APOE4-knock-in mice without or with amyloid β (Aβ) accumulation using bumetanide rescued electrophysiological, pathological or cognitive deficits. Single-nucleus RNA sequencing revealed transcriptomic reversal of AD signatures in specific cell types in these mice, a finding confirmed in APOE4 induced pluripotent stem cell (iPSC)-derived neurons. In humans, bumetanide exposure was associated with a significantly lower AD prevalence in individuals over the age of 65 years in two electronic health record databases, suggesting the effectiveness of bumetanide in preventing AD.
Access options
Subscribe to Journal
Get full journal access for 1 year
$119.00
only $9.92 per issue
All prices are NET prices.
VAT will be added later in the checkout.
Tax calculation will be finalised during checkout.
Rent or Buy article
Get time limited or full article access on ReadCube.
from$8.99
All prices are NET prices.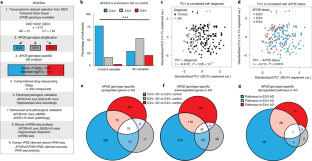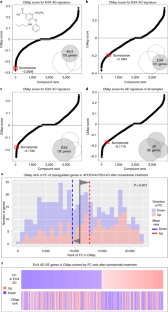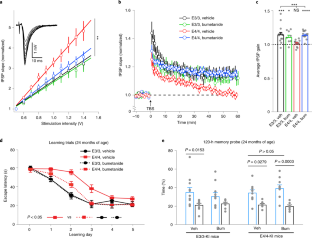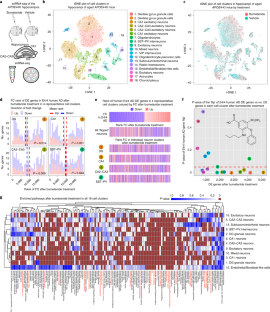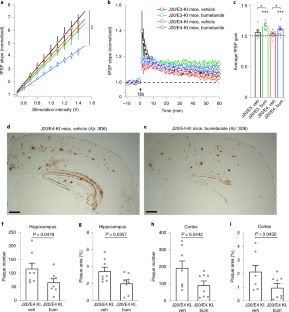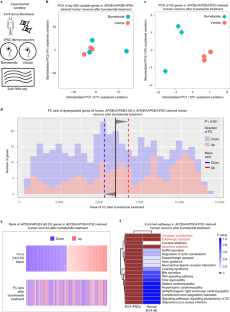 Data availability
All data generated or analyzed during this study are included in this published article (or in its Supplementary Information) or deposited in the GEO and are also available from the corresponding authors' laboratories. Publicly available datasets used are available in the GEO under the accession number GSE15222 with associated covariate data found on the Myers laboratory website (http://labs.med.miami.edu/myers/LFuN/LFUN/DATA.html) and the associated Google Drive (https://drive.google.com/drive/folders/1ud5F9WN9Xx3oXIkb5xIg1b_zz1nzp3IR) in the 'samples.covar.ZIP' file. The CMap database is available in Sage Synapse in the HCC_NEN project from the Bin Chen laboratory under the accession number syn6187678 (https://www.synapse.org/#!Synapse:syn6173892/files), and is linked to the Bin Chen laboratory GitLab repository (also see Code availability below). The publicly available RNA-seq dataset of brains of aging APOE4-KI mice was from Zhao et al. (https://doi.org/10.7303/syn20808171)28. Figs. 4 and 6 and Extended Data Figs. 3, 4, 7 and 8 have associated mouse snRNA-seq data or iPSC-derived human neuron bulk RNA-seq data generated in this study, which are available in the GEO under the accession number GSE182765. The UCSF EHR database and the Mt. Sinai EHR database are not yet available to the general public.
Code availability
The drug-repurposing algorithm can be found in the Bin Chen laboratory GitLab repository (https://github.com/Bin-Chen-Lab/HCC_NEN/). The following packages or software were used either as dependencies to downloading or using packages mentioned in the Methods or in creating the figures in this study: clusterProfiler_3.10.1, pheatmap_1.0.12, vsn_3.48.1, SummarizedExperiment_1.10.1, DelayedArray_0.6.6, BiocParallel_1.14.2, matrixStats_0.54.0, GenomicRanges_1.32.7, GenomeInfoDb_1.16.0, edgeR_3.22.5, mice_3.4.0, lattice_0.20-35, ggbiplot_0.55, scales_1.0.0, plyr_1.8.4, eulerr_5.0.0, VennDiagram_1.6.20, futile.logger_1.4.3, data.table_1.11.8, gridExtra_2.3, GEOquery_2.48.0, qvalue_2.12.0, illuminaHumanv1.db_1.26.0, org.Hs.eg.db_3.6.0, AnnotationDbi_1.42.1, IRanges_2.14.12, S4Vectors_0.18.3, Biobase_2.40.0, BiocGenerics_0.26.0, nf-core/rnaseq_1.4.2, org.Mm.eg.db_3.6.0, raster_2.8.19, FastQC_0.11.8, featureCounts_1.6.2, Data.table_1.12.8, RMySQL_0.10.17, Dplyr_0.8.3, magrittr_1.5, tidyverse_1.3.1 and biomaRt_2_38_0. All custom codes generated in this study will be made available from the corresponding authors' laboratories upon request.
References
1.

Golde, T. E., Schneider, L. S. & Koo, E. H. Anti-Aβ therapeutics in Alzheimer's disease: the need for a paradigm shift. Neuron 69, 203–213 (2011).

2.

Huang, Y. & Mucke, L. Alzheimer mechanisms and therapeutic strategies. Cell 148, 1204–1222 (2012).

3.

Liu, C. C., Kanekiyo, T., Xu, H. & Bu, G. Apolipoprotein E and Alzheimer disease: risk, mechanisms and therapy. Nat. Rev. Neurol. 9, 106–118 (2013).

4.

Verghese, P. B., Castellano, J. M. & Holtzman, D. M. Apolipoprotein E in Alzheimer's disease and other neurological disorders. Lancet Neurol. 10, 241–252 (2011).

5.

Mahley, R. W. & Huang, Y. Apolipoprotein E sets the stage: response to injury triggers neuropathology. Neuron 76, 871–885 (2012).

6.

Corder, E. H. et al. Gene dose of apolipoprotein E type 4 allele and the risk of Alzheimer's disease in late onset families. Science 261, 921–923 (1993).

7.

Barnes, E. E. & Yaffe, K. Vitamin E and donepezil for the treatment of mild cognitive impairment. N. Engl. J. Med. 353, 951–952 (2005).

8.

Marchant, N. L., King, S. L., Tabet, N. & Rusted, J. M. Positive effects of cholinergic stimulation favor young APOE ε4 carriers. Neuropsychopharmacology 35, 1090–1096 (2010).

9.

Salloway, S. et al. Two phase 3 trials of bapineuzumab in mild-to-moderate Alzheimer's disease. N. Engl. J. Med. 370, 322–333 (2014).

10.

Cheng, F. et al. Prediction of drug–target interactions and drug repositioning via network-based inference. PLoS Comput. Biol. 8, e1002503 (2012).

11.

Csermely, P., Korcsmaros, T., Kiss, H. J., London, G. & Nussinov, R. Structure and dynamics of molecular network: a novel paradigm of drug discovery: a comprehensive review. Pharmacol. Ther. 138, 333–408 (2013).

12.

Sirota, M. et al. Discovery and preclinical validation of drug indications using compendia of public gene expression data. Sci. Transl. Med. 3, 96ra77 (2011).

13.

Chen, B. et al. Computational discovery of niclosamide ethanolamine, a repurposed drug candidate that reduces growth of hepatocellular carcinoma cells in vitro and in mice by inhibiting cell division cycle 37 signaling. Gastroenterology 152, 2022–2036 (2017).

14.

Chen, B. & Butte, A. J. Leveraging big data to transform target selection and drug discovery. Clin. Pharmacol. Ther. 99, 285–297 (2016).

15.

Cai, X., Chen, Y., Gao, Z. & Xu, R. Explore small molecule-induced genome-wide transcriptional profiles for novel inflammatory bowel disease drug. AMIA Jt Summits Transl. Sci. Proc. 2016, 22–31 (2016).

16.

Lamb, J. et al. The Connectivity Map: using gene-expression signatures to connect small molecules, genes, and disease. Science 313, 1929–1935 (2006).

17.

Webster, J. A. et al. Genetic control of human brain transcript expression in Alzheimer disease. Am. J. Hum. Genet. 84, 445–458 (2009).

18.

Farrer, L. A. et al. Effects of age, sex, and ethnicity on the association between apolipoprotein E genotype and Alzheimer disease. A meta-analysis. JAMA 278, 1349–1356 (1997).

19.

Ritchie, M. E. et al. limma powers differential expression analyses for RNA-sequencing and microarray studies. Nucleic Acids Res. 43, e47 (2015).

20.

Chen, B. et al. Reversal of cancer gene expression correlates with drug efficacy and reveals therapeutic targets. Nat. Commun. 8, 16022 (2017).

21.

Gharaylou, Z. et al. A preliminary study evaluating the safety and efficacy of bumetanide, an NKCC1 inhibitor, in patients with drug-resistant epilepsy. CNS Drugs 33, 283–291 (2019).

22.

Goubert, E. et al. Bumetanide prevents brain trauma-induced depressive-like behavior. Front. Mol. Neurosci. 12, 12 (2019).

23.

Lemonnier, E. et al. A randomised controlled trial of bumetanide in the treatment of autism in children. Transl. Psychiatry 2, e202 (2012).

24.

Lemonnier, E., Lazartigues, A. & Ben-Ari, Y. Treating schizophrenia with the diuretic bumetanide: a case report. Clin. Neuropharmacol. 39, 115–117 (2016).

25.

Lemonnier, E. et al. Effects of bumetanide on neurobehavioral function in children and adolescents with autism spectrum disorders. Transl. Psychiatry 7, e1056 (2017).

26.

Rahmanzadeh, R. et al. Effect of co-administration of bumetanide and phenobarbital on seizure attacks in temporal lobe epilepsy. Basic Clin. Neurosci. 9, 408–416 (2018).

27.

Sivakumaran, S. & Maguire, J. Bumetanide reduces seizure progression and the development of pharmacoresistant status epilepticus. Epilepsia 57, 222–232 (2016).

28.

Zhao, N. et al. Alzheimer's risk factors age, APOE genotype, and sex drive distinct molecular pathways. Neuron 106, 727–742 (2020).

29.

Najm, R., Jones, E. A. & Huang, Y. Apolipoprotein E4, inhibitory network dysfunction, and Alzheimer's disease. Mol. Neurodegener. 14, 24 (2019).

30.

Milior, G. et al. Electrophysiological properties of CA1 pyramidal neurons along the longitudinal axis of the mouse hippocampus. Sci. Rep. 6, 38242 (2016).

31.

Bliss, T. V. & Collingridge, G. L. A synaptic model of memory: long-term potentiation in the hippocampus. Nature 361, 31–39 (1993).

32.

Selkoe, D. J. Alzheimer's disease is a synaptic failure. Science 298, 789–791 (2002).

33.

Andrews-Zwilling, Y. et al. Apolipoprotein E4 causes age- and tau-dependent impairment of GABAergic interneurons, leading to learning and memory deficits in mice. J. Neurosci. 30, 13707–13717 (2010).

34.

Leung, L. et al. Apolipoprotein E4 causes age- and sex-dependent impairments of hilar GABAergic interneurons and learning and memory deficits in mice. PLoS ONE 7, e53569 (2012).

35.

Knoferle, J. et al. Apolipoprotein E4 produced in GABAergic interneurons causes learning and memory deficits in mice. J. Neurosci. 34, 14069–14078 (2014).

36.

Mucke, L. et al. High-level neuronal expression of Aβ1–42 in wild-type human amyloid protein precursor transgenic mice: synaptotoxicity without plaque formation. J. Neurosci. 20, 4050–4058 (2000).

37.

Bien-Ly, N., Gillespie, A. K., Walker, D., Yoon, S. Y. & Huang, Y. Reducing human apolipoprotein E levels attenuates age-dependent Aβ accumulation in mutant human amyloid precursor protein transgenic mice. J. Neurosci. 32, 4803–4811 (2012).

38.

Wang, C. et al. Gain of toxic apolipoprotein E4 effects in human iPSC-derived neurons is ameliorated by a small-molecule structure corrector. Nat. Med. 24, 647–657 (2018).

39.

Lennon, M. J., Makkar, S. R., Crawford, J. D. & Sachdev, P. S. Midlife hypertension and Alzheimer's disease: a systematic review and meta-analysis. J. Alzheimers Dis. 71, 307–316 (2019).

40.

Ho, J., Tumkaya, T., Aryal, S., Choi, H. & Claridge-Chang, A. Moving beyond P values: data analysis with estimation graphics. Nat. Methods 16, 565–566 (2019).

41.

Kharod, S. C., Kang, S. K. & Kadam, S. D. Off-label use of bumetanide for brain disorders: an overview. Front. Neurosci. 13, 310 (2019).

42.

Puskarjov, M., Kahle, K. T., Ruusuvuori, E. & Kaila, K. Pharmacotherapeutic targeting of cation–chloride cotransporters in neonatal seizures. Epilepsia 55, 806–818 (2014).

43.

Töpfer, M. et al. Consequences of inhibition of bumetanide metabolism in rodents on brain penetration and effects of bumetanide in chronic models of epilepsy. Eur. J. Neurosci. 39, 673–687 (2014).

44.

Gharaylou, Z. et al. Longitudinal effects of bumetanide on neuro-cognitive functioning in drug-resistant epilepsy. Front. Neurol. 10, 483 (2019).

45.

Sala Frigerio, C. et al. The major risk factors for Alzheimer's disease: age, sex, and genes modulate the microglia response to Aβ plaques. Cell Rep. 27, 1293–1306 (2019).

46.

Nguyen, A. T. et al. APOE and TREM2 regulate amyloid-responsive microglia in Alzheimer's disease. Acta Neuropathol. 140, 477–493 (2020).

47.

Griswold, A. J. et al. Increased APOE ε4 expression is associated with the difference in Alzheimer's disease risk from diverse ancestral backgrounds. Alzheimers Dement. 17, 1179–1188 (2021).

48.

Caselli, R. J. Obstructive sleep apnea, apolipoprotein E e4, and mild cognitive impairment. Sleep Med. 9, 816–817 (2008).

49.

Drogos, L. et al. Evidence of association between sleep quality and APOE ε4 in healthy older adults: a pilot study. Neurology 87, 1836–1842 (2016).

50.

Tranah, G. J. et al. APOEε4 and slow wave sleep in older adults. PLoS ONE 13, e0191281 (2018).

51.

Gozal, D., Capdevila, O. S., Kheirandish-Gozal, L. & Crabtree, V. M. APOE ε4 allele, cognitive dysfunction, and obstructive sleep apnea in children. Neurology 69, 243–249 (2007).

52.

Listos, J. et al. The mechanisms involved in morphine addiction: an overview. Int. J. Mol. Sci. 20, 4302 (2019).

53.

Falcon, E. & McClung, C. A. A role for the circadian genes in drug addiction. Neuropharmacology 56, 91–96 (2009).

54.

Hamanaka, H. et al. Altered cholesterol metabolism in human apolipoprotein E4 knock-in mice. Hum. Mol. Genet. 9, 353–361 (2000).

55.

Sullivan, P. M., Mace, B. E., Maeda, N. & Schmechel, D. E. Marked regional differences of brain human apolipoprotein E expression in targeted replacement mice. Neuroscience 124, 725–733 (2004).

56.

Workman, C. et al. A new non-linear normalization method for reducing variability in DNA microarray experiments. Genome Biol. 3, research0048.0041–research0048.0016 (2002).

57.

Lui, J. H. et al. Radial glia require PDGFD–PDGFRβ signalling in human but not mouse neocortex. Nature 515, 264–268 (2014).

58.

Raju, C. S. et al. Secretagogin is expressed by developing neocortical GABAergic neurons in humans but not mice and increases neurite arbor size and complexity. Cereb. Cortex 28, 1946–1958 (2018).

59.

Butler, A., Hoffman, P., Smibert, P., Papalexi, E. & Satija, R. Integrating single-cell transcriptomic data across different conditions, technologies, and species. Nat. Biotechnol. 36, 411–420 (2018).

60.

Lein, E. S. et al. Genome-wide atlas of gene expression in the adult mouse brain. Nature 445, 168–176 (2007).

61.

Rosenberg, A. B. et al. Single-cell profiling of the developing mouse brain and spinal cord with split-pool barcoding. Science 360, 176–182 (2018).

62.

Dijk, D. V. et al. Recovering gene interactions from single-cell data using data diffusion. Cell 174, 716–729 (2018).

63.

Dobin, A. et al. STAR: ultrafast universal RNA-seq aligner. Bioinformatics 29, 15–21 (2013).

64.

Liao, Y., Smyth, G. K. & Shi, W. featureCounts: an efficient general purpose program for assigning sequence reads to genomic features. Bioinformatics 30, 923–930 (2014).
Acknowledgements
This work was supported by grants AG057683 (Y.H. and M.S.), AG048017 (Y.H.), 1F31AG058439 (A.T.), AG061150 (M.Y.Z.), 1F31AG057150 (E.A.A.J.) and TR001743 and ES028047 (B.C.) from the National Institutes of Health. The grant funders had no role in study design, data collection and analysis, decision to publish or preparation of the manuscript. Data from GSE15222 were downloaded from the NCBI GEO database. We thank R. Thomas for assistance with snRNA-seq analyses and T. Pak for editorial assistance.
Ethics declarations
Competing interests
Y. Huang is a cofounder and scientific advisory board member of ESCAPE Bio, GABAeron and Mederon Bio. M.S. is on the advisory board of Aria Pharmaceuticals. A pending patent application related to this work has been filed on which Y. Huang, A.T., M.S. and P.N. were listed as inventors. The other authors declare no competing financial interests.
Additional information
Peer review information Nature Aging thanks Na Zhao and the other, anonymous, reviewer(s) for their contribution to the peer review of this work.
Publisher's note Springer Nature remains neutral with regard to jurisdictional claims in published maps and institutional affiliations.
Supplementary information
About this article
Cite this article
Taubes, A., Nova, P., Zalocusky, K.A. et al. Experimental and real-world evidence supporting the computational repurposing of bumetanide for APOE4-related Alzheimer's disease. Nat Aging 1, 932–947 (2021). https://doi.org/10.1038/s43587-021-00122-7
Received:

Accepted:

Published:

Issue Date: