Abstract
An increasing number of identified Parkinson's disease (PD) risk loci contain genes highly expressed in innate immune cells, yet their role in pathology is not understood. We hypothesized that PD susceptibility genes modulate disease risk by influencing gene expression within immune cells. To address this, we generated transcriptomic profiles of monocytes from healthy subjects and 230 individuals with sporadic PD. We observed dysregulation of mitochondrial and proteasomal pathways. We also generated transcriptomic profiles of primary microglia from brains of 55 subjects and observed discordant transcriptomic signatures of mitochondrial genes in PD monocytes and microglia. We further identified 17 PD susceptibility genes whose expression, relative to each risk allele, was altered in monocytes. These findings reveal widespread transcriptomic alterations in PD monocytes, with some being distinct from microglia, and facilitate efforts to understand the roles of myeloid cells in PD as well as the development of biomarkers.
This is a preview of subscription content
Access options
Subscribe to Journal
Get full journal access for 1 year
$119.00
only $9.92 per issue
All prices are NET prices.
VAT will be added later in the checkout.
Tax calculation will be finalised during checkout.
Rent or Buy article
Get time limited or full article access on ReadCube.
from$8.99
All prices are NET prices.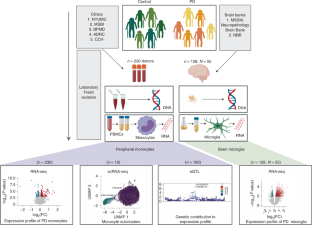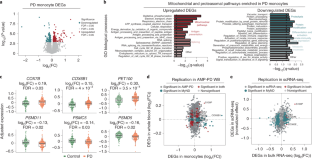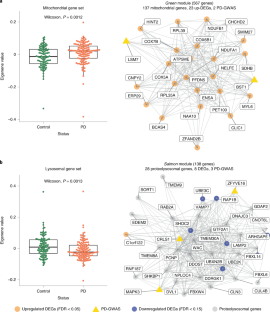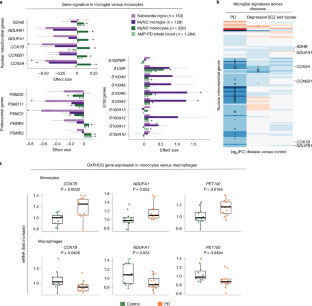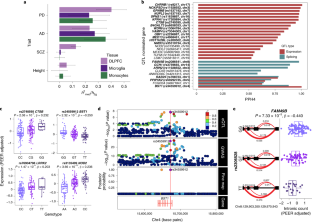 References
1.

Poewe, W. et al. Parkinson disease. Nat. Rev. Dis. Primers 3, 17013 (2017).

2.

Ohnmacht, J., May, P., Sinkkonen, L. & Krüger, R. Missing heritability in Parkinson's disease: the emerging role of non-coding genetic variation. J. Neural Transm. 127, 729–748 (2020).

3.

Nalls, M. A. et al. Identification of novel risk loci, causal insights, and heritable risk for Parkinson's disease: a meta-analysis of genome-wide association studies. Lancet Neurol. 18, 1091–1102 (2019).

4.

Li, Y. I., Wong, G., Humphrey, J. & Raj, T. Prioritizing Parkinson's disease genes using population-scale transcriptomic data. Nat. Commun. 10, 994 (2019).

5.

Gagliano, S. A. et al. Genomics implicates adaptive and innate immunity in Alzheimer's and Parkinson's diseases. Ann. Clin. Transl. Neurol. 3, 924–933 (2016).

6.

Raj, T. et al. Polarization of the effects of autoimmune and neurodegenerative risk alleles in leukocytes. Science 344, 519–523 (2014).

7.

Reynolds, R. H. et al. Moving beyond neurons: the role of cell type-specific gene regulation in Parkinson's disease heritability. NPJ Parkinsons Dis. 5, 6 (2019).

8.

Bae, E.-J. et al. Antibody-aided clearance of extracellular α-synuclein prevents cell-to-cell aggregate transmission. J. Neurosci. 32, 13454–13469 (2012).

9.

Choi, I. et al. Microglia clear neuron-released α-synuclein via selective autophagy and prevent neurodegeneration. Nat. Commun. 11, 1386 (2020).

10.

Duffy, M. F. et al. Correction to: Lewy body-like alpha-synuclein inclusions trigger reactive microgliosis prior to nigral degeneration. J. Neuroinflammation 15, 129 (2018).

11.

Fellner, L. et al. Toll-like receptor 4 is required for α-synuclein dependent activation of microglia and astroglia. Glia 61, 349–360 (2013).

12.

Doorn, K. J. et al. Microglial phenotypes and Toll-like receptor 2 in the substantia nigra and hippocampus of incidental Lewy body disease cases and Parkinson's disease patients. Acta Neuropathol. Commun. 2, 90 (2014).

13.

Olanow, C. W. et al. Temporal evolution of microglia and α-synuclein accumulation following foetal grafting in Parkinson's disease. Brain 142, 1690–1700 (2019).

14.

Grozdanov, V. et al. Increased immune activation by pathologic α‐synuclein in Parkinson's disease. Ann. Neurol. 86, 593–606 (2019).

15.

Herz, J., Filiano, A. J., Smith, A., Yogev, N. & Kipnis, J. Myeloid cells in the central nervous system. Immunity 46, 943–956 (2017).

16.

Harms, A. S. et al. α-Synuclein fibrils recruit peripheral immune cells in the rat brain prior to neurodegeneration. Acta Neuropathol. Commun. 5, 85 (2017).

17.

Harms, A. S. et al. Peripheral monocyte entry is required for alpha-synuclein induced inflammation and neurodegeneration in a model of Parkinson disease. Exp. Neurol. 300, 179–187 (2018).

18.

Bliederhaeuser, C. et al. Age-dependent defects of alpha-synuclein oligomer uptake in microglia and monocytes. Acta Neuropathol. 131, 379–391 (2016).

19.

Wijeyekoon, R. S. et al. Monocyte function in Parkinson's disease and the impact of autologous serum on phagocytosis. Front. Neurol. 9, 870 (2018).

20.

Braak, H. et al. Staging of brain pathology related to sporadic Parkinson's disease. Neurobiol. Aging 24, 197–211 (2003).

21.

Scheperjans, F., Derkinderen, P. & Borghammer, P. The gut and Parkinson's disease: hype or hope? J. Parkinsons Dis. 8, S31–S39 (2018).

22.

Chapelet, G., Leclair-Visonneau, L., Clairembault, T., Neunlist, M. & Derkinderen, P. Can the gut be the missing piece in uncovering PD pathogenesis? Parkinsonism Relat. Disord. 59, 26–31 (2019).

23.

Klingelhoefer, L. & Reichmann, H. Pathogenesis of Parkinson disease—the gut–brain axis and environmental factors. Nat. Rev. Neurol. 11, 625–636 (2015).

24.

Schlachetzki, J. C. M. et al. A monocyte gene expression signature in the early clinical course of Parkinson's disease. Sci. Rep. 8, 10757 (2018).

25.

Donega, V. et al. Transcriptome and proteome profiling of neural stem cells from the human subventricular zone in Parkinson's disease. Acta Neuropathol. Commun. 7, 84 (2019).

26.

Tan, E.-K. et al. Parkinson disease and the immune system—associations, mechanisms and therapeutics. Nat. Rev. Neurol. 16, 303–318 (2020).

27.

Hoehn, M. M. & Yahr, M. D. Parkinsonism: onset, progression and mortality. Neurology 17, 427–442 (1967).

28.

Cuperfain, A. B., Zhang, Z. L., Kennedy, J. L. & Gonçalves, V. F. The complex interaction of mitochondrial genetics and mitochondrial pathways in psychiatric disease. Mol. Neuropsychiatry 4, 52–69 (2018).

29.

Roth, J., Vogl, T., Sorg, C. & Sunderkötter, C. Phagocyte-specific S100 proteins: a novel group of proinflammatory molecules. Trends Immunol. 24, 155–158 (2003).

30.

Xia, C., Braunstein, Z., Toomey, A. C., Zhong, J. & Rao, X. S100 proteins as an important regulator of macrophage inflammation. Front. Immunol. 8, 1908 (2017).

31.

Sathe, K. et al. S100B is increased in Parkinson's disease and ablation protects against MPTP-induced toxicity through the RAGE and TNF-α pathway. Brain 135, 3336–3347 (2012).

32.

Jinn, S. et al. TMEM175 deficiency impairs lysosomal and mitochondrial function and increases α-synuclein aggregation. Proc. Natl Acad. Sci. USA 114, 2389–2394 (2017).

33.

Maiese, K., Chong, Z. Z., Shang, Y. C. & Wang, S. mTOR: on target for novel therapeutic strategies in the nervous system. Trends Mol. Med. 19, 51–60 (2013).

34.

Cao, J. et al. The single-cell transcriptional landscape of mammalian organogenesis. Nature 566, 496–502 (2019).

35.

Finucane, H. K. et al. Partitioning heritability by functional annotation using genome-wide association summary statistics. Nat. Genet. 47, 1228–1235 (2015).

36.

Gordon, S. & Taylor, P. R. Monocyte and macrophage heterogeneity. Nat. Rev. Immunol. 5, 953–964 (2005).

37.

Zawada, A. M. et al. SuperSAGE evidence for CD14++CD16+ monocytes as a third monocyte subset. Blood 118, e50–e61 (2011).

38.

Mukherjee, R. et al. Non-classical monocytes display inflammatory features: validation in sepsis and systemic lupus erythematous. Sci. Rep. 5, 13886 (2015).

39.

Grozdanov, V. et al. Inflammatory dysregulation of blood monocytes in Parkinson's disease patients. Acta Neuropathol. 128, 651–663 (2014).

40.

Smith, A. M. et al. Mitochondrial dysfunction and increased glycolysis in prodromal and early Parkinson's blood cells. Mov. Disord. 33, 1580–1590 (2018).

41.

Hoffman, G. E. & Roussos, P. Dream: powerful differential expression analysis for repeated measures designs. Bioinformatics. 37, 192–201 (2021).

42.

Smajić, S. et al. Single-cell sequencing of the human midbrain reveals glial activation and a neuronal state specific to Parkinson's disease. Preprint at https://www.medrxiv.org/content/10.1101/2020.09.28.20202812v1 (2020).

43.

Wang, Q. et al. The landscape of multiscale transcriptomic networks and key regulators in Parkinson's disease. Nat. Commun. 10, 5234 (2019).

44.

Yao, D. W., O'Connor, L. J., Price, A. L. & Gusev, A. Quantifying genetic effects on disease mediated by assayed gene expression levels. Nat. Genet. 52, 626–633 (2020).

45.

Young, A., Kumasaka, N., Calvert, F. & Hammond, T. R. A map of transcriptional heterogeneity and regulatory variation in human microglia. Nat. Genet. 53, 861–868 (2021).

46.

Ng, B. et al. An xQTL map integrates the genetic architecture of the human brain's transcriptome and epigenome. Nat. Neurosci. 20, 1418–1426 (2017).

47.

Giambartolomei, C. et al. Bayesian test for colocalisation between pairs of genetic association studies using summary statistics. PLoS Genet. 10, e1004383 (2014).

48.

Nott, A. et al. Brain cell type-specific enhancer-promoter interactome maps and disease-risk association. Science 366, 1134–1139 (2019).

49.

Chattaragada, M. S. et al. FAM49B, a novel regulator of mitochondrial function and integrity that suppresses tumor metastasis. Oncogene 37, 697–709 (2018).

50.

Schapira, A. H. et al. Mitochondrial complex I deficiency in Parkinson's disease. J. Neurochem. 54, 823–827 (1990).

51.

Mizuno, Y. et al. Deficiencies in Complex I subunits of the respiratory chain in Parkinson's disease. Biochem. Biophys. Res. Commun. 163, 1450–1455 (1989).

52.

Teves, J. M. Y. et al. Parkinson's disease skin fibroblasts display signature alterations in growth, redox homeostasis, mitochondrial function, and autophagy. Front. Neurosci. 11, 737 (2017).

53.

Ryan, B. J., Hoek, S., Fon, E. A. & Wade-Martins, R. Mitochondrial dysfunction and mitophagy in Parkinson's: from familial to sporadic disease. Trends Biochem. Sci. 40, 200–210 (2015).

54.

Seibler, P. et al. Mitochondrial Parkin recruitment is impaired in neurons derived from mutant PINK1 induced pluripotent stem cells. J. Neurosci. 31, 5970–5976 (2011).

55.

Mortiboys, H. et al. Mitochondrial function and morphology are impaired in parkin-mutant fibroblasts. Ann. Neurol. 64, 555–565 (2008).

56.

Mortiboys, H., Johansen, K. K., Aasly, J. O. & Bandmann, O. Mitochondrial impairment in patients with Parkinson disease with the G2019S mutation in LRRK2. Neurology 75, 2017–2020 (2010).

57.

Annesley, S. J. et al. Immortalized Parkinson's disease lymphocytes have enhanced mitochondrial respiratory activity. Dis. Model. Mech. 9, 1295–1305 (2016).

58.

Parnetti, L. et al. CSF and blood biomarkers for Parkinson's disease. Lancet Neurol. 18, 573–586 (2019).

59.

Parnetti, L. et al. Cerebrospinal fluid biomarkers in Parkinson disease. Nat. Rev. Neurol. 9, 131–140 (2013).

60.

Trapnell, C. et al. The dynamics and regulators of cell fate decisions are revealed by pseudotemporal ordering of single cells. Nat. Biotechnol. 32, 381–386 (2014).

61.

Kunkle, B. W. et al. Genetic meta-analysis of diagnosed Alzheimer's disease identifies new risk loci and implicates Aβ, tau, immunity and lipid processing. Nat. Genet. 51, 414–430 (2019).

62.

Schizophrenia Working Group of the Psychiatric Genomics Consortium. Biological insights from 108 schizophrenia-associated genetic loci. Nature 511, 421–427 (2014).

63.

Wood, A. R. et al. Defining the role of common variation in the genomic and biological architecture of adult human height. Nat. Genet. 46, 1173–1186 (2014).

64.

Weissbrod, O., Hormozdiari, F., Benner, C. & Cui, R. Functionally-informed fine-mapping and polygenic localization of complex trait heritability. Nat. Genet. 52, 1355–1363 (2019).

65.

Nextflow – a DSL for parallel and scalable computational pipelines. https://www.nextflow.io/ (accessed 23 August 2021).

66.

Bolger, A. M., Lohse, M. & Usadel, B. Trimmomatic: a flexible trimmer for Illumina sequence data. Bioinformatics 30, 2114–2120 (2014).

67.

Dobin, A. et al. STAR: ultrafast universal RNA-seq aligner. Bioinformatics 29, 15–21 (2013).

68.

GENCODE – Human Release 30. https://www.gencodegenes.org/human/release_30.html (accessed 23 August 2021).

69.

Li, B. & Dewey, C. N. RSEM: accurate transcript quantification from RNA-Seq data with or without a reference genome. BMC Bioinformatics 12, 323 (2011).

70.

Feng, Y.-Y. et al. RegTools: integrated analysis of genomic and transcriptomic data for discovery of splicing variants in cancer. Preprint at https://www.biorxiv.org/content/10.1101/436634v2 (2018).

71.

Babraham Bioinformatics – FastQC. http://www.bioinformatics.babraham.ac.uk/projects/fastqc/ (accessed 23 August 2021).

72.

Picard. https://broadinstitute.github.io/picard/ (accessed 23 August 2021).

73.

Li, H. et al. The Sequence Alignment/Map format and SAMtools. Bioinformatics 25, 2078–2079 (2009).

74.

Hoffman, G. E. & Schadt, E. E. variancePartition: interpreting drivers of variation in complex gene expression studies. BMC Bioinformatics. 17, 483 (2016).

75.

Ritchie, M. E. et al. Limma powers differential expression analyses for RNA-sequencing and microarray studies. Nucleic Acids Res. 43, e47 (2015).

76.

Subramanian, A. et al. Gene set enrichment analysis: a knowledge-based approach for interpreting genome-wide expression profiles. Proc. Natl Acad. Sci. USA 102, 15545–15550 (2005).

77.

Gomes, A. V. Genetics of proteasome diseases. Scientifica 2013, 637629 (2013).

78.

Buja, A. & Eyuboglu, N. Remarks on parallel analysis. Multivariate Behav. Res. 27, 509–540 (1992).

79.

Parsana, P. et al. Addressing confounding artifacts in reconstruction of gene co-expression networks. Genome Biol. 20, 94 (2019).

80.

Langfelder, P. & Horvath, S. WGCNA: an R package for weighted correlation network analysis. BMC Bioinformatics 9, 559 (2008).

81.

Pedersen, T. L. ggraph. GitHub https://github.com/thomasp85/ggraph (2017).

82.

Stoeckius, M. et al. Cell Hashing with barcoded antibodies enables multiplexing and doublet detection for single cell genomics. Genome Biol. 19, 224 (2018).

83.

Butler, A., Hoffman, P., Smibert, P., Papalexi, E. & Satija, R. Integrating single-cell transcriptomic data across different conditions, technologies, and species. Nat. Biotechnol. 36, 411–420 (2018).

84.

Stuart, T. et al. Comprehensive integration of single-cell data. Cell 177, 1888–1902 (2019).

85.

Durinck, S. et al. BioMart and Bioconductor: a powerful link between biological databases and microarray data analysis. Bioinformatics 21, 3439–3440 (2005).

86.

Becht, E. et al. Dimensionality reduction for visualizing single-cell data using UMAP. Nat. Biotechnol. 37, 38–44 (2018).

87.

McInnes, L., Healy, J. & Melville, J. UMAP: uniform manifold approximation and projection for dimension reduction. Preprint at https://arxiv.org/abs/1802.03426#:~:text=UMAP%20(Uniform%20Manifold%20Approximation%20and,applies%20to%20real%20world%20data (2018).

88.

Benjamini, Y. & Hochberg, Y. Controlling the false discovery rate: a practical and powerful approach to multiple testing. J. R. Stat. Soc. Series B Stat. Methodol. 57, 289–300 (1995).

89.

Prakash, K. G. et al. Neuroanatomical changes in Parkinson's disease in relation to cognition: an update. J. Adv. Pharm. Technol. Res. 7, 123–126 (2016).

90.

Goldman, J. G. et al. Corpus callosal atrophy and associations with cognitive impairment in Parkinson disease. Neurology 88, 1265–1272 (2017).

91.

Kendi, A. T. K., Lehericy, S. & Luciana, M. Altered diffusion in the frontal lobe in Parkinson disease. Am. J. Neororadiol. 29, 501–505 (2008).

92.

Wayne Martin, W. R., Wieler, M., Gee, M. & Camicioli, R. Temporal lobe changes in early, untreated Parkinson's disease. Mov. Disord. 24, 1949–1954 (2009).

93.

Melief, J. et al. Characterizing primary human microglia: a comparative study with myeloid subsets and culture models. Glia 64, 1857–1868 (2016).

94.

gtex-pipeline. (Github). https://github.com/broadinstitute/gtex-pipeline

95.

Stegle, O., Parts, L., Piipari, M., Winn, J. & Durbin, R. Using probabilistic estimation of expression residuals (PEER) to obtain increased power and interpretability of gene expression analyses. Nat. Protoc. 7, 500–507 (2012).

96.

Delaneau, O. et al. A complete tool set for molecular QTL discovery and analysis. Nat. Commun. 8, 15452 (2017).

97.

Fairfax, B. P. et al. Innate immune activity conditions the effect of regulatory variants upon monocyte gene expression. Science 343, 1246949 (2014).

98.

Aguet, F. et al. The GTEx Consortium atlas of genetic regulatory effects across human tissues. Science 369, 1318–1330 (2020).

99.

summary-gwas-imputation. (Github). https://github.com/hakyimlab/summary-gwas-imputation

100.

HaploReg v.4.1. https://pubs.broadinstitute.org/mammals/haploreg/haploreg.php (accessed 23 August 2021).

101.

Schilder, B. M., Humphrey, J. & Raj, T. echolocatoR: an automated end-to-end statistical and functional genomic fine-mapping pipeline. Preprint at https://www.biorxiv.org/content/10.1101/2020.10.22.351221v1 (2020).

102.

Wang, G., Sarkar, A., Carbonetto, P. & Stephens, M. A simple new approach to variable selection in regression, with application to genetic fine-mapping. https://rss.onlinelibrary.wiley.com/doi/10.1111/rssb.12388 (2020).

103.

Gazal, S. et al. Linkage disequilibrium–dependent architecture of human complex traits shows action of negative selection. Nat. Genet. 49, 1421–1427 (2017).

104.

Bulik-Sullivan, B. K. et al. LD score regression distinguishes confounding from polygenicity in genome-wide association studies. Nat. Genet. 47, 291–295 (2015).

105.

Gazal, S. et al. Functional architecture of low-frequency variants highlights strength of negative selection across coding and non-coding annotations. Nat. Genet. 50, 1600–1607 (2018).
Acknowledgements
We thank the study participants for providing blood samples and for their generous gifts of brain donation to the MyND study. We thank the Netherlands Brain Bank and the Neuropathology Brain Bank & Research Core at Mount Sinai for assistance in collecting human brain samples. We thank the Flow Cytometry Core and the Human Immune Monitoring Center at Icahn School of Medicine at Mount Sinai (ISMMS) for optimization of cell isolations; Genewiz Inc. for RNA-seq; C. Proukakis for feedback on the manuscript; S. Kim-Schulze for help in optimizing PBMC and monocyte isolation; Y.-C. Wang for help with processing of RNA-seq data; J. Fernandez-Lopez for help with data analysis; members of the Ronald Loeb Center for AD for helpful discussions; and research participants and employees of 23andMe who contributed to PD GWAS. Data used in the preparation of this article were obtained from the AMP-PD Knowledge Platform. AMP-PD—a public–private partnership—is managed by the US National Institutes of Health (NIH) and funded by Celgene, GSK, the Michael J. Fox Foundation for Parkinson's Research, the National Institute of Neurological Disorders and Stroke, Pfizer, Sanofi and Verily. PPMI—a public–private partnership—is funded by the Michael J. Fox Foundation for Parkinson's Research and funding partners (names of all PPMI funding partners can be found at www.ppmi-info.org/fundingpartners). The PPMI Investigators did not participate in reviewing the data analysis or content of the manuscript. For up-to-date information on the study, visit www.ppmi-info.org. This work was supported in part through the computational resources and staff expertise provided by Scientific Computing at the ISMMS. T.R. was supported by grants from the Michael J. Fox Foundation (nos. 4899 and 16743) and NIH (nos. NINDS R01-NS116006, NINDS U01-NS120256, NIA R01-AG054005, NIA R21-AG063130 and NIA U01 P50-AG005138). R.S-P. is supported by grants from the NIH (nos. NINDS U01-NS107016 and NINDS U01-NS094148-01) and Bigglesworth Family Foundation. K.F. is supported by NIH (no. F32 AG056098). E.N. is supported by a fellowship from the Ramon Areces Foundation (Spain). The research reported in this paper was additionally supported by the Office of Research Infrastructure of the NIH under award nos. S10OD018522 and S10OD026880.
Ethics declarations
Competing interests
A.M.G. served on the scientific advisory board for Denali Therapeutics from 2015 to 2018 and has served as a consultant to AbbVie, Biogen, Eisai, Illumina and GSK. R.S.-P. and S.B. have served as consultants to Denali Therapeutics. R.H.W. has served as consultant to Neurocine Biosciences, Inc. The other authors declare no competing interests.
Additional information
Peer review information Nature Aging thanks David Craig, Richard Youle and the other, anonymous, reviewer(s) for their contribution to the peer review of this work.
Publisher's note Springer Nature remains neutral with regard to jurisdictional claims in published maps and institutional affiliations.
Supplementary information
About this article
Cite this article
Navarro, E., Udine, E., Lopes, K.d.P. et al. Dysregulation of mitochondrial and proteolysosomal genes in Parkinson's disease myeloid cells. Nat Aging 1, 850–863 (2021). https://doi.org/10.1038/s43587-021-00110-x
Received:

Accepted:

Published:

Issue Date: