Abstract
Osteoarthritis (OA) is a prevalent aging-related joint disease lacking disease-modifying therapies. Here, we identified an upregulation of circulating exosomal osteoclast (OC)-derived microRNAs (OC-miRNAs) during the progression of surgery-induced OA in mice. We found that reducing OC-miRNAs by Cre-mediated excision of the key miRNA-processing enzyme Dicer or blocking the secretion of OC-originated exosomes by short interfering RNA-mediated silencing of Rab27a substantially delayed the progression of surgery-induced OA in mice. Mechanistically, the exosomal transfer of OC-miRNAs to chondrocytes reduced the resistance of cartilage to matrix degeneration, osteochondral angiogenesis and sensory innervation during OA progression by suppressing tissue inhibitor of metalloproteinase-2 (TIMP-2) and TIMP-3. Furthermore, systemic administration of a new OC-targeted exosome inhibitor (OCExoInhib) blunted the progression of surgery-induced OA in mice. We suggest that targeting the exosomal transfer of OC-miRNAs to chondrocytes represents a potential therapeutic avenue to tackle OA progression.
Relevant articles
Open Access articles citing this article.
Qing Yao

,

Xiaohao Wu

…

Guozhi Xiao

Signal Transduction and Targeted Therapy Open Access 03 February 2023

Yuangang Wu

,

Jiao Li

…

Bin Shen

International Journal of Oral Science Open Access 05 August 2022
Access options
Access Nature and 54 other Nature Portfolio journals
Get Nature+, our best-value online-access subscription
$29.99 per month
cancel any time
Subscribe to this journal
Receive 12 digital issues and online access to articles
$119.00 per year
only $9.92 per issue
Rent or buy this article
Get just this article for as long as you need it
$39.95
Prices may be subject to local taxes which are calculated during checkout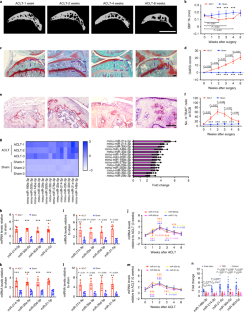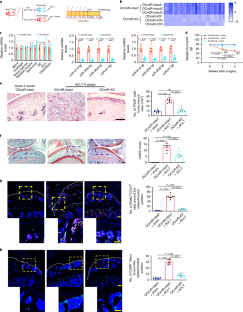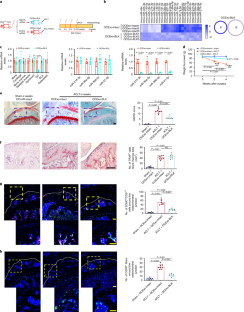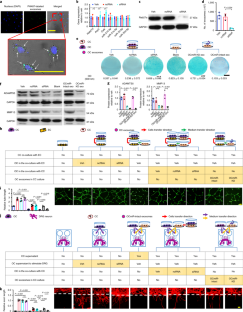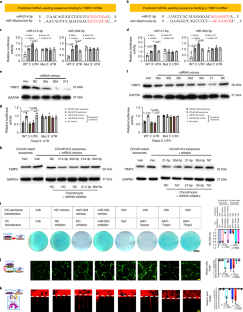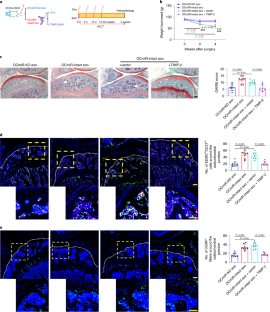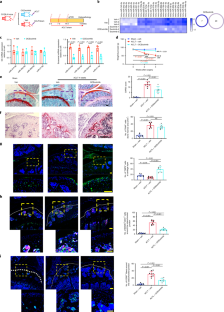 Data availability
All miRNA qPCR array data (raw Ct values) can be freely downloaded and reproduced from https://github.com/TMBJ-HKBU/NATAGING_A00041_qPCRArray/. All data supporting the findings of this study are available within the article and its Extended Data files or are available from the corresponding author upon reasonable request.
Code availability
All code for the analytic software is available from the corresponding author upon reasonable request.
References
Mandl, L. A. Osteoarthritis year in review 2018: clinical. Osteoarthritis Cartilage 27, 359–364 (2019).

Glyn-Jones, S. et al. Osteoarthritis. Lancet 386, 376–387 (2015).

Bannuru, R. R. et al. OARSI guidelines for the non-surgical management of knee, hip and polyarticular osteoarthritis. Osteoarthritis Cartilage https://doi.org/10.1016/j.joca.2019.06.011 (2019).

Lories, R. J. & Luyten, F. P. The bone–cartilage unit in osteoarthritis. Nat. Rev. Rheumatol. 7, 43–49 (2011).

Karsdal, M. A. et al. The coupling of bone and cartilage turnover in osteoarthritis: opportunities for bone antiresorptives and anabolics as potential treatments? Ann. Rheum. Dis. 73, 336–348 (2014).

Burr, D. B. & Gallant, M. A. Bone remodelling in osteoarthritis. Nat. Rev. Rheumatol. 8, 665–673 (2012).

Shibakawa, A. et al. The role of subchondral bone resorption pits in osteoarthritis: MMP production by cells derived from bone marrow. Osteoarthritis Cartilage 13, 679–687 (2005).

Zhu, S. et al. Subchondral bone osteoclasts induce sensory innervation and osteoarthritis pain. J. Clin. Invest. 129, 1076–1093 (2019).

Zhen, G. et al. Inhibition of TGF-β signaling in mesenchymal stem cells of subchondral bone attenuates osteoarthritis. Nat. Med. 19, 704–712 (2013).

Goldring, S. R. & Goldring, M. B. Changes in the osteochondral unit during osteoarthritis: structure, function and cartilage–bone cross-talk. Nat. Rev. Rheumatol. 12, 632–644 (2016).

Kim, Y-. K., Kim, B. & Kim, V. N. Re-evaluation of the roles of DROSHA, Export in 5, and DICER in microRNA biogenesis. Proc. Natl Acad. Sci. USA 113, E1881–E1889 (2016).

Mizoguchi, F. et al. Osteoclast-specific Dicer gene deficiency suppresses osteoclastic bone resorption. J. Cell. Biochem. 109, 866–875 (2010).

Liu, J. et al. A delivery system specifically approaching bone resorption surfaces to facilitate therapeutic modulation of microRNAs in osteoclasts. Biomaterials 52, 148–160 (2015).

Liang, C. et al. Tumor cell-targeted delivery of CRISPR–Cas9 by aptamer-functionalized lipopolymer for therapeutic genome editing of VEGFA in osteosarcoma. Biomaterials 147, 68–85 (2017).

Bryden, L. A., Nicholson, J. R., Doods, H. & Pekcec, A. Deficits in spontaneous burrowing behavior in the rat bilateral monosodium iodoacetate model of osteoarthritis: an objective measure of pain-related behavior and analgesic efficacy. Osteoarthritis Cartilage 23, 1605–1612 (2015).

Ostrowski, M. et al. Rab27a and Rab27b control different steps of the exosome secretion pathway. Nat. Cell Biol. 12, 19–30 (2010).

Sun, W. et al. Osteoclast-derived microRNA-containing exosomes selectively inhibit osteoblast activity. Cell Discov. 2, 16015 (2016).

Li, D. et al. Osteoclast-derived exosomal miR-214-3p inhibits osteoblastic bone formation. Nat. Commun. 7, 10872 (2016).

Liu, J. et al. Osteoclastic miR-214 targets TRAF3 to contribute to osteolytic bone metastasis of breast cancer. Sci. Rep. 7, 40487 (2017).

Zhuo, Z. et al. A loop-based and AGO-incorporated virtual screening model targeting AGO-mediated miRNA–mRNA interactions for drug discovery to rescue bone phenotype in genetically modified mice. Adv. Sci. 7, 1903451 (2020).

Eisenstein, R., Sorgente, N., Soble, L. W., Miller, A. & Kuettner, K. E. The resistance of certain tissues to invasion: penetrability of explanted tissues by vascularized mesenchyme. Am. J. Pathol. 73, 765–774 (1973).

Datta, A. et al. High-throughput screening identified selective inhibitors of exosome biogenesis and secretion: a drug repurposing strategy for advanced cancer. Sci. Rep. 8, 8161 (2018).

Johnson, J. L. et al. Identification of neutrophil exocytosis inhibitors (Nexinhibs), small-molecule inhibitors of neutrophil exocytosis and inflammation: druggability of the small GTPase Rab27a. J. Biol. Chem. 291, 25965–25982 (2016).

Birch, C. E., Mensch, K. S., Desarno, M. J., Beynnon, B. D. & Tourville, T. W. Subchondral trabecular bone integrity changes following ACL injury and reconstruction: a cohort study with a nested, matched case–control analysis. Osteoarthritis Cartilage 26, 762–769 (2018).

Xie, H. et al. PDGF-BB secreted by preosteoclasts induces angiogenesis during coupling with osteogenesis. Nat. Med. 20, 1270–1278 (2014).

Saunders, W. B. et al. Coregulation of vascular tube stabilization by endothelial cell TIMP-2 and pericyte TIMP-3. J. Cell Biol. 175, 179–191 (2006).

Seo, D. W. et al. TIMP-2-mediated inhibition of angiogenesis: an MMP-independent mechanism. Cell 114, 171–180 (2003).

Kashiwagi, M., Tortorella, M., Nagase, H. & Brew, K. TIMP-3 is a potent inhibitor of aggrecanase 1 (ADAM-TS4) and aggrecanase 2 (ADAM-TS5). J. Biol. Chem. 276, 12501–12504 (2001).

Mi, M. et al. TIMP-2-deficient mice develop accelerated osteoarthritis via promotion of angiogenesis upon destabilization of the medial meniscus. Biochem. Biophys. Res. Commun. 423, 366–372 (2012).

Sahebjam, S., Khokha, R. & Mort, J. S. Increased collagen and aggrecan degradation with age in the joints of Timp3−/− mice. Arthritis Rheum. 56, 905–909 (2007).

Jiang, M. et al. Exosomes from MiR-30d-5p-ADSCs reverse acute ischemic stroke-induced, autophagy-mediated brain injury by promoting M2 microglial/macrophage polarization. Cell. Physiol. Biochem. 47, 864–878 (2018).

Huang, F. et al. miR-148a-3p mediates Notch signaling to promote the differentiation and M1 activation of macrophages. Front. Immunol. 8, 1327 (2017).

Ruckerl, D. et al. Induction of IL-4Rα-dependent microRNAs identifies PI3K/Akt signaling as essential for IL-4-driven murine macrophage proliferation in vivo. Blood 120, 2307–2316 (2012).

Chen, Y. et al. Macrophages in osteoarthritis: pathophysiology and therapeutics. Am. J. Transl. Res. 12, 261–268 (2020).

Simon, D. et al. The relationship between anterior cruciate ligament Injury and osteoarthritis of the knee. Adv. Orthop. 2015, 928301 (2015).

Weber, J., Koch, M., Angele, P. & Zellner, J. The role of meniscal repair for prevention of early onset of osteoarthritis. J. Exp. Orthop. 5, 10 (2018).

Glasson, S. S., Blanchet, T. J. & Morris, E. A. The surgical destabilization of the medial meniscus (DMM) model of osteoarthritis in the 129/SvEv mouse. Osteoarthritis Cartilage 15, 1061–1069 (2007).

Deacon, R. Assessing burrowing, nest construction and hoarding in mice. J. Vis. Exp. https://doi.org/10.3791/2607 (2012).

Liang, C. et al. Aptamer-functionalized lipid nanoparticles targeting osteoblasts as a novel RNA interference-based bone anabolic strategy. Nat. Med. 21, 288–294 (2015).

Wang, X. et al. miR-214 targets ATF4 to inhibit bone formation. Nat. Med. 19, 93–100 (2013).

Pritzker, K. P. et al. Osteoarthritis cartilage histopathology: grading and staging. Osteoarthritis Cartilage 14, 13–29 (2006).

Basappa et al. Antitumor activity of a novel HS-mimetic-vascular endothelial growth factor binding small molecule. PLoS ONE 7, e39444 (2012).

Sleigh, J. N., Weir, G. A. & Schiavo, G. A simple, step-by-step dissection protocol for the rapid isolation of mouse dorsal root ganglia. BMC Res Notes 9, 82 (2016).

Newton, P. T. et al. Chondrogenic ATDC5 cells: an optimised model for rapid and physiological matrix mineralisation. Int. J. Mol. Med. 30, 1187–1193 (2012).

Arnaoutova, I. & Kleinman, H. K. In vitro angiogenesis: endothelial cell tube formation on gelled basement membrane extract. Nat. Protoc. 5, 628–635 (2010).

Eisen, M. B., Spellman, P. T., Brown, P. O. & Botstein, D. Cluster analysis and display of genome-wide expression patterns. Proc. Natl Acad. Sci. USA 95, 14863–14868 (1998).
Acknowledgements
We thank technical staff (Y. S. Cheung, W. K. Chan, S. Lee and C. L. Chan) from Law Sau Fai Institute for Advancing Translational Medicine in Bone and Joint Diseases, Hong Kong Baptist University for providing technical support on micro-CT, confocal imaging and flow cytometry analysis. We thank Guangzhou Biogene Biotechnology Co., Ltd. for providing technical support on mouse genotyping and AAV packaging. This work was supported by the funds from National Key R&D Program of China (2018YFA0800804 to L.C.) and National Natural Science Foundation Council of China (81702189 to J. Liu; 81803374 to J. Lu., 81802187 to G.H., 81703049 to F.L. and 81700780 to C.L.), the Theme-based Research Scheme from the Research Grants Council of Hong Kong (T12-201/20-R to A.L.), the General Research Funds from the Research Grants Council of Hong Kong (12102914 to G.Z., 12101117 to G.Z., 12136616 and 12103519 to J. Liu, 12101018 to F.L., 12102120 to Y.Y., 12102518 and 12100719 to A.L. and 14112915 to B.-T.Z.), the Basic and Applied Basic Research Fund from Department of Science and Technology of Guangdong Province (2019B1515120089 to G.Z.), the Natural Science Fund of Guangdong Province (2018030310355 to G.H.), the Shenzhen Science and Technology innovation fund (JCYJ20180302174121208 to J. Lu.), the Interdisciplinary Research Clusters Matching Scheme of Hong Kong Baptist University (RC-IRCs/17-18/02 to G.Z.; RC-IRCs/17-18/04 and RC-IRMS/15-16/01 to A.L.), the Inter-institutional Collaborative Research Scheme from Hong Kong Baptist University (RC-ICRS/19-20/01 to A.L.)
Ethics declarations
Competing interests
The authors declare no competing interests.
Additional information
Peer review information Nature Aging thanks Mary Goldring, Michiel Pegtel and the other, anonymous, reviewer(s) for their contribution to the peer review of this work.
Publisher's note Springer Nature remains neutral with regard to jurisdictional claims in published maps and institutional affiliations.
Supplementary information
About this article
Cite this article
Liu, J., Wu, X., Lu, J. et al. Exosomal transfer of osteoclast-derived miRNAs to chondrocytes contributes to osteoarthritis progression. Nat Aging 1, 368–384 (2021). https://doi.org/10.1038/s43587-021-00050-6
Received:

Accepted:

Published:

Issue Date:

DOI: https://doi.org/10.1038/s43587-021-00050-6
This article is cited by
Qing Yao
Xiaohao Wu
Guozhi Xiao

Signal Transduction and Targeted Therapy (2023)

Yuangang Wu
Jiao Li
Bin Shen

International Journal of Oral Science (2022)

Ingrid Meulenbelt
Yolande F. M. Ramos
D. Michiel Pegtel

Nature Aging (2021)