Abstract
The role of food nutrients in mediating the positive effect of dietary restriction (DR) on longevity has been extensively characterized, but how non-nutrient food components regulate lifespan is not well understood. Here, we show that food-associated odors shorten the lifespan of Caenorhabditis elegans under DR but not those fed ad libitum, revealing a specific effect of food odors on DR-mediated longevity. Food odors act on a neural circuit comprising the sensory neurons ADF and CEP, and the interneuron RIC. This olfactory circuit signals the gut to suppress DR-mediated longevity via octopamine, the invertebrate homolog of norepinephrine, by regulating the energy sensor AMP-activated protein kinase (AMPK) through a Gq-phospholipase Cβ-CaMKK-dependent mechanism. In mouse primary cells, we find that norepinephrine signaling regulates AMPK through a similar mechanism. Our results identify a brain–gut axis that regulates DR-mediated longevity by relaying olfactory information about food abundance from the brain to the gut.
Relevant articles
Open Access articles citing this article.
Monica Cattaneo

,

Aneta Aleksova

…

Annibale Alessandro Puca

Cell Death & Disease Open Access 15 August 2023

Evandro A. De-Souza

,

Maximillian A. Thompson

&

Rebecca C. Taylor

Nature Aging Open Access 27 July 2023

Hillary A. Miller

,

Shijiao Huang

…

Scott F. Leiser

Nature Communications Open Access 07 June 2022
Access options
Access Nature and 54 other Nature Portfolio journals
Get Nature+, our best-value online-access subscription
$29.99 / 30 days
cancel any time
Subscribe to this journal
Receive 12 digital issues and online access to articles
$119.00 per year
only $9.92 per issue
Rent or buy this article
Prices vary by article type
from$1.95
to$39.95
Prices may be subject to local taxes which are calculated during checkout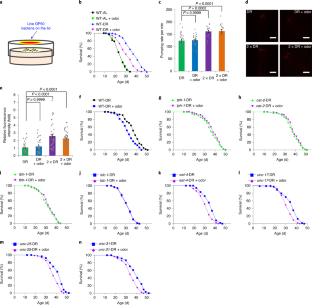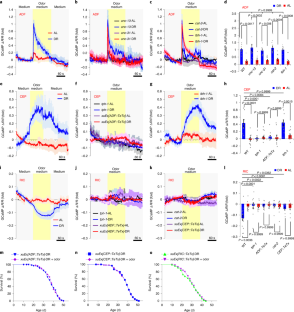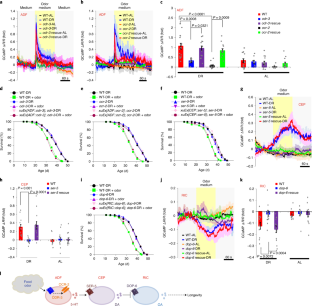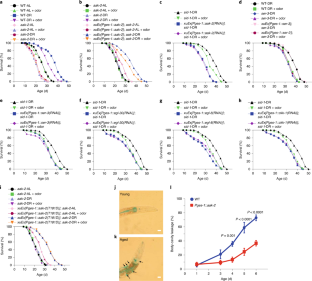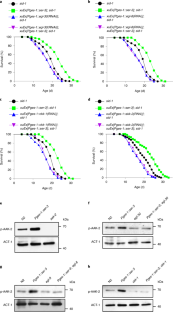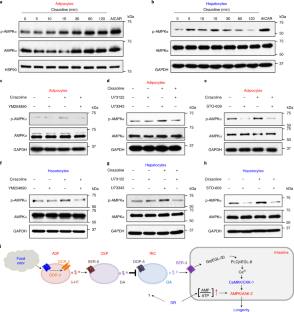 Data availability
The datasets generated and analyzed during this study are either included within the manuscript or are available from the corresponding author on reasonable request.
References
Kenyon, C. J. The genetics of ageing. Nature 464, 504–512 (2010).

Fontana, L., Partridge, L. & Longo, V. D. Extending healthy life span—from yeast to humans. Science 328, 321–326 (2010).

Greer, E. L., Banko, M. R. & Brunet, A. AMP-activated protein kinase and FoxO transcription factors in dietary restriction-induced longevity. Ann. N. Y. Acad. Sci. 1170, 688–692 (2009).

Kapahi, P., Kaeberlein, M. & Hansen, M. Dietary restriction and life span: lessons from invertebrate models. Ageing Res. Rev. 39, 3–14 (2017).

Gendron, C. M. et al. Neuronal mechanisms that drive organismal aging through the lens of perception. Annu. Rev. Physiol. 82, 227–249 (2020).

Alcedo, J. & Kenyon, C. Regulation of C. elegans longevity by specific gustatory and olfactory neurons. Neuron 41, 45–55 (2004).

Apfeld, J. & Kenyon, C. Regulation of life span by sensory perception in Caenorhabditis elegans. Nature 402, 804–809 (1999).

Libert, S. et al. Regulation of Drosophila life span by olfaction and food-derived odors. Science 315, 1133–1137 (2007).

Greer, E. L. & Brunet, A. Different dietary restriction regimens extend life span by both independent and overlapping genetic pathways in C. elegans. Aging Cell 8, 113–127 (2009).

Greer, E. L. et al. An AMPK–FOXO pathway mediates longevity induced by a novel method of dietary restriction in C. elegans. Curr. Biol. 17, 1646–1656 (2007).

Smith, E. D. et al. Age- and calorie-independent life span extension from dietary restriction by bacterial deprivation in Caenorhabditis elegans. BMC Dev. Biol. 8, 49 (2008).

Artan, M. et al. Food-derived sensory cues modulate longevity via distinct neuroendocrine insulin-like peptides. Genes Dev. 30, 1047–1057 (2016).

Bargmann, C. I. Chemosensation in C. elegans. WormBook 25, 1–29 (2006).

White, J. G., Southgate, E., Thomson, J. N. & Brenner, S. The structure of the nervous system of the nematode Caenorhabditis elegans. Philos. Trans. R. Soc. Lond. B Biol. Sci. 314, 1–340 (1986).

Kang, L., Gao, J., Schafer, W. R., Xie, Z. & Xu, X. Z. S. C. elegans TRP family protein TRP-4 is a pore-forming subunit of a native mechanotransduction channel. Neuron 67, 381–391 (2010).

Sawin, E. R., Ranganathan, R. & Horvitz, H. R. C. elegans locomotory rate is modulated by the environment through a dopaminergic pathway and by experience through a serotonergic pathway. Neuron 26, 619–631 (2000).

Li, W., Feng, Z., Sternberg, P. W. & Xu, X. Z. S. A C. elegans stretch receptor neuron revealed by a mechanosensitive TRP channel homologue. Nature 440, 684–687 (2006).

Alkema, M. J., Hunter-Ensor, M., Ringstad, N. & Horvitz, H. R. Tyramine functions independently of octopamine in the Caenorhabditis elegans nervous system. Neuron 46, 247–260 (2005).

Shao, J. et al. Serotonergic neuron ADF modulates avoidance behaviors by inhibiting sensory neurons in C. elegans. Pflugers Arch. 471, 357–363 (2019).

Richmond, J. E., Davis, W. S. & Jorgensen, E. M. UNC-13 is required for synaptic vesicle fusion in C. elegans. Nat. Neurosci. 2, 959–964 (1999).

Speese, S. et al. UNC-31 (CAPS) is required for dense-core vesicle but not synaptic vesicle exocytosis in Caenorhabditis elegans. J. Neurosci. 27, 6150–6162 (2007).

Link, E. et al. Tetanus toxin action: inhibition of neurotransmitter release linked to synaptobrevin proteolysis. Biochem. Biophys. Res. Commun. 189, 1017–1023 (1992).

Hendricks, M., Ha, H., Maffey, N. & Zhang, Y. Compartmentalized calcium dynamics in a C. elegans interneuron encode head movement. Nature 487, 99–103 (2012).

Li, Z., Liu, J., Zheng, M. & Xu, X. Z. Encoding of both analog- and digital-like behavioral outputs by one C. elegans interneuron. Cell 159, 751–765 (2014).

Sokolchik, I., Tanabe, T., Baldi, P. F. & Sze, J. Y. Polymodal sensory function of the Caenorhabditis elegans OCR-2 channel arises from distinct intrinsic determinants within the protein and is selectively conserved in mammalian TRPV proteins. J. Neurosci. 25, 1015–1023 (2005).

Hobert, O. in WormBook (Ed. The C. elegans Research Community) 1–106 (WormBook, 2013).

Blackwell, T. K., Sewell, A. K., Wu, Z. & Han, M. TOR signaling in Caenorhabditis elegans development, metabolism and aging. Genetics 213, 329–360 (2019).

Winston, W. M., Molodowitch, C. & Hunter, C. P. Systemic RNAi in C. elegans requires the putative transmembrane protein SID-1. Science 295, 2456–2459 (2002).

Rera, M., Clark, R. I. & Walker, D. W. Intestinal barrier dysfunction links metabolic and inflammatory markers of aging to death in Drosophila. Proc. Natl Acad. Sci. USA 109, 21528–21533 (2012).

Gelino, S. et al. Intestinal autophagy improves healthspan and longevity in C. elegans during dietary Restriction. PLoS Genet. 12, e1006135 (2016).

Dambroise, E. et al. Two phases of aging separated by the Smurf transition as a public path to death. Sci. Rep. 6, 23523 (2016).

Yoshida, M., Oami, E., Wang, M., Ishiura, S. & Suo, S. Nonredundant function of two highly homologous octopamine receptors in food-deprivation-mediated signaling in Caenorhabditis elegans. J. Neurosci. Res. 92, 671–678 (2014).

Burkewitz, K., Zhang, Y. & Mair, W. B. AMPK at the nexus of energetics and aging. Cell Metab. 20, 10–25 (2014).

Neves, S. R., Ram, P. T. & Iyengar, R. G protein pathways. Science 296, 1636–1639 (2002).

Dimov, I. & Maduro, M. F. The C. elegans intestine: organogenesis, digestion and physiology. Cell Tissue Res. 377, 383–396 (2019).

Lafontan, M. & Berlan, M. Fat cell adrenergic receptors and the control of white and brown fat cell function. J. Lipid Res. 34, 1057–1091 (1993).

Graham, R. M., Perez, D. M., Hwa, J. & Piascik, M. T. alpha 1-adrenergic receptor subtypes. Molecular structure, function and signaling. Circ. Res. 78, 737–749 (1996).

Finger, F. et al. Olfaction regulates organismal proteostasis and longevity via microRNA-dependent signalling. Nat. Metab. 1, 350–359 (2019).

Albrecht, J. et al. Olfactory detection thresholds and pleasantness of a food-related and a non-food odour in hunger and satiety. Rhinology 47, 160–165 (2009).

Burkewitz, K. et al. Neuronal CRTC-1 governs systemic mitochondrial metabolism and life span via a catecholamine signal. Cell 160, 842–855 (2015).

Greer, E. L. et al. The energy sensor AMP-activated protein kinase directly regulates the mammalian FOXO3 transcription factor. J. Biol. Chem. 282, 30107–30119 (2007).

Weir, H. J. et al. Dietary restriction and AMPK increase life span via mitochondrial network and peroxisome remodeling. Cell Metab. 26, 884–896 (2017).

Riera, C. E. et al. The sense of smell impacts metabolic health and obesity. Cell Metab. 26, 198–211 (2017).

Piggott, B. J., Liu, J., Feng, Z., Wescott, S. A. & Xu, X. Z. S. The neural circuits and synaptic mechanisms underlying motor initiation in C. elegans. Cell 147, 922–933 (2011).

Ching, T. T. & Hsu, A. L. Solid plate-based dietary restriction in Caenorhabditis elegans. J. Vis. Exp. https://doi.org/10.3791/2701 (2011).

Zhang, B. et al. Brain–gut communications via distinct neuroendocrine signals bidirectionally regulate longevity in C. elegans. Genes Dev. 32, 258–270 (2018).

Wang, X., Li, G., Liu, J., Liu, J. & Xu, X. Z. S. TMC-1 mediates alkaline sensation in C. elegans through nociceptive neurons. Neuron 91, 146–154 (2016).

Jun, H. et al. An immune-beige adipocyte communication via nicotinic acetylcholine receptor signaling. Nat. Med. 24, 814–822 (2018).

Qiao, X. et al. Protein arginine methyltransferase 1 interacts with pgc1α and modulates thermogenic fat activation. Endocrinology 160, 2773–2786 (2019).

Hwang, A. B. et al. Feedback regulation via AMPK and HIF-1 mediates ROS-dependent longevity in Caenorhabditis elegans. Proc. Natl Acad. Sci. USA 111, E4458–E4467 (2014).

Xiao, R. et al. A genetic program promotes C. elegans longevity at cold temperatures via a thermosensitive TRP channel. Cell 152, 806–817 (2013).

Zhang, B. et al. Environmental temperature differentially modulates C. elegans longevity through a thermosensitive TRP channel. Cell Rep. 11, 1414–1424 (2015).
Acknowledgements
We thank J. Gong, S. Zhang and H. Chen for assistance. Some strains were obtained from the Caenorhabditis Genetics Center. J.L. received funding support from the National Natural Science Foundation of China (81872945 and 81720108031). J.W. received funding support from the National Institute of Diabetes and Digestive and Kidney Diseases (R01DK107583). X.Z.S.X. received funding support from the National Institute of General Medical Sciences (R35GM126917).
Ethics declarations
Competing interests
The authors declare no competing interests.
Additional information
Peer review information Nature Aging thanks Andrew Dillin and the other, anonymous, reviewer(s) for their contribution to the peer review of this work.
Publisher's note Springer Nature remains neutral with regard to jurisdictional claims in published maps and institutional affiliations.
Supplementary information
Lifespan statistics related to Figs. 1–5.
Source data
Unprocessed western blots.
Unprocessed western blots.
Rights and permissions
Springer Nature or its licensor (e.g. a society or other partner) holds exclusive rights to this article under a publishing agreement with the author(s) or other rightsholder(s); author self-archiving of the accepted manuscript version of this article is solely governed by the terms of such publishing agreement and applicable law.
About this article
Cite this article
Zhang, B., Jun, H., Wu, J. et al. Olfactory perception of food abundance regulates dietary restriction-mediated longevity via a brain-to-gut signal. Nat Aging 1, 255–268 (2021). https://doi.org/10.1038/s43587-021-00039-1
Received:

Accepted:

Published:

Issue Date:

DOI: https://doi.org/10.1038/s43587-021-00039-1