Abstract
Hair follicles, mammalian mini-organs that grow hair, miniaturize during aging, leading to hair thinning and loss. Here we report that hair follicle stem cells (HFSCs) lose their regenerative capabilities during aging owing to the adoption of an atypical cell division program. Cell fate tracing and cell division axis analyses revealed that while HFSCs in young mice undergo typical symmetric and asymmetric cell divisions to regenerate hair follicles, upon aging or stress, they adopt an atypical 'stress-responsive' type of asymmetric cell division. This type of division is accompanied by the destabilization of hemidesmosomal protein COL17A1 and cell polarity protein aPKCλ and generates terminally differentiating epidermal cells instead of regenerating the hair follicle niche. With the repetition of these atypical divisions, HFSCs detach from the basal membrane causing their exhaustion, elimination and organ aging. The experimentally induced stabilization of COL17A1 rescued organ homeostasis through aPKCλ stabilization. These results demonstrate that distinct stem cell division programs may govern tissue and organ aging.
This is a preview of subscription content
Access options
Subscribe to Journal
Get full journal access for 1 year
$119.00
only $9.92 per issue
All prices are NET prices.
VAT will be added later in the checkout.
Tax calculation will be finalised during checkout.
Rent or Buy article
Get time limited or full article access on ReadCube.
from$8.99
All prices are NET prices.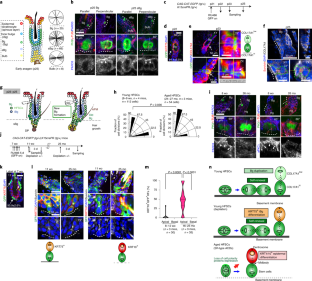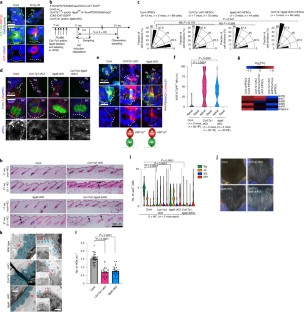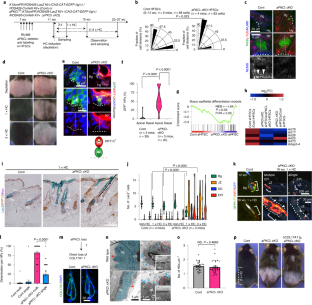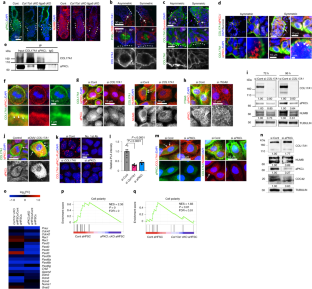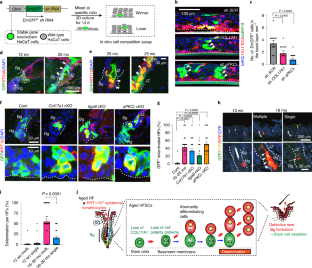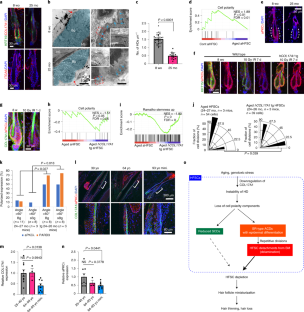 Data availability
The data that support the findings of this study are available from the corresponding author upon request. Microarray data were deposited in Gene Expression Omnibus (www.ncbi.nlm.gov/geo/) under series identifier GSE124119.
References
1.

Signer, R. A. & Morrison, S. J. Mechanisms that regulate stem cell aging and life span. Cell Stem Cell 12, 152–165 (2013).

2.

Matsumura, H. et al. Hair follicle aging is driven by transepidermal elimination of stem cells via COL17A1 proteolysis. Science 351, aad4395 (2016).

3.

Liu, N. et al. Stem cell competition orchestrates skin homeostasis and ageing. Nature 568, 344–350 (2019).

4.

Nishimura, E. K., Granter, S. R. & Fisher, D. E. Mechanisms of hair graying: incomplete melanocyte stem cell maintenance in the niche. Science 307, 720–724 (2005).

5.

Baar, M. P. et al. Targeted apoptosis of senescent cells restores tissue homeostasis in response to chemotoxicity and aging. Cell 169, 132–147 (2017).

6.

Baker, D. J. et al. Naturally occurring p16(Ink4a)-positive cells shorten healthy lifespan. Nature 530, 184–189 (2016).

7.

van Deursen, J. M. The role of senescent cells in ageing. Nature 509, 439–446 (2014).

8.

Poulson, N. D. & Lechler, T. Asymmetric cell divisions in the epidermis. Int. Rev. Cell Mol. Biol. 295, 199–232 (2012).

9.

Morrison, S. J. & Kimble, J. Asymmetric and symmetric stem-cell divisions in development and cancer. Nature 441, 1068–1074 (2006).

10.

Lechler, T. & Fuchs, E. Asymmetric cell divisions promote stratification and differentiation of mammalian skin. Nature 437, 275–280 (2005).

11.

Ray, S. & Lechler, T. Regulation of asymmetric cell division in the epidermis. Cell Div. 6, 12 (2011).

12.

Goodell, M. A. & Rando, T. A. Stem cells and healthy aging. Science 350, 1199–1204 (2015).

13.

Cheng, J. et al. Centrosome misorientation reduces stem cell division during ageing. Nature 456, 599–604 (2008).

14.

Bast, L. et al. Increasing neural stem cell division asymmetry and quiescence are predicted to contribute to the age-related decline in neurogenesis. Cell Rep. 25, 3231–3240 (2018).

15.

Florian, M. C. et al. Cdc42 activity regulates hematopoietic stem cell aging and rejuvenation. Cell Stem Cell 10, 520–530 (2012).

16.

Florian, M. C. et al. A canonical to non-canonical Wnt signalling switch in haematopoietic stem-cell ageing. Nature 503, 392–396 (2013).

17.

Goulas, S., Conder, R. & Knoblich, J. A. The par complex and integrins direct asymmetric cell division in adult intestinal stem cells. Cell Stem Cell 11, 529–540 (2012).

18.

Zovein, A. C. et al. Beta1 integrin establishes endothelial cell polarity and arteriolar lumen formation via a Par3-dependent mechanism. Dev. Cell 18, 39–51 (2010).

19.

Durgan, J., Kaji, N., Jin, D. & Hall, A. Par6B and atypical PKC regulate mitotic spindle orientation during epithelial morphogenesis. J. Biol. Chem. 286, 12461–12474 (2011).

20.

Hao, Y. et al. Par3 controls epithelial spindle orientation by aPKC-mediated phosphorylation of apical Pins. Curr. Biol. 20, 1809–1818 (2010).

21.

Niessen, M. T. et al. aPKCλ controls epidermal homeostasis and stem cell fate through regulation of division orientation. J. Cell Biol. 202, 887–900 (2013).

22.

Osada, S. et al. Atypical protein kinase c isoform, aPKCλ, is essential for maintaining hair follicle stem cell quiescence. J. Invest. Dermatol. 135, 2584–2592 (2015).

23.

Greco, V. et al. A two-step mechanism for stem cell activation during hair regeneration. Cell Stem Cell 4, 155–169 (2009).

24.

Rompolas, P., Mesa, K. R. & Greco, V. Spatial organization within a niche as a determinant of stem-cell fate. Nature 502, 513–518 (2013).

25.

Margadant, C., Charafeddine, R. A. & Sonnenberg, A. Unique and redundant functions of integrins in the epidermis. FASEB J. 24, 4133–4152 (2010).

26.

Fine, J. D. et al. The classification of inherited epidermolysis bullosa (EB): report of the third international consensus meeting on diagnosis and classification of EB. J. Am. Acad. Dermatol. 58, 931–950 (2008).

27.

Tanimura, S. et al. Hair follicle stem cells provide a functional niche for melanocyte stem cells. Cell Stem Cell 8, 177–187 (2011).

28.

Hsu, Y. C., Pasolli, H. A. & Fuchs, E. Dynamics between stem cells, niche, and progeny in the hair follicle. Cell 144, 92–105 (2011).

29.

Ito, M., Kizawa, K., Hamada, K. & Cotsarelis, G. Hair follicle stem cells in the lower bulge form the secondary germ, a biochemically distinct but functionally equivalent progenitor cell population, at the termination of catagen. Differentiation 72, 548–557 (2004).

30.

Lough, K. J. et al. Telophase correction refines division orientation in stratified epithelia. eLife https://doi.org/10.7554/eLife.49249 (2019).

31.

Lu, M. S. & Johnston, C. A. Molecular pathways regulating mitotic spindle orientation in animal cells. Development 140, 1843–1856 (2013).

32.

Morin, X. & Bellaiche, Y. Mitotic spindle orientation in asymmetric and symmetric cell divisions during animal development. Dev. Cell 21, 102–119 (2011).

33.

Smith, C. A. et al. aPKC-mediated phosphorylation regulates asymmetric membrane localization of the cell fate determinant NUMB. EMBO J. 26, 468–480 (2007).

34.

Snippert, H. J. et al. Intestinal crypt homeostasis results from neutral competition between symmetrically dividing Lgr5 stem cells. Cell 143, 134–144 (2010).

35.

Toyoshima, F. & Nishida, E. Integrin-mediated adhesion orients the spindle parallel to the substratum in an EB1- and myosin X-dependent manner. EMBO J. 26, 1487–1498 (2007).

36.

Suzuki, A. et al. aPKC acts upstream of PAR-1b in both the establishment and maintenance of mammalian epithelial polarity. Curr. Biol. 14, 1425–1435 (2004).

37.

Lay, K., Kume, T. & Fuchs, E. FOXC1 maintains the hair follicle stem cell niche and governs stem cell quiescence to preserve long-term tissue-regenerating potential. Proc. Natl Acad. Sci. USA 113, E1506–E1515 (2016).

38.

He, S. & Sharpless, N. E. Senescence in health and disease. Cell 169, 1000–1011 (2017).

39.

Inomata, K. et al. Genotoxic stress abrogates renewal of melanocyte stem cells by triggering their differentiation. Cell 137, 1088–1099 (2009).

40.

Wang, J. et al. A differentiation checkpoint limits hematopoietic stem cell self-renewal in response to DNA damage. Cell 148, 1001–1014 (2012).

41.

Morris, R. J. et al. Capturing and profiling adult hair follicle stem cells. Nat. Biotechnol. 22, 411–417 (2004).

42.

Soriano, P. Generalized lacZ expression with the ROSA26 Cre reporter strain. Nat. Genet. 21, 70–71 (1999).

43.

Kawamoto, S. et al. A novel reporter mouse strain that expresses enhanced green fluorescent protein upon Cre-mediated recombination. FEBS Lett. 470, 263–268 (2000).

44.

Olasz, E. B. et al. Human bullous pemphigoid antigen 2 transgenic skin elicits specific IgG in wild-type mice. J. Invest. Dermatol. 127, 2807–2817 (2007).

45.

Niculescu, C. et al. Conditional ablation of integrin α-6 in mouse epidermis leads to skin fragility and inflammation. Eur. J. Cell Biol. 90, 270–277 (2011).

46.

Hirose, T. et al. An essential role of the universal polarity protein, aPKCλ, on the maintenance of podocyte slit diaphragms. PLoS ONE 4, e4194 (2009).

47.

de Boer, J. et al. A mouse model for the basal transcription/DNA repair syndrome trichothiodystrophy. Mol. Cell 1, 981–990 (1998).
Acknowledgements
We thank Y. Nishimori, E. Suzuki, A. Tsuda, M. Natsuki, T. Kato, R. Yajima, F. Toki, H. Shimizu, W. Nishie, K. Yancey, F. Matsuzaki, H. Nishina, F. Ishino, T. Usami and M. Kanai for their helpful support and DASS Manuscript for editing. E. Georges-Labouesse provided the source of the ITGA6 flox mouse line. E.K.N. is supported by AMED under grant no. JP17gm5010002–JP20gm5010002 and a Japan Society for the Promotion of Science Grant-in-Aid for Scientific Research S (26221303). H.M. is supported by a Japan Society for the Promotion of Science Grant-in-Aid for Scientific Research on Innovative Areas 'Cell Competition' (26114001), a Grant-in-Aid for Scientific Research B (18H02637), a Young Scientific Research B (26860258, 24790376) and a GSK Japan Research Grant (2017-B9).
Ethics declarations
Competing interests
E.K.N. is an advisor to EADERM Co., Ltd. All other authors have no competing interests.
Additional information
Peer review information Nature Aging thanks Claire Higgins, Lenhard Rudolph and Scott Williams for their contribution to the peer review of this work.
Publisher's note Springer Nature remains neutral with regard to jurisdictional claims in published maps and institutional affiliations.
Supplementary information
Supplementary Table 1 and Fig. 1.
About this article
Cite this article
Matsumura, H., Liu, N., Nanba, D. et al. Distinct types of stem cell divisions determine organ regeneration and aging in hair follicles. Nat Aging 1, 190–204 (2021). https://doi.org/10.1038/s43587-021-00033-7
Received:

Accepted:

Published:

Issue Date:
Further reading
Hironobu Morinaga
Yasuaki Mohri
Emi K. Nishimura

Nature (2021)