Abstract
Colorectal cancer (CRC) patient-derived organoids predict responses to chemotherapy. Here we used them to investigate relapse after treatment. Patient-derived organoids expand from highly proliferative LGR5+ tumor cells; however, we discovered that lack of optimal growth conditions specifies a latent LGR5+ cell state. This cell population expressed the gene MEX3A, is chemoresistant and regenerated the organoid culture after treatment. In CRC mouse models, Mex3a+ cells contributed marginally to metastatic outgrowth; however, after chemotherapy, Mex3a+ cells produced large cell clones that regenerated the disease. Lineage-tracing analysis showed that persister Mex3a+ cells downregulate the WNT/stem cell gene program immediately after chemotherapy and adopt a transient state reminiscent to that of YAP+ fetal intestinal progenitors. In contrast, Mex3a-deficient cells differentiated toward a goblet cell-like phenotype and were unable to resist chemotherapy. Our findings reveal that adaptation of cancer stem cells to suboptimal niche environments protects them from chemotherapy and identify a candidate cell of origin of relapse after treatment in CRC.
Relevant articles
Open Access articles citing this article.
Ana Domingo-Muelas

,

Pere Duart-Abadia

…

Isabel Fariñas

Nature Communications Open Access 23 January 2023
Access options
Subscribe to Nature+
Get immediate online access to Nature and 55 other Nature journal
Subscribe to Journal
Get full journal access for 1 year
$119.00
only $9.92 per issue
All prices are NET prices.
VAT will be added later in the checkout.
Tax calculation will be finalised during checkout.
Buy article
Get time limited or full article access on ReadCube.
$32.00
All prices are NET prices.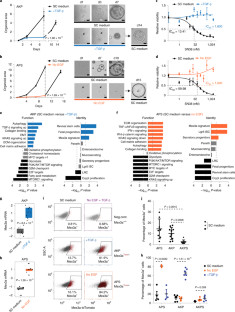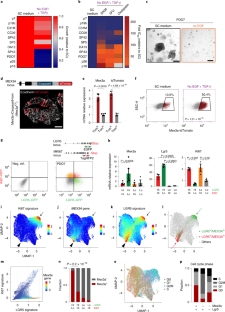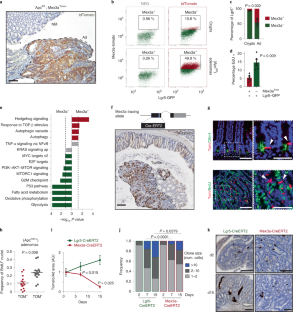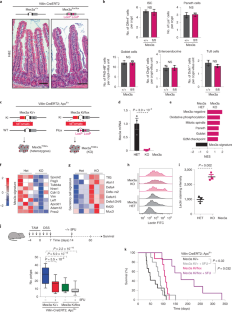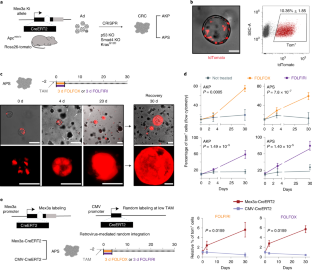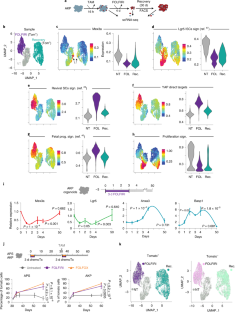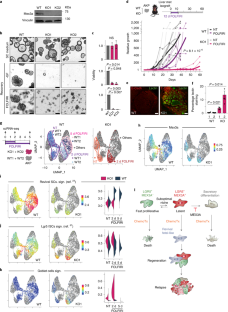 Data availability
RNA-seq data and microarray expression data that support the findings of this study have been deposited at GEO under accession numbers GSE163171, GSE187650, GSE163035 and GSE187512. scRNA-seq experiments were deposited in ArrayExpress under accession numbers E-MTAB-11145 and E-MTAB-11146. Previously published scRNA-seq data of CRC patient samples that were reanalyzed here are available at GEO under accession codes GSE132465, GSE132257 and GSE144735 and at ArrayExpress under code E-MTAB-8107. Previously published bulk RNA-seq and microarray expression data of CRC patient samples reanalyzed here are available at GEO under accession codes GSE14333 and GSE39582 and at TCGA Research Network (http://cancergenome.nih.gov/) under code TCGA-COAD. Previously published driver mutation data of CRC patient samples from the MSK-Impact cohort (v.crc_msk_2018) reanalyzed here are available at cBioPortal (https://www.cbioportal.org/). All other data supporting the findings of this study are available from the corresponding author on reasonable request. Source data are provided with this paper.
References
Van Cutsem, E., Cervantes, A., Nordlinger, B. & Arnold, D. The ESMO Guidelines Working Group. Metastatic colorectal cancer: ESMO clinical practice guidelines for diagnosis, treatment and follow-up. Ann. Oncol. 25, iii1–iii9 (2014).

Argilés, G. et al. Localised colon cancer: ESMO clinical practice guidelines for diagnosis, treatment and follow-up. Ann. Oncol. 31, 1291–1305 (2020).

Russo, M. et al. Adaptive mutability of colorectal cancers in response to targeted therapies. Science 366, 1473–1480 (2019).

Boumahdi, S. & de Sauvage, F. J. The great escape: tumour cell plasticity in resistance to targeted therapy. Nat. Rev. Drug Discov. 19, 39–56 (2020).

Shen, S., Vagner, S. & Robert, C. Persistent cancer cells: the deadly survivors. Cell 183, 860–874 (2020).

Rehman, S. K. et al. Colorectal cancer cells enter a diapause-like DTP state to survive chemotherapy. Cell 184, 226–242 (2021).

Dhimolea, E. et al. An embryonic diapause-like adaptation with suppressed myc activity enables tumor treatment persistence. Cancer Cell 39, 240–256 (2021).

Ooft, S. N. et al. Patient-derived organoids can predict response to chemotherapy in metastatic colorectal cancer patients. Sci. Transl. Med. 11, eaay2574 (2019).

Vlachogiannis, G. et al. Patient-derived organoids model treatment response of metastatic gastrointestinal cancers. Science 359, 920–926 (2018).

Ganesh, K. et al. A rectal cancer organoid platform to study individual responses to chemoradiation. Nat. Med. 25, 1607–1614 (2019).

Yao, Y. et al. Patient-derived organoids predict chemoradiation responses of locally advanced rectal cancer. Cell Stem Cell 26, 17–26 (2020).

Fujii, M. et al. A colorectal tumor organoid library demonstrates progressive loss of niche factor requirements during tumorigenesis. Cell Stem Cell 18, 827–838 (2016).

Sato, T. et al. Single Lgr5 stem cells build crypt-villus structures in vitro without a mesenchymal niche. Nature 459, 262–265 (2009).

Jung, P. et al. Isolation and in vitro expansion of human colonic stem cells. Nat. Med. 17, 1225–1227 (2011).

Sato, T. et al. Long-term expansion of epithelial organoids from human colon, adenoma, adenocarcinoma, and Barrett's epithelium. Gastroenterology 141, 1762–1772 (2011).

van de Wetering, M. et al. Prospective derivation of a living organoid biobank of colorectal cancer patients. Cell 161, 933–945 (2015).

Batlle, E. & Clevers, H. Cancer stem cells revisited. Nat. Med. 23, 1124–1134 (2017).

Matano, M. et al. Modeling colorectal cancer using CRISPR–Cas9-mediated engineering of human intestinal organoids. Nat. Med. 21, 256–262 (2015).

Fumagalli, A. et al. Genetic dissection of colorectal cancer progression by orthotopic transplantation of engineered cancer organoids. Proc. Natl Acad. Sci. USA 114, E2357–E2364 (2017).

O'Rourke, K. P. et al. Transplantation of engineered organoids enables rapid generation of metastatic mouse models of colorectal cancer. Nat. Biotechnol. 35, 577–582 (2017).

Tauriello, D. V. F. et al. TGF-β drives immune evasion in genetically reconstituted colon cancer metastasis. Nature 554, 538–543 (2018).

Muzny, D. M. et al. Comprehensive molecular characterization of human colon and rectal cancer. Nature 487, 330–337 (2012).

Ayyaz, A. et al. Single-cell transcriptomes of the regenerating intestine reveal a revival stem cell. Nature 569, 121–125 (2019).

Nusse, Y. M. et al. Parasitic helminths induce fetal-like reversion in the intestinal stem cell niche. Nature 559, 109–113 (2018).

Han, T. et al. Lineage reversion drives WNT Independence in intestinal cancer. Cancer Discov. 10, 1590–1609 (2020).

Lupo, B. et al. Colorectal cancer residual disease at maximal response to EGFR blockade displays a druggable Paneth cell-like phenotype. Sci. Transl. Med. 12, eaax8313 (2020).

Barriga, F. M. et al. Mex3a marks a slowly dividing subpopulation of Lgr5+ intestinal stem cells. Cell Stem Cell 20, 801–816 (2017).

Morral, C. et al. Zonation of ribosomal DNA transcription defines a stem cell hierarchy in colorectal cancer. Cell Stem Cell 26, 845–861 (2020).

McFall, T. et al. A systems mechanism for KRAS mutant allele-specific responses to targeted therapy. Sci. Signal. 12, eaaw8288 (2019).

Herpers, B. et al. Functional patient-derived organoid screenings identify MCLA-158 as a therapeutic EGFR × LGR5 bispecific antibody with efficacy in epithelial tumors. Nat. Cancer 3, 418–436 (2022).

Cortina, C. et al. A genome editing approach to study cancer stem cells in human tumors. EMBO Mol. Med. 9, 869–879 (2017).

Lee, H.-O. et al. Lineage-dependent gene expression programs influence the immune landscape of colorectal cancer. Nat. Genet. 52, 594–603 (2020).

Barker, N. et al. Identification of stem cells in small intestine and colon by marker gene Lgr5. Nature 449, 1003–1007 (2007).

Schepers, A. G. et al. Lineage tracing reveals Lgr5+ stem cell activity in mouse intestinal adenomas. Science 337, 730–735 (2012).

Kozar, S. et al. Continuous clonal labeling reveals small numbers of functional stem cells in intestinal crypts and adenomas. Cell Stem Cell 13, 626–633 (2013).

Pereira, B. et al. MEX3A regulates Lgr5+ stem cell maintenance in the developing intestinal epithelium. EMBO Rep. 21, e48938 (2020).

Shimokawa, M. et al. Visualization and targeting of LGR5+ human colon cancer stem cells. Nature 545, 187–192 (2017).

Qu, M. et al. Establishment of intestinal organoid cultures modeling injury-associated epithelial regeneration. Cell Res. 31, 259–271 (2021).

Yui, S. et al. YAP/TAZ-dependent reprogramming of colonic epithelium links ECM remodeling to tissue regeneration. Cell Stem Cell 22, 35–49 (2018).

Mustata, R. C. et al. Identification of Lgr5-independent spheroid-generating progenitors of the mouse fetal intestinal epithelium. Cell Rep. 5, 421–432 (2013).

Kreso, A. et al. Variable clonal repopulation dynamics influence chemotherapy response in colorectal cancer. Science 339, 543–548 (2013).

de Sousa e Melo, F. et al. A distinct role for Lgr5+ stem cells in primary and metastatic colon cancer. Nature 543, 676–680 (2017).

Puig, I. et al. TET2 controls chemoresistant slow-cycling cancer cell survival and tumor recurrence. J. Clin. Invest. 128, 3887–3905 (2018).

Touil, Y. et al. Colon cancer cells escape 5FU chemotherapy-induced cell death by entering stemness and quiescence associated with the c-Yes/YAP axis. Clin. Cancer Res. 20, 837–846 (2014).

Hu, Z. et al. Quantitative evidence for early metastatic seeding in colorectal cancer. Nat. Genet. 51, 1113–1122 (2019).

De Conti, G., Dias, M. H. & Bernards, R. Fighting drug resistance through the targeting of drug-tolerant persister cells. Cancers 13, 1118 (2021).

Marine, J.-C., Dawson, S.-J. & Dawson, M. A. Non-genetic mechanisms of therapeutic resistance in cancer. Nat. Rev. Cancer 20, 743–756 (2020).

Seber, G. A. F. & Wild, C. J. Nonlinear Regression (John Wiley & Sons, 1989).

Ritz, C., Baty, F., Streibig, J. C. & Gerhard, D. Dose–response analysis using R. PLoS ONE 10, e0146021 (2016).

El Marjou, F. et al. Tissue-specific and inducible Cre-mediated recombination in the gut epithelium. Genesis 39, 186–193 (2004).

Colnot, S. et al. Liver-targeted disruption of Apc in mice activates β-catenin signaling and leads to hepatocellular carcinomas. Proc. Natl Acad. Sci. USA 101, 17216–17221 (2004).

Lombardo, Y. et al. Bone morphogenetic protein 4 induces differentiation of colorectal cancer stem cells and increases their response to chemotherapy in mice. Gastroenterology 140, 297–309 (2011).

Calon, A. et al. Stromal gene expression defines poor-prognosis subtypes in colorectal cancer. Nat. Genet. 47, 320–329 (2015).

Qian, J. et al. A pan-cancer blueprint of the heterogeneous tumor microenvironment revealed by single-cell profiling. Cell Res. 30, 745–762 (2020).

Stuart, T. et al. Comprehensive integration of single-cell data. Cell 177, 1888–1902 (2019).

van Dijk, D. et al. Recovering gene interactions from single-cell data using data diffusion. Cell 174, 716–729 (2018).

Calon, A. et al. Dependency of colorectal cancer on a TGF-β-driven program in stromal cells for metastasis initiation. Cancer Cell 22, 571–584 (2012).

Cheung, T. H. & Rando, T. A. Molecular regulation of stem cell quiescence. Nat. Rev. Mol. Cell Biol. 14, 329–340 (2013).

Subramanian, A. et al. Gene set enrichment analysis: a knowledge-based approach for interpreting genome-wide expression profiles. Proc. Natl Acad. Sci. USA 102, 15545–15550 (2005).

Jorissen, R. N. et al. DNA copy-number alterations underlie gene expression differences between microsatellite stable and unstable colorectal cancers. Clin. Cancer Res. 14, 8061–8069 (2008).

Cerami, E. et al. The cBio cancer genomics portal: an open platform for exploring multidimensional cancer genomics data. Cancer Discov. 2, 401–404 (2012).

Yaeger, R. et al. Clinical sequencing defines the genomic landscape of metastatic colorectal cancer. Cancer Cell 33, 125–136 (2018).

Sanchez-Vega, F. et al. Oncogenic signaling pathways in the Cancer Genome Atlas. Cell 173, 321–337 (2018).

Liao, Y., Smyth, G. K. & Shi, W. The R package Rsubread is easier, faster, cheaper and better for alignment and quantification of RNA sequencing reads. Nucleic Acids Res. 47, e47 (2019).

Wu, D. et al. ROAST: rotation gene set tests for complex microarray experiments. Bioinformatics 26, 2176–2182 (2010).

Efron, B. & Tibshirani, R. On testing the significance of sets of genes. Ann. Appl. Stat. 1, 107–129 (2007).

Muñoz, J. et al. The Lgr5 intestinal stem cell signature: robust expression of proposed quiescent '+4' cell markers. EMBO J. 31, 3079–3091 (2012).
Acknowledgements
We thank the Clevers laboratory (Hubrecht laboratorium, Utrecht) and the Hub for organoids (Utrecht) for sharing PDOs. We are grateful to the patients who donated their samples for the study. We thank all members of the laboratory for support and discussions. We are grateful for the outstanding assistance by the IRB Barcelona core facilities for histopathology, functional genomics, mouse mutants and advanced digital microscopy as well as the flow cytometry, animal facilities of the UB/PCB and the CRG genomic unit. We thank A. Berenguer for expert support on statistics. C.M. and A.A.-V. have held La Caixa predoctoral fellowships. A.C.-S. and L.J.-G. acknowledge an FPU fellowship from the Spanish Ministry of education. H.H. is a Miguel Servet (CP14/00229) researcher funded by the Spanish Institute of Health Carlos III and the Agencia Estatal de Investigación and FEDER (SAF2017-89109-P). L.N. holds a Beatriu de Pinos fellowship from Generalitat de Catalunya. This work has been supported by ERC advanced grant 884623 (residual CRC), IMI grant PERSIST-SEQ, Spanish Ministry of Science PID2020-119917RB-I00 and 2017-SGR-698 (Generalitat de Catalunya). IRB Barcelona is the recipient of a Severo Ochoa Award of Excellence from MINECO. The single-cell profiling of CRC samples was supported by the Belgian Federation against Cancer grant nos. 2018-127 and 2016-133 and by a grant from Fondation Roi-Baudouin. S.T. is supported by a Senior Clinical Investigator award of the Research Foundation, Flanders.
Ethics declarations
Competing interests
The authors declare no competing interests.
Peer review
Peer review information
Nature Cancer thanks Silvia Fre and the other, anonymous, reviewer(s) for their contribution to the peer review of this work.
Additional information
Publisher's note Springer Nature remains neutral with regard to jurisdictional claims in published maps and institutional affiliations.
Supplementary information
About this article
Cite this article
Álvarez-Varela, A., Novellasdemunt, L., Barriga, F.M. et al. Mex3a marks drug-tolerant persister colorectal cancer cells that mediate relapse after chemotherapy. Nat Cancer 3, 1052–1070 (2022). https://doi.org/10.1038/s43018-022-00402-0
Received:

Accepted:

Published:

Issue Date:

DOI: https://doi.org/10.1038/s43018-022-00402-0