Abstract
Evasion of antitumor immunity and resistance to therapies in solid tumors are aided by an immunosuppressive tumor microenvironment (TME). We found that TME factors, such as regulatory T cells and adenosine, downregulated type I interferon receptor IFNAR1 on CD8+ cytotoxic T lymphocytes (CTLs). These events relied upon poly-ADP ribose polymerase-11 (PARP11), which was induced in intratumoral CTLs and acted as a key regulator of the immunosuppressive TME. Ablation of PARP11 prevented loss of IFNAR1, increased CTL tumoricidal activity and inhibited tumor growth in an IFNAR1-dependent manner. Accordingly, genetic or pharmacologic inactivation of PARP11 augmented the therapeutic benefits of chimeric antigen receptor T cells. Chimeric antigen receptor CTLs engineered to inactivate PARP11 demonstrated a superior efficacy against solid tumors. These findings highlight the role of PARP11 in the immunosuppressive TME and provide a proof of principle for targeting this pathway to optimize immune therapies.
Relevant articles
Open Access articles citing this article.
Xiaomeng Hu

,

Karl Manner

…

Sonja Schrepfer

Nature Communications Open Access 10 April 2023

Piotr Celichowski

,

Marcello Turi

…

Matouš Hrdinka

Journal of Translational Medicine Open Access 15 March 2023
Access options
Access Nature and 54 other Nature Portfolio journals
Get Nature+, our best-value online-access subscription
$29.99 / 30 days
cancel any time
Subscribe to this journal
Receive 12 digital issues and online access to articles
$119.00 per year
only $9.92 per issue
Rent or buy this article
Prices vary by article type
from$1.95
to$39.95
Prices may be subject to local taxes which are calculated during checkout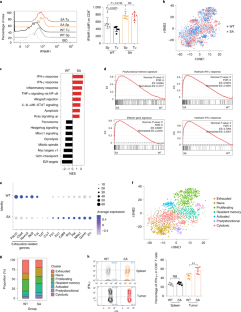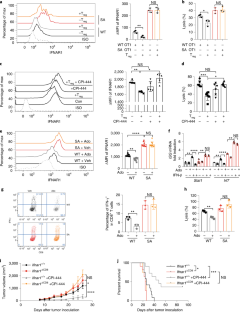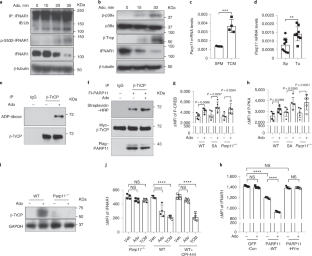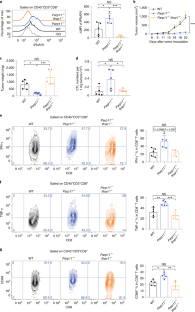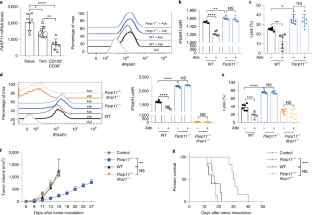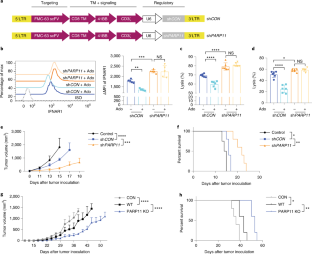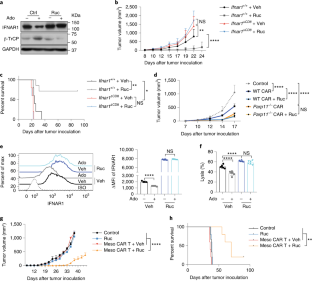 Data availability
Mouse scRNA-seq data are all available on the Gene Expression Omnibus (accession no. GSE171055). Source data have been provided as Source Data files. All other data supporting the findings of this study are available from the corresponding author on reasonable request. Source data are provided with this paper.
References
Jhunjhunwala, S., Hammer, C. & Delamarre, L. Antigen presentation in cancer: insights into tumour immunogenicity and immune evasion. Nat. Rev. Cancer. 21, 298–312 (2021).

O'Donnell, J. S., Teng, M. W. L. & Smyth, M. J. Cancer immunoediting and resistance to T cell-based immunotherapy. Nat. Rev. Clin. Oncol. 16, 151–167 (2019).

Swann, J. B. & Smyth, M. J. Immune surveillance of tumors. J. Clin. Invest. 117, 1137–1146 (2007).

Hanahan, D. & Coussens, L. M. Accessories to the crime: functions of cells recruited to the tumor microenvironment. Cancer Cell 21, 309–322 (2012).

Joyce, J. A. & Fearon, D. T. T cell exclusion, immune privilege, and the tumor microenvironment. Science 348, 74–80 (2015).

Liu, C., Workman, C. J. & Vignali, D. A. Targeting regulatory T cells in tumors. FEBS J. 283, 2731–2748 (2016).

Veglia, F. & Gabrilovich, D. I. Dendritic cells in cancer: the role revisited. Curr. Opin. Immunol. 45, 43–51 (2017).

Vijayan, D., Young, A., Teng, M. W. L. & Smyth, M. J. Targeting immunosuppressive adenosine in cancer. Nat. Rev. Cancer 17, 709–724 (2017).

Allard, B., Allard, D., Buisseret, L. & Stagg, J. The adenosine pathway in immuno-oncology. Nat. Rev. Clin. Oncol. 17, 611–629 (2020).

Smyth, M. J., Ngiow, S. F., Ribas, A. & Teng, M. W. Combination cancer immunotherapies tailored to the tumour microenvironment. Nat. Rev. Clin. Oncol. 13, 143–158 (2016).

Sharma, P. & Allison, J. P. Immune checkpoint targeting in cancer therapy: toward combination strategies with curative potential. Cell 161, 205–214 (2015).

Fuchs, S. Y. Hope and fear for interferon: the receptor-centric outlook on the future of interferon therapy. J. Interferon Cytokine Res. 33, 211–225 (2013).

Parker, B. S., Rautela, J. & Hertzog, P. J. Antitumour actions of interferons: implications for cancer therapy. Nat. Rev. Cancer 16, 131–144 (2016).

Zitvogel, L., Galluzzi, L., Kepp, O., Smyth, M. J. & Kroemer, G. Type I interferons in anticancer immunity. Nat. Rev. Immunol. 15, 405–414 (2015).

Benci, J. L. et al. Tumor interferon signaling regulates a multigenic resistance program to immune checkpoint blockade. Cell 167, 1540–1554 (2016).

Aichele, P. et al. CD8 T cells specific for lymphocytic choriomeningitis virus require type I IFN receptor for clonal expansion. J. Immunol. 176, 4525–4529 (2006).

Curtsinger, J. M., Valenzuela, J. O., Agarwal, P., Lins, D. & Mescher, M. F. Type I IFNs provide a third signal to CD8 T cells to stimulate clonal expansion and differentiation. J. Immunol. 174, 4465–4469 (2005).

Hervas-Stubbs, S. et al. Effects of IFN-α as a signal-3 cytokine on human naive and antigen-experienced CD8(+) T cells. Eur. J. Immunol. 40, 3389–3402 (2010).

Katlinski, K. V. et al. Inactivation of interferon receptor promotes the establishment of immune privileged tumor microenvironment. Cancer Cell 31, 194–207 (2017).

Bhattacharya, S. et al. Anti-tumorigenic effects of Type 1 interferon are subdued by integrated stress responses. Oncogene 32, 4214–4221 (2013).

Bhattacharya, S. et al. Triggering ubiquitination of IFNAR1 protects tissues from inflammatory injury. EMBO Mol. Med. 6, 384–397 (2014).

Ortiz, A. et al. An Interferon-driven oxysterol-based defense against tumor-derived extracellular vesicles. Cancer Cell 35, 33–45 e36 (2019).

Huangfu, W. C. et al. Inflammatory signaling compromises cell responses to interferon-α. Oncogene 31, 161–172 (2012).

Spiegelman, V. S. et al. Wnt/β-catenin signaling induces the expression and activity of βTrCP ubiquitin ligase receptor. Mol. Cell 5, 877–882 (2000).

Guo, T. et al. ADP-ribosyltransferase PARP11 modulates the interferon antiviral response by mono-ADP-ribosylating the ubiquitin E3 ligase β-TrCP. Nat. Microbiol. 4, 1872–1884 (2019).

Bhattacharya, S. et al. Role of p38 protein kinase in the ligand-independent ubiquitination and down-regulation of the IFNAR1 chain of type I interferon receptor. J. Biol. Chem. 286, 22069–22076 (2011).

Gurusamy, D. et al. Multi-phenotype CRISPR-Cas9 screen identifies p38 kinase as a target for adoptive immunotherapies. Cancer Cell 37, 818–833 (2020).

Alicea-Torres, K. et al. Immune suppressive activity of myeloid-derived suppressor cells in cancer requires inactivation of the type I interferon pathway. Nat. Commun. 12, 1717 (2021).

Josefowicz, S. Z., Lu, L. F. & Rudensky, A. Y. Regulatory T cells: mechanisms of differentiation and function. Annu. Rev. Immunol. 30, 531–564 (2012).

Kumar, K. G. et al. Site-specific ubiquitination exposes a linear motif to promote interferon-α receptor endocytosis. J. Cell Biol. 179, 935–950 (2007).

Kumar, K. G., Krolewski, J. J. & Fuchs, S. Y. Phosphorylation and specific ubiquitin acceptor sites are required for ubiquitination and degradation of the IFNAR1 subunit of type I interferon receptor. J. Biol. Chem. 279, 46614–46620 (2004).

Kumar, K. G. et al. SCF(HOS) ubiquitin ligase mediates the ligand-induced down-regulation of the interferon-α receptor. EMBO J. 22, 5480–5490 (2003).

Li, Y., Gazdoiu, S., Pan, Z. Q. & Fuchs, S. Y. Stability of homologue of Slimb F-box protein is regulated by availability of its substrate. J. Biol. Chem. 279, 11074–11080 (2004).

Meyer-Ficca, M. L. et al. Spermatid head elongation with normal nuclear shaping requires ADP-ribosyltransferase PARP11 (ARTD11) in mice. Biol. Reprod. 92, 80 (2015).

Khan, O. et al. TOX transcriptionally and epigenetically programs CD8(+) T cell exhaustion. Nature 571, 211–218 (2019).

Yang, R. et al. Distinct epigenetic features of tumor-reactive CD8+ T cells in colorectal cancer patients revealed by genome-wide DNA methylation analysis. Genome Biol. 21, 2 (2019).

Larson, R. C. & Maus, M. V. Recent advances and discoveries in the mechanisms and functions of CAR T cells. Nat. Rev. Cancer 21, 145–161 (2021).

Kirby, I. T. et al. A potent and selective PARP11 inhibitor suggests coupling between cellular localization and catalytic activity. Cell Chem. Biol. 25, 1547–1553 (2018).

Slade, D. PARP and PARG inhibitors in cancer treatment. Genes Dev. 34, 360–394 (2020).

Maj, T. et al. Oxidative stress controls regulatory T cell apoptosis and suppressor activity and PD-L1-blockade resistance in tumor. Nat. Immunol. 18, 1332–1341 (2017).

Kohlmeier, J. E., Cookenham, T., Roberts, A. D., Miller, S. C. & Woodland, D. L. Type I interferons regulate cytolytic activity of memory CD8(+) T cells in the lung airways during respiratory virus challenge. Immunity 33, 96–105 (2010).

Piehler, J., Thomas, C., Garcia, K. C. & Schreiber, G. Structural and dynamic determinants of type I interferon receptor assembly and their functional interpretation. Immunol. Rev. 250, 317–334 (2012).

Anastas, J. N. & Moon, R. T. WNT signalling pathways as therapeutic targets in cancer. Nat. Rev. Cancer 13, 11–26 (2013).

Liu, J. et al. Virus-induced unfolded protein response attenuates antiviral defenses via phosphorylation-dependent degradation of the type I interferon receptor. Cell Host Microbe 5, 72–83 (2009).

Minn, A. J. & Wherry, E. J. Combination cancer therapies with immune checkpoint blockade: convergence on interferon signaling. Cell 165, 272–275 (2016).

Minn, A. J. Interferons and the immunogenic effects of cancer therapy. Trends Immunol. 36, 725–737 (2015).

Evgin, L. et al. Oncolytic virus-derived type I interferon restricts CAR T cell therapy. Nat. Commun. 11, 3187 (2020).

Peyraud, F. & Italiano, A. Combined PARP inhibition and immune checkpoint therapy in solid tumors. Cancers 12, 1502 (2020).

Cho, C. et al. Cancer-associated fibroblasts downregulate type I interferon receptor to stimulate intratumoral stromagenesis. Oncogene 39, 6129–6137 (2020).

Bhattacharya, S. et al. Inducible priming phosphorylation promotes ligand-independent degradation of the IFNAR1 chain of type I interferon receptor. J. Biol. Chem. 285, 2318–2325 (2010).

Goldman, L. A. et al. Characterization of antihuman IFNAR-1 monoclonal antibodies: epitope localization and functional analysis. J. Interferon Cytokine Res. 19, 15–26 (1999).
Acknowledgements
This work was supported by the by the National Institutes of Health (NIH)/National Cancer Institute R01 grants CA247803 (to S.Y.F. and D.P.B.), R01 CA240814 (to S.Y.F. and A.B.) and P01 CA165997 grant (to J.A.D., C.K. and S.Y.F.), NIH/NICHD grant R15 HD100970 (to R.G.M), NIH/NIA grant R56 AG069745 (to M.M.F.), K08 CA252619 (to M.J.A.) and National Natural Science Foundation of China (31970846 for Hui Z.). We thank staff at the Human Immunology Core at the University of Pennsylvania for providing purified human leukocyte subsets for our research. We are grateful to S. Ostrand-Rosenberg (University of Maryland) and E. Moon (University of Pennsylvania) for providing reagents. We greatly appreciate technical advice from A. Phan, L. Shallberg and A. Rotolo (University of Pennsylvania). We also thank D. Gabrilovich (Astra-Zeneca), A. Gamero (Temple University) and the members of the Fuchs, Minn and Koumenis Ryeom laboratories for critical suggestions.
Ethics declarations
Competing interests
The authors declare no competing interests.
Peer review
Peer review information
Nature Cancer thanks the anonymous reviewers for their contribution to the peer review of this work.
Additional information
Publisher's note Springer Nature remains neutral with regard to jurisdictional claims in published maps and institutional affiliations.
Supplementary information
About this article
Cite this article
Zhang, H., Yu, P., Tomar, V.S. et al. Targeting PARP11 to avert immunosuppression and improve CAR T therapy in solid tumors. Nat Cancer 3, 808–820 (2022). https://doi.org/10.1038/s43018-022-00383-0
Received:

Accepted:

Published:

Issue Date:

DOI: https://doi.org/10.1038/s43018-022-00383-0