Abstract
Gastrointestinal cancers (GICs) and neuroendocrine tumors (NETs) are often refractory to therapy after metastasis. Adoptive cell therapy using chimeric antigen receptor (CAR) T cells, though remarkably efficacious for treating leukemia, is yet to be developed for solid tumors such as GICs and NETs. Here we isolated a llama-derived nanobody, VHH1, and found that it bound cell surface adhesion protein CDH17 upregulated in GICs and NETs. VHH1-CAR T cells (CDH17CARTs) killed both human and mouse tumor cells in a CDH17-dependent manner. CDH17CARTs eradicated CDH17-expressing NETs and gastric, pancreatic and colorectal cancers in either tumor xenograft or autochthonous mouse models. Notably, CDH17CARTs do not attack normal intestinal epithelial cells, which also express CDH17, to cause toxicity, likely because CDH17 is localized only at the tight junction between normal intestinal epithelial cells. Thus, CDH17 represents a class of previously unappreciated tumor-associated antigens that is 'masked' in healthy tissues from attack by CAR T cells for developing safer cancer immunotherapy.
This is a preview of subscription content
Access options
Subscribe to Nature+
Get immediate online access to the entire Nature family of 50+ journals
Subscribe to Journal
Get full journal access for 1 year
$119.00
only $9.92 per issue
All prices are NET prices.
VAT will be added later in the checkout.
Tax calculation will be finalised during checkout.
Buy article
Get time limited or full article access on ReadCube.
$32.00
All prices are NET prices.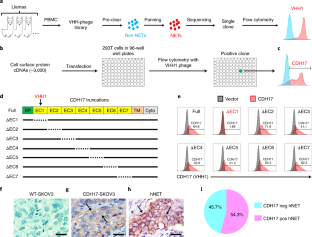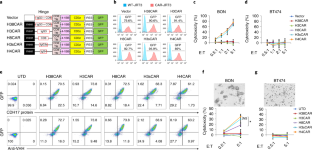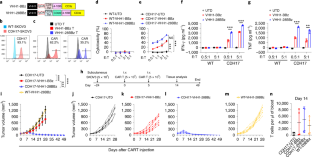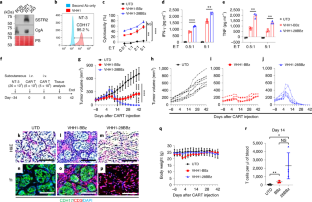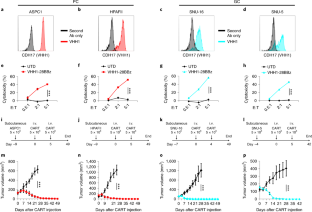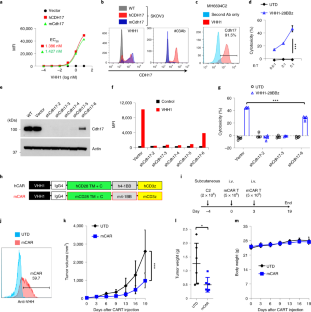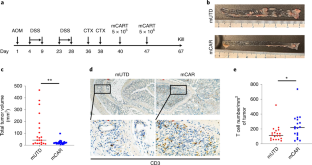 Data availability
Source data have been provided as Source Data files. All other data supporting the findings of this study are available from the corresponding author on reasonable request. Source data are provided with this paper.
References
Arnold, M. et al. Global burden of 5 major types of gastrointestinal cancer. Gastroenterology 159, 335–349 (2020).

Hazama, S., Tamada, K., Yamaguchi, Y., Kawakami, Y. & Nagano, H. Current status of immunotherapy against gastrointestinal cancers and its biomarkers: perspective for precision immunotherapy. Ann. Gastroenterol. Surg. 2, 289–303 (2018).

Dasari, A. et al. Trends in the incidence, prevalence, and survival outcomes in patients with neuroendocrine tumors in the United States. JAMA Oncol. 3, 1335–1342 (2017).

Oberg, K. et al. Guidelines for the management of gastroenteropancreatic neuroendocrine tumours (including bronchopulmonary and thymic neoplasms). Part I-general overview. Acta Oncol. 43, 617–625 (2004).

Kulke, M. H. et al. Neuroendocrine tumors. J. Natl Compr. Canc. Netw. 10, 724–764 (2012).

June, C. H. & Sadelain, M. Chimeric antigen receptor therapy. N. Engl. J. Med. 379, 64–73 (2018).

Couzin-Frankel, J. Breakthrough of the year 2013. Cancer immunotherapy. Science 342, 1432–1433 (2013).

Grupp, S. A. et al. Chimeric antigen receptor-modified T cells for acute lymphoid leukemia. N. Engl. J. Med. 368, 1509–1518 (2013).

Porter, D. L., Levine, B. L., Kalos, M., Bagg, A. & June, C. H. Chimeric antigen receptor-modified T cells in chronic lymphoid leukemia. N. Engl. J. Med. 365, 725–733 (2011).

Han, Z. W. et al. The old CEACAMs find their new role in tumor immunotherapy. Invest. New Drugs 38, 1888–1898 (2020).

de Herder, W. W., Hofland, L. J., van der Lely, A. J. & Lamberts, S. W. Somatostatin receptors in gastroentero-pancreatic neuroendocrine tumours. Endocr. Relat. Cancer 10, 451–458 (2003).

Strosberg, J. R. & Kvols, L. K. A review of the current clinical trials for gastroenteropancreatic neuroendocrine tumours. Expert Opin. Investig. Drugs 16, 219–224 (2007).

Wang, K., Wei, G. & Liu, D. CD19: a biomarker for B cell development, lymphoma diagnosis and therapy. Exp. Hematol. Oncol. 1, 36 (2012).

Doan, A. & Pulsipher, M. A. Hypogammaglobulinemia due to CAR T-cell therapy. Pediatr. Blood Cancer https://doi.org/10.1002/pbc.26914 (2018).

Morgan, R. A. et al. Case report of a serious adverse event following the administration of T cells transduced with a chimeric antigen receptor recognizing ERBB2. Mol. Ther. 18, 843–851 (2010).

He, X. et al. Bispecific and split CAR T cells targeting CD13 and TIM3 eradicate acute myeloid leukemia. Blood 135, 713–723 (2020).

Berndorff, D. et al. Liver-intestine cadherin: molecular cloning and characterization of a novel Ca(2+)-dependent cell adhesion molecule expressed in liver and intestine. J. Cell Biol. 125, 1353–1369 (1994).

Gessner, R. & Tauber, R. Intestinal cell adhesion molecules. Liver-intestine cadherin. Ann. NY Acad. Sci. 915, 136–143 (2000).

Wendeler, M. W., Drenckhahn, D., Gessner, R. & Baumgartner, W. Intestinal LI-cadherin acts as a Ca2+-dependent adhesion switch. J. Mol. Biol. 370, 220–230 (2007).

Su, M. C., Yuan, R. H., Lin, C. Y. & Jeng, Y. M. Cadherin-17 is a useful diagnostic marker for adenocarcinomas of the digestive system. Mod. Pathol. 21, 1379–1386 (2008).

Liu, L. X. et al. Targeting cadherin-17 inactivates Wnt signaling and inhibits tumor growth in liver carcinoma. Hepatology 50, 1453–1463 (2009).

Snow, A. N. et al. Expression of cadherin 17 in well-differentiated neuroendocrine tumours. Histopathology 66, 1010–1021 (2015).

Luley, K. B. et al. A comprehensive molecular characterization of the pancreatic neuroendocrine tumor cell lines BON-1 and QGP-1. Cancers https://doi.org/10.3390/cancers12030691 (2020).

Wendeler, M. W., Jung, R., Himmelbauer, H. & Gessner, R. Unique gene structure and paralogy define the 7D-cadherin family. Cell. Mol. Life Sci. 63, 1564–1573 (2006).

Johnson, A. et al. Cadherin 17 is frequently expressed by 'sclerosing variant' pancreatic neuroendocrine tumour. Histopathology 66, 225–233 (2015).

Altree-Tacha, D., Tyrrell, J. & Haas, T. CDH17 is a more sensitive marker for gastric adenocarcinoma Than CK20 and CDX2. Arch. Pathol. Lab. Med. 141, 144–150 (2017).

Panarelli, N. C., Yantiss, R. K., Yeh, M. M., Liu, Y. & Chen, Y. T. Tissue-specific cadherin CDH17 is a useful marker of gastrointestinal adenocarcinomas with higher sensitivity than CDX2. Am. J. Clin. Pathol. 138, 211–222 (2012).

Ordonez, N. G. Cadherin 17 is a novel diagnostic marker for adenocarcinomas of the digestive system. Adv. Anat. Pathol. 21, 131–137 (2014).

Matsusaka, K. et al. Coupling CDH17 and CLDN18 markers for comprehensive membrane-targeted detection of human gastric cancer. Oncotarget 7, 64168–64181 (2016).

Lee, N. P., Poon, R. T., Shek, F. H., Ng, I. O. & Luk, J. M. Role of cadherin-17 in oncogenesis and potential therapeutic implications in hepatocellular carcinoma. Biochim. Biophys. Acta 1806, 138–145 (2010).

Fogh J. & Trempe, G. in Human Tumor Cells in Vitro (ed. Fogh J.) (Springer, 1975).

Liu, D. et al. The role of immunological synapse in predicting the efficacy of chimeric antigen receptor (CAR) immunotherapy. Cell Commun. Signal. 18, 134 (2020).

Schneider, U., Schwenk, H. U. & Bornkamm, G. Characterization of EBV-genome negative "null" and "T" cell lines derived from children with acute lymphoblastic leukemia and leukemic transformed non-Hodgkin lymphoma. Int. J. Cancer 19, 621–626 (1977).

Lanotte, M. et al. NB4, a maturation inducible cell line with t(15;17) marker isolated from a human acute promyelocytic leukemia (M3). Blood 77, 1080–1086 (1991).

Benten, D. et al. Establishment of the first well-differentiated human pancreatic neuroendocrine tumor model. Mol. Cancer Res. 16, 496–507 (2018).

Chi, X. et al. Significantly increased anti-tumor activity of carcinoembryonic antigen-specific chimeric antigen receptor T cells in combination with recombinant human IL-12. Cancer Med. 8, 4753–4765 (2019).

Yazdanifar, M. et al. Overcoming immunological resistance enhances the efficacy of a novel anti-tMUC1-CAR T cell treatment against pancreatic ductal adenocarcinoma. Cells https://doi.org/10.3390/cells8091070 (2019).

Lee, S. J. et al. Suppressive effects of an ethanol extract of Gleditsia sinensis thorns on human SNU-5 gastric cancer cells. Oncol. Rep. 29, 1609–1616 (2013).

Shu, X. et al. Distinct biological characterization of the CD44 and CD90 phenotypes of cancer stem cells in gastric cancer cell lines. Mol. Cell. Biochem. 459, 35–47 (2019).

Angres, B., Kim, L., Jung, R., Gessner, R. & Tauber, R. LI-cadherin gene expression during mouse intestinal development. Dev. Dyn. 221, 182–193 (2001).

Li, J. et al. Tumor cell-intrinsic factors underlie heterogeneity of immune cell infiltration and response to immunotherapy. Immunity 49, 178–193 (2018).

Parang, B., Barrett, C. W. & Williams, C. S. AOM/DSS model of colitis-associated cancer. Methods Mol. Biol. 1422, 297–307 (2016).

De Robertis, M. et al. The AOM/DSS murine model for the study of colon carcinogenesis: from pathways to diagnosis and therapy studies. J. Carcinog. 10, 9 (2011).

Guest, R. D. et al. The role of extracellular spacer regions in the optimal design of chimeric immune receptors: evaluation of four different scFvs and antigens. J. Immunother. 28, 203–211 (2005).

Chakraborty, A. K. & Weiss, A. Insights into the initiation of TCR signaling. Nat. Immunol. 15, 798–807 (2014).

Wang, R., Natarajan, K. & Margulies, D. H. Structural basis of the CD8 αβ/MHC class I interaction: focused recognition orients CD8 β to a T cell proximal position. J. Immunol. 183, 2554–2564 (2009).

Srivastava, S. & Riddell, S. R. Engineering CAR-T cells: design concepts. Trends Immunol. 36, 494–502 (2015).

Ereno-Orbea, J. et al. Structural details of monoclonal antibody m971 recognition of the membrane-proximal domain of CD22. J. Biol. Chem. 297, 100966 (2021).

Rafiq, S., Hackett, C. S. & Brentjens, R. J. Engineering strategies to overcome the current roadblocks in CAR T cell therapy. Nat. Rev. Clin. Oncol. 17, 147–167 (2020).

van der Stegen, S. J., Hamieh, M. & Sadelain, M. The pharmacology of second-generation chimeric antigen receptors. Nat. Rev. Drug Discov. 14, 499–509 (2015).

Zhao, Z. et al. Structural design of engineered costimulation determines tumor rejection kinetics and persistence of CAR T cells. Cancer Cell 28, 415–428 (2015).

Kawalekar, O. U. et al. Distinct signaling of coreceptors regulates specific metabolism pathways and impacts memory development in CAR T cells. Immunity 44, 712 (2016).

Boroughs, A. C. et al. A distinct transcriptional program in Human CAR T cells bearing the 4-1BB signaling domain revealed by scRNA-seq. Mol. Ther. https://doi.org/10.1016/j.ymthe.2020.07.023 (2020).

Viola, A. & Lanzavecchia, A. T cell activation determined by T cell receptor number and tunable thresholds. Science 273, 104–106 (1996).

Manickasingham, S. P., Anderton, S. M., Burkhart, C. & Wraith, D. C. Qualitative and quantitative effects of CD28/B7-mediated costimulation on naive T cells in vitro. J. Immunol. 161, 3827–3835 (1998).

Habib-Agahi, M., Phan, T. T. & Searle, P. F. Co-stimulation with 4-1BB ligand allows extended T-cell proliferation, synergizes with CD80/CD86 and can reactivate anergic T cells. Int. Immunol. 19, 1383–1394 (2007).

Wang, C. et al. Loss of the signaling adaptor TRAF1 causes CD8+ T cell dysregulation during human and murine chronic infection. J. Exp. Med. 209, 77–91 (2012).

Magee, M. S. et al. GUCY2C-directed CAR-T cells oppose colorectal cancer metastases without autoimmunity. Oncoimmunology 5, e1227897 (2016).

Magee, M. S. et al. Human GUCY2C-targeted chimeric antigen receptor (CAR)-expressing T cells eliminate colorectal cancer metastases. Cancer Immunol. Res. 6, 509–516 (2018).

Rodgers, D. T. et al. Switch-mediated activation and retargeting of CAR-T cells for B-cell malignancies. Proc. Natl Acad. Sci. USA 113, E459–E468 (2016).

Guedan, S. et al. Enhancing CAR T cell persistence through ICOS and 4-1BB costimulation. JCI Insight https://doi.org/10.1172/jci.insight.96976 (2018).

Pardon, E. et al. A general protocol for the generation of nanobodies for structural biology. Nat. Protoc. 9, 674–693 (2014).

Barbas, C. F. Phage Display: A Laboratory Manual (Cold Spring Harbor Laboratory Press, 2001).

Feng, Z. J., Gurung, B., Jin, G. H., Yang, X. L. & Hua, X. X. SUMO modification of menin. Am. J. Cancer Res. 3, 96–106 (2013).
Acknowledgements
We thank J. Schrader at the University Medical Center Hamburg, C. Townsend at the University of Texas Medical Branch, G. Koretzky and B. Stanger at the University of Pennsylvania Perelman School of Medicine for kindly providing the NT-3, BON, NB4 and MH6694C2 cell lines, respectively. We acknowledge the following support: Care for Carcinoid Foundation Research Grant and Neuroendocrine Tumor Research Foundation Accelerator Grant.
Ethics declarations
Competing interests
X. Hua and Z.F. are inventors of the following patent that develops the VHH1-CAR T cells targeting CDH17: Compositions and Methods for Retrieving Tumor-related Antibodies and Antigens, International application no. PCT/US2019/029333. Part of the patent was licensed to Chimeric Therapeutics. X. Hua is a consultant to Chimeric Therapeutics. The remaining authors declare no competing interests.
Peer review
Peer review information
Nature Cancer thanks J. Ignacio Casal, Andras Heczey and Aurel Perren for their contribution to the peer review of this work.
Additional information
Publisher's note Springer Nature remains neutral with regard to jurisdictional claims in published maps and institutional affiliations.
Supplementary information
Supplementary Tables 1–5.
About this article
Cite this article
Feng, Z., He, X., Zhang, X. et al. Potent suppression of neuroendocrine tumors and gastrointestinal cancers by CDH17CAR T cells without toxicity to normal tissues. Nat Cancer 3, 581–594 (2022). https://doi.org/10.1038/s43018-022-00344-7
Received:

Accepted:

Published:

Issue Date:

DOI: https://doi.org/10.1038/s43018-022-00344-7