Abstract
Translating preclinical studies to effective treatment protocols and identifying specific therapeutic responses in individuals with cancer is challenging. This may arise due to the complex genetic makeup of tumor cells and the impact of their multifaceted tumor microenvironment on drug response. To find new clinically relevant drug combinations for colorectal cancer (CRC), we prioritized the top five synergistic combinations from a large in vitro screen for ex vivo testing on 29 freshly resected human CRC tumors and found that only the combination of mitogen-activated protein kinase kinase (MEK) and proto-oncogene tyrosine-protein kinase Src (Src) inhibition was effective when tested ex vivo. Pretreatment phosphorylated Src (pSrc) was identified as a predictive biomarker for MEK and Src inhibition only in the absence of KRASG12 mutations. Overall, we demonstrate the potential of using ex vivo platforms to identify drug combinations and discover MEK and Src dual inhibition as an effective drug combination in a predefined subset of individuals with CRC.
Relevant articles
Open Access articles citing this article.
Annette Runge

,

Melissa Mayr

…

Monika Petersson

Scientific Reports Open Access 12 September 2022
Access options
Subscribe to Nature+
Get immediate online access to Nature and 55 other Nature journal
Subscribe to Journal
Get full journal access for 1 year
$119.00
only $9.92 per issue
All prices are NET prices.
VAT will be added later in the checkout.
Tax calculation will be finalised during checkout.
Buy article
Get time limited or full article access on ReadCube.
$32.00
All prices are NET prices.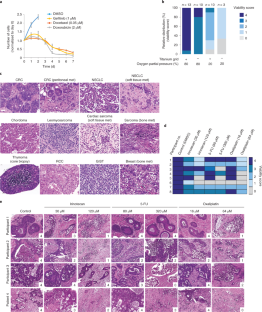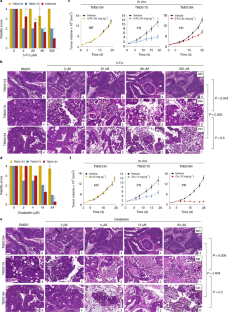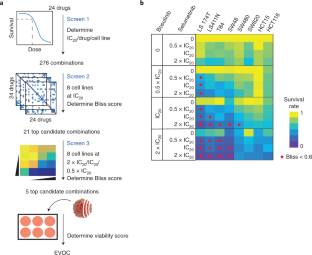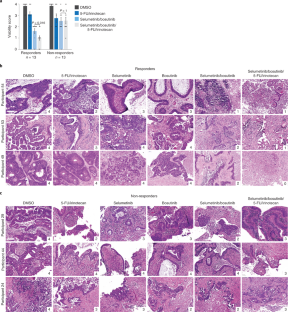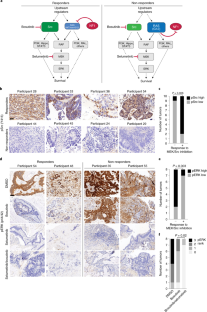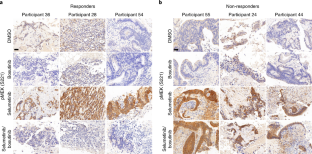 Data availability
Source data for the in vitro screens are provided as Supplementary Tables 3 and 4. Results of the evaluations of all the human samples for each drug and drug combination have been provided in Supplementary Table 6. Clinical data of the participants included in the study are provided in Supplementary Table 5. Mutations found in participant samples are provided in Supplementary Table 7. Drug doses used in the EVOC experiments are listed in Supplementary Table 2. All other data supporting the findings of this study are available from the corresponding author on reasonable request. Source data are provided with this paper.
References
Quail, D. F. & Joyce, J. A. Microenvironmental regulation of tumor progression and metastasis. Nat. Med. 19, 1423–1437 (2013).

Jaiswal, R. & Sedger, L. M. Intercellular vesicular transfer by exosomes, microparticles and oncosomes—implications for cancer biology and treatments. Front. Oncol. 9, 125 (2019).

Goulet, C. R. et al. Cancer-associated fibroblasts induce epithelial–mesenchymal transition of bladder cancer cells through paracrine IL-6 signalling. BMC Cancer 19, 137 (2019).

Geller, L. T. et al. Potential role of intratumor bacteria in mediating tumor resistance to the chemotherapeutic drug gemcitabine. Science 357, 1156–1160 (2017).

Garattini, S. & Grignaschi, G. Animal testing is still the best way to find new treatments for patients. Eur. J. Intern. Med. 39, 32–35 (2017).

Hutchinson, L. & Kirk, R. High drug attrition rates—where are we going wrong? Nat. Rev. Clin. Oncol. 8, 189–190 (2011).

Wong, C. H., Siah, K. W. & Lo, A. W. Estimation of clinical trial success rates and related parameters. Biostatistics 20, 273–286 (2019).

Van Cutsem, E., Cervantes, A., Nordlinger, B., Arnold, D. & ESMO Guidelines Working Group Metastatic colorectal cancer: ESMO clinical practice guidelines for diagnosis, treatment and follow-up. Ann. Oncol. 25, iii1–iii9 (2014).

Vogel, A., Hofheinz, R. D., Kubicka, S. & Arnold, D. Treatment decisions in metastatic colorectal cancer—beyond first and second line combination therapies. Cancer Treat. Rev. 59, 54–60 (2017).

Guinney, J. et al. The consensus molecular subtypes of colorectal cancer. Nat. Med. 21, 1350–1356 (2015).

Dienstmann, R. et al. Consensus molecular subtypes and the evolution of precision medicine in colorectal cancer. Nat. Rev. Cancer 17, 79–92 (2017).

Wang, W. et al. Molecular subtyping of colorectal cancer: recent progress, new challenges and emerging opportunities. Semin. Cancer Biol. 55, 37–52 (2019).

Hickman, J. A. et al. Three-dimensional models of cancer for pharmacology and cancer cell biology: capturing tumor complexity in vitro/ex vivo. Biotechnol. J. 9, 1115–1128 (2014).

Majumder, B. et al. Predicting clinical response to anticancer drugs using an ex vivo platform that captures tumour heterogeneity. Nat. Commun. 6, 6169 (2015).

Grosso, S. H. G. et al. Breast cancer tissue slices as a model for evaluation of response to rapamycin. Cell Tissue Res. 352, 671–684 (2013).

Kern, M. A. et al. Ex vivo analysis of antineoplastic agents in precision-cut tissue slices of human origin: effects of cyclooxygenase-2 inhibition in hepatocellular carcinoma. Liver Int. 26, 604–612 (2006).

Larsson, P. et al. Optimization of cell viability assays to improve replicability and reproducibility of cancer drug sensitivity screens. Sci. Rep. 10, 5798 (2020).

Fallahi-Sichani, M., Honarnejad, S., Heiser, L. M., Gray, J. W. & Sorger, P. K. Metrics other than potency reveal systematic variation in responses to cancer drugs. Nat. Chem. Biol. 9, 708–714 (2013).

Vaira, V. et al. Preclinical model of organotypic culture for pharmacodynamic profiling of human tumors. Proc. Natl Acad. Sci. USA 107, 8352–8356 (2010).

Place, T. L., Domann, F. E. & Case, A. J. Limitations of oxygen delivery to cells in culture: an underappreciated problem in basic and translational research. Free Radic. Biol. Med. 113, 311–322 (2017).

Pasetto, L. M. et al. FOLFOX versus FOLFIRI: a comparison of regimens in the treatment of colorectal cancer metastases. Anticancer Res. 25, 563–576 (2015).

Genther Williams, S. M. et al. Treatment with the PARP inhibitor, niraparib, sensitizes colorectal cancer cell lines to irinotecan regardless of MSI/MSS status. Cancer Cell Int. 15, 14 (2015).

Tentori, L. et al. Inhibition of poly(ADP‐ribose) polymerase prevents irinotecan‐induced intestinal damage and enhances irinotecan/temozolomide efficacy against colon carcinoma. FASEB J. 20, 1709–1711 (2006).

Chen, E. X. et al. A phase I study of olaparib and irinotecan in patients with colorectal cancer: Canadian Cancer Trials Group IND 187. Invest. New Drugs 34, 450–457 (2016).

Anderson, G. R. et al. A landscape of therapeutic cooperativity in KRAS mutant cancers reveals principles for controlling tumor evolution. Cell Rep. 20, 999–1015 (2017).

Astsaturov, I. et al. Synthetic lethal screen of an EGFR-centered network to improve targeted therapies. Sci. Signal. 3, ra67 (2010).

Wang, H. et al. Antisense anti-MDM2 mixed-backbone oligonucleotides enhance therapeutic efficacy of topoisomerase I inhibitor irinotecan in nude mice bearing human cancer xenografts: in vivo activity and mechanisms. Int. J. Oncol. 20, 745–752 (2002).

Martínez-Pérez, J. et al. Prognostic relevance of Src activation in stage II-III colon cancer. Hum. Pathol. 67, 119–125 (2017).

Talamonti, M. S., Roh, M. S., Curley, S. A. & Gallickt, G. E. Increase in activity and level of pp60c-src in progressive stages of human colorectal cancer. J. Clin. Invest. 1, 53–60 (1993).

Si, Y. et al. Src inhibits the hippo tumor suppressor pathway through tyrosine phosphorylation of Lats1. Cancer Res. 77, 4868–4880 (2017).

Yeh, T. C. et al. Biological characterization of ARRY-142886 (AZD6244), a potent, highly selective mitogen-activated protein kinase kinase 1/2 inhibitor. Clin. Cancer Res. 13, 1576–1583 (2007).

Wu, P.-K. & Park, J.-I. MEK1/2 inhibitors: molecular activity and resistance mechanisms. Semin. Oncol. 42, 849–862 (2015).

McFall, T. et al. A systems mechanism for KRAS mutant allele-specific responses to targeted therapy. Sci. Signal. 12, eaaw8288 (2019).

McFall, T. & Stites, E. C. A mechanism for the response of KRASG13D expressing colorectal cancers to EGFR inhibitors. Mol. Cell. Oncol. 7, 1701914 (2020).

Mao, C. et al. KRAS p.G13D mutation and codon 12 mutations are not created equal in predicting clinical outcomes of cetuximab in metastatic colorectal cancer. Cancer 119, 714–721 (2013).

Sönnichsen, R. et al. Individual susceptibility analysis using patient-derived slice cultures of colorectal carcinoma. Clin. Colorectal Cancer 17, e189–e199 (2018).

Donnadieu J. et al. Short-term culture of tumour slices reveals the heterogeneous sensitivity of human head and neck squamous cell carcinoma to targeted therapies. BMC Cancer 16, 273 (2016).

Begley, C. G. & Ellis, L. M. Raise standards for preclinical cancer research. Nature 483, 531–533 (2012).

Hanahan, D. & Weinberg, R. A. Hallmarks of cancer: the next generation. Cell 144, 646–674 (2011).

Ben-David, U. et al. Patient-derived xenografts undergo mouse-specific tumor evolution. Nat. Genet. 49, 1567–1575 (2017).

Lee M. W. et al. Current methods in translational cancer research. Cancer Metastasis Rev. 40, 7–30 (2021).

Neal, J. T. et al. Organoid modeling of the tumor immune microenvironment. Cell 175, 1972–1988 (2018).

Voabil, P. et al. An ex vivo tumor fragment platform to dissect response to PD-1 blockade in cancer. Nat. Med. 27, 1250–1261 (2021).

Fahy, G. M. et al. Cryopreservation of precision-cut tissue slices. Xenobiotica 43, 113–132 (2013).

Arav, A., Friedman, O., Natan, Y., Gur, E. & Shani, N. Rat hindlimb cryopreservation and transplantation—a step toward 'organ banking'. Am. J. Transpl. 11, 2820–2828 (2017).

Lu, Y. et al. CXCL1–LCN2 paracrine axis promotes progression of prostate cancer via the Src activation and epithelial–mesenchymal transition. Cell Commun. Signal. 17, 118 (2019).

Shields, D. J. et al. Oncogenic Ras/Src cooperativity in pancreatic neoplasia. Oncogene 30, 2123–2134 (2011).

Morton, J. P. et al. Dasatinib inhibits the development of metastases in a mouse model of pancreatic ductal adenocarcinoma. Gastroenterology 139, 292–303 (2010).

Trevino, J. G. et al. Inhibition of Src expression and activity inhibits tumor progression and metastasis of human pancreatic adenocarcinoma cells in an orthotopic nude mouse model. Am. J. Pathol. 168, 962–972 (2006).

Liu, P., Wang, Y. & Li, X. Targeting the untargetable KRAS in cancer therapy. Acta Pharm. Sin. B 9, 871–879 (2019).

Irby, R. B. & Yeatman, T. J. Role of Src expression and activation in human cancer. Oncogene 19, 5636–5642 (2000).

Lake, D., Corrêa, S. A. L. & Müller, J. Negative feedback regulation of the ERK1/2 MAPK pathway. Cell. Mol. Life Sci. 73, 4397–4413 (2016).

Salpeter, S. et al. Abstract CT209: A clinical trial of cResponse, a functional assay for cancer precision medicine. Cancer Res. 81, CT209 (2021).

Chen, J., Elfiky, A., Han, M., Chen, C. & Saif, M. W. The role of Src in colon cancer and its therapeutic implications. Clin. Colorectal Cancer 13, 5–13 (2014).

Montero, J. C., Seoane, S., Ocana, A. & Pandiella, A. Inhibition of Src family kinases and receptor tyrosine kinases by dasatinib: possible combinations in solid tumors. Clin. Cancer Res. 17, 5546–5552 (2011).

Parseghian, C. M. et al. Dual inhibition of EGFR and c-Src by cetuximab and dasatinib combined with FOLFOX chemotherapy in patients with metastatic colorectal cancer. Clin. Cancer Res. 23, 4146–4154 (2017).
Acknowledgements
We thank all the members of the Straussman Lab for helpful discussions. We thank A.L. Barda, T. Oren, A. Itzhaki-Alfia and the Tel Aviv Sourasky Medical Center Biobank for their help with tissue recruitment. We thank E. Pikarsky for his willingness to review numerous pathology results in the early and critical stages of this work. This work was supported by a grant from the Rising Tide Foundation and by a research grant from the Fabricant-Morse Families Research Fund for Humanity. R.S. is the incumbent of the Roel C. Buck Career Development Chair.
Ethics declarations
Competing interests
R.S. and N.G. are founders, stockholders and paid consultants of the company CuResponse, which currently validates EVOC as a predictive biomarker for the effect of anticancer drugs. G.M. worked as a part-time pathologist for Curesponse. E.S. works as a part-time technician at CuResponse. No other potential conflicts of interest were disclosed by other authors.
Peer review
Peer review information
Nature Cancer thanks John Minna, Nicola Valeri and the other, anonymous, reviewer(s) for their contribution to the peer review of this work.
Additional information
Publisher's note Springer Nature remains neutral with regard to jurisdictional claims in published maps and institutional affiliations.
Supplementary information
About this article
Cite this article
Gavert, N., Zwang, Y., Weiser, R. et al. Ex vivo organotypic cultures for synergistic therapy prioritization identify patient-specific responses to combined MEK and Src inhibition in colorectal cancer. Nat Cancer 3, 219–231 (2022). https://doi.org/10.1038/s43018-021-00325-2
Received:

Accepted:

Published:

Issue Date:

DOI: https://doi.org/10.1038/s43018-021-00325-2
This article is cited by
Nature Reviews Drug Discovery (2022)

Annette Runge
Melissa Mayr
Monika Petersson

Scientific Reports (2022)

Nature Cancer (2022)