Abstract
Expanding the utility of immune-based cancer treatments is a clinical challenge due to tumor-intrinsic factors that suppress the immune response. Here we report the identification of tumoral ring finger protein 2 (RNF2), the core subunit of polycomb repressor complex 1, as a negative regulator of antitumor immunity in various human cancers, including breast cancer. In syngeneic murine models of triple-negative breast cancer, we found that deleting genes encoding the polycomb repressor complex 1 subunits Rnf2, BMI1 proto-oncogene, polycomb ring finger (Bmi1), or the downstream effector of Rnf2, remodeling and spacing factor 1 (Rsf1), was sufficient by itself to induce durable tumor rejection and establish immune memory by enhancing infiltration and activation of natural killer and CD4+ T cells, but not CD8+ T cells, into the tumor and enabled their cooperativity. These findings uncover an epigenetic reprogramming of the tumor-immune microenvironment, which fosters durable antitumor immunity and memory.
Relevant articles
Open Access articles citing this article.
Lei Yao

,

Jun Li

…

Gewen Zhang

Cell Death & Disease Open Access 11 April 2023

Scott A. Tomlins

,

Nickolay A. Khazanov

…

Daniel R. Rhodes

Communications Medicine Open Access 07 February 2023
Access options
Access Nature and 54 other Nature Portfolio journals
Get Nature+, our best-value online-access subscription
$29.99 / 30 days
cancel any time
Subscribe to this journal
Receive 12 digital issues and online access to articles
$119.00 per year
only $9.92 per issue
Rent or buy this article
Prices vary by article type
from$1.95
to$39.95
Prices may be subject to local taxes which are calculated during checkout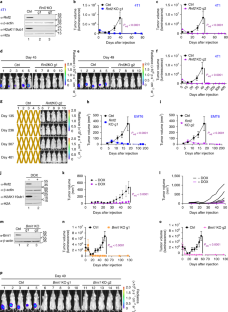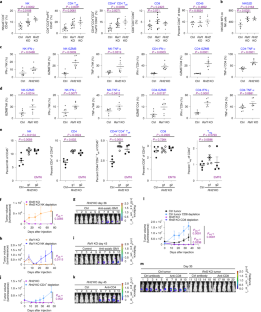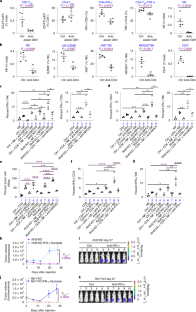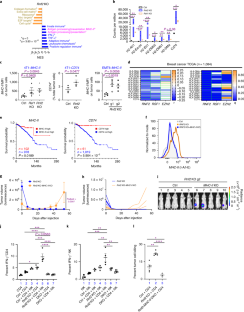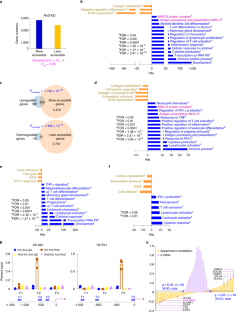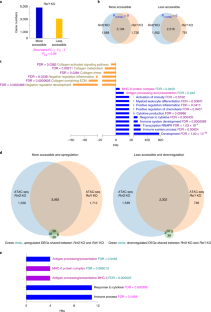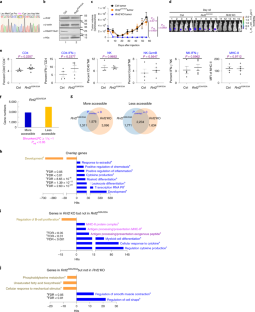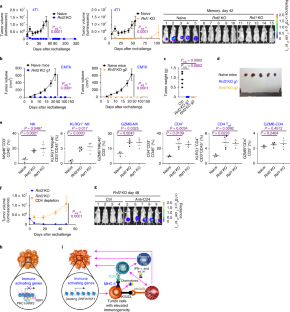 Code availability
The software and methods to generate the results are described in detail in Methods. No additional code needs to be provided.
References
Leach, D. R., Krummel, M. F. & Allison, J. P. Enhancement of antitumor immunity by CTLA-4 blockade. Science 271, 1734–1736 (1996).

Patel, S. A. & Minn, A. J. Combination cancer therapy with immune checkpoint blockade: mechanisms and strategies. Immunity 48, 417–433 (2018).

Frankel, T., Lanfranca, M. P. & Zou, W. The role of tumor microenvironment in cancer immunotherapy. Adv. Exp. Med. Biol. 1036, 51–64 (2017).

Benci, J. L. et al. Opposing functions of interferon coordinate adaptive and innate immune responses to cancer immune checkpoint blockade. Cell 178, 933–948 (2019).

Hegde, P. S. & Chen, D. S. Top 10 challenges in cancer immunotherapy. Immunity 52, 17–35 (2020).

Yu, J. et al. Liver metastasis restrains immunotherapy efficacy via macrophage-mediated T cell elimination. Nat. Med. https://doi.org/10.1038/s41591-020-1131-x (2021).

Kalbasi, A. & Ribas, A. Tumour-intrinsic resistance to immune checkpoint blockade. Nat. Rev. Immunol. 20, 25–39 (2020).

Bian, Y. et al. Cancer SLC43A2 alters T cell methionine metabolism and histone methylation. Nature 585, 277–282 (2020).

Sanmamed, M. F. & Chen, L. A paradigm shift in cancer immunotherapy: from enhancement to normalization. Cell 175, 313–326 (2018).

Sheng, W. et al. LSD1 ablation stimulates anti-tumor immunity and enables checkpoint blockade. Cell 174, 549–563 (2018).

Pan, D. et al. A major chromatin regulator determines resistance of tumor cells to T cell-mediated killing. Science 359, 770–775 (2018).

Adeegbe, D. O. et al. Synergistic immunostimulatory effects and therapeutic benefit of combined histone deacetylase and bromodomain inhibition in non-small cell lung cancer. Cancer Discov. 7, 852–867 (2017).

Li, F. et al. In vivo epigenetic CRISPR screen identifies Asf1a as an immunotherapeutic target in Kras-mutant lung adenocarcinoma. Cancer Discov. 10, 270–287 (2020).

Peng, D. et al. Epigenetic silencing of TH1-type chemokines shapes tumour immunity and immunotherapy. Nature 527, 249–253 (2015).

Li, J. et al. Epigenetic driver mutations in ARID1A shape cancer immune phenotype and immunotherapy. J. Clin. Invest. 130, 2712–2726 (2020).

Burr, M. L. et al. An evolutionarily conserved function of polycomb silences the MHC class I antigen presentation pathway and enables immune evasion in cancer. Cancer Cell 36, 385–401 (2019).

Su, W. et al. The polycomb repressor complex 1 drives double-negative prostate cancer metastasis by coordinating stemness and immune suppression. Cancer Cell 36, 139–155 (2019).

Connolly, R. M. et al. Combination epigenetic therapy in advanced breast cancer with 5-azacitidine and entinostat: a phase II National Cancer Institute/Stand Up to Cancer study. Clin. Cancer Res. 23, 2691–2701 (2017).

Jerby-Arnon, L. et al. A cancer cell program promotes T cell exclusion and resistance to checkpoint blockade. Cell 175, 984–997 (2018).

Piunti, A. & Shilatifard, A. Epigenetic balance of gene expression by polycomb and COMPASS families. Science 352, aad9780 (2016).

Rai, K. et al. Dual roles of RNF2 in melanoma progression. Cancer Discov. 5, 1314–1327 (2015).

Chan, H. L. et al. Polycomb complexes associate with enhancers and promote oncogenic transcriptional programs in cancer through multiple mechanisms. Nat. Commun. 9, 3377 (2018).

Zhang, Y. et al. Estrogen induces dynamic ERα and RING1B recruitment to control gene and enhancer activities in luminal breast cancer. Sci. Adv. 6, eaaz7249 (2020).

Laugesen, A. & Helin, K. Chromatin repressive complexes in stem cells, development, and cancer. Cell Stem Cell 14, 735–751 (2014).

Piunti, A. & Shilatifard, A. The roles of polycomb repressive complexes in mammalian development and cancer. Nat. Rev. Mol. Cell Biol. 22, 326–345 (2021).

Adams, S. et al. Current landscape of immunotherapy in breast cancer: a review. JAMA Oncol. https://doi.org/10.1001/jamaoncol.2018.7147 (2019).

Zhang, Z. et al. Role of remodeling and spacing factor 1 in histone H2A ubiquitination-mediated gene silencing. Proc. Natl Acad. Sci. USA 114, E7949–E7958 (2017).

Mootha, V. K. et al. PGC-1α-responsive genes involved in oxidative phosphorylation are coordinately downregulated in human diabetes. Nat. Genet. 34, 267–273 (2003).

Rooney, M. S., Shukla, S. A., Wu, C. J., Getz, G. & Hacohen, N. Molecular and genetic properties of tumors associated with local immune cytolytic activity. Cell 160, 48–61 (2015).

Cai, G., Yang, Q. & Sun, W. RSF1 in cancer: interactions and functions. Cancer Cell Int. 21, 315 (2021).

Wu, J. et al. The oncogenic impact of RNF2 on cell proliferation, invasion and migration through EMT on mammary carcinoma. Pathol. Res. Pract. 215, 152523 (2019).

Barger, C. J., Branick, C., Chee, L. & Karpf, A. R. Pan-cancer analyses reveal genomic features of FOXM1 overexpression in cancer. Cancers https://doi.org/10.3390/cancers11020251 (2019).

Shabason, J. E. & Minn, A. J. Radiation and immune checkpoint blockade: from bench to clinic. Semin. Radiat. Oncol. 27, 289–298 (2017).

Wang, W. et al. CD8(+) T cells regulate tumour ferroptosis during cancer immunotherapy. Nature 569, 270–274 (2019).

Babic, M. et al. NK cell receptor NKG2D enforces proinflammatory features and pathogenicity of TH1 and TH17 cells. J. Exp. Med. https://doi.org/10.1084/jem.20190133 (2020).

Borst, J., Ahrends, T., Babala, N., Melief, C. J. M. & Kastenmuller, W. CD4(+) T cell help in cancer immunology and immunotherapy. Nat. Rev. Immunol. 18, 635–647 (2018).

Minn, A. J. Interferons and the immunogenic effects of cancer therapy. Trends Immunol. 36, 725–737 (2015).

Feng, M. et al. Phagocytosis checkpoints as new targets for cancer immunotherapy. Nat. Rev. Cancer 19, 568–586 (2019).

Ross, S. H. & Cantrell, D. A. Signaling and Function of interleukin-2 in T lymphocytes. Annu. Rev. Immunol. 36, 411–433 (2018).

Xia, J., Gill, E. E. & Hancock, R. E. NetworkAnalyst for statistical, visual and network-based meta-analysis of gene expression data. Nat. Protoc. 10, 823–844 (2015).

Klusmann, I. et al. Chromatin modifiers Mdm2 and RNF2 prevent RNA:DNA hybrids that impair DNA replication. Proc. Natl Acad. Sci. USA 115, E11311–E11320 (2018).

Lee, H. S. et al. The chromatin remodeler RSF1 controls centromeric histone modifications to coordinate chromosome segregation. Nat. Commun. 9, 3848 (2018).

Forero, A. et al. Expression of the MHC class II pathway in triple-negative breast cancer tumor cells is associated with a good prognosis and infiltrating lymphocytes. Cancer Immunol. Res. 4, 390–399 (2016).

Morey, L. & Helin, K. Polycomb group protein-mediated repression of transcription. Trends Biochem. Sci. 35, 323–332 (2010).

Brookes, E. et al. Polycomb associates genome-wide with a specific RNA polymerase II variant, and regulates metabolic genes in ESCs. Cell Stem Cell 10, 157–170 (2012).

Cohen, I. et al. PRC1 preserves epidermal tissue integrity independently of PRC2. Genes Dev. 33, 55–60 (2019).

Endoh, M. et al. Polycomb group proteins Ring1A/B are functionally linked to the core transcriptional regulatory circuitry to maintain ES cell identity. Development 135, 1513–1524 (2008).

Wang, H. et al. Role of histone H2A ubiquitination in polycomb silencing. Nature 431, 873–878 (2004).

Yasinska, I. M. et al. The Tim-3-galectin-9 pathway and its regulatory mechanisms in human breast cancer. Front. Immunol. 10, 1594 (2019).

Li, X. et al. Immune profiling of pre- and post-treatment breast cancer tissues from the SWOG S0800 neoadjuvant trial. J. Immunother. Cancer 7, 88 (2019).

Toniolo, P. A. et al. Deregulation of SOCS5 suppresses dendritic cell function in chronic lymphocytic leukemia. Oncotarget 7, 46301–46314 (2016).

Li, Q. et al. Adoptive transfer of tumor reactive B cells confers host T-cell immunity and tumor regression. Clin. Cancer Res. 17, 4987–4995 (2011).

Alspach, E. et al. MHC-II neoantigens shape tumour immunity and response to immunotherapy. Nature 574, 696–701 (2019).

Ribas, A. et al. Association of pembrolizumab with tumor response and survival among patients with advanced melanoma. JAMA 315, 1600–1609 (2016).

Hirschhorn-Cymerman, D. et al. Induction of tumoricidal function in CD4+ T cells is associated with concomitant memory and terminally differentiated phenotype. J. Exp. Med. 209, 2113–2126 (2012).

Kerdiles, Y., Ugolini, S. & Vivier, E. T cell regulation of natural killer cells. J. Exp. Med. 210, 1065–1068 (2013).

Waggoner, S. N., Cornberg, M., Selin, L. K. & Welsh, R. M. Natural killer cells act as rheostats modulating antiviral T cells. Nature 481, 394–398 (2011).

Jiao, L. et al. A partially disordered region connects gene repression and activation functions of EZH2. Proc. Natl Acad. Sci. USA 117, 16992–17002 (2020).

Boyle, S. et al. A central role for canonical PRC1 in shaping the 3D nuclear landscape. Genes Dev. 34, 931–949 (2020).

Illingworth, R. S. et al. The E3 ubiquitin ligase activity of RING1B is not essential for early mouse development. Genes Dev. 29, 1897–1902 (2015).

Hanna, A. et al. Inhibition of Hedgehog signaling reprograms the dysfunctional immune microenvironment in breast cancer. Oncoimmunology 8, 1548241 (2019).

Zabala, M. et al. Optimization of the Tet-on system to regulate interleukin 12 expression in the liver for the treatment of hepatic tumors. Cancer Res. 64, 2799–2804 (2004).

Li, C. et al. Novel HDAd/EBV reprogramming vector and highly efficient Ad/CRISPR-Cas sickle cell disease gene correction. Sci. Rep. 6, 30422 (2016).

Zhang, Z. et al. USP49 deubiquitinates histone H2B and regulates cotranscriptional pre-mRNA splicing. Genes Dev. 27, 1581–1595 (2013).

Dobin, A. et al. STAR: ultrafast universal RNA-seq aligner. Bioinformatics 29, 15–21 (2013).

Love, M. I., Huber, W. & Anders, S. Moderated estimation of fold change and dispersion for RNA-seq data with DESeq2. Genome Biol. 15, 550 (2014).

Reimand, J. et al. Pathway enrichment analysis and visualization of omics data using g:Profiler, GSEA, Cytoscape and EnrichmentMap. Nat. Protoc. 14, 482–517 (2019).

Corces, M. R. et al. An improved ATAC-seq protocol reduces background and enables interrogation of frozen tissues. Nat. Methods 14, 959–962 (2017).

Li, H. Aligning sequence reads, clone sequences and assembly contigs with BWA-MEM. Preprint at https://arxiv.org/abs/1303.3997 (2013).

Zhang, Y. et al. Model-based analysis of ChIP-Seq (MACS). Genome Biol. 9, R137 (2008).

Ramirez, F. et al. epTools2: a next generation web server for deep-sequencing data analysis. Nucleic Acids Res. 44, W160–W165 (2016).

Colaprico, A. et al. TCGAbiolinks: an R/Bioconductor package for integrative analysis of TCGA data. Nucleic Acids Res. 44, e71 (2016).

Robinson, M. D., McCarthy, D. J. & Smyth, G. K. edgeR: a Bioconductor package for differential expression analysis of digital gene expression data. Bioinformatics 26, 139–140 (2010).

Langmead, B. & Salzberg, S. L. Fast gapped-read alignment with Bowtie 2. Nat. Methods 9, 357–359 (2012).

Faust, G. G. & Hall, I. M. SAMBLASTER: fast duplicate marking and structural variant read extraction. Bioinformatics 30, 2503–2505 (2014).

Robinson, J. T. et al. Integrative genomics viewer. Nat. Biotechnol. 29, 24–26 (2011).

Fabregat, A. et al. The Reactome Pathway Knowledgebase. Nucleic Acids Res. 46, D649–D655 (2018).

Uhlen, M. et al. Proteomics. Tissue-based map of the human proteome. Science 347, 1260419 (2015).

Ashburner, M. et al. Gene Ontology: tool for the unification of biology. Nat. Genet. 25, 25–29 (2000).
Acknowledgements
We thank L. Z. Shi and H. Wang for helpful discussion on this project. We are grateful to H. Shen and S. Bugide for technical assistance. E.S.Y. is a ROAR Southeast Cancer Foundation Endowed Chair. This work was supported by grants from Autotech LLC (to E.S.Y.), from Breast Cancer Research Foundation of Alabama (to E.S.Y.), from American Association for Cancer Research/Triple Negative Breast Cancer Foundation (15-20-43-YANG) (to E.S.Y.), and from start-up funds from UAB (to J.W.L.). J.W.L. is also supported by the DoD PRCRP Career Award (W81XWH-18-1-0315) and National Institutes of Health (NIH) R01AI148711. N.W. is supported by the DoD grant W81XWH-19-1-0084. We also thank V. S. Hanumanthu from the Comprehensive Flow Cytometry Core as well as the UAB Small Animal Imaging Shared Facility (supported by the O'Neal Comprehensive Cancer Center (NIH P30 CA013148) and funding to Rheumatic Diseases Core Center/Center for AIDS Research (NIH P30 AR048311/NIH P30 AI27667).
Ethics declarations
Competing interests
E.S.Y. is a consultant for AstraZeneca, Eli Lilly and Company and is on the Advisory Board for Bayer Pharmaceuticals, AstraZeneca, Clovis Oncology and Strata Oncology. The research in the laboratory of E.S.Y. is supported by funding from Novartis International AG, Eli Lilly and Company, Clovis Oncology and the American Society of Clinical Oncology. The remaining authors declare no competing interests.
Additional information
Peer review information Nature Cancer thanks Lluis Morey and the other, anonymous, reviewer(s) for their contribution to the peer review of this work.
Publisher's note Springer Nature remains neutral with regard to jurisdictional claims in published maps and institutional affiliations.
Supplementary information
Supplementary Tables 1 and 2.
About this article
Cite this article
Zhang, Z., Luo, L., Xing, C. et al. RNF2 ablation reprograms the tumor-immune microenvironment and stimulates durable NK and CD4+ T-cell-dependent antitumor immunity. Nat Cancer 2, 1018–1038 (2021). https://doi.org/10.1038/s43018-021-00263-z
Received:

Accepted:

Published:

Issue Date:

DOI: https://doi.org/10.1038/s43018-021-00263-z
This article is cited by
Cell Death & Disease (2023)

Daniel E. Speiser
Obinna Chijioke
Christian Münz

Nature Cancer (2023)

Scott A. Tomlins
Nickolay A. Khazanov
Daniel R. Rhodes

Communications Medicine (2023)