Abstract
DNA methylation, a key epigenetic driver of transcriptional silencing, is universally dysregulated in cancer. Reversal of DNA methylation by hypomethylating agents, such as the cytidine analogs decitabine or azacytidine, has demonstrated clinical benefit in hematologic malignancies. These nucleoside analogs are incorporated into replicating DNA where they inhibit DNA cytosine methyltransferases DNMT1, DNMT3A and DNMT3B through irreversible covalent interactions. These agents induce notable toxicity to normal blood cells thus limiting their clinical doses. Herein we report the discovery of GSK3685032, a potent first-in-class DNMT1-selective inhibitor that was shown via crystallographic studies to compete with the active-site loop of DNMT1 for penetration into hemi-methylated DNA between two CpG base pairs. GSK3685032 induces robust loss of DNA methylation, transcriptional activation and cancer cell growth inhibition in vitro. Due to improved in vivo tolerability compared with decitabine, GSK3685032 yields superior tumor regression and survival mouse models of acute myeloid leukemia.
Relevant articles
Open Access articles citing this article.
Clara Cousu

,

Eléonore Mulot

…

Sébastien Storck

Nature Communications Open Access 14 September 2023

Ruochen Liu

,

Erhu Zhao

…

Hongjuan Cui

Signal Transduction and Targeted Therapy Open Access 25 August 2023

Junyoung Park

,

Yongyang Luo

…

Sang Beom Seo

Scientific Reports Open Access 12 August 2023
Access options
Access Nature and 54 other Nature Portfolio journals
Get Nature+, our best-value online-access subscription
$29.99 / 30 days
cancel any time
Subscribe to this journal
Receive 12 digital issues and online access to articles
$119.00 per year
only $9.92 per issue
Rent or buy this article
Prices vary by article type
from$1.95
to$39.95
Prices may be subject to local taxes which are calculated during checkout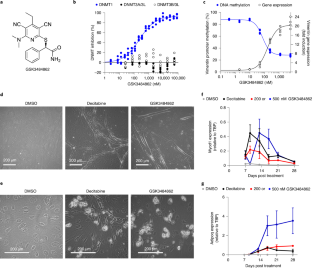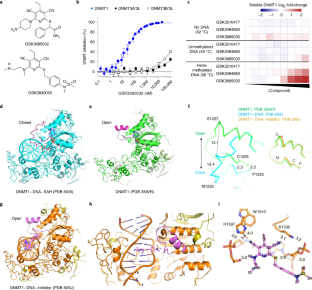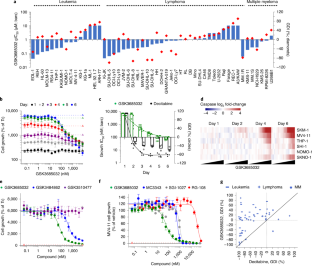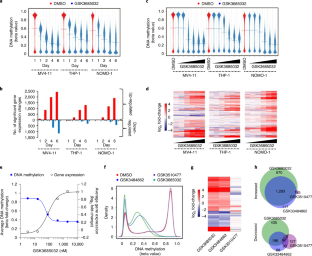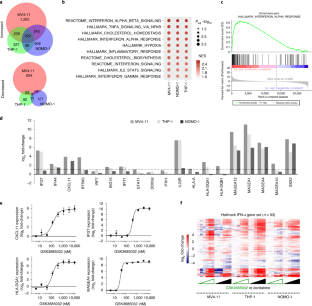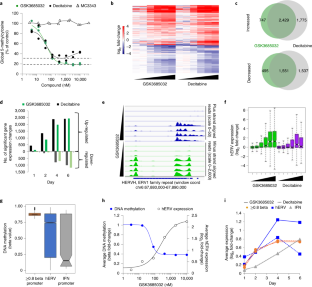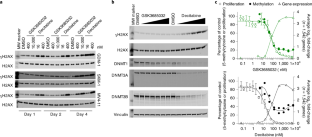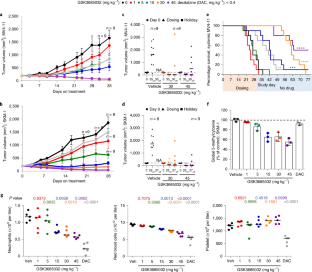 Data availability
All data generated to support the findings of this study are available. The functional genomics data have been deposited in the NCBI Gene Expression Omnibus (GEO) and are accessible through the GEO SuperSeries accession number: GSE135207 (https://www.ncbi.nlm.nih.gov/geo). The atomic coordinates and structure factors of DNMT1–DNA (zebularine)–SAH (PDB 6X9I), DNMT1–DNA–GSK3830052 (PDB 6X9J) and DNMT1–DNA–GSK3685032 (PDB 6X9K) have been deposited in the Protein Data Bank (http://www.rcsb.org). Source data are provided with this paper. All other data are available from the corresponding authors upon reasonable request.
References
Okano, M., Bell, D. W., Haber, D. A. & Li, E. DNA methyltransferases Dnmt3a and Dnmt3b are essential for de novo methylation and mammalian development. Cell 99, 247–257 (1999).

Pradhan, S., Bacolla, A., Wells, R. D. & Roberts, R. J. Recombinant human DNA (cytosine-5) methyltransferase. I. Expression, purification, and comparison of de novo and maintenance methylation. J. Biol. Chem. 274, 33002–33010 (1999).

Bird, A. DNA methylation patterns and epigenetic memory. Genes Dev. 16, 6–21 (2002).

Jones, P. A. & Laird, P. W. Cancer epigenetics comes of age. Nat. Genet. 21, 163–167 (1999).

Baylin, S. B. & Herman, J. G. DNA hypermethylation in tumorigenesis: epigenetics joins genetics. Trends Genet. 16, 168–174 (2000).

Ting, A. H., McGarvey, K. M. & Baylin, S. B. The cancer epigenome—components and functional correlates. Genes Dev. 20, 3215–3231 (2006).

Sorm, F., Piskala, A., Cihak, A. & Vesely, J. 5-Azacytidine, a new, highly effective cancerostatic. Experientia 20, 202–203 (1964).

Jones, P. A. & Taylor, S. M. Cellular differentiation, cytidine analogs and DNA methylation. Cell 20, 85–93 (1980).

Silverman, L. R. et al. Randomized controlled trial of azacitidine in patients with the myelodysplastic syndrome: a study of the cancer and leukemia group B. J. Clin. Oncol. 20, 2429–2440 (2002).

Oki, Y., Jelinek, J., Shen, L., Kantarjian, H. M. & Issa, J. P. Induction of hypomethylation and molecular response after decitabine therapy in patients with chronic myelomonocytic leukemia. Blood 111, 2382–2384 (2008).

Fenaux, P. et al. Efficacy of azacitidine compared with that of conventional care regimens in the treatment of higher-risk myelodysplastic syndromes: a randomised, open-label, phase III study. Lancet Oncol. 10, 223–232 (2009).

Lubbert, M. et al. Low-dose decitabine versus best supportive care in elderly patients with intermediate- or high-risk myelodysplastic syndrome (MDS) ineligible for intensive chemotherapy: final results of the randomized phase III study of the European Organisation for Research and Treatment of Cancer Leukemia Group and the German MDS Study Group. J. Clin. Oncol. 29, 1987–1996 (2011).

Agrawal, K., Das, V., Vyas, P. & Hajduch, M. Nucleosidic DNA demethylating epigenetic drugs—a comprehensive review from discovery to clinic. Pharmacol. Ther. 188, 45–79 (2018).

Gnyszka, A., Jastrzebski, Z. & Flis, S. DNA methyltransferase inhibitors and their emerging role in epigenetic therapy of cancer. Anticancer Res. 33, 2989–2996 (2013).

Issa, J. P. & Kantarjian, H. M. Targeting DNA methylation. Clin. Cancer Res. 15, 3938–3946 (2009).

Stresemann, C. & Lyko, F. Modes of action of the DNA methyltransferase inhibitors azacytidine and decitabine. Int. J. Cancer 123, 8–13 (2008).

Chabot, G. G., Bouchard, J. & Momparler, R. L. Kinetics of deamination of 5-aza-2ʹ-deoxycytidine and cytosine arabinoside by human liver cytidine deaminase and its inhibition by 3-deazauridine, thymidine or uracil arabinoside. Biochem. Pharmacol. 32, 1327–1328 (1983).

Brueckner, B. et al. Epigenetic reactivation of tumor suppressor genes by a novel small-molecule inhibitor of human DNA methyltransferases. Cancer Res. 65, 6305–6311 (2005).

Stresemann, C., Brueckner, B., Musch, T., Stopper, H. & Lyko, F. Functional diversity of DNA methyltransferase inhibitors in human cancer cell lines. Cancer Res. 66, 2794–2800 (2006).

Manara, M. C. et al. A quinoline-based DNA methyltransferase inhibitor as a possible adjuvant in osteosarcoma therapy. Mol. Cancer Ther. 17, 1881–1892 (2018).

Datta, J. et al. A new class of quinoline-based DNA hypomethylating agents reactivates tumor suppressor genes by blocking DNA methyltransferase 1 activity and inducing its degradation. Cancer Res. 69, 4277–4285 (2009).

Valente, S. et al. Selective non-nucleoside inhibitors of human DNA methyltransferases active in cancer including in cancer stem cells. J. Med. Chem. 57, 701–713 (2014).

Gros, C. et al. New insights on the mechanism of quinoline-based DNA methyltransferase inhibitors. J. Biol. Chem. 290, 6293–6302 (2015).

Shirahata, A. et al. Vimentin methylation as a marker for advanced colorectal carcinoma. Anticancer Res. 29, 279–281 (2009).

Cong, H. et al. DNA hypermethylation of the vimentin gene inversely correlates with vimentin expression in intestinal- and diffuse-type gastric cancer. Oncol. Lett. 11, 842–848 (2016).

Constantinides, P. G., Jones, P. A. & Gevers, W. Functional striated muscle cells from non-myoblast precursors following 5-azacytidine treatment. Nature 267, 364–366 (1977).

Song, J., Rechkoblit, O., Bestor, T. H. & Patel, D. J. Structure of DNMT1-DNA complex reveals a role for autoinhibition in maintenance DNA methylation. Science 331, 1036–1040 (2011).

Song, J., Teplova, M., Ishibe-Murakami, S. & Patel, D. J. Structure-based mechanistic insights into DNMT1-mediated maintenance DNA methylation. Science 335, 709–712 (2012).

Joshi, M., Rajpathak, S. N., Narwade, S. C. & Deobagkar, D. Ensemble-based virtual screening and experimental validation of inhibitors targeting a novel site of human DNMT1. Chem. Biol. Drug Des. 88, 5–16 (2016).

Zhou, L. et al. Zebularine: a novel DNA methylation inhibitor that forms a covalent complex with DNA methyltransferases. J. Mol. Biol. 321, 591–599 (2002).

Afonine, P. V. et al. Towards automated crystallographic structure refinement with phenix.refine. Acta Crystallogr. D 68, 352–367 (2012).

Jones, P. A. & Baylin, S. B. The fundamental role of epigenetic events in cancer. Nat. Rev. Genet. 3, 415–428 (2002).

Siebenkas, C. et al. Inhibiting DNA methylation activates cancer testis antigens and expression of the antigen processing and presentation machinery in colon and ovarian cancer cells. PLoS ONE 12, e0179501 (2017).

Li, H. et al. Immune regulation by low doses of the DNA methyltransferase inhibitor 5-azacitidine in common human epithelial cancers. Oncotarget 5, 587–598 (2014).

Chiappinelli, K. B. et al. Inhibiting DNA methylation causes an interferon response in cancer via dsRNA including endogenous retroviruses. Cell 162, 974–986 (2015).

Roulois, D. et al. DNA-demethylating agents target colorectal cancer cells by inducing viral mimicry by endogenous transcripts. Cell 162, 961–973 (2015).

Saba, H. I. Decitabine in the treatment of myelodysplastic syndromes. Ther. Clin. Risk Manag. 3, 807–817 (2007).

Hashimoto, H. et al. Recognition and potential mechanisms for replication and erasure of cytosine hydroxymethylation. Nucleic Acids Res. 40, 4841–4849 (2012).

Gilmartin, A. G. et al. In vitro and in vivo induction of fetal hemoglobin with a reversible and selective DNMT1 inhibitor. Haematologica https://doi.org/10.3324/haematol.2020.248658 (2020).

Ariazi, J. L. et al. Discovery and preclinical characterization of GSK1278863 (daprodustat), a small molecule hypoxia inducible factor-prolyl hydroxylase inhibitor for anemia. J. Pharmacol. Exp. Ther. 363, 336–347 (2017).

Dyachenko, V. D. K., Krivokolysko, S. G. & Litvinov, V. P. Synthesis and transformations of 6-amino-3,5-dicyano-4ethylpyridine-2(1H)-thione. Chem. Heterocycl. Compd. 32, 942–946 (1996).

Stromgaard, K. et al. Ginkgolide derivatives for photolabeling studies: preparation and pharmacological evaluation. J. Med. Chem. 45, 4038–4046 (2002).

Sou, T. & Bergstrom, C. A. S. Automated assays for thermodynamic (equilibrium) solubility determination. Drug Discov. Today Technol. 27, 11–19 (2018).

Valko, K., Bevan, C. & Reynolds, D. Chromatographic hydrophobicity index by fast-gradient RP-HPLC: a high-throughput alternative to log P/log D. Anal. Chem. 69, 2022–2029 (1997).

Bunally, S. Y. & Robert, J. Y. The role and impact of high throughput biomimetic measurements in drug discovery. ADMET DMPK 6, 74–84 (2018).

Young, R. J., Green, D. V., Luscombe, C. N. & Hill, A. P. Getting physical in drug discovery II: the impact of chromatographic hydrophobicity measurements and aromaticity. Drug Discov. Today 16, 822–830 (2011).

Horiuchi, K. Y. et al. Assay development for histone methyltransferases. Assay Drug Dev. Technol. 11, 227–236 (2013).

Anastassiadis, T., Deacon, S. W., Devarajan, K., Ma, H. & Peterson, J. R. Comprehensive assay of kinase catalytic activity reveals features of kinase inhibitor selectivity. Nat. Biotechnol. 29, 1039–1045 (2011).

McCoy, A. J. et al. Phaser crystallographic software. J. Appl. Crystallogr. 40, 658–674 (2007).

Moriarty, N. W., Grosse-Kunstleve, R. W. & Adams, P. D. electronic Ligand Builder and Optimization Workbench (eLBOW): a tool for ligand coordinate and restraint generation. Acta Crystallogr. D 65, 1074–1080 (2009).

Emsley, P. & Cowtan, K. Coot: model-building tools for molecular graphics. Acta Crystallogr. D 60, 2126–2132 (2004).

McCabe, M. T. et al. EZH2 inhibition as a therapeutic strategy for lymphoma with EZH2-activating mutations. Nature 492, 108–112 (2012).

Fedoriw, A. et al. Anti-tumor activity of the type I PRMT inhibitor, GSK3368715, synergizes with PRMT5 inhibition through MTAP loss. Cancer Cell 36, 100–114 e125 (2019).

Savitski, M. M. et al. Multiplexed proteome dynamics profiling reveals mechanisms controlling protein homeostasis. Cell 173, 260–274 e225 (2018).

Franken, H. et al. Thermal proteome profiling for unbiased identification of direct and indirect drug targets using multiplexed quantitative mass spectrometry. Nat. Protoc. 10, 1567–1593 (2015).

Werner, T. et al. Ion coalescence of neutron encoded TMT 10-plex reporter ions. Anal. Chem. 86, 3594–3601 (2014).

Le, T., Kim, K. P., Fan, G. & Faull, K. F. A sensitive mass spectrometry method for simultaneous quantification of DNA methylation and hydroxymethylation levels in biological samples. Anal. Biochem. 412, 203–209 (2011).

Dobin, A. et al. STAR: ultrafast universal RNA-seq aligner. Bioinformatics 29, 15–21 (2013).

Jin, Y., Tam, O. H., Paniagua, E. & Hammell, M. TEtranscripts: a package for including transposable elements in differential expression analysis of RNA-seq datasets. Bioinformatics 31, 3593–3599 (2015).

Wang, L., Wang, S. & Li, W. RSeQC: quality control of RNA-seq experiments. Bioinformatics 28, 2184–2185 (2012).

Ewels, P., Magnusson, M., Lundin, S. & Kaller, M. MultiQC: summarize analysis results for multiple tools and samples in a single report. Bioinformatics 32, 3047–3048 (2016).

Patro, R., Duggal, G., Love, M. I., Irizarry, R. A. & Kingsford, C. Salmon provides fast and bias-aware quantification of transcript expression. Nat. Methods 14, 417–419 (2017).

Soneson, C., Love, M. I. & Robinson, M. D. Differential analyses for RNA-seq: transcript-level estimates improve gene-level inferences. F1000Res 4, 1521 (2015).

Love, M. I., Huber, W. & Anders, S. Moderated estimation of fold change and dispersion for RNA-seq data with DESeq2. Genome Biol. 15, 550 (2014).

Benjamini, Y., Drai, D., Elmer, G., Kafkafi, N. & Golani, I. Controlling the false discovery rate in behavior genetics research. Behav. Brain Res. 125, 279–284 (2001).

Hulsen, T., de Vlieg, J. & Alkema, W. BioVenn—a web application for the comparison and visualization of biological lists using area-proportional Venn diagrams. BMC Genomics 9, 488 (2008).

Robinson, J. T. et al. Integrative genomics viewer. Nat. Biotechnol. 29, 24–26 (2011).
Acknowledgements
We thank T. Tomaszek and P. Keller for their contributions toward the high-throughput screen, K. Morasco and D. Depagnier for execution of the CBC panel, D. Cooper and H. Tran for input regarding statistical analysis, and S. Rajapurkar for assistance with genomics data analysis and visualization. We also thank A.C. Wong for original development of the DNA-binding and fluorescence-coupled breaklight assays, B. Waszkowycz for early computational design input and H. Hashimoto for his effort preparing initial human DNMT1 constructs and protein for the crystallization studies. Lastly, we thank S. Pessagno, D. Wilson and M. Bottomley for alliance oversight. Work conducted at the Cancer Research UK Manchester Institute was wholly funded by Cancer Research UK (grant nos. C480/A11411 and C5759/A17098). Work at the MD Anderson Cancer Center was supported by the Cancer Prevention Research Institute of Texas (CPRIT) grant no. RR160029 and National Institutes of Health (NIH) grant no. R35GM134744 to X.C., who is a CPRIT Scholar in Cancer Research. Work at the Van Andel Research Institute (P.A.J.) was supported by National Cancer Institute grant no. R35CA209859 and by the Van Andel Research Institute–Stand Up to Cancer Epigenetics Dream Team. Stand Up to Cancer is a division of the Entertainment Industry Foundation, administered by AACR.
Ethics declarations
Competing interests
M.B.P., K.K., W.A.K., C.S., K.W., J.B., M.S., A.G., C.F.M., N.C., A.P.G., T.W., L.R., D.T.F., C.Z., J.L.H., M.Muliaditan, M.Mebrahtu, J.P.J., D.E.M., H.C.E., A.N.T., T.H., S.M., S.W.F., A. Rutkowska, M.L., S.P.R., M.B., A.J.J., E.M., P.G., M.P., A.B.B., H.P.M., A.G.G., R.K.P., C.C., D.H., B.W.K., J.I.L., R.G.K. and M.T.M. are/were employees and/or shareholders of GlaxoSmithKline (GSK). The remaining authors declare no competing interests.
Additional information
Peer review information Nature Cancer thanks the anonymous reviewers for their contribution to the peer review of this work.
Publisher's note Springer Nature remains neutral with regard to jurisdictional claims in published maps and institutional affiliations.
Supplementary information
Supplementary Data Tables 1–5.
Directed mutagenesis constructs.
About this article
Cite this article
Pappalardi, M.B., Keenan, K., Cockerill, M. et al. Discovery of a first-in-class reversible DNMT1-selective inhibitor with improved tolerability and efficacy in acute myeloid leukemia. Nat Cancer 2, 1002–1017 (2021). https://doi.org/10.1038/s43018-021-00249-x
Received:

Accepted:

Published:

Issue Date:

DOI: https://doi.org/10.1038/s43018-021-00249-x