Abstract
Chimeric antigen receptor (CAR)-T cells showed great activity in hematologic malignancies. However, heterogeneous antigen expression in tumor cells and suboptimal CAR-T-cell persistence remain critical aspects to achieve clinical responses in patients with solid tumors. Here we show that CAR-T cells targeting simultaneously two tumor-associated antigens and providing trans-acting CD28 and 4-1BB co-stimulation, while sharing the same CD3ζ-chain cause rapid antitumor effects in in vivo stress conditions, protection from tumor re-challenge and prevention of tumor escape due to low antigen density. Molecular and signaling studies indicate that T cells engineered with the proposed CAR design demonstrate sustained phosphorylation of T-cell-receptor-associated signaling molecules and a molecular signature supporting CAR-T-cell proliferation and long-term survival. Furthermore, metabolic profiling of CAR-T cells displayed induction of glycolysis that sustains rapid effector T-cell function, but also preservation of oxidative functions, which are critical for T-cell long-term persistence.
Relevant articles
Open Access articles citing this article.
Ting Yan

,

Lingfeng Zhu

&

Jin Chen

Experimental Hematology & Oncology Open Access 27 January 2023

Qizhi Ma

,

Xia He

…

Yongsheng Wang

Signal Transduction and Targeted Therapy Open Access 19 November 2022
Access options
Subscribe to Nature+
Get immediate online access to Nature and 55 other Nature journal
Subscribe to Journal
Get full journal access for 1 year
$119.00
only $9.92 per issue
All prices are NET prices.
VAT will be added later in the checkout.
Tax calculation will be finalised during checkout.
Buy article
Get time limited or full article access on ReadCube.
$32.00
All prices are NET prices.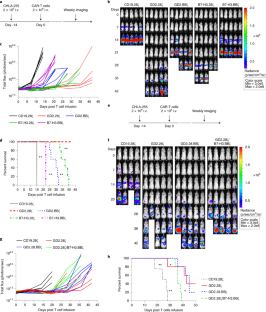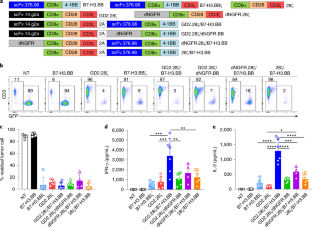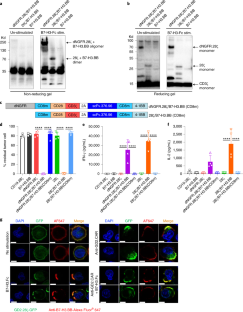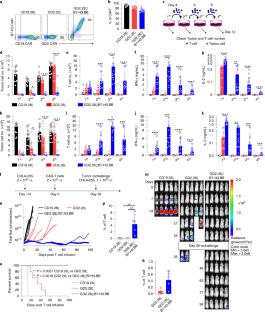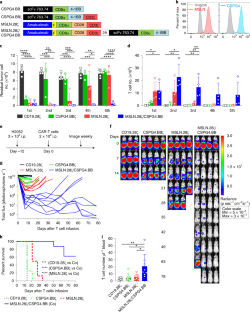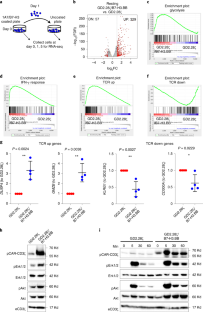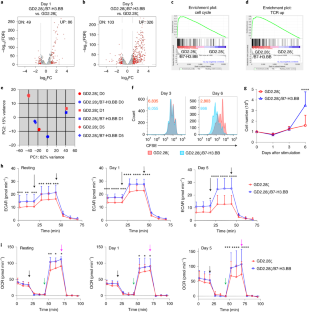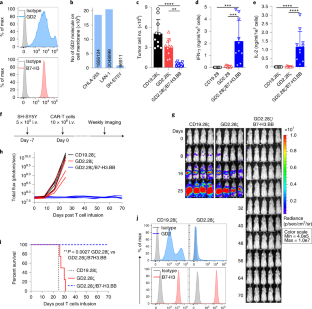 Data availability
Source data for this study have been provided as source data files. RNA-seq datasets generated and analyzed during the current study are not publicly available (the genetic information from primary human T cells in this study was not consented to be published in the public domain) and will be available from corresponding authors upon request. All other data supporting the findings of this study are available from the corresponding author on reasonable request. Source data are provided with this paper.
References
Fucà, G., Reppel, L., Landoni, E., Savoldo, B. & Dotti, G. Enhancing chimeric antigen receptor T-cell efficacy in solid tumors. Clin. Cancer Res. 26, 2444–2451 (2020).

June, C. H. & Sadelain, M. Chimeric antigen receptor therapy. N. Engl. J. Med. 379, 64–73 (2018).

Grada, Z. et al. TanCAR: a novel bispecific chimeric antigen receptor for cancer immunotherapy. Mol. Ther. Nucleic Acids 2, e105 (2013).

Ahn, S. et al. Cancer immunotherapy with T cells carrying bispecific receptors that mimic antibodies. Cancer Immunol. Res. 7, 773–783 (2019).

Zah, E., Lin, M. Y., Silva-Benedict, A., Jensen, M. C. & Chen, Y. Y. T cells expressing CD19/CD20 bispecific chimeric antigen receptors prevent antigen escape by malignant B cells. Cancer Immunol. Res. 4, 498–508 (2016).

Qin, H. et al. Preclinical development of bivalent chimeric antigen receptors targeting both CD19 and CD22. Mol. Ther. Oncolytics 11, 127–137 (2018).

Wang, G. et al. Fully human antibody VH domains to generate mono and bispecific CAR to target solid tumors. J. Immunother. Cancer https://doi.org/10.1136/jitc-2020-002173 (2021).

Miller, B. R. et al. Stability engineering of scFvs for the development of bispecific and multivalent antibodies. Protein Eng. Des. Sel. 23, 549–557 (2010).

Maude, S. L., Teachey, D. T., Porter, D. L. & Grupp, S. A. CD19-targeted chimeric antigen receptor T-cell therapy for acute lymphoblastic leukemia. Blood 125, 4017–4023 (2015).

Brentjens, R. J. et al. CD19-targeted T cells rapidly induce molecular remissions in adults with chemotherapy-refractory acute lymphoblastic leukemia. Sci. Transl. Med. 5, 177ra138 (2013).

Zhao, Z. et al. Structural design of engineered costimulation determines tumor rejection kinetics and persistence of CAR T cells. Cancer Cell 28, 415–428 (2015).

Sun, C. et al. THEMIS-SHP1 recruitment by 4-1BB tunes LCK-mediated priming of chimeric antigen receptor-redirected T cells. Cancer Cell 37, 216–225 (2020).

Carpenito, C. et al. Control of large, established tumor xenografts with genetically retargeted human T cells containing CD28 and CD137 domains. Proc. Natl Acad. Sci. USA 106, 3360–3365 (2009).

Pule, M. A. et al. A chimeric T cell antigen receptor that augments cytokine release and supports clonal expansion of primary human T cells. Mol. Ther. 12, 933–941 (2005).

Ramos, C. A. et al. In vivo fate and activity of second- versus third-generation CD19-specific CAR-T cells in B cell non-Hodgkin's lymphomas. Mol. Ther. 26, 2727–2737 (2018).

Stephan, M. T. et al. T cell-encoded CD80 and 4-1BBL induce auto- and transcostimulation, resulting in potent tumor rejection. Nat. Med. 13, 1440–1449 (2007).

Heczey, A. et al. CAR T cells administered in combination with lymphodepletion and PD-1 inhibition to patients with neuroblastoma. Mol. Ther. 25, 2214–2224 (2017).

Enblad, G. et al. A phase I/IIa trial using CD19-targeted third-generation CAR T cells for lymphoma and leukemia. Clin. Cancer Res. 24, 6185–6194 (2018).

Pule, M. A. et al. Virus-specific T cells engineered to coexpress tumor-specific receptors: persistence and antitumor activity in individuals with neuroblastoma. Nat. Med. 14, 1264–1270 (2008).

Yu, A. L. et al. Anti-GD2 antibody with GM-CSF, interleukin-2, and isotretinoin for neuroblastoma. N. Engl. J. Med. 363, 1324–1334 (2010).

Du, H. et al. Antitumor responses in the absence of toxicity in solid tumors by targeting B7-H3 via chimeric antigen receptor T cells. Cancer Cell 35, 221–237 (2019).

Castelletti, L., Yeo, D., van Zandwijk, N. & Rasko, J. E. J. Anti-mesothelin CAR T cell therapy for malignant mesothelioma. Biomark Res. 9, 11 (2021).

Landoni, E. et al. Modifications to the framework regions eliminate chimeric antigen receptor tonic signaling. Cancer Immunol. Res. https://doi.org/10.1158/2326-6066.Cir-20-0451 (2021).

Beatty, G. L. et al. Mesothelin-specific chimeric antigen receptor mRNA-engineered T cells induce anti-tumor activity in solid malignancies. Cancer Immunol. Res. 2, 112–120 (2014).

Fujiwara, K. et al. Hinge and transmembrane domains of chimeric antigen receptor regulate receptor expression and signaling threshold. Cells https://doi.org/10.3390/cells9051182 (2020).

Heczey, A. et al. Anti-GD2 CAR-NKT cells in patients with relapsed or refractory neuroblastoma: an interim analysis. Nat. Med. 26, 1686–1690 (2020).

Kramer, K. et al. Disialoganglioside G(D2) loss following monoclonal antibody therapy is rare in neuroblastoma. Clin. Cancer Res. 4, 2135–2139 (1998).

Chen, Y. et al. Eradication of neuroblastoma by T cells redirected with an optimized GD2-specific chimeric antigen receptor and interleukin-15. Clin. Cancer Res. 25, 2915–2924 (2019).

Louis, C. U. et al. Antitumor activity and long-term fate of chimeric antigen receptor-positive T cells in patients with neuroblastoma. Blood 118, 6050–6056 (2011).

Schumacher-Kuckelkorn, R. et al. Lack of immunocytological GD2 expression on neuroblastoma cells in bone marrow at diagnosis, during treatment, and at recurrence. Pediatr. Blood Cancer 64, 46–56 (2017).

Valitutti, S., Müller, S., Cella, M., Padovan, E. & Lanzavecchia, A. Serial triggering of many T-cell receptors by a few peptide-MHC complexes. Nature 375, 148–151 (1995).

Kofler, D. M. et al. CD28 costimulation Impairs the efficacy of a redirected T-cell antitumor attack in the presence of regulatory T cells which can be overcome by preventing Lck activation. Mol. Ther. 19, 760–767 (2011).

Morello, A., Sadelain, M. & Adusumilli, P. S. Mesothelin-targeted CARs: driving T cells to solid tumors. Cancer Discov. 6, 133–146 (2016).

Pellegatta, S. et al. Constitutive and TNF-α-inducible expression of chondroitin sulfate proteoglycan 4 in glioblastoma and neurospheres: implications for CAR-T cell therapy. Sci. Transl. Med. https://doi.org/10.1126/scitranslmed.aao2731 (2018).

Geldres, C. et al. T lymphocytes redirected against the chondroitin sulfate proteoglycan-4 control the growth of multiple solid tumors both in vitro and in vivo. Clin. Cancer Res. 20, 962–971 (2014).

Salter, A. I. et al. Phosphoproteomic analysis of chimeric antigen receptor signaling reveals kinetic and quantitative differences that affect cell function. Sci. Signal https://doi.org/10.1126/scisignal.aat6753 (2018).

Kawalekar, O. U. et al. Distinct signaling of coreceptors regulates specific metabolism pathways and impacts memory development in CAR T cells. Immunity 44, 380–390 (2016).

Sohara, Y. et al. Lytic bone lesions in human neuroblastoma xenograft involve osteoclast recruitment and are inhibited by bisphosphonate. Cancer Res. 63, 3026–3031 (2003).

Song, L. et al. Vα24-invariant NKT cells mediate antitumor activity via killing of tumor-associated macrophages. J. Clin. Invest 119, 1524–1536 (2009).

Song, L. et al. Oncogene MYCN regulates localization of NKT cells to the site of disease in neuroblastoma. J. Clin. Invest. 117, 2702–2712 (2007).

Hirschmann-Jax, C. et al. A distinct 'side population' of cells with high drug efflux capacity in human tumor cells. Proc. Natl Acad. Sci. USA 101, 14228–14233 (2004).

Di Paolo, D. et al. Neuroblastoma-targeted nanoparticles entrapping siRNA specifically knockdown ALK. Mol. Ther. 19, 1131–1140 (2011).

Vera, J. et al. T lymphocytes redirected against the kappa light chain of human immunoglobulin efficiently kill mature B lymphocyte-derived malignant cells. Blood 108, 3890–3897 (2006).

Diaconu, I. et al. Inducible caspase-9 selectively modulates the toxicities of CD19-specific chimeric antigen receptor-modified T cells. Mol. Ther. 25, 580–592 (2017).

Wang, G. et al. Fully human antibody V(H) domains to generate mono and bispecific CAR to target solid tumors. J. Immunother. Cancer https://doi.org/10.1136/jitc-2020-002173 (2021).

Xu, Y. et al. Closely related T-memory stem cells correlate with in vivo expansion of CAR.CD19-T cells and are preserved by IL-7 and IL-15. Blood 123, 3750–3759 (2014).

Imai, K., Wilson, B. S., Bigotti, A., Natali, P. G. & Ferrone, S. A 94,000-dalton glycoprotein expressed by human melanoma and carcinoma cells. J. Natl Cancer Inst. 68, 761–769 (1982).

Hoyos, V. et al. Engineering CD19-specific T lymphocytes with interleukin-15 and a suicide gene to enhance their anti-lymphoma/leukemia effects and safety. Leukemia 24, 1160–1170 (2010).

Love, M. I., Huber, W. & Anders, S. Moderated estimation of fold change and dispersion for RNA-seq data with DESeq2. Genome Biol. 15, 550 (2014).
Acknowledgements
This work was supported in part by R01-CA193140-03 (G.D.) and R01-CA243543-01 (G.D.) from the National Cancer Institute (NCI). H.D. was supported by W81XWH-18-1-0441 from the Department of Defense (USA) and the Vicky Amidon Innovation Grant in Lung Cancer Research from the Lung Cancer Initiative of North Carolina (USA). The UNC Small Animal Imaging Facility at the Biomedical Imaging Research Center, the Microscopy Services Laboratory at Department of Pathology and Laboratory Medicine and the Flow Cytometry Core Facilities are supported in part by an NCI Cancer Center Core Support Grant to the UNC Lineberger Comprehensive Cancer Center (P30-CA016086-40) USA.
Ethics declarations
Competing interests
G. Dotti is a paid consultant for Bellicum Pharmaceuticals, Tessa Therapeutics and Catamaran and reports receiving commercial research grants from Cell Medica and Bluebird Bio; B. Savoldo is a paid consultant for Tessa Therapeutics; G. Dotti and H. Du filed a patent for the CAR targeting B7-H3. No other competing interests were disclosed by the other authors.
Additional information
Peer review information Nature Cancer thanks John Anderson and the other, anonymous, reviewer(s) for their contribution to the peer review of this work.
Publisher's note Springer Nature remains neutral with regard to jurisdictional claims in published maps and institutional affiliations.
Supplementary information
About this article
Cite this article
Hirabayashi, K., Du, H., Xu, Y. et al. Dual-targeting CAR-T cells with optimal co-stimulation and metabolic fitness enhance antitumor activity and prevent escape in solid tumors. Nat Cancer 2, 904–918 (2021). https://doi.org/10.1038/s43018-021-00244-2
Received:

Accepted:

Published:

Issue Date:

DOI: https://doi.org/10.1038/s43018-021-00244-2